Bidding You Adieu
The following article by Charles Hartley was published on 18 Dec 2016.
---
It's hard to believe that I've been writing these "Bullitt Memories" for nearly five years now. Actually, David Strange began writing them in December 2011 with his article Tree Traditions Fades but Story Remains. He'd written eight of them when he decided to run for County Judge Executive of Bullitt County, and handed the job off to me for a time.
For eight weeks I wrote about the worst train wreck in Kentucky history, the battle of the kettles (Henry Crist), iron manufacturing, how Floyd's Fork and Bell's Mill Road got their names, and where the expression "rowed up Salt River" originated. All of these stores, and much more can be found on here.
Then, when the folks in Bullitt County made the misguided decision to select someone else to run for County Judge (my opinion), David returned to writing and we have shared them ever since.
In the process, we've published two volumes of these stories, Bullitt Memories and More Bullitt Memories, books that are still available through the museum.
As I look back over the years, some of these stories stand out in my mind, and I'd like to revisit a just a few of them with you.
In September 2011, we received an email from Katharine Dixon in which she wrote, "We are trying to locate the homestead and orchards of our grandfather, Raymond Nute, who managed Kentucky Orchards in the 1920's-30's." At that time I had never heard of this orchard, and had little idea where to find it. But we did have some clues. They knew that the farm was near Medora in Valley Station; and that the family was listed in the 1930 Bullitt County census.
With that information, we began a search using old maps, plats, and deeds, and with the help of some long-time residents of the area, we were able to locate not only the orchard site, but the actual house that Raymond Nute built. This enabled 52 members of the families of descendants of Raymond and Alice Nute from across the country to visit the place where their grandfather maintained the orchard and turkey farm. And it gave me a really good story to share.
Another of my favorite stories centered on the family of Hardy Cruise and their love of harness racing. The name Cruise has been associated with harness racing for three generations, and it all began on a farm off Chapeze Lane near Bardstown Junction where Hardy Cruise's love for fine standard-bred horses resulted in repeated victories on the ovals at the Bullitt County fairgrounds. Jimmy Cruise, Hardy's son, was so good at it that he has been inducted into the Harness Racing Hall of Fame.
And then there was the Meadows, a fine old farmhouse at Gap in Knob that once sheltered T. C. Coleman and his family, before becoming the home of the McAdams family. There are still lots of folks who remember dining in the restaurant run there by Ben and Anna McAdams.
When construction started on the Kentucky Turnpike, the family saw an opportunity to sell meals to the workers. They prepared breakfasts of egg and sausage sandwiches, and then a variety of cheese and ham sandwiches along with hamburgers together with apples and drinks for lunch. Ben Jr. drove over the construction terrain delivering these meals to appreciative workers.
Another favorite house is "Dingley Dell" built by John Henry Linn around 1900. Its current owners, Jim and Pat Conway, have restored the house to its former grandeur, and graciously share it with friends and neighbors each Christmas season.
I was especially pleased to share the story of Frank Hatfield and his efforts that helped lead to the passage of the Kentucky Education Reform Act in 1990. As Bullitt County School Superintendent, Frank was in a unique position to understand the inequities of school finance across the state.
I could go on and on about people like the Beckwiths, the McAfees of Mt. Washington, J. W. Hardaway, Ida Matilda Holsclaw (the world's oldest newspaper correspondent), the brothers Gwynn, Colonel William Christian, Adam Shepherd and his Chapeze relations, and on and on; but I'm running out of space.
I encourage you to visit this site often, where you can read all of these articles again, and much much more.
It's been fun (most of the time) writing these articles. If my count is correct, this is my 128th one. I'm very grateful for the many kind and generous comments and compliments that have come my way as a result of these efforts. But all good things must come to an end, sooner or later, and so I bid you adieu, at least for now.
Thanks again for your kindness.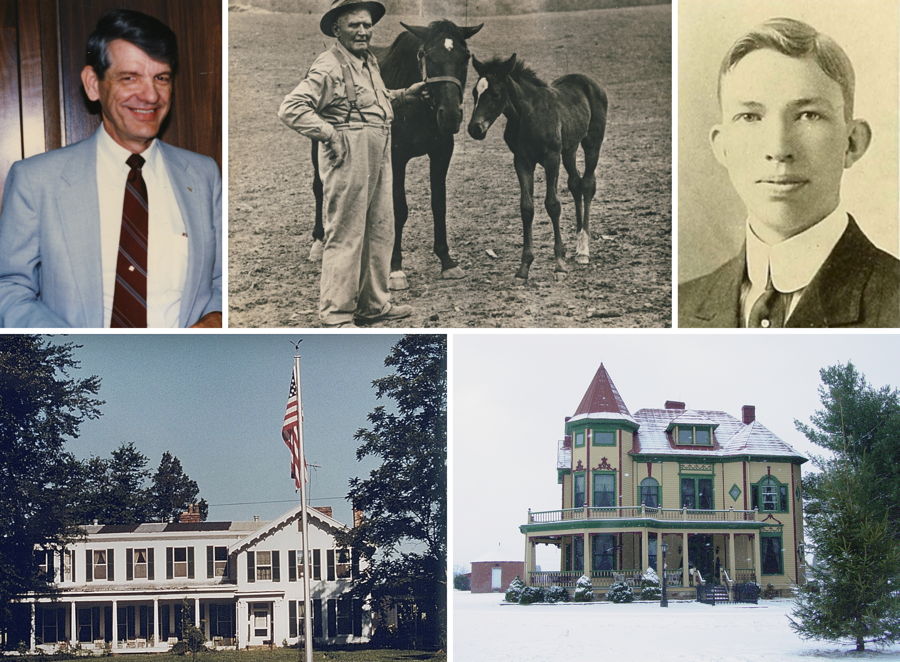 Pictured here, top-left, is Frank Hatfield in 1987 when he retired as school superintendent. In the middle is Hardy Cruise with two of his favorite companions. And on the right is Raymond Nute in his graduation picture from M.I.T. before he came to Kentucky. Bottom-left is the Meadows as most folks today remember it. And on the right is Dingley Dell in one of my favorite pictures.
---
Copyright 2016 by Charles Hartley, Shepherdsville KY. All rights are reserved. No part of the content of this page may be included in any format in any place without the written permission of the copyright holder.
---