The Brothers Gwynn
The following article by Charles Hartley was published on 29 May 2016.
---
This is the story of three brothers, Joseph, Frank, and especially William Gwynn, who overcame great odds to lead successful lives.
They were three of eight children born to William and Angeline (Kean) Gwynn. Along with their older sister Ruth, they had to grow up quickly when their parents died of pneumonia within ten days of one another in April 1870. Ruth was 18, Joseph was barely 16, William was approaching his 14th birthday, and Frank was 12.

William and Angeline Gwynn Death Report
The Gywnns brought their family from Woodford County to Hardin County near Elizabethtown in 1860, where the remaining four children were born. They included Nannie, Ann Eliza, Lucinda, and Edward who was but ten months old when his parents died.
Joseph and Ruth kept the family together for the next two difficult years, during which time Lucinda and Edward died of childhood illnesses. Then Ruth married William Jenkins and began a family of her own.
Determined to both complete his own education, and see that his siblings were educated as well, Joseph was able to attend Lynnland Institute near Glendale where he prepared himself as a teacher. Both William and Frank would follow in his footsteps, as we will see.
Joseph, Frank, and the two sisters moved to Meade County where both boys worked as teachers. William, meanwhile began his teaching career at the Pitt's Point Academy.
It appears that at least Joseph also taught at Pitt's Point, for one report indicates that he left from there for Versailles, Missouri in 1884. Frank and the sisters moved there with him.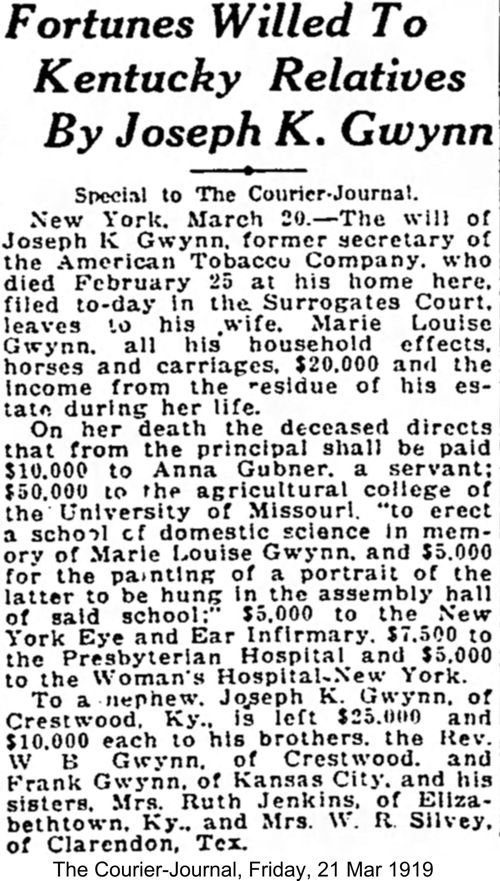 Joseph, with Frank's help, started a newspaper called The Morgan Messenger in October, 1884. When it was destroyed by fire two years later, he purchased the town's other paper. Fire destroyed it as well about six months later.
He had also been the head of a local school, The Versailles Male and Female Institute, and he continued to run it for the next two years, with the help of his brother.
Joseph's life would change dramatically, when he attended an enthusiastic gathering in Clinton, Missouri, met to encourage immigration into Southwest Missouri.
In a brief speech, Joseph Gwynn lifted himself out of obscurity by naming Clinton the "Artesian Princess of the Prairies." This caught the imagination of the gathering, and soon Joseph was offered the job of secretary of the Southwest Missouri Immigration Society. His success in that role led him to become commissioner of Missouri at the Columbian Exposition in Chicago. Following that, he took a job as general manager of the Liggett & Myers Tobacco company, which eventually led him to become assistant secretary of the American Tobacco Company, in New York City.
Joseph married Marie Louise Hunter in 1885 in Versailles. They were not to have any children, and when he died in 1919, part of his considerable estate was divided among his remaining siblings, and a nephew. Another major part was set aside to the University of Missouri to erect a school of domestic science in his wife's memory.
Frank took over the Versailles school when Joseph embarked on his new career. He married Annie Briscoe in 1889, and they had two children, Frank Ellsworth and Gladys. Annie was a music teacher of considerable skill.
By 1910, they had moved to Richmond, Missouri where he was working as a real estate agent and she was teaching music. After that they moved to Kansas City where Frank first worked as a stock broker and then as an insurance salesman. Here they spent the rest of their lives.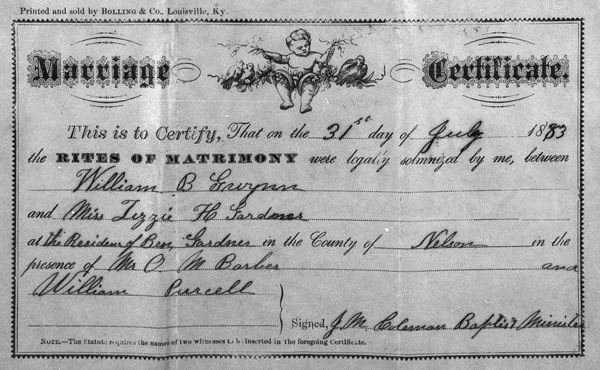 Nannie Belle Gwynn, who never married, died of pneumonia in St. Louis in 1893. Ann Eliza married William Silvey. They had four children, including Joseph Kean Gwynn Silvey who enjoyed a fine career as a professor at the University of North Texas.
But, getting back to William Gwynn, there are indications that his earliest education may have been at the side of his brother Joseph. At any rate, by 1879 he was teaching at Pitt's Point where he would remain until 1889 when he moved to Boston, Kentucky and became the head of the school there.
William establish The Bullitt Pioneer, Bullitt County's first newspaper, in 1882. He operated it for a year before selling it.
He married Lizzie Gardner in 1883 in Bardstown, and they had six children. Waldo, Lyda, and Glaydis were all born while William taught at Pitt's Point. Their remaining three, Edna, Joseph, and Sallie, were born while they were living at Boston, Kentucky.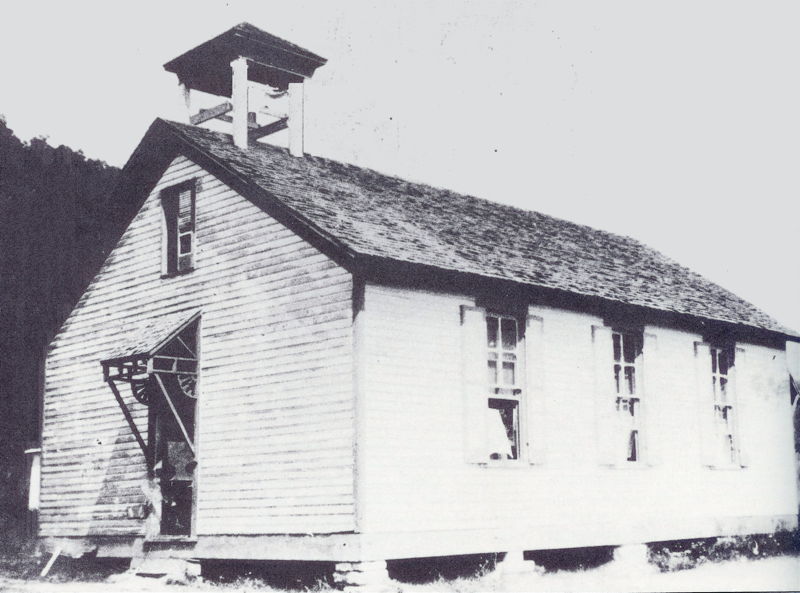 The Pitt's Point Schoolhouse
While at Pitt's Point, William felt a call to the ministry. He was licensed to preach in 1885, and ordained to the ministry at the Younger's Creek Baptist Church in 1891. For a time he was minister to several small churches including Mt. Moriah, Rolling Fork, Younger's Creek, and Lebanon Junction.
He continued as head of the Boston Academy until 1895 when he took over Lynnland College, returning it to a coeducational school. He remained at Lynnland until 1908 when he sold the property that would become the Children's Home at Glendale.
He moved his family to Georgetown, and became pastor of David's Fork Baptist Church of Lexington in 1909, remaining there for ten years.
During that time they moved to Crestwood, Kentucky, on a 180 acre farm where the professor and his son specialized in poultry farming. He and Lizzie continued to live there until the late '20's before they moved to their winter home in Delray Beach, Florida permanently.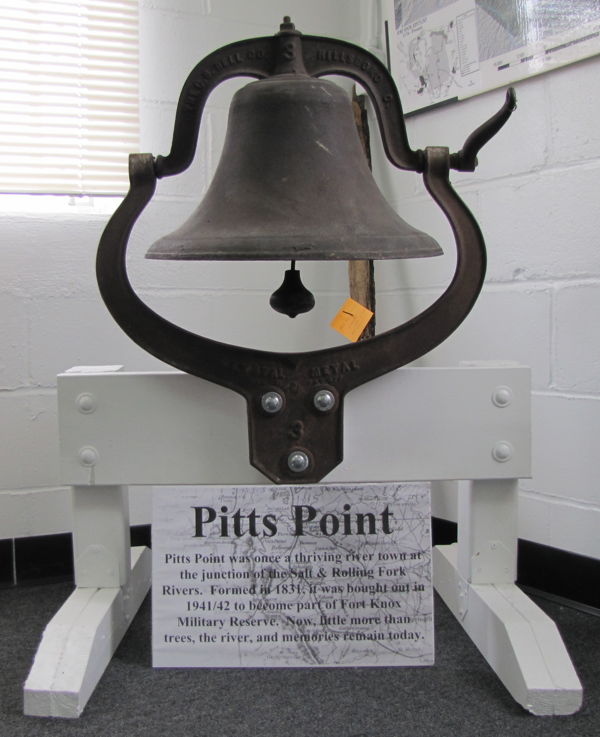 The Pitt's Point Schoolhouse Bell
On Display at the West Point (KY) History Museum.
It was while he was still pastoring the David's Fork church that folks in Bullitt County began talking about having a reunion for the Pitt's Point Academy. Enthusiasm for it spread like wildfire, and in September 1916 hundreds of former students and their families gathered at the old school to honor their "professor" and share memories of days gone-by.
At the reunion, J. R. Zimmerman delivered the main speech. Among his many comments were these words about Professor W. B. Gwynn:
"He taught more than the contents of school books. He taught the ten commandments, he taught a philosophy which transcends the philosophy of mere text books, and he taught industry of body and brain, honesty of heart, mind and body in theory and practice.
"He filled his pupils with energy and ambition and taught them the beauty of forgiveness. He taught them thrift, independence and reliance and courage. He taught them how to live and how to die and having so taught them, sent them forth to the great battlefields of life, ready to take their places and fight for name, wealth, position and respect."
In its next issue The Pioneer News described the event, and included these words:
"The crowning event of the day was the splendid address of Prof. Gwynn towards closing of exercises. For more than an hour, he held his audience spellbound with recital of his experience in years: now away down the streams of time, in the old academy and of events in his busy and successful life since then."
William and Lizzie lived in Delray Beach until his death in 1933, bringing an end to multiple chapters of a life well-lived.
---
Also read The newspaper report on the Pitt's Point Academy reunion, Professor Gwynn's Letter following the reunion, and J. R. Zimmerman's Speech at the reunion on these pages.
---
Here are additional facts about William B. Gwynn.
In 1889, Professor Gwynn and Professor W. Jeff Lee combined to produce a history and civics digest for use in their classes. It is available online, and is readable here.
Below are images of newspaper advertisements placed by W. B. Gwynn as he sought to sell his Crestwood, Kentucky home and farm. Also shown are advertisements for their poultry farm.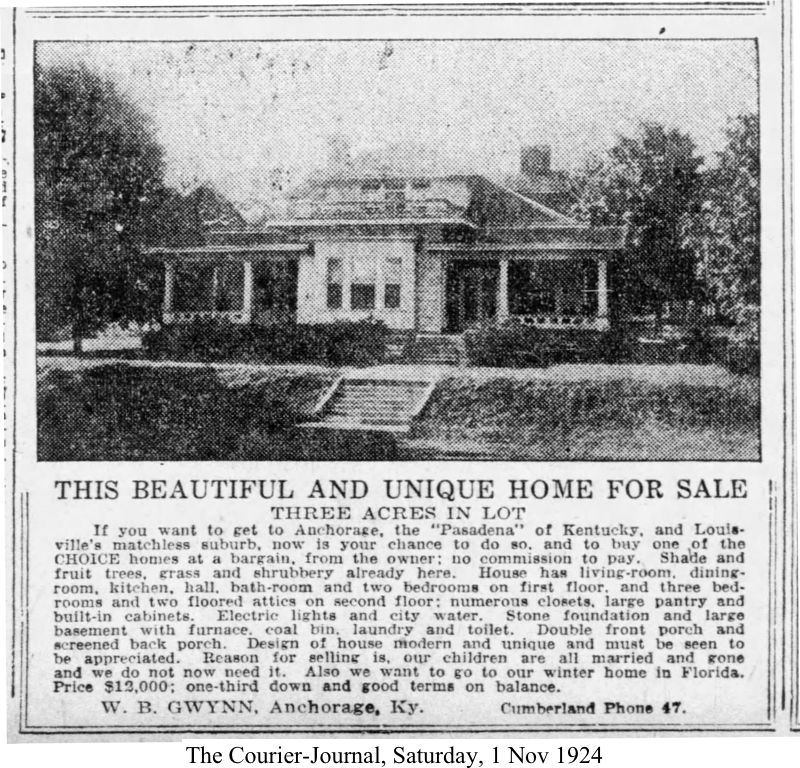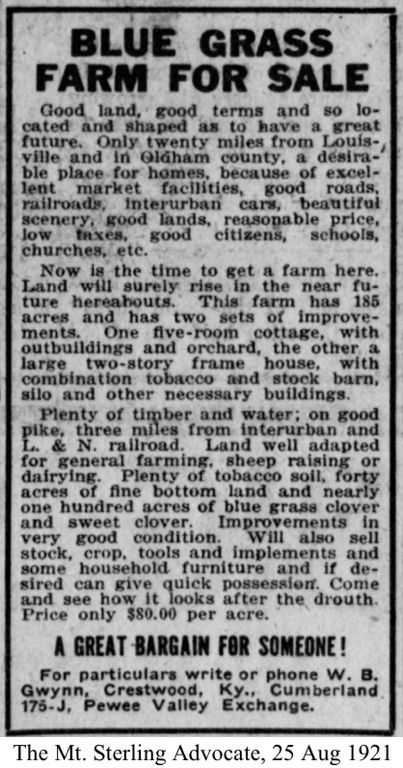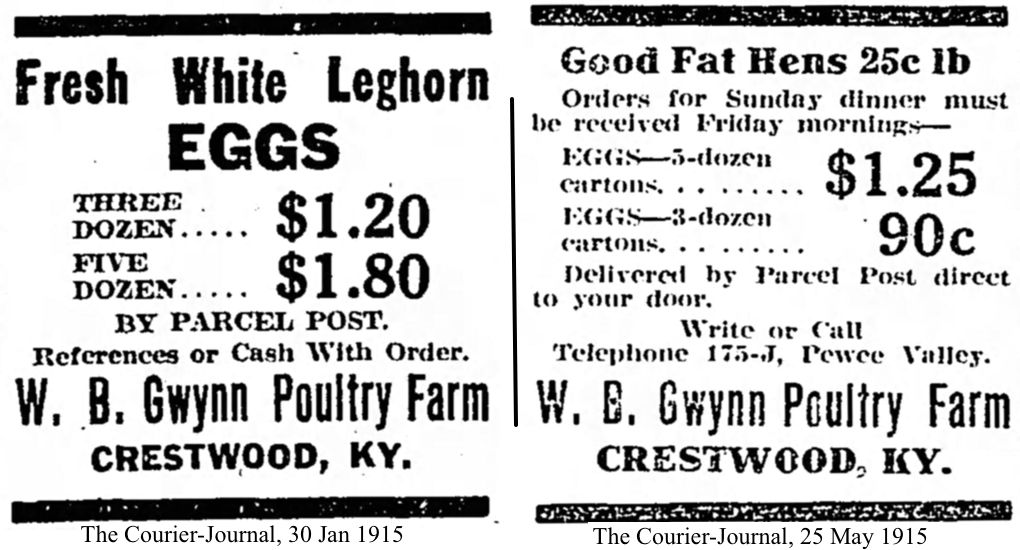 ---
Copyright 2016 by Charles Hartley, Shepherdsville KY. All rights are reserved. No part of the content of this page may be included in any format in any place without the written permission of the copyright holder.
---