John Floyd and How Floyds Fork Got Its Name
The following article by Charles Hartley originally appeared in The Courier-Journal on 29 Feb 2012. It is archived here with additional information for your reading enjoyment.
---
John Floyd led a group of surveyors into Kentucky in 1774. They visited the Bullitt's Lick area where James Douglas surveyed 1000 acres [A] for William Christian which included the salt lick [B]. The next day they traveled up the Salt River to the mouth of a branch [C] that they named for John Floyd. Then they proceeded on up the river. Later, in 1783, after John Floyd had returned to the Louisville area, he was ambushed by Indians [D] on his way to Bullitt's Lick and was fatally wounded. His brother carried him to Colonel Moore's Cabin [E] where he died.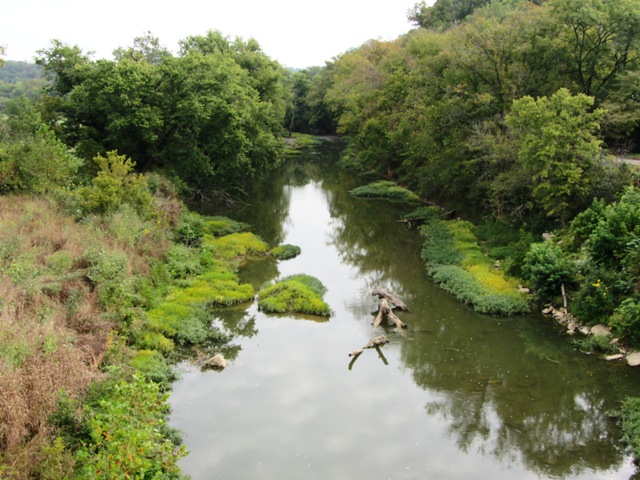 Floyds Fork at Bardstown Road. Photo used by permission of NOAA/NWS.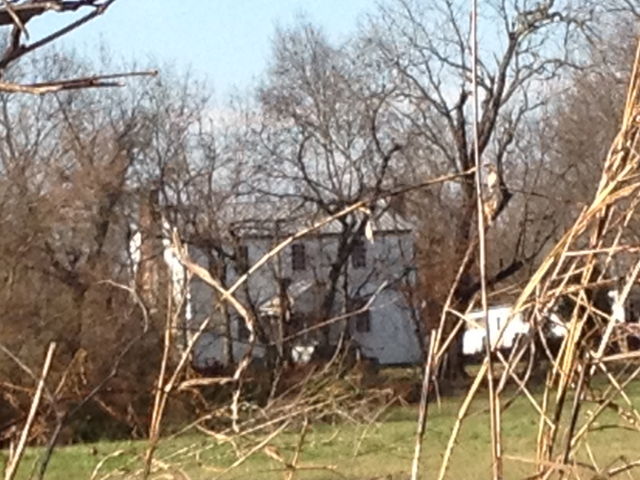 Site of original Moore cabin. Photo by David Strange.
In 1774 John Floyd led a group of surveyors into Kentucky with the task of surveying tracts of land for men back in Virginia who had received land grants for military service in the French and Indian War. On June 13 one of the surveyors, James Douglas laid out 1000 acres on the north side of Salt River for William Christian. It included the large salt lick that would become known as Bullitt's Lick.
After the survey was finished, the party traveled up Salt River about five miles where they encountered a large branch entering the river on the north side. Thomas Hanson, in his journal, reported that they named it Floyd's River. They camped nearby, and the next day they continued upriver about twenty miles, finding the river very crooked with stony hillsides much of the way.
The next day it stormed, and they remained in camp. One can imagine John Floyd thinking about the branch they had left behind bearing his name, and wondering where that dark passage led. Today it still bears his name, but we call it Floyds Fork, the site of the Parklands of Floyds Fork which has been in the news quite a bit lately.
John Floyd, as a young man, located in Fincastle County, Virginia where he taught school, and lived in the home of Colonel William Preston who was the county surveyor. Under Preston's tutorage, Floyd became an excellent surveyor himself, and led this mission into Kentucky.
Despite the danger from Indian attack, Floyd completed his work and made his way back to Virginia. Then, the next year, Floyd led another group of surveyors into Kentucky by way of the Cumberland Gap. In May, they camped near the present site of Stanford, and Floyd named the place St. Asaph's. Logan's Fort would be built here in 1777.
He was still in Kentucky when the Revolutionary War started, and hurried back to Virginia where he was given charge of a privateer ship to prey on British shipping. Unfortunately, he was captured by the British near the Bahamas, and spent the next year in an English prison. According to one report, the jailer's wife helped him to escape and he made his way to France where Benjamin Franklin, the American ambassador, helped him to return to America in the autumn of 1778.
He soon married Jane Buchanan, and in October 1779, he returned to Kentucky with his wife and son, as well as several of his brothers and sisters. They settled near the Falls of the Ohio, and Floyd led the construction of a station near Beargrass Creek which became known as Floyd's Station.
In 1780 John Floyd was one of seven trustees of Louisville, and the next year he was appointed surveyor of Jefferson County, and County Lieutenant.
Floyd was involved in several skirmishes with Indians including one in September 1781 when he led a party into modern-day Shelby County to attempt to rescue survivors of an Indian raid, only to be ambushed himself. Floyd lost half his men, and barely escaped with his own life.
By the spring of 1783, England had ended its attempt to quell the American rebellion, and Indian attacks inspired by the British had almost ceased. In April, Jane Floyd was expectantly awaiting the birth of their next child. The years of conflict seemed to be coming to a close.
On April 8, John Floyd, his brother Charles, Captain Alexander Breckinridge, and a few others were traveling together to the saltworks at Bullitt's Lick. They were expecting no trouble; indeed John Floyd was wearing a bright scarlet cloak, a tempting target for would-be attackers.
About a mile south of Brooks Spring, where the Wilderness Road crossed a branch of Brooks Run, shots rang out. One shot dropped Charles Floyd's horse; another struck John Floyd. Charles, seeing his brother in trouble, sprang up behind him and fled the scene. According to one report, the two brothers made it back to the Fishpools where Colonel Moore had a cabin. However, John Floyd's wound was fatal, and he died two days later.
Jane Floyd gave birth to their youngest son on April 24, and named him for his father. When grown, John Floyd, Jr. moved back to Virginia where, in 1830, he became Governor of Virginia. His son, named John Buchanan Floyd, was also Governor of Virginia and later Secretary of War.
Already a leader among men, John Floyd was still only in his early thirties when he died. It is impossible to know what future he might have had, if not struck down in the Indian ambush; but we can speculate that the name John Floyd might have been quite prominent in Kentucky politics had he lived.
---
Copyright 2012 by Charles Hartley, Shepherdsville KY. All rights are reserved. No part of the content of this page may be included in any format in any place without the written permission of the copyright holder.
---