James William Hardaway
The following article by Charles Hartley was published on 13 Dec 2015.
---
In November 1900, five Bullitt County men came together to incorporate a new bank in Shepherdsville. They included Frank M. Hardy, Dr. Samuel H. Ridgway, George W. Simmons, William Simmons, and J. V. Rouse. Each was successful in his own field. Hardy was a Pitts Point merchant; Ridgway a successful doctor; George Simmons then current owner of the old Paroquet Springs land; William Simmons a wealthy farmer and stock trader; and J. V. Rouse heir to a wide holding in eastern Bullitt County around Solitude.
Any one of them would make an interesting subject, but today we will focus on a young lad who was hired to work in their bank; a lad named James William Hardaway.
Jim Hardaway was born in 1885 in Bullitt County to Henry and Jennie Hardaway. Henry, a son of James Leach Hardaway, came from Meade County to Bullitt where he met and married Jennie Simmons, daughter of William Peyton Simmons. Besides Jim, they had a son Jesse, and a daughter Mary Ellen.
In 1903, William Simmons, then president of The Peoples Bank of Shepherdsville, hired Jim Hardaway as a bank teller. At that time the bank occupied a building on the east side of Main Street, next to the Courthouse.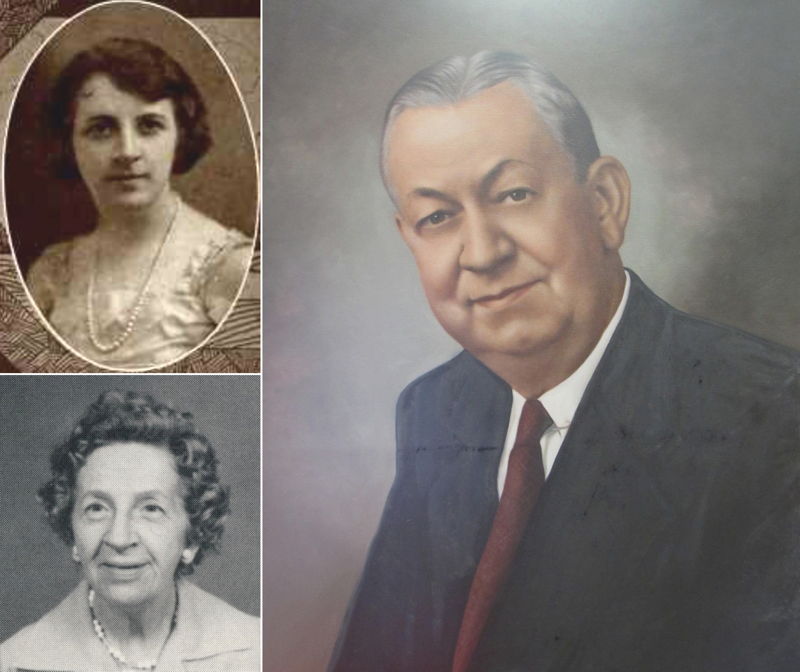 Upper left: Hester Belle Anderson's 1923 college photo.
Lower left: Hester Belle Hardaway in 1979 church directory.
On right: portrait of James William Hardaway as President of The Peoples Bank.
It may have been about this time that Jim became acquainted with J. W. Barrall, editor of the local newspaper. They were both bachelors about town until J. W. married Myrtle Greenwell. After that, it seems that he took delight in commenting in the paper on Jim Hardaway's attraction to the ladies.
The following excerpts from the summer of 1917 provide some examples.
In March Barrall wrote, "If you want to know all the latest in courting, just stop by the Peoples Bank and Jim Hardaway can tell you."
And a week later he wrote, "'Deacon' Hardaway is going back to Atlantic City next summer. Jim, 'the Deacon,' says the girls who come to Atlantic City are just about the most attractive and agreeable ladies he ever met, and we believe him."
Then in July, he wrote, "Jim Hardaway, always intrepid, is none the less so at this critical juncture, and notwithstanding submarines, sea nettles, pretty girls and the cramps, will take his annual vacation to Atlantic City, where the fair damsels from the big cities come to bathe in the ocean, and swap smiles with the men. Jim loves to lie about the ocean when it is filled with bathers; and this summer he will meet some very fascinating girls from Philadelphia who were there last year."
Christmas, which had promised to be joyful, was shattered by the terrible train wreck in Shepherdsville. Among many others, it took the lives of Jim Hardaway's father, and Carrie May Simmons, widow of William Simmons, the bank's first president.
While grief lingered, life went on. In March 1918, Barrall wrote, "James Hardaway has bought a new auto, so look out girls."
The next month he wrote, "James Hardaway and County Attorney T. C. Carroll took out two of Shepherdsville's fair young ladies for an auto drive Sunday evening and on their return, Mr. Carroll stopped to let his friend out, but Jim was so interested at looking at his girl that he just bumped on into Tot's machine. Lucky no one was hurt, but the garage had to straighten out Tot's fender."
It appears that Jim Hardaway was always up for an adventure. In May he joined Jailer Monroe, J. R. Zimmerman, and Henry Trunnell in hot pursuit of some thieves who had taken Trunnell's horse and buggy. They ran them down near Camp Taylor, and Monroe arrested them.
Several years went by, and Jim continued single, and an attraction to the ladies according to Barrall's frequent comments in the paper. And it began to appear that Jim Hardaway, now in his late thirties, was becoming a confirmed bachelor.
Then in the summer of 1923, Professor Sanders hired a young lady named Hester Belle Anderson to teach at the Shepherdsville school that fall.
Hester Belle was born in 1900 in Lincoln County to Henry Clay Anderson, a prominent farmer and businessman. Following high school, she attended Georgetown College, graduating just before accepting the teaching job in Shepherdsville.
In her college yearbook, she was described this way: "A lady very industrious, who often changes her mind; she likes the men illustrious, and in courting she's never behind."
It didn't take long for Jim and Hester Belle to find one another.
In May 1924, at the end of the school year, she returned home to Stanford for the summer. In July, Jim made a trip to Stanford. In August she was back in Bullitt County as the guest of Jim's sister, and Jim took both ladies on a trip to Mammoth Cave. The paper described her this way: "Miss Anderson is a great favorite here, where her sociability and fine disposition made her many friends."
Then in December, the paper reported, "Mr. James W. Hardaway, cashier of the People Bank and Miss Hester Belle Anderson, of Stanford, Kentucky, were quietly married at the Seelbach Hotel, Wednesday evening, December 10, Rev. Burkhalter officiating."
Jim Hardaway would go on to be the bank's fourth president, a post he held until his death in 1961. Hester Belle lived until 1996. She was an active member of the Woman's Club, and very faithful to her church. Of their many gifts of charity is the James W. Hardaway Scholarship that is presented annually in his memory.
---
Copyright 2015 by Charles Hartley, Shepherdsville KY. All rights are reserved. No part of the content of this page may be included in any format in any place without the written permission of the copyright holder.
---