The Beckwith Saga
The following article by Charles Hartley was published on 4 October 2015. It is archived here for your reading enjoyment.
---
When Martha Williams Beckwith made out her will in January 1843, she was approaching her 88th birthday, a widow who had outlived all eight of her children.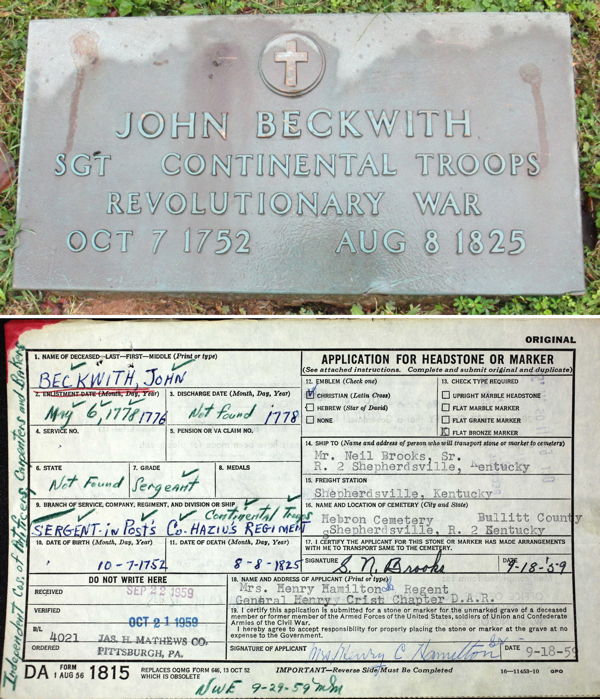 The application for John Beckwith's military tombstone, shown above.
Martha was 18 when she married John Beckwith in Prince George's County, Maryland. It was 1773, and the colonies were already in turmoil.
By the time John left to join the war effort, Martha had already given birth to two daughters, Volinda and Eleanor, and a son they named Basil for his paternal grandfather.
John joined an independent company of artificers, carpenters, and bakers assigned to Post's company of Continental Troops where he rose to the rank of sergeant. It is likely that he was an artificer, a service member skilled in making devices as needed in the field, one we might call an engineer today.
After John returned home, they had three children in five years: John Williams, Upton, and Sarah. Then two years later Anne was born.
They were likely surprised when Martha found herself expecting another child when she was 39. It was a daughter they named Martha.
Meanwhile, their eldest, Yolinda was being courted long distance by Benjamin Summers. Benjamin had moved from Maryland to Bullitt County where he became the county's first sheriff. After serving two years as sheriff, Benjamin returned to Maryland where he married Yolinda, and brought her back to Kentucky.
It is likely that Yolinda's brother Basil either came with them, or had been here even earlier, for the 1800 tax roll showed him in Shepherdsville with two stores.
It was also about this time that John and Martha Beckwith pulled up stakes and moved the rest of their family here. In July 1800, John Beckwith purchased almost 300 acres of land along Crooked Creek from Colley McDaniel, the first of several tracts that he would obtain in the next few years.
It appears that in the spring or summer of 1805, young Basil Beckwith ventured back to Maryland to sell the last of the family's holdings there. According to family tradition, he was returning home by horseback with the proceeds when he was caught in a storm and killed when struck by lightning.
The Beckwiths settled in what is now the Hebron-Zoneton area, but their sons John Williams and Upton seem to have taken over their brother's Shepherdsville business. They purchased two lots on the east side of town and added another tract connecting these lots to the side of Salt River to facilitate shipping.
Two Beckwith daughters married and moved to Nashville. Eleanor married Richard Winn in 1802, and Martha married Thomas Yeatman a decade later. That marriage lasted two years before Martha died, leaving a son, William Theodore Yeatman. It appears that by this time Anne Beckwith had also died, unmarried.
Upton married Betsy Laws, and John married Mary Floyd Smith whose uncle was Colonel John Floyd. Together John and Upton set about a new venture, the construction of an iron forge along the river, downstream from town. Then Upton grew sick and died in December 1818, the fourth of the Beckwith siblings to die.
Meanwhile, the senior John Beckwith was also active. He was involved in the establishment of the first Little Flock church when it was a stone house located on Pennsylvania Run Creek near where it flows into Cedar Creek. Benjamin Summers owned the land, and deeded an acre to John Beckwith in 1813 to be used for religious services. John was also one of those charged 5 years later to build an extension to the structure.
Also, according to Martha Volindah Balee, a descendant, John Beckwith built a brick school house to provide a school for his grandchildren and others. It sat on the lot north of the Hebron Presbyterian Church, and across Hebron Lane. This may have been the first school in that part of Bullitt County.
In 1823, news arrived from Nashville that Eleanor had died of apoplexy. John and Martha were left to grieve the loss of their fifth child.
Then, two years later, John Beckwith died at 72. His death was recorded in Bullitt County Order Book E, page 9, (5 Sep 1825), which is transcribed below.
"Martha Beckwith, widow of John Beckwith deceased, by writing this day relinquishes her right to administration, whereupon administration of the estate of said John Beckwith deceased is granted to George Washington Simmons who thereupon took the oaths required by law, and entered unto bond with Benjamin Simmons, William Reed, Thomas Sanders Jr., Joseph Sanders Jr., Matthew Willson, Nathan Miles his securities in the penal sum of $30,000 conditioned as the law directs. The securities were justified on oath."

Martha was left to take comfort in her three remaining children and her grandchildren. But, two years later, her son John Williams Beckwith became ill and died at 47, leaving his widow and four children. His death was also recorded in Order Book E, on page 100, (16 April 1827) and is transcribed below.
"Mary W. Beckwith, widow & relect of John W. Beckwith dec'd, having this day by written document filed, relinquished her right of administration, on the motion of William Caldwell administration of the estate of said John W. Beckwith dec'd is granted him, who thereupon entered into & acknowledged bond in the penal sum of fourteen hundred dollars with Frederic W. S. Grayson, Sydney S. Alexander and Henry C. M. Cartmell his securities, conditioned as the law requires, which bond as executed is approved by the court, and the administrator took the oaths required by law."

For less than a decade, Martha took comfort in her two remaining daughters; and then in 1834 Sarah died. She had remained with her mother, and now the Beckwith home was nearly empty. When Volinda Beckwith Summers died in 1836, leaving behind a large family, Martha had only her grandchildren and faithful son-in-law, Benjamin Summers to give her comfort.
According to Ida Holsclaw's booklet Trail of the Little Flock, Benjamin Summers, who was himself an Episcopalian, gave a plot of land for a new Baptist church, and saw to the construction of the new brick building in 1843 to honor his mother-in-law, Martha Beckwith. She would only worship there briefly before she died in November.
For more than 40 years, Beckwiths had been prominent in Bullitt County, but with her death, all that ended. There would be descendants bearing other names still in the county, but like quite a number of other names, that of Beckwith would fade and become just a distant memory over the next half century. Still, it is good for us to remember Martha and the influence her family had on our county's early history.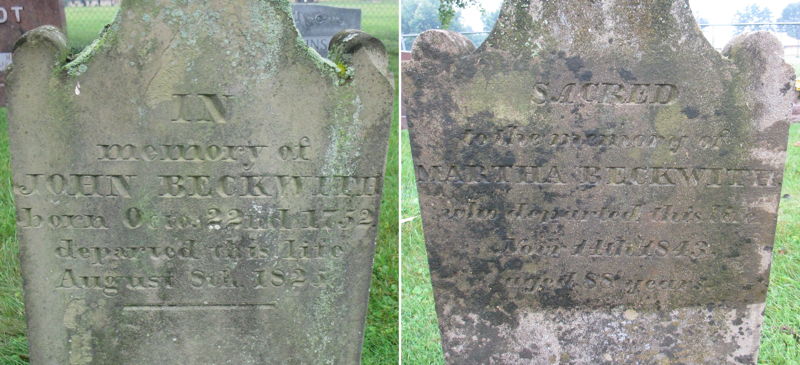 John and Martha's original tombstones, in Hebron Cemetery.
---
Copyright 2015 by Charles Hartley, Shepherdsville KY. All rights are reserved. No part of the content of this page may be included in any format in any place without the written permission of the copyright holder.
---