Frank Hatfield, School Financial Reform Pioneer
The following article by Charles Hartley originally appeared in The Courier-Journal on 3 Apr 2013. It is archived here with additional information for your reading enjoyment.
---
The Kentucky Education Reform Act (KERA), passed by the General Assembly in 1990, has had a significant effect on how Kentucky's schools are financed, and how they are evaluated. While there have been, and continue to be bumps in the road, there seems little doubt that its greatest impact has been on equalizing spending for education throughout the state.
What is less well-remembered is how KERA came to be, and who the people were who we might call the pioneers of the effort that eventually led to KERA.
The year was 1983. Despite previous efforts, time and again Kentucky had failed to provide equitable and adequate education for all its children across the state. Yet the state constitution clearly states in Section 183 that "the General Assembly shall, by appropriate legislation, provide for an efficient system of common schools throughout the State."
Superintendents of financially-poorer school districts across the state could only look with envy at wealthier districts that spent perhaps twice as much per pupil to educate their children. This resulted in greater educational opportunities, such as advanced classes, for the wealthier district's children.
This disparity was obvious to anyone who cared to look, including some who worked for the State Department of Education. Among these were James Melton, Kern Alexander, and Arnold Guess who recognized the inequality of school financing and questioned the constitutionality of the way it was being done in Kentucky.
When Guess left his position as Assistant Superintendent of Education following the election of Alice McDonald as Superintendent, he found himself in a position to pursue this issue. Among the first local district superintendents he spoke to was Frank Hatfield, then superintendent of Bullitt County Schools.
While many of the poorer districts were in eastern Kentucky, Bullitt County borders Jefferson County, providing a clear picture of the disparity between rich and poor districts. While Bullitt County had some commercial development, overall its sources of taxable wealth paled in comparison with its neighbor.
Under Frank Hatfield's leadership, Bullitt County had done everything possible to improve the amount of money available, but still lagged significantly behind Jefferson County.
Hatfield watched his district's enrollment grow by 212% from 1966 to 1980, with much of that increase coming from Jefferson County. Yet by 1985 Bullitt County had only 56% as much money per student as did Jefferson County.
When Arnold Guess approached Hatfield in the Spring of '84 about joining an effort to improve Kentucky's school finance system, Hatfield was quick to see the possibilities of such an effort.
In May '84 representatives from 28 of the financially-disadvantaged school districts met, and agreed to form a council to explore the possibility of filing a lawsuit against the state to force needed changes in how schools were financed throughout the state. Frank Hatfield was selected as president of the Council for Better Education, with Steve Towler of Hardin County as vice president and Jack Moreland as secretary/treasurer. Hatfield's role included directing the organization and dealing with the press which made him a more visible face of the Council.
Council members agreed to ask their local school boards for 50 cents per child to cover the expenses of filing a lawsuit. This was quickly attacked by Alice McDonald and others as an illegal use of school funds, but at Hatfield's request, the Attorney General's office issued an opinion that supported this use of funds.
Members of the General Assembly were also mostly opposed to such a lawsuit, and several districts were pressured to withdraw from the effort. When Hatfield, Moreland, and Kern Alexander testified before the Senate and House Education committees, they were met with considerable hostility.
The Council decided to approach former Governor Combs to represent them in a possible lawsuit. Combs agreed to do so in October, giving the Council additional credibility.
Despite some lingering doubts on the part of some districts, Hatfield called a special meeting of the Council's Board of Directors in November '85 where a vote was taken to proceed with the lawsuit.
The case was assigned to Judge Ray Corns in the Frankfort Circuit Court. Since Corns was a former assistant attorney general assigned to the Department of Education, he was well versed in school law, and proved to be a good selection for the Council.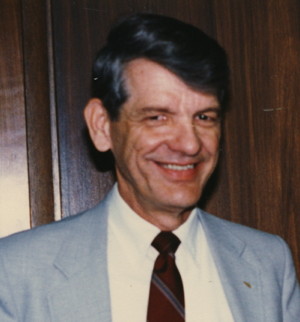 Frank Hatfield in 1987 when
he retired as superintendent.
Frank Hatfield gave his deposition in the case on June 10, 1987. It was to be his last significant role in this effort. After more than 22 years as Bullitt County's School Superintendent, he retired from the school system to accept the leadership of the Kentucky Retired Teacher's Association.
As court cases seem prone to do, this one moved slowly for about two years, before final arguments were heard in April '88.
In its case, the Council was asking that the current methods of financing public schools be declared unconstitutional, and that the General Assembly be required to "increase the funding for public schools in an amount sufficient to provide an equitable, adequate and efficient funding program for all school children of the Commonwealth of Kentucky."
Judge Corns ruled in the Council's favor in May '88, and issued his final judgment in October. The Kentucky Supreme Court almost immediately accepted the case on appeal in December.
Six months later, that court ruled in favor of the Council, affirming and expanding Judge Corn's decision. The court basically declared the entire education system unconstitutional, and ordered the construction of a new one. Combs, in describing the result, said "We asked for a thimble-full and we got a bucket-full."
In the aftermath of the court's decision, and in the events leading up to KERA, the role of the Council's pioneers in this effort has been somewhat forgotten; and we want to take this opportunity to thank them, and especially our own Frank Hatfield, for their efforts.
---
Copyright 2013 by Charles Hartley, Shepherdsville KY. All rights are reserved. No part of the content of this page may be included in any format in any place without the written permission of the copyright holder.
---