Colonel William Christian
The following article by Charles Hartley was published on 17 Jul 2016.
---
Colonel William Christian may have felt a premonition of his impending death when he made out his last will and testament on 13 Mar 1786. Less than a month later, on April 9th, in the wilderness above what would become Jeffersonville, Indiana, he would be mortally wounded by a ball fired by fleeing Indians.
William Christian, son of Israel and Elizabeth (Starke) Christian, was born in 1743 at Staunton in Virginia's Shenandoah Valley. During his youth, Staunton was one of the backcountry's major trading centers, and his father was one of its merchants.
Others were quick to see William Christian's leadership abilities. By the time he was 20, he was already a captain in William Byrd's Virginia regiment during the French and Indian War.
Following that war, Christian moved to Hanover to study law under Patrick Henry. Soon after, William married Anne Henry, Patrick's sister. They were soon blessed with a daughter, Priscilla, followed in turn by Sarah, Elizabeth, Anne, and then a son they named John Henry Christian.
For his service in the French and Indian War, William had been granted 3,000 acres of vacant land; but had been unable to claim it due to the Proclamation of 1863 which was meant to close Indian lands for settlement.
When, in 1773, Captain Thomas Bullitt led a party of surveyors into Kentucky, it was generally considered that all of the future state west of the Kentucky River was reserved for Indians. Although Bullitt surveyed numerous tracts west of the Kentucky River, he was unable to obtain grants for any of them except those surveyed at the Falls of the Ohio for John Connolly and Charles Warnsdorf, and these only because Lord Dunmore was Connolly's friend.
However, the next year, 1774, Colonel William Preston, the surveyor for Fincastle County, organized another expedition into Kentucky. He chose John Floyd as his assistant to lead the party.
William Christian was one of several whose grants were surveyed during this expedition. Besides his own 3000 acres, he had obtained 1000 each from John Blagg, William Brady, and William Henry, and 3000 from Captain Samuel Overton. The first tract surveyed for him was 1000 acres around the Big Bone Lick in present-day Boone County. This was followed four days later (May 16) with a 1000 acre survey along the Ohio River, three miles upstream from the mouth of the Kentucky River. When the party reached the Falls of the Ohio, 2000 acres were surveyed for him along Beargrass Creek on June 7. This was followed five days later with a survey of 1000 acres that included Bullitt's Lick in present-day Bullitt County. Finally, as the party made it's way homeward, two final surveys were made for him along Elkhorn Creek; the first of 3000 acres, and the final one on July 17 of 1000 acres.
However, he would not bring his family to Kentucky for several years.
Christian represented Fincastle County, which included all of Kentucky, in the lower house of the Virginia legislature from 1773 to 1775; and represented Fincastle and Botetourt counties in the state Senate in 1776.
He commanded a militia regiment during Lord Dunmore's War, and in 1775, he became a member of the Fincastle Committee of Safety as relations with Britain worsened. When the American Revolution began, he was first a lieutenant colonel in the Continental Line, and then became a colonel in the Virginia militia where he took command of an expedition sent to force Cherokee Indians from the Holston Valley in eastern Tennessee.
His militia was also responsbile for preventing uprisings by British Loyalists in the western parts of Virginia during the Revolution.
He was appointed County Lieutenant for Jefferson County in 1780, but was not ready to travel there, and resigned the post the next year. Then his father died in 1784, requiring William to remain in Virginia to administer Israel's estate.
Finally, in the summer of 1785, William and Anne brought their family to Kentucky, settling along Beargrass Creek at Sturgis Station. Soon after their arrival, their daughter Priscilla married Alexander Scott Bullitt.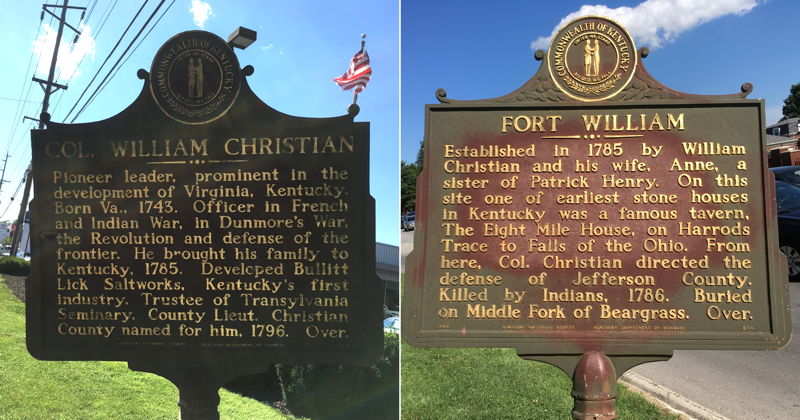 Historical Markers on Shelbyville Road in Louisville.
Indian attacks were frequent enough to be discouraging, and to encourage others to resist, Christian had led every pursuit following attacks. That was to be the case in April 1786, when following such a raid, Christian led a party of about twenty in pursuit of such a band. They crossed the Ohio River and overtook three Indians. Christian, his son-in-law Alexander Scott Bullitt, and John O'Bannon were in the lead when they discovered the Indians. Fire was exchanged, and the Indians killed; but not before Christian was shot. He died on the way home.
William Christian was buried in what was to become the Bullitt family cemetery. His loss was greatly felt throughout the region, and in 1796, a new county was carved out of Logan County and named for him.
But for his untimely death, William Christian's leadership skills might well have seen him to the governor's chair, or to a seat in Congress. Like John Floyd, killed just three years earlier, William Christian had been a man destined to lead, a destiny now denied.
---
Copyright 2016 by Charles Hartley, Shepherdsville KY. All rights are reserved. No part of the content of this page may be included in any format in any place without the written permission of the copyright holder.
---