Dingley Dell
The following article by Charles Hartley originally appeared in The Courier-Journal on 20 Feb 2013. It is archived here with additional information for your reading enjoyment.
---
In 1897 John Henry Linn bought a worn-out farm just north of Huber's Station. He tore down all the old buildings and had a fine new home built. Using the latest farming techniques, he restored the land and turned the farm into one of the most productive in the area.
With new barns and outbuildings, his farm resembled a miniature village that he named Dingley Dell. He took the name from The Pickwick Papers by Charles Dickens, which suggests his fondness for good literature.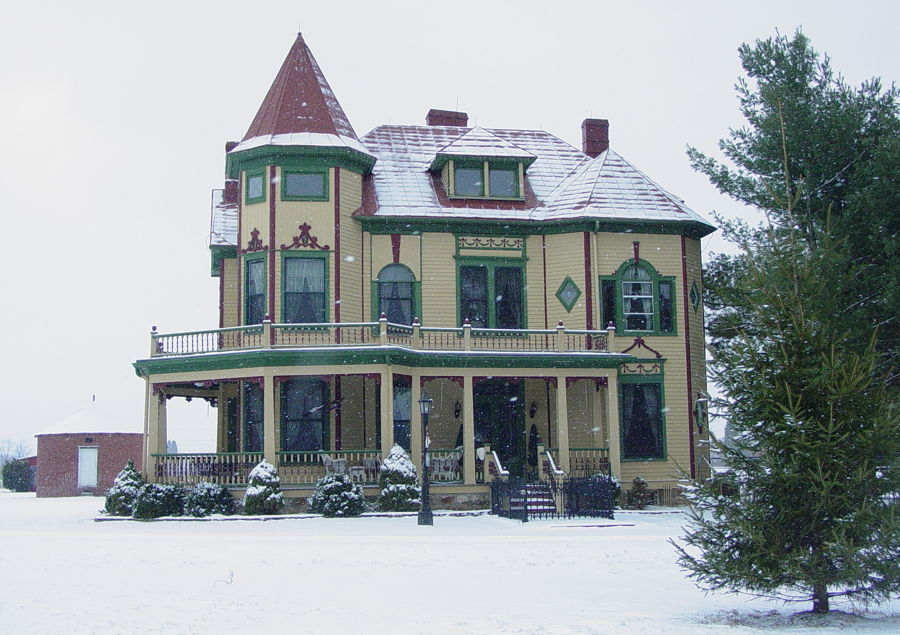 Dingley Dell - a Winter Scene
Linn was a man with an unusual and intriguing past. Born on New Year's Day 1857 to the Reverend John Henry Linn, Sr. and his second wife, Isabella Tompkins Linn, his early years were spent in many different places as his father, a Methodist minister, filled pulpits from Baltimore in the east to St. Louis in the west along with several stops in Kentucky.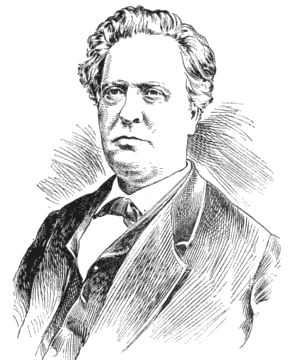 Rev. J. H. Linn
Before young Henry was born, his father officiated at the wedding of Lieutenant Ulysses S. Grant and Julia Dent in St. Louis in 1848. It is reasonable to assume that as Henry grew up during the Civil War that he was aware of this distinction.
In 1876, while the family was living in St. Louis again, Henry's first job was as a clerk for a local business. His father died in December, just before Henry's 20th birthday, and the family moved back to Louisville. Henry soon got a job as a bookkeeper, while his mother continued to take care of his two sisters, Mary and Virgie, and their younger brother, William.
He married Clara Barnett in Louisville just after his 21st birthday, and for a while they lived with his mother before getting their own place. Henry was a talented bookkeeper and his skills soon came to the attention of a rather unusual employer, a local lottery company.
Kentuckians have had a love-hate relationship with lotteries from even before the state's beginning in 1792. Before the Civil War, they were used to finance both public and private projects from a Presbyterian meetinghouse to a Masonic Grand Lodge Hall, as well as funding schools, and building or improving roads and bridges.
Potential fraud, corruption, and mismanagement plagued many of these efforts, particularly those run by private companies, but early attempts by the state legislature to limit or prevent lotteries met mixed success with the courts siding with the lotteries.
One such lottery began in 1838 when the legislature granted the privilege of using a lottery to raise money for the benefit of the Frankfort city schools. Then in 1872, the legislature amended that act to allow the city councilmen to sell the privilege, which they did to E. S. Stewart. At Stewart's death, the charter for this Frankfort Lottery was sold by his estate to James J. Douglas, a Louisville wholesale whiskey distributor.
This was an extensive operation with as many as 50 outlets in Louisville alone, and others as far away as New York City, and by the early 1890's was said to net its owners profits of nearly a half million dollars yearly according to an article in The New York Times.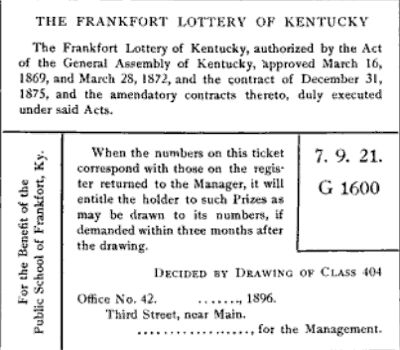 Frankfort Lottery Ticket
Henry Linn was listed as the lottery company's bookkeeper for over a decade, and his role in the company expanded into management in the early 1890s. However, the lottery's days were numbered.
In the 1890 Kentucky Constitutional Convention, a strict prohibition against lotteries was written into the new constitution. However, Douglas' Frankfort Lottery continued in operation, claiming that he had a contract to do so that was protected by the Federal Constitution.
In 1892, the Kentucky Attorney General filed a suit against the lottery company to shut it down. In December 1893 the Kentucky Court of Appeals ruled against the lottery, but Douglas appealed the decision to the United States Supreme Court. When that body also ruled against the lottery in late 1897, its end was inevitable.
By this time Mr. Douglas had abandoned the business, turning it over to Henry Linn to run. Henry followed the advice of his attorneys and closed the business effective January 1, 1898. It is unknown how profitable the business was to Linn, but he likely used his earnings to purchase several properties including the future site of Dingley Dell.
Linn contributed both time and money toward road improvements in the area, with an enthusiasm seldom matched by anyone else. He also involved himself in the community's affairs, and occasional disputes. During the Barbour-Hagan affair that led to Francis Hagan's death, Linn supported John Barbour, even putting up Barbour's bail. He was not afraid to sue or be sued, and was frequently found in the courtroom.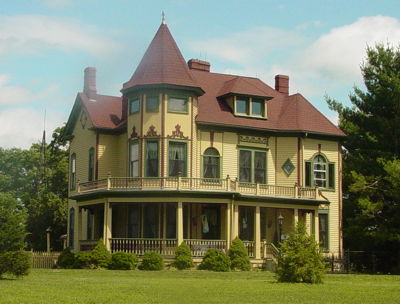 Summertime.
Henry and Clara Linn lived at Dingley Dell until 1918 when health issues, and the scarcity of farm labor, led him to sell the estate to Monroe Garr of Shelby County. The Linns moved to another farm on Bardstown Road, about a mile south of Buechel, where they lived for several years before moving back to Louisville.
Clara died in 1934, and Henry followed eight years later. They had no children.
The Garrs lived at Dingley Dell for many years before finally selling the place. Over the years, the home had been in decline, but its current owners, Jim and Pat Conway, are restoring it to its former glory as you can see from the photos shown here.
I think the Linns would be pleased.
---
The following cartoon was found online, and we believe it helps to identify the origin of "Dingley Dell."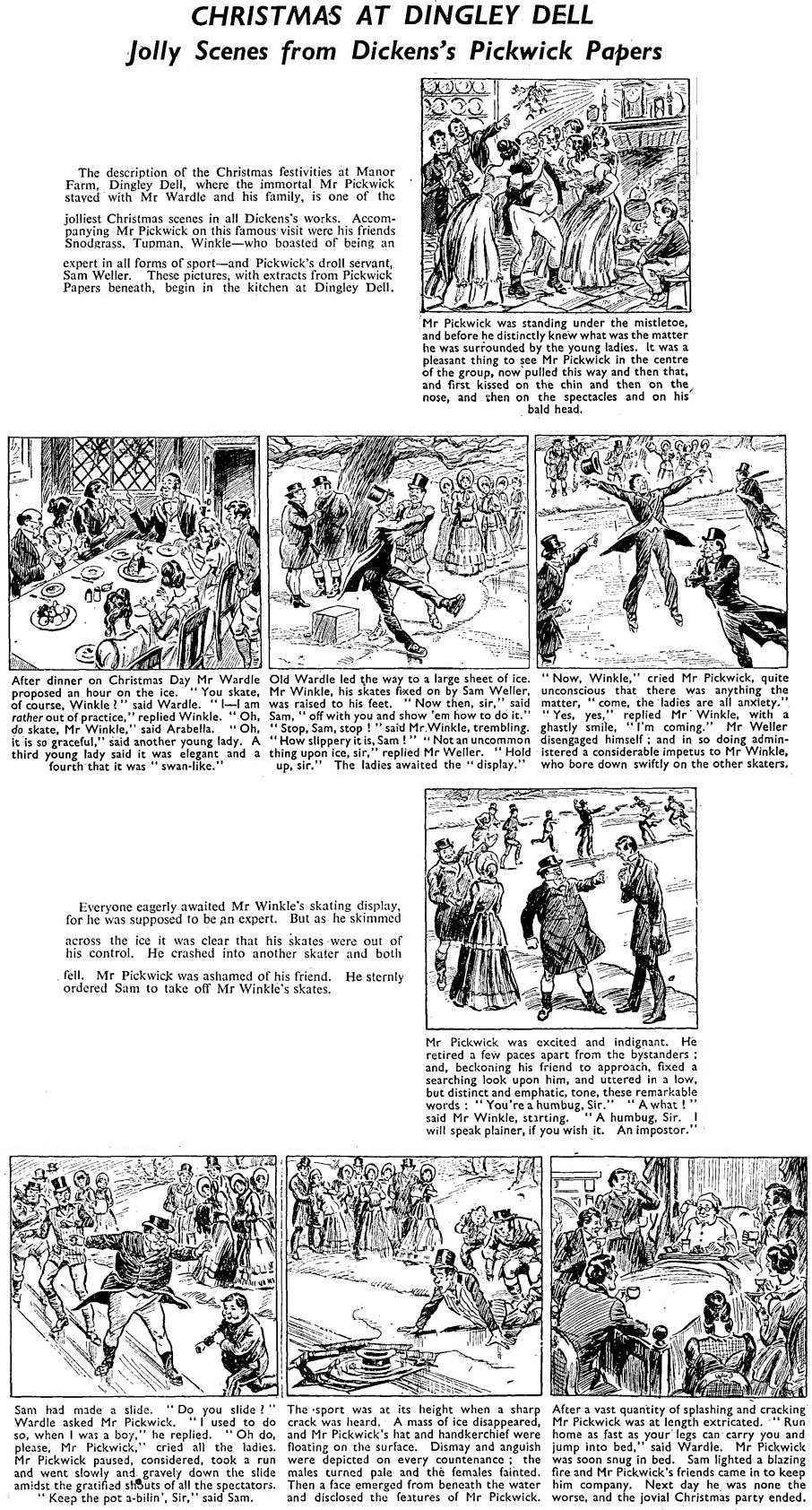 ---
Copyright 2013 by Charles Hartley, Shepherdsville KY. All rights are reserved. No part of the content of this page may be included in any format in any place without the written permission of the copyright holder.
---