"The Meadows," Part 1
The following article by Charles Hartley originally appeared in The Courier-Journal on 26 Dec 2012. It is archived here with additional information for your reading enjoyment.
---
In 1855, getting from Louisville to Shepherdsville meant traveling over mainly dirt roads. All that changed with the coming of the railroad. The first tracks reached Bullitt County by 1856, and by 1859 the L & N railroad was running between its namesake cities.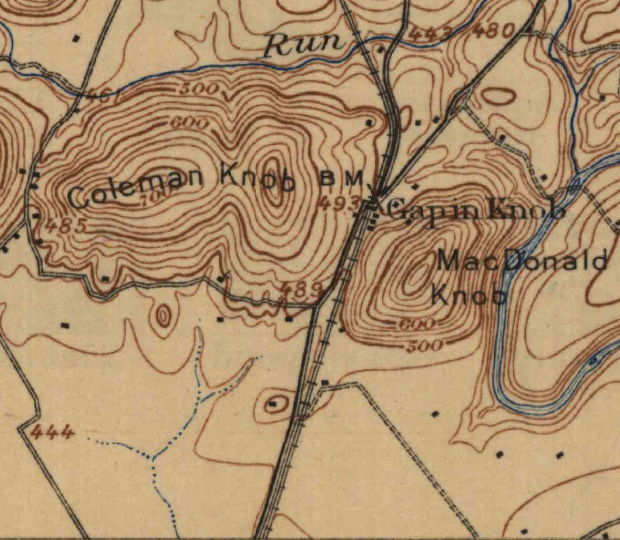 Coleman Knob in 1907
Farm included the knob and land south of it.
This opened up access to miles of formerly isolated land, and attracted wealthier Louisville citizens who wished to escape the summer heat and mosquitoes that plagued the city.
Among the earliest was the Coleman family. In April 1860, Thomas Cooper Coleman and his brother-in-law, Peter Donigan, went together to purchase 327 acres from Richard H. Field. This land lay north of Shepherdsville, next to where the railroad passed between two knobs.
Thomas Coleman had immigrated to America as a boy with his father in 1835 from Ireland. His father, also named Thomas, had been part-owner of a line of steam packets before he sold his business interests to move to America. His first wife had died, leaving him with four children including Thomas, and a daughter, Margaret, who would later marry Peter Donigan. He married Dora Morgan in 1833, and together they began their journey.
They finally settled in Louisville where Thomas Sr. placed his capital in two steamboats, the Saladin and the Louisville. His son Thomas began working in the business as a clerk, learning it from the ground up. By the age of 25 he was given command of the passenger boat Saladin. It was while he captained this vessel that he gained a notoriety that would stay with him as long as he lived.
From the stories told, it appears that Zachary Taylor, a native Kentuckian and friend of Thomas Coleman Sr., having been elected President in 1848, was preparing to journey from his Louisiana plantation to Washington, D.C. by boat up the Mississippi.
The Saladin was expecting to carry him northward, but Taylor's escort had other plans, and chose a different boat. On the day they were to leave, young Thomas Coleman slipped his vessel quietly out of New Orleans and steamed upriver to Taylor's landing. Seeing the vessel approaching, the party naturally assumed it was the proper transport, and cheerfully boarded with Taylor.
The Saladin pushed away from the landing just as the rival boat became visible downstream, frantically blowing its whistle.
When the escort committee learned that they were on the wrong vessel, they demanded that Captain Coleman stop the boat. When he refused, they declared that he was kidnapping the President!
When Taylor was summoned, he walked up to Coleman, shook his finger in the captain's face, and declared, "Tom, you scamp, what do you mean by getting me into this?"
He then turned to the outraged committee and said, perhaps with merriment in his eyes, "Gentlemen, I reckon about all we can do is to take a drink." And that ended the kidnapping of the President.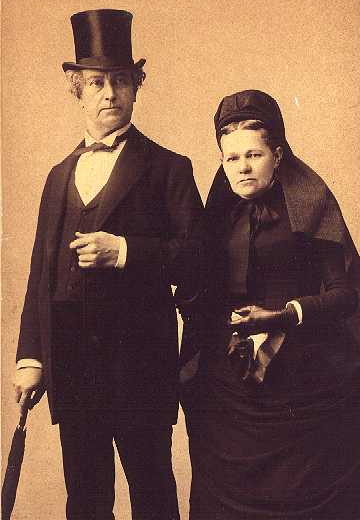 T. C. & Dulcenia Coleman in 1886
Prior to this time, the elder Coleman had begun to diversify his business interests. In 1847 he joined with W. B. Belknap in a partnership to purchase an unfinished iron rolling mill. By 1850 the Louisville Rolling Mill Company was in business producing extremely high quality charcoal iron that was particularly valuable to the railroad industry which used it for its new iron railroad bridges such as one built over Salt River.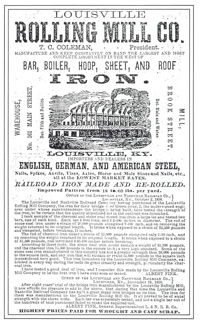 Click
HERE
to see larger
image on a separate page.
By 1855, young Thomas Coleman was helping to manage the iron business, and when his father died in 1861, he became president of the company.
He had married Dulcenia Johnson in 1849, and she would bear him thirteen children, eleven of whom grew to adulthood.
By 1860 the Coleman and Donigan families were spending at least the summers on their Bullitt County farm which they had affectionately named "The Meadows" after a favorite place back in Ireland. The place must have been crowded as there were six Donigans and seven Colemans living there.
The original house, built by the Field family, was two-stories with a total of six rooms. The kitchen was in a near-by log building. There were also smaller cabins nearby.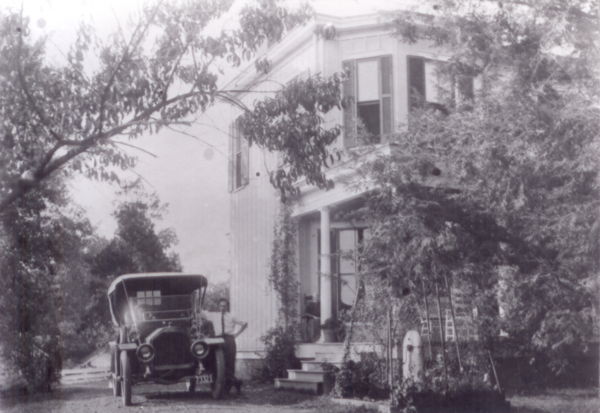 The Meadows - Date Unknown
In 1863 they added 123 acres to the estate, and then following Peter Donigan's death in 1864, Coleman bought out his sister's interest, and she moved her family back to Louisville.
With his close connections to the railroad, Coleman was able to get the trains to stop at the end of his drive, and thus was born the Gap in the Knob train stop.
Things went well for the family business until 1873 when the mill fell on hard times during a widespread economic depression. Bidermann du Pont had married Coleman's half-sister Ellen, and the du Ponts, who were local entrepreneurs, became associated with the business and provided needed capital to keep it afloat.
By 1880, du Pont was president of the company, and Thomas Coleman found himself with time on his hands. Since he was regarded as a leading authority on the manufacture of iron, he started another business as an iron merchant, and was again quite successful.
The growing family continued to live at "The Meadows." In 1880 there were ten in the family plus the children's governess, Ophelia Smith who was like one of the family. As the years passed and the children grew, the old house felt more and more cramped.
In 1899, the children decided to surprise their parents. A trip back to the old country was planned and Thomas, Dulcenia, and their daughter Margaret were sent on their way.
Next week we will learn what great surprise awaited them on their return. (Use this link to move to the second part of this story.)
---
Copyright 2012 by Charles Hartley, Shepherdsville KY. All rights are reserved. No part of the content of this page may be included in any format in any place without the written permission of the copyright holder.
---