"The Meadows," Part 2
The following article by Charles Hartley originally appeared in The Courier-Journal on 2 Jan 2013. It is archived here with additional information for your reading enjoyment.
---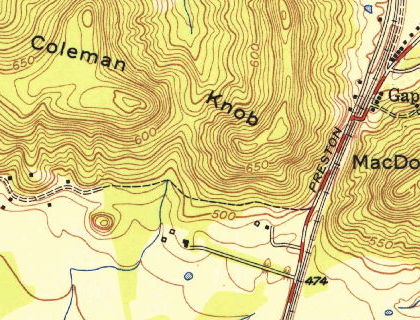 Farm house at end of long drive
beneath Coleman Knob.
If you missed last week's article, in 1860 the family of Thomas Cooper Coleman, Jr. purchased land near Gap in the Knob for a summer home. Coleman was a Louisville businessman with strong ties to the iron manufacturing industry. By 1880 his large family was living in their Bullitt County home full time. They affectionately named it "The Meadows" for it reminded Coleman of a favorite place in his native Ireland.
In 1899, Coleman's grown children arranged for their parents to enjoy a voyage back to Ireland. While they were abroad, the family arranged to have a large addition built onto the house to accommodate their extended family. Imagine their amazement when they exited the train at their little Gap in the Knob platform and saw a house now more than twice its original size!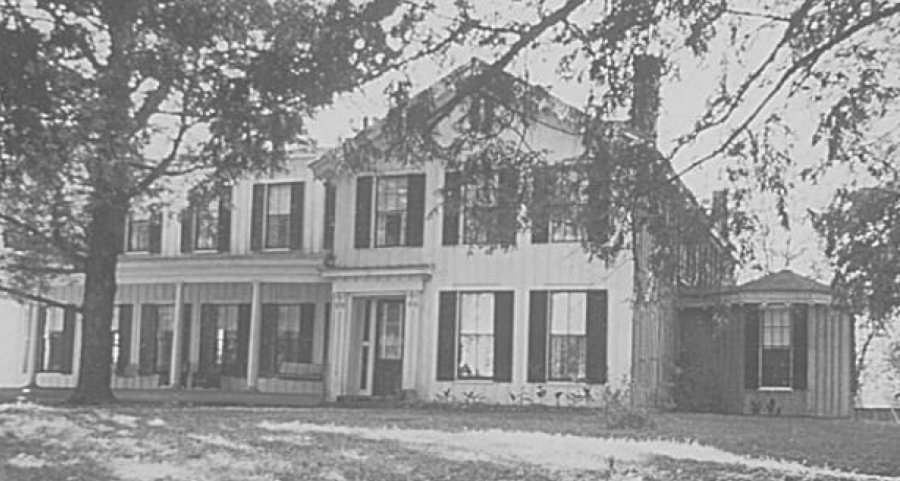 "The Meadows" after its expansion.
I've been told that the expanded house now had 22 rooms and 10 fireplaces. There was now ample room for everyone.
T. C. Coleman became ill in December 1901, and died at home. His widow, Dulcenia lived at "The Meadows" another decade, dying there in October 1911. Many of their children and grandchildren continued to live there for several years, but gradually spent more time in Louisville until finally it was only the daughters Ophelia and Alberta living in the big house. Finally they too moved to Louisville, and the house stood empty for many years.
In 1949 the Coleman descendants decided to sell the old place. In November the property was sold to the McAdams family.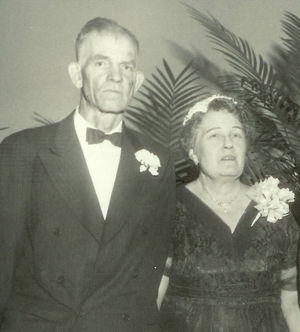 Ben and Anna McAdams
Ben and Anna McAdams had a small dairy farm on lower River Road, and Ben supplemented the family income by working for the K & I Railroad. They had 20 acres and rented about 150 more for their dairy operation. With Ben Jr. just out of the service, and their other son Norman almost finished with school, the family was looking for a place to build their dairy farm, and "The Meadows" seemed to be a good location.
Later in life, Ben Jr. wrote about their experiences, and I'll be quoting him quite a bit.
He wrote, "The house did not have any modern facilities. There wasn't any electricity, no city water, no gas heat. We wired the original carbide fixtures for electric, and water had to be piped from the barn where the well was located."
Their early years at "The Meadows" were difficult ones. In the first half of the 1950s, both recession and drought plagued their efforts. The profits from the dairy were small, and they had to rely on Ben's earnings on the railroad.
Ben Jr. would later write, "Mother was an exceptionally good cook and anyone that visited us always was invited to eat some of her fixins. It was by a chance situation in 1951 that the county agriculture agent, Mr. Rothwell, was partaking of Mother's cooking that he said 'Mrs. McAdams, with your kind of cooking you should run a restaurant.' Mother said, 'Well, I had been trying to think of something to do with this big house, but I knew we couldn't afford to spend the money needed to meet a Grade A restaurant to feed the public.'"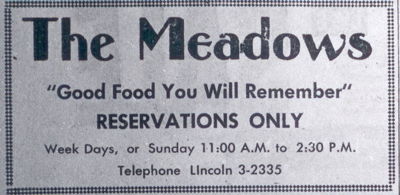 newspaper advertisement
Rothwell said he would take care of that, and an hour later she had her Grade A certificate.
Ben Jr. remembered, "I had not ever waited tables before in my life. I was designated head waiter. We got some pamphlets from the Extension Office showing how to correctly set tables and away we went."
They operated the restaurant by reservations only so that they could keep the dairy business going.
"Our restaurant under Mother's leadership gained a highly respected reputation. We served many dignitaries, governors and other high public officials and many persons from foreign countries."
When construction started on the Kentucky Turnpike, the family saw an opportunity to sell meals to the workers. They prepared breakfasts of egg and sausage sandwiches, and then a variety of cheese and ham sandwiches along with hamburgers together with apples and drinks for lunch. Ben Jr. drove over the construction terrain delivering these meals to appreciative workers. The money they made helped to pay off the balance due on the farm.
Norman married Joan Raggard in 1958, and Ben married Pauline Mason three years later. With the birth of Norman and Joan's two daughters, "The Meadows" was once again ringing with the sounds of children. In the years to follow, Norman and Joan added their son, and Ben and Pauline were blessed with a son and a daughter.
When Anna McAdams died in April 1961, the family closed the restaurant. They continued to operate the dairy, with Ben Jr. and Norman working outside the farm to keep things going. Then when their father could no longer maintain the dairy, the herd was sold and they switched to raising beef cattle. Ben Sr. died in 1974.
Ben wrote, "My children and Norman's children were a vital source of labor needed to keep the beef operation functioning. When all the children were grown and on their own then the beef cattle operation ended."
In the early 1990s, the families decided to sell the property to a developer, and in 1997 the old house finally came down, ending an era. Today modern houses dot the farm and even the name "The Meadows" is no more, except in the memories of those who enjoyed their visits there.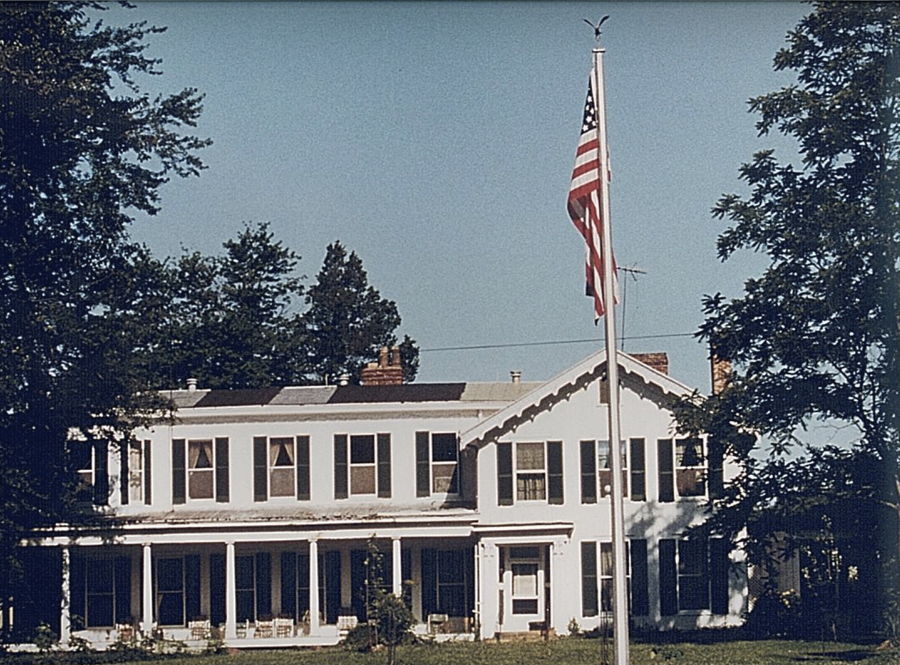 "The Meadows" as the McAdams' farmhouse
---
Copyright 2013 by Charles Hartley, Shepherdsville KY. All rights are reserved. No part of the content of this page may be included in any format in any place without the written permission of the copyright holder.
---