The McAfees of Mt. Washington
The following article by Charles Hartley was published on 1 November 2015. It is archived here for your reading enjoyment.
---
For three generations and then four, and a century and more, the name McAfee was known and respected in and around the town of Mt. Washington.
It began quietly enough when young Wade Alexander McAfee came to town. Alex, as he would be known to his friends, was born in 1845 in south-central Tennessee near Fayetteville to Jesse and Eliza McAfee. He was the third son of a large family.
When the Civil War began, his two older brothers enlisted in the Confederate army. John Wesley McAfee was captured at the battle for Fort Donelson and spent two years in a prison in Indianapolis. James Monroe McAfee rose to the rank of captain, and was severely wounded near Atlanta in 1864.
There is no evidence that the McAfees were slaveholders, and it appears that when Alex came of age to join the fighting, he elected instead to leave the dispute to others. We're not certain exactly when he left Tennessee for Kentucky, but he was in Bullitt County by 1869 at the latest, for there he married Malinda Geraldine Hall that September.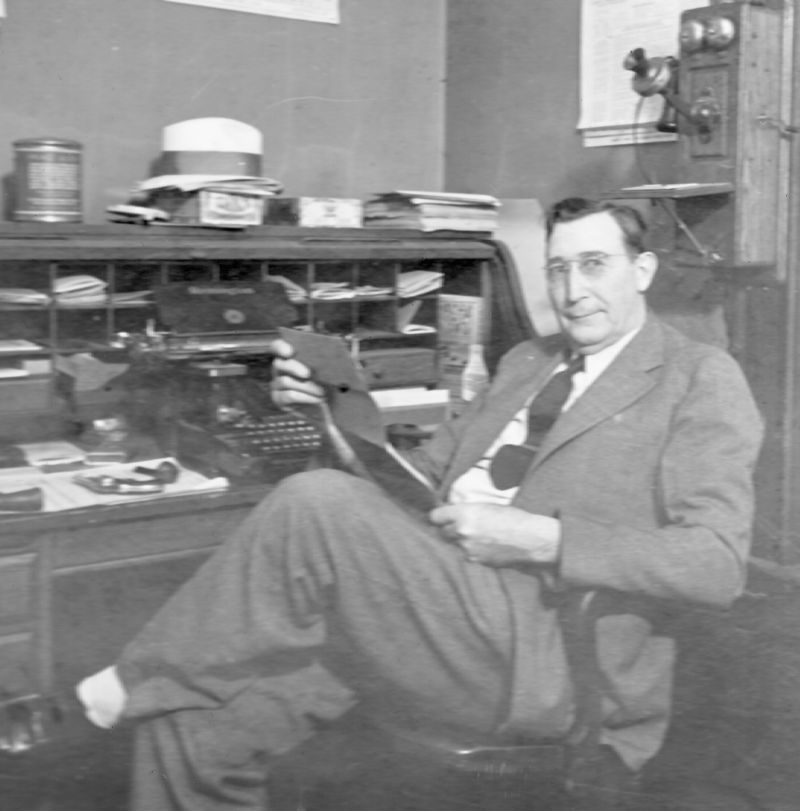 Bob McAfee in his office.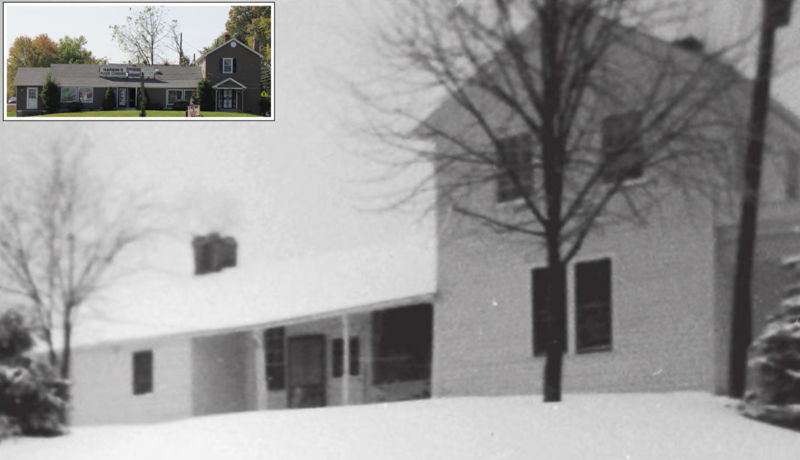 Bob McAfee's home; currently Harbin's Floor Covering Store
as shown in the insert photo.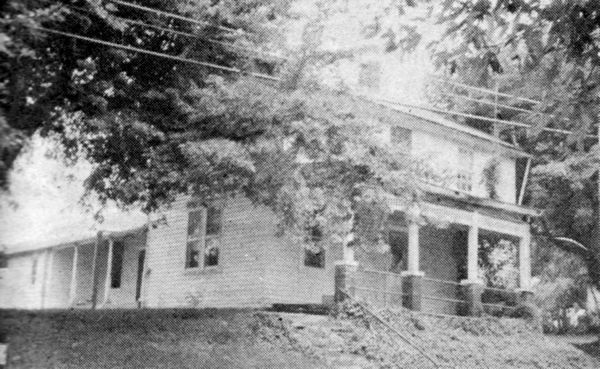 Older photo of McAfee home; compliments of Bobby Darnell.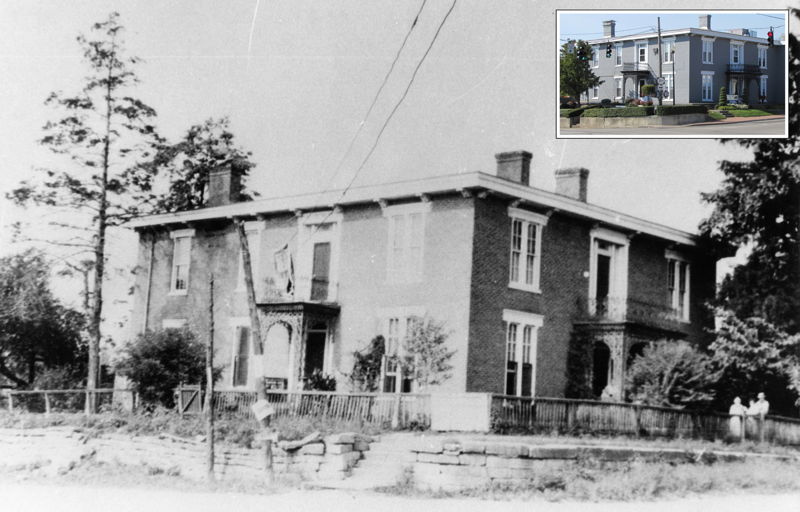 McAfee Funeral Home; currently the Troutman-McFarland-Proffitt Funeral Home
as shown in the insert photo.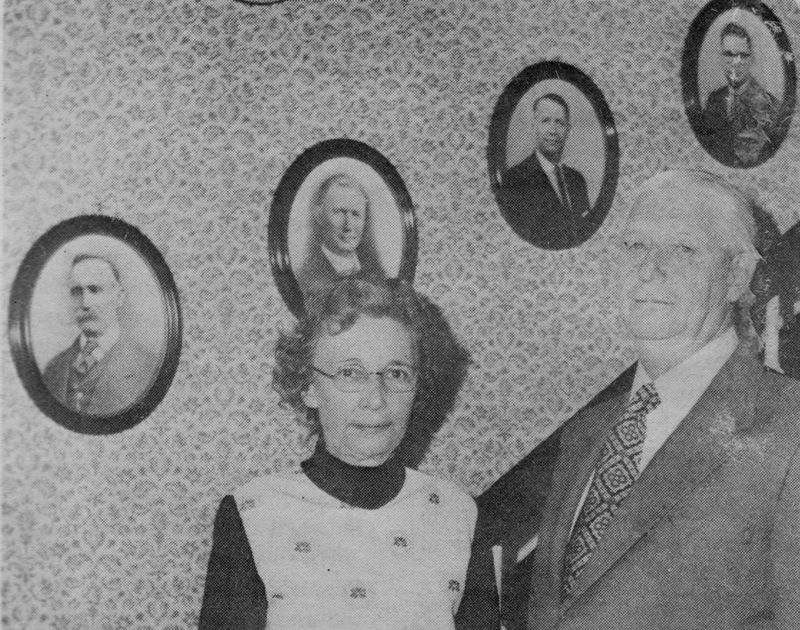 Pictured here are Alice and Vernon McAfee. The portraits,
from left to right, are of Wade Alexander McAfee, Earl Thomas
McAfee, Vernon as a younger man, and his son, Tommy McAfee.
Their first child, Mollie McAfee was born in early December 1871. Her sister Daisy was born in the spring of 1878, and their brother Earl Thomas joined the family in April 1880. The spring of 1883 brought both joy and sadness to the family. Robert Emmett "Bob" McAfee was born in late January, and then his oldest sister Mollie died in May.
Like most of his neighbors, Alex farmed for a living. It appears that he was also a livestock trader, an occupation that put him in contact with many in the community.
In a span of two years (1904-1905) all three of Alex's children married. Daisy McAfee married William Barnes who was a merchant in Mt. Washington; Earl Thomas married Vergie Forman; and Bob married Mabel Lee Harris.
The Barnes and McAfee families were closely connected down through the years. Daisy's husband William Barnes was brother to Almer Barnes who, along with Almer's son Jack, were an important part of The Peoples Bank of Mt. Washington, as was Bob McAfee.
Bob appears to have been a man of many talents. Besides carrying on his father's farming and livestock business, he was involved in other businesses in town including a flour mill, and owned a good deal of property as well. You can still see his home just west of the crossroads. Today it houses Harbin's Floor Covering Store.
He got into county government in 1929 when he signed on as a deputy sheriff candidate. He and sheriff candidate P. H. Croan were elected that November. After a term as deputy, Bob ran for sheriff in 1933. His opponents were W. F. Moore and F. M. Lanius. When the votes were cast, Bob had 51% of the vote, defeating his nearest opponent by more than 300 votes.
In 1937, County Judge C. P. Bradbury ran for State Representative, and Bob McAfee entered the race for judge. He easily won with 57% of the votes cast. Following the election, the local paper wrote, "Uncle Bob McAfee as head of our County Fiscal affairs, and Judge of the County Court is a good selection, he is affable, has a good active judicial mind, and will go out of his way to serve a friend, this office of late is quite important."
One term was enough for Bob, and he returned to private life back in Mt. Washington. He and Mabel were the parents of nine children, two of whom died as infants. Of the others, when Bob died in 1951, his son Harris was living in Cincinnati, Wade was in Taylorsville, Ward Hill was in Louisville, and Lillian was living in Buechel. The others, Maurice, R. Lee, and Eva were still living in Mt. Washington.
Turning back to the family's early history, as early as 1895, the McAfees were in the undertaking business. Earl Thomas, better known as Tom or Tommy, was but 15 at that time, so it is likely that Alex began the business, with Tom taking charge of it later.
Tom and Vergie had two sons, James Vernon and Earl Morrison McAfee, but young Earl died as an infant. Vernon would join his father in the funeral home business later in life.
Henry J. Barnes had built a fine house, almost a mansion, in Mt. Washington about 1885, and sometime after he died in 1910 it was sold to the McAfees and turned into a funeral home run by Tom, and later his son Vernon. At one time they were operating funeral homes in Mt. Washington, Buechel, and Bloomfield.
Vernon married Alice Rhea in the early 1930's and they had two children: Mary and Tommy. He and then his son would operate the business in Mt. Washington until 1975 when Gayle Troutman purchased it. The business in Buechel would continue for some time after that.
And with that an era came to a close. But thanks to folks like Bobby Darnell we still have memories of those days when everyone knew Uncle Bob and Vernon McAfee in Mt. Washington.
On a closing note, we're grateful to Bobby Darnell for his assistance with this article, and for the many pictures you see here. If you want to know more about Mt. Washington history, check out his pages on Facebook titled "History of Mt. Washington, Kentucky."
---
Copyright 2015 by Charles Hartley, Shepherdsville KY. All rights are reserved. No part of the content of this page may be included in any format in any place without the written permission of the copyright holder.
---