The Cruises and Harness Racing
The following article by Charles Hartley originally appeared in The Courier-Journal on 26 Sep 2012. It is archived here with additional information for your reading enjoyment.
---
The name Cruise has been associated with harness racing for three generations, and it all began on a farm off Chapeze Lane near Bardstown Junction. Here Hardy Cruise's love for fine standard-bred horses, especially one named Bruno Munson, resulted in repeated victories on the ovals at the Bullitt County fairgrounds, then located in Shepherdsville on the west side of Highway 61, just north of town.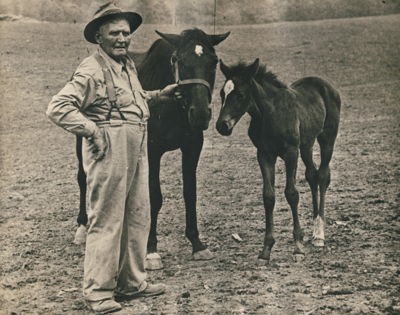 Hardy Cruise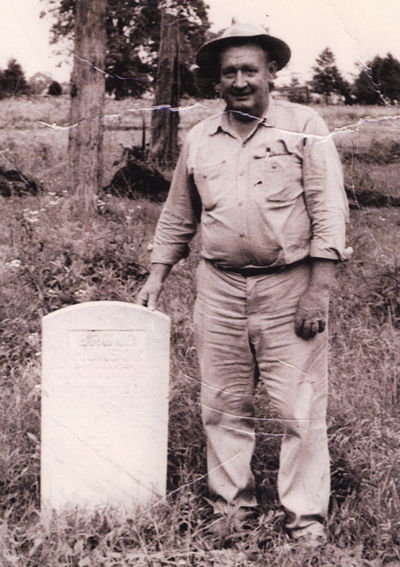 Hardy Cruise
with Bruno Munson's grave marker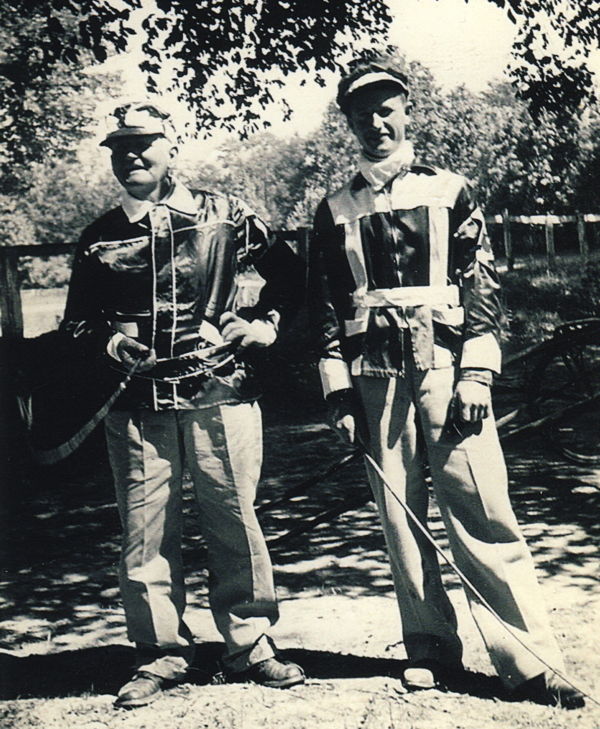 Hardy and Jimmy Cruise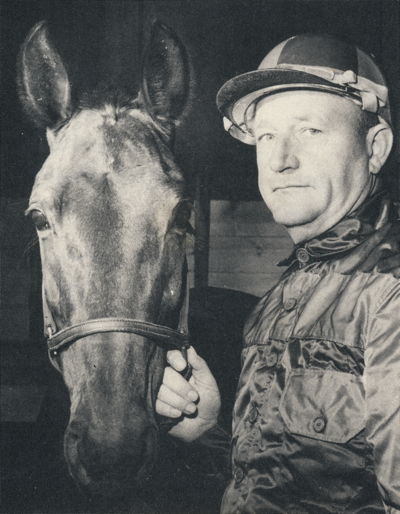 Jimmy Cruise with Earl Laird
Hardy Cruise grew up near Upton, in Larue County, but moved north to Bullitt County where he married Byrda Boots, a Lebanon Junction girl, in 1903. It wasn't long before they settled on their farm near Bardstown Junction and Hardy began breeding livestock.
The best horse he ever owned was Bruno Munson. Born in 1911, he raced until his death in 1925. During that time he started 134 races and won 114 of them. He never finished out of the money. When he died, Cruise buried him in the center of the oval track at the Bullitt County fairgrounds and placed a small gravestone to mark the spot.
Hardy and Byrda reared a fine family of three boys (Pat, Jimmy, and Johnny) and two girls (Francis and Dorthy Glynn), and all of them loved horses. All of the boys learned to drive in the two-wheeled cart called a sulky used in harness racing for both trotters and pacers, and hardly a day would pass that one of them, or their father, was not flying around the oval track laid out on their farm.
Jimmy, the youngest boy, took to it with a passion and skill that led to a career in racing. He began racing while still in high school on the Indiana and Kentucky fair circuit in the 1930's, and continued there until joining the service in World War II. After the war, he returned to the circuit where he met Joann Daugherty whose father had horses in the same barn as Cruise's at the Muncie, Indiana, fair in 1945. They were married the next year.
In the meantime, Jimmy Cruise was lured to the inaugural, 25-day Western Harness Racing Association meeting at Santa Anita. Here he won the Western Harness Grand Pace with its $50,000 purse. He spent many winters in California and earned seven driving championships at Santa Anita.
Not confining his racing to the west coast, Cruise became one of the top trainers and drivers at Roosevelt Raceway (Westbury, New York) in its early days, and never missed a race meeting at the track from 1946 to 1971.
A highlight of his career occurred in 1958 when he drove horses from his stable in six races on one card at Roosevelt and won all six, even though none of the horses was a favorite and the track was muddy. This had never been done before.
Known around the stables as the "horse-doctor," Cruise was often called on by high-profile trainers who sought advice on dealing with their sore, lame and crippled horses. He was known for taking less-than-sound horses and bringing them to their best efforts. For example, he waited patiently for Earl Laird to develop, and the home-bred trotter eventually acquired nearly a half million dollars in earnings despite being consistently sore or lame.
With 1,766 lifetime victories and $6,120,553 in purses won, much of it in eras when horses raced for less spectacular sums, Jimmy Cruise was well deserving of his induction into the Harness Racing Hall of Fame in 1986.
By that time, he spent most of his time training horses, leaving the driving to his sons, Jimmy Jr. and Earl. After his death in 2002, his sons continued to train horses, each with his own stable.
While Jimmy and his sons are best known in harness racing circles, his brother Pat was well known locally for his love of racing. For a time he maintained his own stable, but is better remembered in Bullitt County as a Master Commissioner, a position he held for 27 years. Prior to that, he was a tax commissioner, and also worked with the highway department and helped build the Salt River Bridge, the bridge at Taylorsville, the overpass at the Gap n' Knob, and a bridge on Highway 44. He was also chairman for the Democratic Party in the county for 25 years.
The Cruise love for racing has made its way down to Pat's son, Jimmy Cruise who still shows off the oval track beside his house. A visit to his home is a step back in harness racing time with pictures of his racing family on every wall.
With a family reunion planned for this coming Saturday, Jimmy is eagerly anticipating traveling down memory lane, and sharing his family's past with the next generation. Who knows, but that there might be another oval track in someone's future.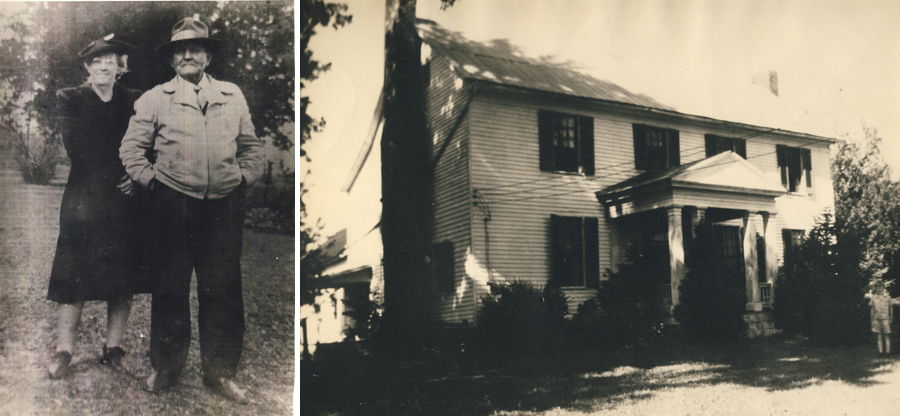 Hardy and Byrda Cruise on left; Cruise home on the right with grandson, Jimmy.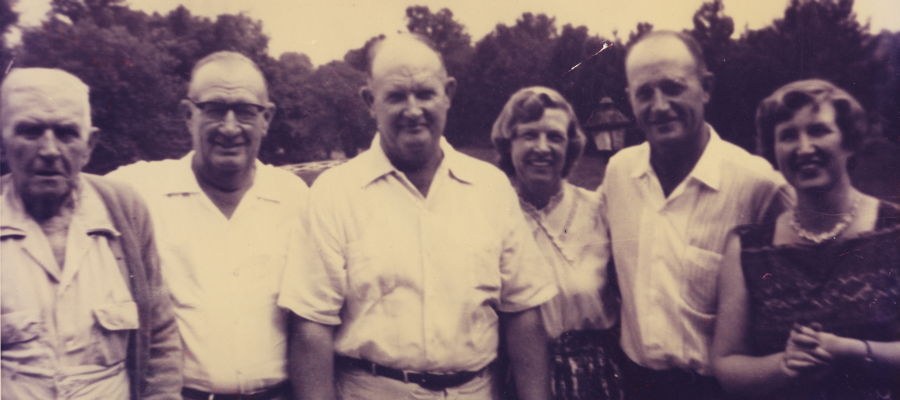 Hardy Cruise with children: Pat, John, Francis, Jimmy, and Dorothy Glynn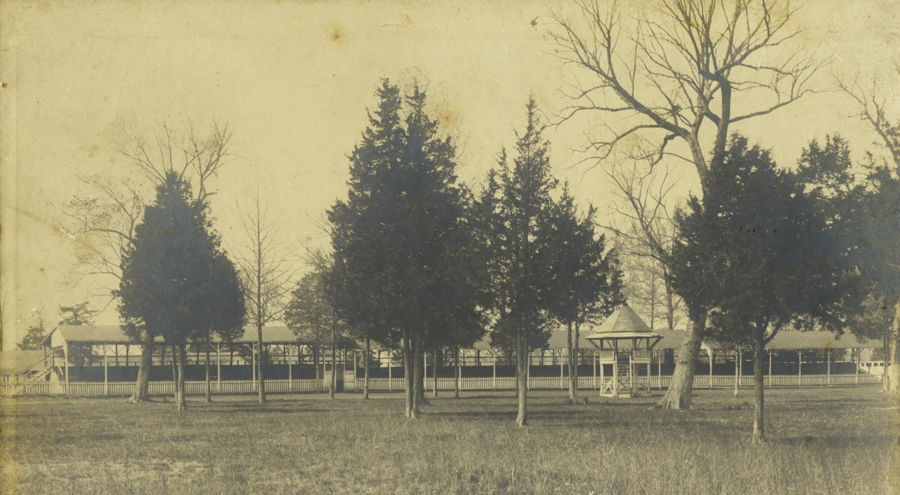 (above and below) Pictures of Grandstand at Fairgrounds in Shepherdsville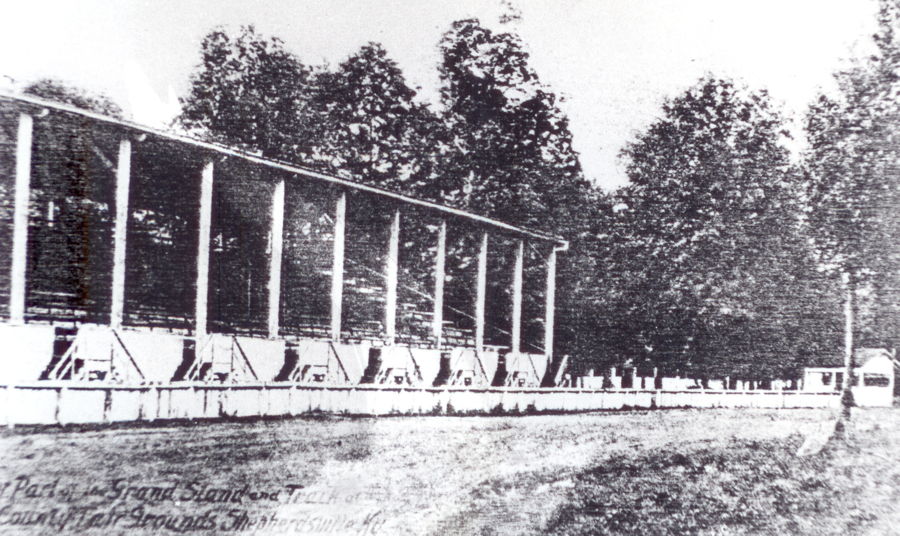 ---
Copyright 2012 by Charles Hartley, Shepherdsville KY. All rights are reserved. No part of the content of this page may be included in any format in any place without the written permission of the copyright holder.
---