Benjamin and Elizabeth Chapeze
The following article by Charles Hartley originally appeared in The Courier-Journal on 4 May 2014. It is archived here with additional information for your reading enjoyment.
---
When the Marquis de LaFayette left France in 1777 bound for America he brought with him a number of chosen companions, one of whom appears to have been a young doctor named Henri Chapiers, whose Anglicized name became Henry Chapeze.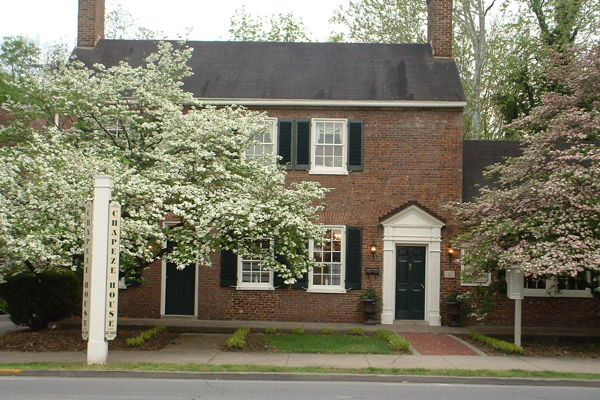 Dr. Henry Chapeze House, Bardstown, Kentucky
Photo provided by Margaret Sue Masters, Kentucky Bourbon House
Dr. Henry Chapeze served as a surgeon during the revolution, and following it he married an Irish lass named Sarah Kenny and they had a son Benjamin, born in New Jersey in 1787.
Soon thereafter, Henry brought his family to Kentucky and settled in Bardstown where he built his home which still stands today and is the site of the Kentucky Bourbon House.
Here their second son, Henry Jr. was born in 1791. Henry Jr. would become a doctor, move to Ohio, and die there at the age of 32; but it is his older brother that is the focus of our story today.
In those days, goods were transported by wagon from riverside depots to inland communities, and young Ben Chapeze became a wagoner. On one trip to Lexington, poor road conditions caused his wagon to overturn, resulting in damage to some of the goods he was hauling. The merchant sued him for damages, and when the case came to court Chapeze argued his own case so effectively that he won.
Ben married Elizabeth Shepherd in Bardstown on 7 May 1812. She was a daughter of Adam Shepherd for whom Shepherdsville is named. They settled on a small Bullitt County farm along Long Lick Creek, likely on property owned by her father. Ben again found himself in court before the local justice, Wilford Lee.
Lucius P. Little later wrote that Chapeze "seems to have intuitively appreciated the importance of precedent and authority. For this purpose he produced a Bible at the trial, from which he read, and quotations from which he incorporated into his argument. His argument won his case and deeply impressed Mr. Lee."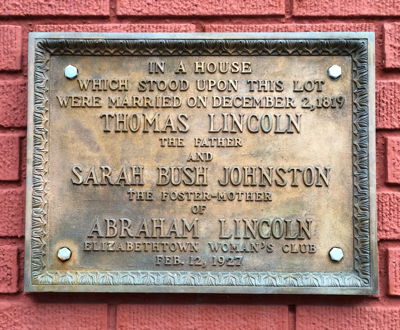 Location is one block north of Courthouse Square in Elizabethtown.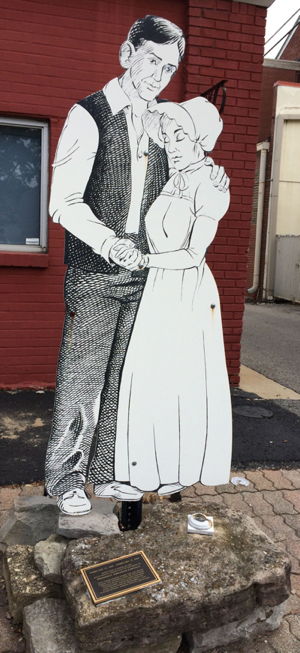 Metal statue depicting the marriage.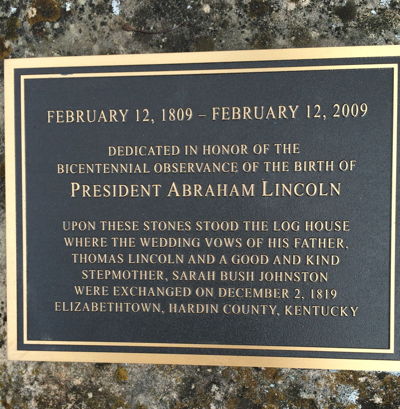 Text of plaque at base of statue.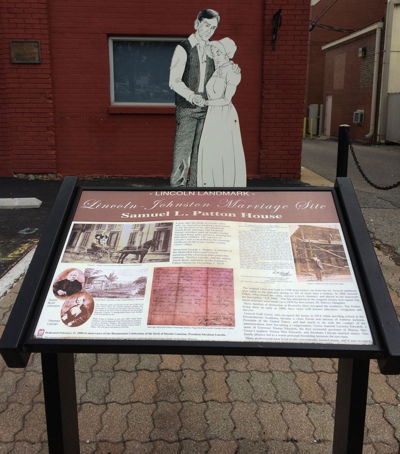 Samuel L. Patton built the house that Ben Chapeze
owned at the time of the wedding here.
Lee encouraged him to study law, even offering to loan the money needed for law books. With Lee's encouragement and Elizabeth's urging, Ben accepted the offer, and for the next two years he split his time between farm work and study.
In 1815 he was admitted to the bar at Shepherdsville where he practiced for two years. He then moved to Elizabethtown for a spell before moving on to Bardstown. It was while he lived in Elizabethtown that his home there was the site of the marriage of Abraham Lincoln's father Thomas to Sarah Bush Johnston by Methodist Minister George Lawson Rogers on 2 Dec 1819. (See photos to right for more info.)
Earlier that year, Adam Shepherd had died, and Ben Chapeze largely managed his widow's affairs. By the time of her death in 1831, Ben and Elizabeth had obtained the majority of the Shepherd lands in the Long Lick Valley, either through inheritance or purchase.
Ben Chapeze was a large man, of fine physique and presence. He was neat in dress and person, and courteous in manner. His dark complexion, long raven hair, and lustrous black eyes bespoke his French origin. Little described Chapeze as "remarkable for great integrity of character. He was very generally called the 'honest lawyer,' from his candor and honesty."
In September 1839, while engaged in defense of a man charged with murder in Elizabethtown, Ben was overcome with exhaustion. He was taken to his hotel room where doctors applied a remedy common in the day -- blood-letting. It was too much for his condition to suffer, and he died nine days later.
Ben and Elizabeth's Family
Ben and Elizabeth had ten children, and next time we will write about two of their sons, Adam and Ben who remained in the Long Lick Valley and prospered there as distillers.
Here is what we know of their remaining eight children.
Four of their five daughters married two brothers.
Susan Shepherd Chapeze, Benjamin and Elizabeth's first daughter, was born on 1 May 1815 in Bardstown. She married Dr. Richard M. Wathen on 17 Jun 1840 in Breckinridge County, and they had four children: Elizabeth, Nora, Benjamin, and Mary Francis. Susan was only 34 when she died on 21 Apr 1850. Richard returned to the Chapeze household for his second wife, marrying Mary Rebecca Chapeze on 15 Jan 1851 in Bullitt County.
Mary Rebecca Chapeze was born about 1828, the eighth child of Benjamin and Elizabeth. She and Richard Wathen had three children: Richard Jr., Henry, and Columbia.
Dr. Richard M. Wathen died on 5 May 1870 in Breckinridge County. It is not certain what became of Mary Rebecca, but all the Wathen children were living with their uncle, Dr. Benedict Wathen in the 1870 census.
Benedict Wathen first married Sarah Elizabeth Chapeze on 4 May 1841 in Bullitt County. Sarah Elizabeth was Benjamin and Elizabeth's fourth child. They had three children, Susan Elizabeth, Margaret, and Benedict Jr., before Sarah died on 3 Sep 1848.
Benedict next married Sarah's sister, Eulalia Flaget Chapeze on 6 Feb 1855 in Bullitt County. They would have five children: Richard, Chapeze, Kendrick, Sarah, and Ellen Christine. Benedict died in Breckinridge County in 1879. Flaget lived until 1909, finishing her life near where it began in the Long Lick Creek Valley.
Charlotte Chapeze was the last daughter born to Benjamin and Elizabeth. She never married; dying in 1855.
Of their sons, Benjamin and Elizabeth Chapeze's first child, Henry was born in 1814. Henry Chapeze married Lucy B. Hoard on 20 Nov 1838 in Jessamine County KY. They appear in the 1850 census there with two children, Mary and Benjamin Francis. Henry's youngest brother, Kendrick was also living with them at that time.
Nothing more has been learned about Henry or Lucy. However, we have learned that their daughter Mary married James Holmes Cummins in Danville in 1868. They spent most of their lives in the Memphis, Tennessee area where Mr. Cummins was a prominent lawyer with considerable railroad connections. He died in 1896, and Mary died there in 1929. James and Mary had five children including James, Lucy, Henry, Logan, and David. Lucy and Henry died as infants.
Henry and Lucy Chapeze's son Benjamin appears to have spent time in Missouri, engaging in freighting across the plains to Salt Lake City prior to the period of the Civil war. During the war he returned to Kentucky. He married Mary F. Keas, and following the war Benjamin, Mary, their daughter Lula, and their son Frank moved to Ray County MO where they spent the rest of their lives.
Lula married Louis Mansur and they continued to live in Ray County. Her parents were living with her in the 1920 census. Mary died in 1921, age 80, and Benjamin followed a year later, age 82.
Frank B. Chapeze, well known as a live-stock dealer and a member of the Traders' Exchange, came to Kansas City in the fall of 1886. He was born in Nicholasville, Kentucky, February 23, 1865. He was largely educated in the schools of Richmond, Ray county, but at the age of eighteen years he went to Colorado, where he was employed as a cowboy on the range for two years. He then arrived in Kansas City and engaged in the live stock business. He was married on 25 May 1892 in Kansas City to Mrs. Anna C. Faulke, a daughter of Michael Finfrock and the widow of William H. Faulke, by whom she had one daughter, Ruth. Frank and Anna had a daughter named Imogene who married Arthur H. Stanton in 1926 in Missouri. Arthur and Imogene had a son named Donald.
Anna Cora Chapeze died in 1927. Frank B. Chapeze lived until 1949. With his passing, this branch of the Chapeze name came to an end.
John Crozier Chapeze was born in 1816 to Benjamin and Elizabeth, their third child, and second son. He married Rachel Anna Grider and they had four children, but only two lived to maturity. Their first, Elizabeth married a Johnson and died in McCracken County in 1940. The next, Sallie died at the age of four. She was followed by Laura Covin Chapeze who married Brackett Owen. They had two children that we know about: John and Ann. Laura died in 1959. John and Rachel's last child was named Harry Grider Chapeze. He died in his third year.
John died in 1882 in Ohio County. Rachel moved to Paducah where she died in 1913.
Francis Patrick Kendrick Chapeze, known mostly as Ken, was born in 1836, the last child born to Ben and Elizabeth. His father died before Ken reached his third birthday in 1839. Ken Chapeze also became a lawyer. He was first admitted to the bar in Shepherdsville in 1857. The next year he was selected as the Bullitt County Attorney. He moved to Union County in 1864. He married Virginia Hancock in 1868 and they had six children: Louisa who died young, Kendrick Jr., Benjamin, Joseph, Elizabeth, and Mary.
Of these, Kendrick Jr. never married. He was living in St. Louis and working for the Bankers Mutual Life Insurance Company when he died in 1931. His brother Ben also remained single. The last we know of him is in 1940 when he was a salesman in St. Louis, living with his sister Elizabeth.
The other brother, Joseph also remained single. He died in St. Louis in 1942, age 65.
Their sister, Elizabeth Chapeze married Zachariah Henry Hughes and we know of one son they named Henry. They lived in St. Louis where Zachariah died in 1939, and Elizabeth in 1953.
The last sister, Mary Hancock Chapeze also never married. She died in 1966.
Ken Chapeze died in 1889, age 52. Virginia lived until 1894.
---
Copyright 2014 by Charles Hartley, Shepherdsville KY. All rights are reserved. No part of the content of this page may be included in any format in any place without the written permission of the copyright holder.
---