Adam Shepherd
The following article by Charles Hartley originally appeared in The Courier-Journal on 20 Apr 2014. It is archived here with additional information for your reading enjoyment.
---
Today one of the busiest streets in Shepherdsville is Adam Shepherd Parkway, and many of those who use it likely know that Shepherdsville is named for him. However, most know surprisingly little more about him. Today we will try to change that.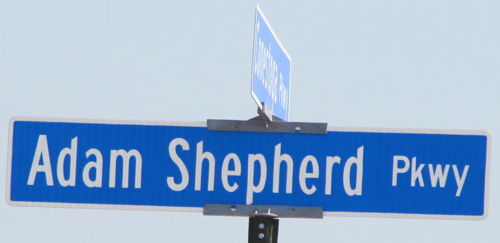 Adam Shepherd was born in Bucks County, Pennsylvania on 21 Mar 1757 to Peter and Elizabeth Schaeffer. Yes, that's right, his birth name was Schaeffer. Had his parents not decided to Anglicize their name to Shepherd, Bullitt County's county seat might be named Shaeffersville.
Peter Shepherd successfully operated a series of grist mills in Pennsylvania, and in 1774 he sold his holdings there and moved his family to Baltimore, Maryland where he prospered for a time. (Learn more about Peter Shepherd here.)
During the American Revolution, Virginia decided to raise money by selling land warrants for the right to claim property in what was then Kentucky County. The first day to buy these warrants was 15 Sep 1779, and on that day numerous men of means, both in Virginia and in neighboring Maryland, invested heavily in these warrants with a view toward making a fortune in these virgin lands. Peter Shepherd himself paid £6,400 (English pounds) for the right to claim 16,000 acres of Kentucky land. (Follow this link for a list of tracts claimed for Peter and Adam Shepherd.)
With the war dragging on, it was more than a year later before John Fitch made the first survey based on Shepherd's warrants. Then the following March, in 1781, Benjamin Stansbury laid out two large tracts in Peter Shepherd's name alongside the Salt River. One was for 600 acres on the south side of Salt River, and the other was for 900 acres that would later include the site of Shepherdsville.
We know that Adam Shepherd was in Kentucky about that time for his name appears as surveyor for another tract along Mill Creek in what was then Jefferson County. Then he seems to have returned to Kentucky almost two years later to begin surveying a series of tracts. In January and February 1783 Adam surveyed a total of nine different tracts of land for his father, and two for himself.
He may have returned to Baltimore during the summer, but he was back in Kentucky conducting surveys again in September, and appears to have remained here for much of the rest of his life.
It is unclear exactly what role Adam Shepherd played during the American Revolution. In the public papers of Kentucky Governor Keen Johnson (1939-1943) we find the statement, "Shortly following the Revolutionary War, Matthew Walton and Adam Shepherd, engineers who served with General Washington's army, left Virginia to seek land in Kentucky." We know that the Corps of Engineers were established in 1779 to help design and construct facilities for the army, and that it was made up originally of civilian workers, members of the Continental Army and French officers. Civilian or soldier, it seems that Adam Shepherd contributed to the war effort.
During his travels in Kentucky Adam Shepherd met and married Rachel Drake on 20 Apr 1784 in Lincoln County. Although he continued to be involved in land deals throughout the state, Adam and Rachel made their home in what would become Bullitt County.
A correspondent for The Courier-Journal wrote in 1880 that "Adam Shepherd was a man remarkable, not only for his bravery, but was a man of great business capacities. He built the Bell's iron works in Tennessee, the brick row fronting the river in Shepherdsville for a warehouse, and carried on a large commission house in New Orleans."
Then in 1897, his granddaughter, Eulalia Flaget Wathen wrote that Adam Shepherd was so allured by the great prospects for salt trade that "he was known to have bartered away a tract of land in Shelby County for a salt kettle." She went on to say, "My grandfather was a man of great enterprise for his day and time. He erected at or near Shepherdsville a mill; also a store, and entered largely in the manufacture of salt." (Her letter is transcribed here.)
It was likely the prospects of finding salt that attracted him to the valley along the Long Lick Creek. By the time he was finished he owned much of that valley, and this is where he came to live the rest of his life.
Various sources suggest that they had one or two sons, but neither appears to have lived to adulthood. Adam and Rachel had five daughters that we know about. Little more has been learned about Charlotte (married Samuel Benthall), Mary (married Robert Pryor), Julia (married Samuel Neill), or Sarah; but we know quite a lot about the fifth daughter, Elizabeth who married Ben Chapeze. However, we'll save that for another time.
Adam Shepherd died in 1819, and Rachel lived until at least 1830. While their succeeding generations dwindled in numbers, there is no denying that Adam Shepherd left an enduring mark on this region, and deserves to have the town and a fine new street bear his name.
---
Copyright 2014 by Charles Hartley, Shepherdsville KY. All rights are reserved. No part of the content of this page may be included in any format in any place without the written permission of the copyright holder.
---