George Lawson Rogers
The following article by David Strange originally appeared in The Courier-Journal on 24 April 2013. It is archived here with additional information for your reading enjoyment.
---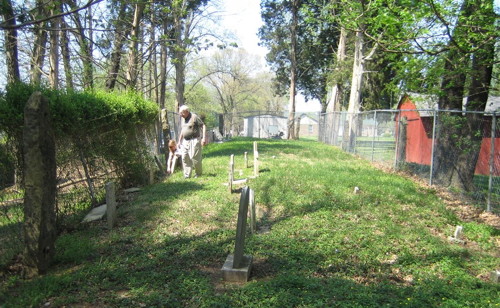 Rogers Cemetery
In a tiny little graveyard, almost unnoticed between the back yards of some modern, subdivision-type homes in northern Bullitt County, lies a small group of family graves. But much more can be said of this little graveyard than its slight appearance might suggest.
History is there. In this case, there is a lot of history. Far more than I can cover here. History focused in part on the ninety-nine years of Reverend George Lawson Rogers, and his connection to the family of Abraham Lincoln.
We'll get to the Lincoln connection in a moment.
Reverend Rogers, whose tombstone and grave rests in the simple-but-neatly-kept Rogers Family Cemetery, next to a chain link fence, lived quite a life on this Earth.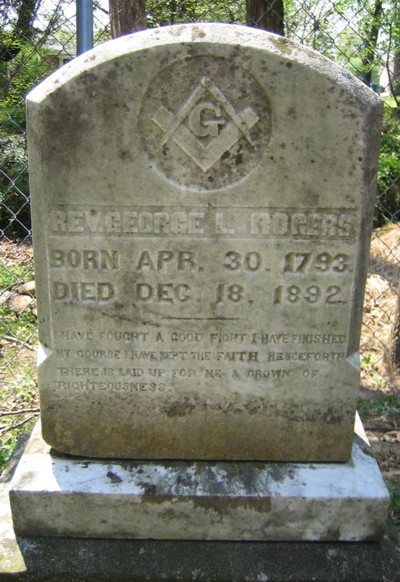 Grave Stone of Rev. George L. Rogers
He was pastor of Bethesda Chapel, and later Cooper Chapel Methodist Church, just north of the Bullitt/Jefferson County line.
His family history is a veritable "Who's Who" of Kentucky history.
Rogers himself was a cousin of William Clark and George Rogers Clark.
According to an article by descendant Judy Queen, Reverend Rogers was one of the early "circuit riders," or traveling pastors. Born in April, 1793 in Virginia, he came to Louisville as a boy with his father on a flatboat on the Ohio River, settling in northern Bullitt County, near where the family cemetery, and his grave, is today. He later lived in Elizabethtown for a while, preaching and organizing many Methodist Churches, before coming back to his home in Bullitt County.
Reverend George Lawson Rogers was married three (some say four) times, a widower each time, in a time and place that was especially hard on women.
His first wife, Jane Breckinridge Floyd, was of the family for which Floyd's Fork is named. They married in 1815. She died in 1823.
His second wife was Matilda Merrifield, a direct descendant of Daniel Boone through her mother, Rachel Boone. Married in 1824, Matilda died in 1841.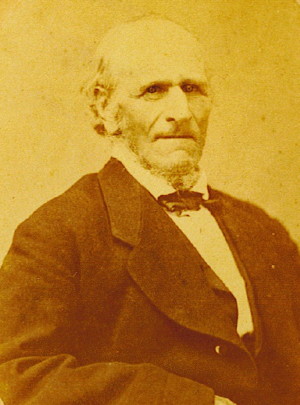 Rev. George Lawson Rogers
Rev. Rogers' third wife, in 1846, was Elizabeth Hart, of Elizabethtown. She died in 1869.
Rev. Rogers himself passed away December 18, 1892, at the age of ninety-nine, from burns suffered when his blanket caught fire. He was the father of nineteen children, and several churches. He is said to have performed more marriages than anyone in Kentucky at that time. He outlived all but four of his children.
One sad story that I noticed among the tombstones of the Rogers Cemetery, and in Rev. George Lawson Rogers' long history, was of family loss. In 1861, during the Civil War, disease swept the county, as it was want to do in those days. In one fell swoop on September 9, 1861, two daughters, Sarah (almost fourteen years old) and Rachel (eleven) died on the same day. Son, Felix (age five) died two weeks later. Cholera, Scarlet Fever, and other such diseases were common in the day, and could wipe out entire families.
But there were also many "colorful" memories in the life of Reverend Rogers.
A story in the book, History of the Okolona Area, says that one morning Rogers was on his way to church with his wagon-load of children. "The youngsters were giving him considerable trouble, so he stopped to settle matters. Whereupon a neighbor started to interfere. Well, under his arm he carried 'Preacher', his friend and Bible. Laying the Bible down on the wagon seat, Rogers said, 'Lay down here Preacher until I whup this man.' He got down from the wagon, whipped the man, climbed back upon the wagon, picked up his Bible, and continued to church."
Mary Holsclaw, in the book Out of the Shadows, remembered a story in which her Grandfather Rogers was, thankfully, only a supporting actor. Reverend Rogers was asked one time what was the largest crowd that he had ever preached to. To everyone's surprise, he replied that it was a hanging in Elizabethtown. In those days, such executions were public, and many people would come to see them. The reverend Rogers was asked to preach the sermon.
Now for the Lincoln connection.
As most people know about the Abraham Lincoln story, his father, Thomas Lincoln, moved the family from Kentucky to Indiana when Abe was a small boy.
But you might not recall, that shortly after that, when Abe was nine years old, his mother, Nancy Hanks Lincoln, died, leaving a widower to fend alone for his children in the wilderness.
Not very long after, Thomas heard that a woman he knew back home in Elizabethtown, had also lost a spouse.
Famously, Thomas Lincoln traveled back to Elizabethtown to find the widow Sarah Bush Johnston, proposing to her on the spot. Two things are said to have stood in the way. Her first husband had left some debts that she wanted to pay off before remarrying; and she wanted to be married by a Methodist minister.
Thomas paid off the debts, and they found a young, newly-ordained minister who happened to be in the area serving his "circuit" of churches.
The name of that young minister was George Lawson Rogers.
Rogers performed the marriage ceremony in the Elizabethtown home of Ben and Elizabeth Chapeze, and signed the papers on December 2, 1819.

From Hardin County Marriage Book A, Pages 96-97.
The Lincolns quickly moved back to Thomas's home in Indiana, and then to Illinois, and Sarah Bush Johnston Lincoln became famous for being the beloved step-mother of Abraham. She is given much credit for the little backwoods boy becoming who he became.
And the young Methodist minister who performed the marriage ceremony?
Well, now you know a little of that story.
Interestingly though, almost no memory seems to exist locally about his part in that marriage.
Rogers is said to have served in three wars. The War of 1812, the Mexican-American War, and the Civil War. His son, Lt. John William Rogers, MD, died in the Civil War, and is buried in the family cemetery. The tombstone of Lt. Rogers states, "Died in Defense of the South."
Which leads to a possible reason why so little is remembered in Reverend Rogers' history about his connection to the Lincoln family.
Everyone that I know of in the Rogers family seems to have been on the South's side in the Civil War. Most fought in it. Some died in it. Rogers' father had owned slaves before it.
When I came across this story, having been led into it by Bullitt County researchers Bob Cline and Lynn Eddington, it seemed that there was almost no family, local, or church history that told of the connection. Indeed, most all were surprised by it.
Why would such a famous connection not be told among the many other Rogers family stories, Rogers having lived to see the rise and death of such a famous man, whose parents he had married? My only guess at this time, is that Reverend Rogers and his family, having supported the South, and suffered so greatly for it, did not want the connection. And so it was not passed on, except in hints and whisper.
And as always, time and memory filters history, even in a little cemetery
But cemeteries, even small ones like the Rogers Cemetery, have much to tell if you listen; if you read the stones of time; if you care enough to notice.
There are over 350 cemeteries in Bullitt County alone; each one with its own stories to tell.
Take care of your cemeteries, my friends.
Many memories rest there.
History rests there.
---
Added Notes:
At the age of 54 George Lawson Rogers chartered Bullitt Lodge # 155 in 1847, and at age 56 he chartered Salt River Lodge # 180 in 1849.
---
Copyright 2013 by David Strange, Shepherdsville KY. All rights are reserved. No part of the content of this page may be included in any format in any place without the written permission of the copyright holder.
---