Bullitt Memories: Tree Traditions Fades but Story Remains
The following article by David Strange originally appeared in The Courier-Journal on 13 Dec 2011. It is archived here with additional information for your reading enjoyment.
---
In Shepherdsville history, many years ago, there was a circle of ground in the middle of the road at the intersection of Second and Buckman Streets, where the original 1800's courthouse once stood. After the old building was torn down about 1907, the town started placing a Christmas tree in that circle during the holidays for all to enjoy.
But I am told that a problem arose one Christmas many years later that brought that tradition to an abrupt end.
As the story goes, one night a county official at the time had, shall we say, "partaken a bit too liberally of the holiday spirits." Driving down the main street of town, he failed to notice the big brightly-decorated Christmas tree in the center of the intersection and "plowed right through the middle of it." (Some have joked that he might have seen two trees and decided to go between them.)
Well the next day, the tree was officially declared a public hazard and never set up again. In fact, the entire little circle was eventually paved over and forgotten.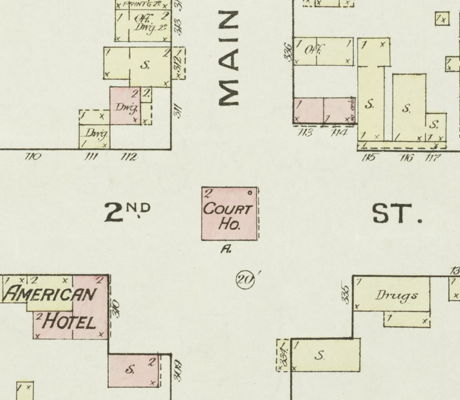 Site of Courthouse on 1886 Sanborn Map
Now, I don't know which official it was for sure or what year, though I am guessing it must have been in the 1940's or before. Certainly, a number of people who I have asked about this story quickly grin slyly and say they could guess who it might have been. Bullitt County, as all counties, has had its share of colorful characters.
But can't you just imagine that scene, and how the excuses would fly like so many dry pine needles in the wind?
Have a Merry Christmas everyone, and a happy, happy holiday season.
But don't get too much into the "holiday spirits."
And watch out for those Christmas trees out there.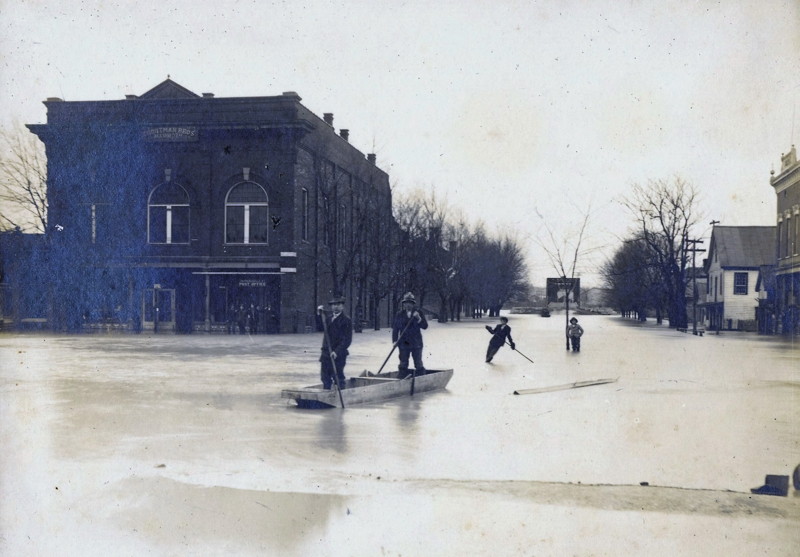 This historic photo shows the once open area of the road where the courthouse (and later tree) would have been.
---
Copyright 2011 by David Strange, Shepherdsville KY. All rights are reserved. No part of the content of this page may be included in any format in any place without the written permission of the copyright holder.
---