How Bell's Mill Road Got Its Name
The following article by Charles Hartley was originally published on 28 Mar 2012.
---
Few people know where Bell's Mill Road got its name.
For many years it has been known as a connector route for motorists traveling between Mt. Washington and Preston Highway in the Zoneton area. Today the road's western end is commercialized with a quarry on one side, a new residential area on the other, and several businesses nearby. Its eastern terminal had unfortunately been the site of frequent traffic congestion and accidents as vehicles try to exit onto Highway 44. (Happily that situation has improved greatly with the addition of a light and turning lanes at that intersection.)
Parts of the road itself were newly established near the end of the Civil War. But before that, in November 1855, Charles Bell purchased 60 acres of land from Rufus King Summers that was located in a loop of Floyd's Fork at Cedar Creek. The deed stated that the land included "a water saw and grist mill and other improvements."
It is not yet clear if Summers built the mill himself, or purchased it from someone else, but henceforth it would be known as Bell's mill.
Bell was a miller in Hancock County in 1850 before moving to Bullitt County. By the 1860 census he was building his milling business, but still relied on farming to help support his growing family.
His eldest son, John S. Bell, enlisted in the Kentucky First Cavalry Regiment (Confederate) in September 1862. With John gone for almost three years, Charles Bell was left to run the mill alone. When John came home from the war he worked with his father at the mill until, in 1869, he married Laura Williams, and started a family of his own.
Meanwhile, Charles Bell's health began to deteriorate. As early as 1870 his doctor, H. Clay Crist diagnosed him with "softening of the brain." Today we call it encephalomalacia. It can be caused by insufficient blood flow to the brain, or degeneration, either from natural causes or trauma. In either case, the symptoms can include extreme drowsiness, blindness, lack of coordination, or memory loss and mood swings.
We have no way of knowing exactly how his disease affected Charles Bell, but by November 1871 his condition had worsened to the point that he could no longer function on his own, and the family was forced to have him declared incompetent so that his wife and young children could sell part of their land to support themselves.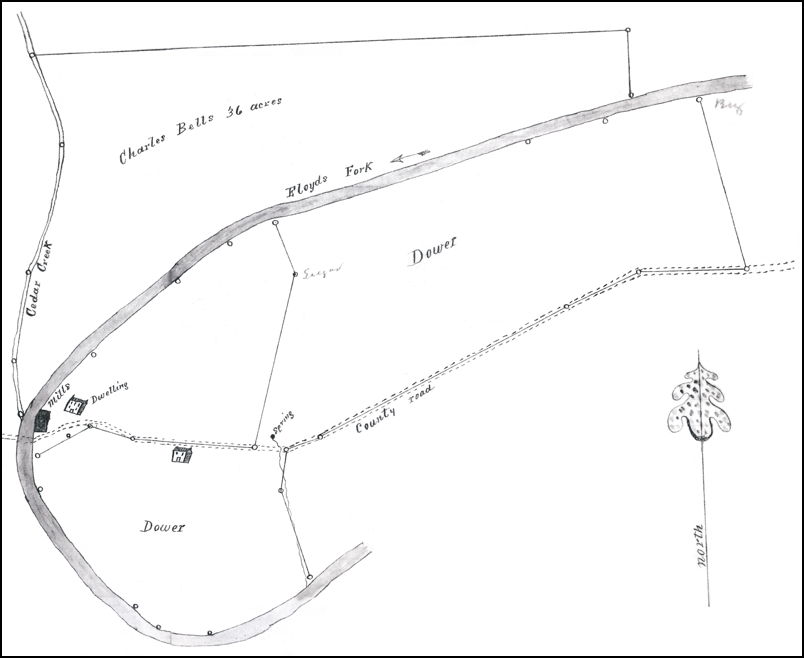 Plat drawing showing Bell land following his death.
Two months later, before the land could be sold, Charles Bell died on 9 Jan 1872, leaving his widow with seven children, ranging in age from 5 to 19. There was nothing to do but sell the mill and use the proceeds to support the family.
The Circuit Court appointed commissioners to survey the Bell property and allot the dower to his widow. The dower was the share of his land that was set aside for his widow's use during her lifetime. Casper Herps, the county surveyor, produced a plat showing the property, and from it we learn exactly where Bell's mill was located.
According to this plat, the mills (saw and grist) were located on the east side of Floyd's Fork, just north of where the road crossed the Fork. Today this would be just northeast of the bridge over Floyd's Fork.
The actual sale of the rest of the Bell property to R. H. Field and R. J. Myler took place in November 1873, but was not finalized until June 1876. Field, a local attorney, and Myler, the circuit court clerk, purchased the property as an investment with others doing the actual mill work. These included three of Charles Bell's sons: Willard, Warner, and James; and a neighbor, J. J. Weller.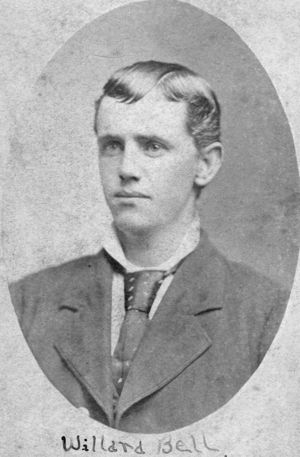 Field sold his share of the property to Myler in December 1878. Then, in February 1880, Myler sold it to J. J. Weller and Willard Bell. Then Weller sold out to Bell four years later, returning the mill property back into the hands of the Bell family.
Willard Bell operated the sawmill until at least 1909. In February of that year heavy rains brought flooding to Salt River and its tributaries. Floyd's Fork was backed up, flooding the mill site. According to the local newspaper, The Bullitt Pioneer, "Willard Bell had nearly all the lumber washed away from his saw mill, entailing a heavy loss to himself and others."
In September of that year, Bell sold his land to T. J. Brooks, moved his family to Mt. Washington briefly, and then on to Louisville. Apparently city life did not suit them. In January 1912 Willard Bell bought the Hundley farm at Huber's Station, and took up dairy farming.
It is likely that the sawmill continued in existence for a time, but its days were numbered. Still, for over a half century it bore the name of Bell, and gave that name to the two roads that approached it, now one curvy road, home to some, but a byway to most who travel its path daily.
---
Copyright 2019 by Charles Hartley, Shepherdsville KY. All rights are reserved. No part of the content of this page may be included in any format in any place without the written permission of the copyright holder.
---