Getting Rowed Up Salt River
The following article by Charles Hartley was originally published on 21 Mar 2012. It has been revised with additional information, and new theories on the origin of this saying.
---
Will your favorite politician get rowed up Salt River in the next election?
This slang phrase, "rowed up Salt River," has a colorful past, perhaps more legend than history. If you look it up on the Internet you will likely find a statement like this one from bartleby.com:
"A defeated political party is said to be rowed up Salt River, and those who attempt to uphold the party have the task of rowing up this ungracious stream. The allusion is to a small stream in Kentucky, the passage of which is rendered both difficult and dangerous by shallows, bars, and an extremely tortuous channel."
One explanation for the phrase tells that when Henry Clay was a candidate for the Presidency against Jackson in 1832, he had an engagement to speak in Louisville, Kentucky, and employed a boatman to row up up the Ohio. The boatman, who was a Jackson Democrat, pretended to miss his way, and rowed Clay up Salt River instead, so that he didn't reach his destination until the day after the election, just in time to hear of his defeat.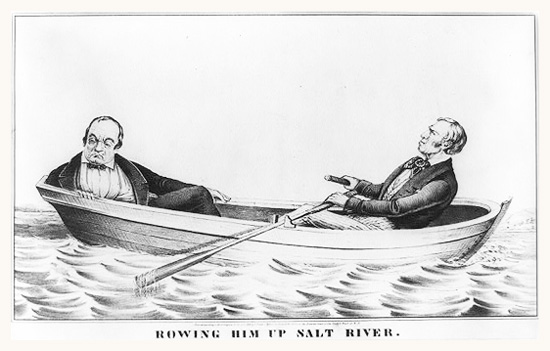 Zachary Taylor rowing his opponent Lewis Cass, circa 1848.
As humorous as that seems, it's not the origin of this phrase, for Franklin Pierce used it in a letter dated 8 Oct 1831. In it, Pierce said of a group of political plotters that they "need not now struggle to change the direction of their squadron, they are politically 'rowed up Salt river.'" Since Pierce would expect his reader to understand the meaning of the phase, it had to have been a common expression by that time.
An early description of the phrase appeared in the Louisville Advertiser, as reprinted in the Salem Gazette of Massachusetts on 27 Jan 1835.
"Salt River is a small stream in this State, which empties into the Ohio River about twenty miles below this city. In the neighborhood of Shepherdsville, where the phrase of 'rowing up Salt river' originated, it is filled with rapids, snags, rocks, and sandbars. Of course, the navigation is extremely difficult, and rowing up Salt River is a matter not to be sneezed at. The labor attending it was so well known to those residing in the vicinity, that it became common among them, whenever any one spoke of some very arduous undertaking, to tell him that he would find it harder than trying to row up Salt River. When some bully had received a sound whipping, it also became common to say that he had been 'rowed up Salt River,' and the same remark was likewise applied to a defeated political party. If the defeat was overwhelming, they were said to be 'rowed very far up Salt River.'"
Still another explanation for the phrase appeared in the March 1891 issue of the journal, The American Teacher. Here was told the story of the local postmaster at Pitts Point who received an inquiry from the Postmaster General during the Jackson administration who wanted to know where the Salt River flowed into the Ohio. He phrased his question thus: "Where does Salt River run up?" The local postmaster replied in a curt note, "Salt River does not run up; it runs down." By return mail he was informed that his services were no longer required. When someone inquired of a local wag what had become of the postmaster, the reply was that his boss had sent him "up Salt River."
Still another story, printed in The Courier-Journal in 1880, was that the phrase originated at West Point. This story was that a hot race for county sheriff came along in Hardin County and two rival candidates agreed the defeated candidate would row the other from mouth to head of Salt River. He kept his word and rowed his successful competitor to the head of the river and it was the talk of county for years after, especially during elections, and it spread all over the Union.
Another tale is that in the early days the river, being crooked and difficult to navigate, was a favorite stronghold for river pirates, who preyed on the commerce of the Ohio and rowed their plunder up Salt River. Hence it came to be said of anything that was irrevocably lost, "It's rowed up Salt River."
Another description was found in The Courier-Journal, in their issue of 12 Jan 1905. It goes like this:
"In the early days of the last century, when Shepherdsville, the county seat of Bullitt county, which lies on its banks, was a place of considerable commercial importance from the manufacture of salt from the wells near by, a magistrate upon convicting persons of drunkenness and other offenses against good order, would sentence them to be 'rowed up Salt river.' From this the term came to be applied to unsuccessful candidates for political office, and was once current over the whole country. This is the true history of the saying. The river was in early days an important commercial stream, the products of the counties through which it runs, as whisky, corn, bacon, salt, etc., being sent down on tides, in flat boats, to the Ohio and thence to New Orleans. Perhaps it may never have the advantage of slack-water navigation. It may not be locked, but in a political sense it has been dammed for generations."
Maybe, just maybe it all began with a magistrate who figured that a hard row up the river might be just the thing to sober up someone who had imbibed a wee bit too much.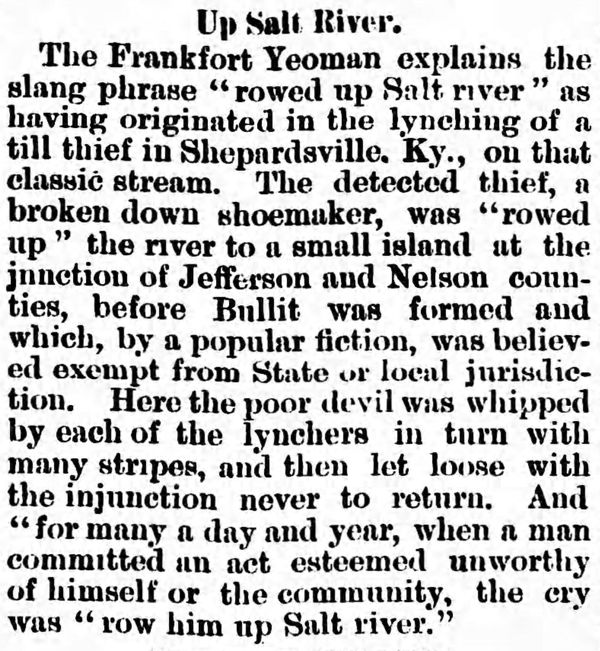 But the one that seems most likely, at least to me, was shared in The Frankfort Yeoman and reprinted on 2 May 1872 in the Mower County Transcript in Lansing, Minnesota. Here it is.
"The Frankfort Yeoman explains the slang phrase "rowed up Salt river" as having originated in the lynching of a till thief in Shepherdsville, Ky., on that classic stream. The detected thief, a broken down shoemaker, was "rowed up" the river to a small island at the junction of Jefferson and Nelson counties, before Bullitt was formed and which, by popular fiction, was believed exempt from State or local jurisdiction. Here the poor devil was whipped by each of the lynchers in turn with the injunction never to return. And "for many a day and year, when a man committed an act esteemed unworthy of himself or the community, the cry was "row him up Salt river."
This places the initial event sometime between 1793 when Shepherdsville was established, and 1797 when Bullitt became a county. And there just happens to be a small island in the river upstream from Floyd's Fork, just where Cedar Creek empties into Salt River. With Salt River being the dividing line between Jefferson and Nelson counties at that time, it's just possible that some folks believed that the island was in neither county.
Whether caused by politicians or pirates, a stern magistrate, a so-called lynch mob, or something else, beginning as early as the 1830's, being "rowed up Salt River" was something you just didn't want to be.
---
Copyright 2017 by Charles Hartley, Shepherdsville KY. All rights are reserved. No part of the content of this page may be included in any format in any place without the written permission of the copyright holder.
---