Museum Newsletter - 31 January 2013
Friends of the Bullitt County History Museum
E-Newsletter
January 31, 2013 (Volume 9, Number 1) Annual Report Edition
Dear Friends,
Announcements...(This edition's focus is an annual report, but first...).
>> Bullitt County Genealogical Society meeting February 16, 10:00 a.m. Myra Evans, Susan Lewis, and Billie Jackson will be speaking about the DAR (Daughters of the American Revolution) and what it takes to become a member. Following the meeting, all three will remain in the meeting room until 5:00 p.m. to help folks with their DAR paper work. Regular meeting time and place, 10:00 a.m. at Ridgway Memorial Library in Shepherdsville.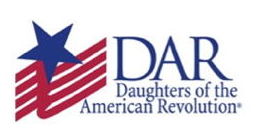 >>New DAR (Daughters of the American Revolution) Chapter trying to Form in Bullitt County. This nonprofit, nonpolitical volunteer women's service organization dedicated to promoting patriotism, preserving American history and securing America's future through better education consists of nearly 168,000 members in 3,000 chapters across the world.
These vibrant, active women are the heart of the organization.
Any woman 18 years or older who can prove lineal, bloodline descent from an ancestor who aided in achieving American independence is eligible to join the DAR. She must provide documentation for each statement of birth, marriage and death, as well as of the Revolutionary War service of her Patriot ancestor.
For more information, contact Billye (call the museum for her contact information). Leave name and number messages for return calls. Billye will be happy to help you become a member of this great organization.
Activity...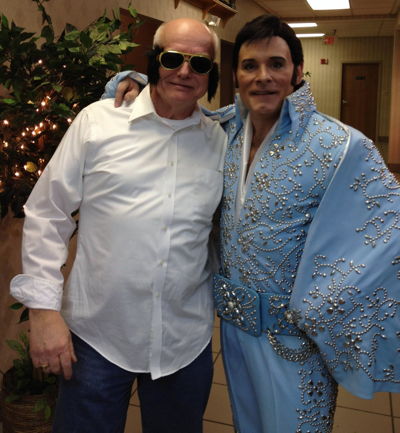 >>"Elvis" at Bowman Valley Fundraiser. Todd Bodenheimer performed his fantastic tribute to Elvis (Todd's the one on the right [grin]) at a fundraiser dance for the Bowman Valley Schoolhouse project on January 25th. That fundraiser brought us over $1600 closer to success. The biggest hurdle in this project is moving the historic two-room schoolhouse to its new home on school property on Highway 44. We need about $15,000 to hire the job done, or we need to find someone willing to move it as a donation. It really needs to be done before Spring, so the pressure is on, Friends! By the way, as a project of the Bullitt County Genealogical Society, all donations are tax deductible. Project mailing address is P.O. Box 1714, Shepherdsville, Kentucky 40165. Checks should be made to "Bowman Valley Schoolhouse Project."
>>Web Site Additions. There are some very interesting new additions to our web site this month, as always. Be sure to click on some of these and check them out.
>>A Quilt Museum might be coming to Bullitt County. Anastasia Austen, who works for Donna Sharp and her business, "Quilts by Donna," tells me that they are working to create a museum of quilts in Bullitt County, near the Quilts By Donna business on Cedar Grove Road. Donna has a large collection of fine and antique quilts, and Anastasia tells me that Donna is thinking that it is time to do more with them than just keep them stored away.
I have thought this to be a natural for a few years now, so I hope it will all work out. Perhaps our great local quilting clubs can take part as well! It would seem like a good idea to me to even include an active quilt-making area for the clubs to use as part of the museum.
Best wishes on this becoming a success!
>>Volunteer Worker Anniversaries this Month. Two of our Museum staff Volunteers mark an anniversary with us in January. Wilma Lemons started with us in January 2010. Wilma, quickly nicknamed "Spike" by Bob Fouts, has been a beloved fireball from the start. In these three years she and Wanda have done unbelievable volumes of data input and transcriptions for us. Wilma has typed in literally hundreds of thousands of cemetery records and countless other records to make them computer searchable. She has been a life saver for me this year by being at the museum multiple days each week. Wilma's most recent project has been working with June Dawson scanning and transferring shelves of binders of photos and memories of Nichols Elementary School to computer disk.
Volunteer Mark Milliner started with us in January 2011. For a good part of his first year, Mark helped staff the museum on Fridays, and often came by on other days as well. In 2012, health issues and other obligations have forced Mark to be less active at the museum, but he has continued to do research on such things as the Catholic churches in the area, as well as doing research on cemeteries and some genealogy names. We always enjoy seeing Mark come by and visit with us.
Many thanks to Wilma and Mark, and to all our Volunteers who make the museum research room the active center that it is!
>>Slave Log Cabin? Part of the adventure of working at the museum is that you never know what the next phone call or e-mail might bring. I received an e-mail this month from a Louisville "low-budget" movie producer looking for a log cabin that looked like a slave cabin. There were some other criteria as well, but he needed one right away for a scene he would be shooting in early February. I got on FaceBook and other venues and started spreading the word. Though we never found quite the perfect spot, thanks to many friends we did find several possibilities that will probably fill the bill. I love this stuff! :)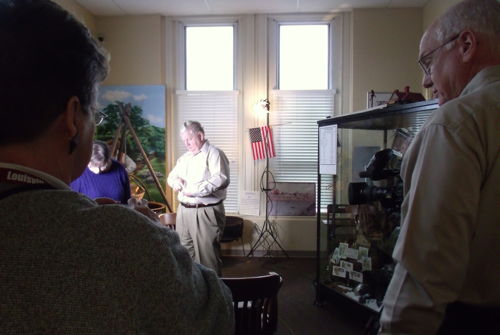 >>KET at Museum. We're really getting known lately! One of my goals for the past few years took a step forward recently when a Kentucky Educational Television crew came to the museum to film a segment for "Kentucky Life" about the 1917 Train Wreck. For me, it is one step closer to getting a feature film or documentary made about this by its 100th anniversary.
The photo at right shows author Charles Hartley "gearing up" with microphone for an interview in one of our display rooms with Producer Paul Smith and I looking on. The crew was at the museum for most of the day. We had several Volunteers there just in case they were needed, and to see the production. Lights! Camera! Action! I about froze for my part, but Charlie did great. Film was also taken of the train wreck display and out on the tracks where the wreck occurred.
The segment, to be only about seven minutes long, is expected to air sometime in April. I'll keep you informed.
Annual Report
It's hard for me to imagine that our museum is already in its eighth year of operation, having opened in October, 2004.
Here is a brief, informal report of our activity and finances for 2012, and a few goals for 2013:
The Bullitt County History Museum is a function of the Bullitt County Genealogical Society, a 501c3 non-profit, tax deductible organization.
As always, let me start by thanking the fantastic Volunteers that make the museum so active. The professionalism, the dependability, the comradery of these great people are why we have a wall full of plaques and certificates in our research room recognizing the quality of our museum and the work done there. They are a large part of why I enjoy doing what I do. In 2012, there were 4171 volunteer hours logged, just staffing the museum. Easily twice that much more was performed outside the museum doing field research, transcription work at home, cemetery work, speaking engagements, and enumerable other activities.
We gained two great new Volunteers this year at the museum. They were Lilly Lamont and Nancy Blakeman.
Some activity over 2012, in no particular order:
> Charles Hartley, our wonderful webmaster and researcher, wrote and published another book, Murder or Not, about a shooting in northern Bullitt County in 1904. As he did for his previous book about the 1917 Train Wreck, Charles allows us to sell the book and keep all profits for the museum.
> Betty Darnell, who edits our genealogical society's quarterly newsletter, The Wilderness Road, produced several more research books herself, adding to her (and our) growing library of useful, trustworthy works.
> Edith Blissett completed two more of her long series of transcriptions of the county's old newspapers. These were the 1926 & 1927 transcriptions of the Pioneer News. Over the years, she produced these massive sources of research covering 1901 to 1927; an entire shelf full of books. To our great sadness, Edith passed away in 2012. She will be greatly missed as a lover of history and as a friend.
> KET "Kentucky Living." As reported earlier, we recently completed one of my goals for the past few years when a Kentucky Educational Television crew came to the museum to film a segment about the 1917 Train Wreck. The segment should air in April 2013.
> Volunteer Wilma Lemons scanned dozens of binders (many hundreds of individual images) of "memories" files and photos for Nichols Elementary School that it had created as part of its anniversary celebrations a couple of years ago. This project should be completed in the next month or so and will be available on computer.
> Speaking of which, several of our Volunteers have transcribed volumes of old files and text to digital this year, making it all easily searchable by computer. Nearly every day at the museum, and most evenings at home, someone in our Volunteer group is typing away.
> We continue collecting and scanning photos. I checked our computers today and we now have over 20,000 (TWENTY THOUSAND) images digitized, and most are "text imbedded", which means any info we have on the picture is typed within the digital file, making it far easier to find by simply doing a text search on the computer.
> New volunteer Lilly Lamont, a student at University of Louisville, has been compiling and comparing our vast family files with family files at our public library so that researchers can more efficiently do their (and our) work. Together, we have genealogy files on over 1,000 family surnames, and growing.
> In 2012, we continued to spread the word about the museum and about our county history by giving presentations to school groups, scouts, and teachers; by hosting booths at such places as Bullitt Blast and the Hillview Community Fair. We gave guided tours of the museum to several groups, and continued to have helpful staff at the museum every day that the courthouse was open.
> Bowman Valley Project. Having promoted the idea for years, we became active this year in a project to move and preserve the historic Bowman Valley two-room schoolhouse.
> We helped hundreds of visitors, answered many dozens of e-mails, and daily calls asking for guidance and information in genealogical and historical research. I personally take great pride in how our Volunteers regard it as a personal defeat if we can't help find what the person is searching for. I see our volunteers leave the museum office weekly with plans to followup on inquiries at home.
> We continue to work with Tourism friends to promote and help Bullitt County. The Kentucky Historical Society created a great new smartphone "app" this year providing information on historic sites in the state. Thanks to the KHS folks, our Civil War sites were added and we are currently working on adding more.
> I continue writing this e-Newsletter, as I have done each month since 2004.
> Every week in 2012, author Charles Hartley and I took turns writing a newspaper column titled "Bullitt County Memories," about Bullitt County history, for The Courier-Journal newspaper.
> At the suggestion of volunteer Bob Cline, and with the help of Publishers Printing Company, the museum published a poster based on a 1925 map of Bullitt County provided by Lynn Eddington. This old map provides a dramatic comparison of a Bullitt County before Fort Knox, before Bernheim Forest, before Preston Highway, before Bardstown Road. We provided the map free of charge to local schools and sold a number of copies.
> It was tough getting it done, but I am very happy to report that in 2012 Bullitt Fiscal Court (our form of county government) tuckpointed (replaced the mortar) the Old Stone Jail building and re-roofed it. The historic landmark, located right next to the courthouse, was suffering badly from the freeze/thaw of winter weather leaks for several years. These repairs will protect the building for some years to come, and will allow us to continue displaying it as a tourist attraction.
> Our award-winning web site continued to grow constantly throughout 2012. So much is being added to the site, thanks to webmaster Charles Hartley and numerous submissions provided to him, that it is becoming our first source to check for information about the county.
> We provided an active role in this past summer's Civil War Living History event, and it looks like we will be again this year.
> A surprise hit in 2012 was an old eighth grade exam that was donated to the museum by Karen Smith. The exam is surprisingly hard. I know; we had to come up with the answers! The exam went viral, especially with teachers, and our web page about it has had over 126,000 unique hits; a huge number for our site.
> We helped find photos and do research with Donna Peak for the 100th anniversary of St Aloysius Catholic Church, and also helped research for the 175th celebration of First Baptist of Shepherdsville.
> We once again took part in the Chamber of Commerce "Leadership Bullitt County" program. I taught some sessions and we sent a Volunteer, Jose Rosario to be a student in the course on a scholarship provided by a Chamber member. This year, one session was an "adventure day" which incorporated learning about our history, cemetery preservation, and nature, with a little caving, scouting, and climbing.
> I taught again at the "Boy Scout University" program held in Shepherdsville.
> Daniel Buxton continued his research into local African American schools and cemeteries. Barbara & Ken Bailey continued caring for cemeteries. Judy Richardson worked to complete her research on Bullitt Countians in the War of 1812. Jose Rosario worked to complete his work on the Civil War. Wilma Lemons continues building her database of burials in the county, reaching over 150,000 in the database at last count. Bob Cline continues developing and adding to his 54,000 name genealogy database. And now I am naming people and undoubtedly forgetting several that should be named.
> Volunteers have worked on old, deteriorating documents to preserve them.
> We bought and wall-mounted a new 42" flat-screen "smart" TV in a display room; solicited short videos to play on it, and we are now playing a beautiful six-minute "Nature of Bullitt County" film throughout the day.
> Our Volunteers and our Cemetery Team led & assisted efforts to clean several cemeteries in the county and continued visiting and documenting the over 350 cemeteries.
> And we have worked with several other history groups such as the Mt. Washington History Society and the new West Point museum to promote their efforts.
Operating Budget Points:
> I am the biggest ongoing cost to the museum operations at $5,400 a year, for which I am contracted to provide an average 20 hours per week, to promote, organize, and supervise the museum. It is basically a hobby that can be pretty demanding sometimes, but I have greatly enjoyed being able to do.
Other recurring costs:
Memberships and Licenses:
Chamber of Commerce $50
Kentucky Museum & Heritage Alliance $20
Kentucky Historical Society $60
Web site licenses: $269.46 (Charles Hartley maintains and adds weekly to site for free)
Ancestry.com research license $299
P.O. Box rental $36
Insurance: $556
We also:
Spend $168 each year for the next year of Ky Death Certificate microfilm as one becomes available (We now have 1911-1961. There is a "fifty year rule" of privacy that prevents us from having any newer ones).
Bought Microfilm of the Salt River Valley News old newspaper $100
Purchased supplies (mostly ink and paper): $1182
Other expenses (such as copies at library) $64
Equipment: 2-DVD players $60
Income:
Direct Cash Donations: $1,074
Books and maps sales $889
Interest income (not counting CDs) $55
Technology Grant $3,078.58
Copies $580
Plus countless in-kind donations such as printing leaflets and books by Publishers Printing. Donations of books, photos, documents, and historic items.
A huge salvation for the museum (and a very large part of what makes us possible) is that floor space and utilities are provided by Bullitt County Fiscal Court, which happened as part of the partial courthouse building replacement and restoration project in 2000/2004. This has turned out to be a fantastic arrangement for all parties, making our courthouse what a state proclamation calls "the best front door of any courthouse in Kentucky."
But it doesn't take much figuring to see that the museum needs more sustaining funds. For the past few years, we have lived off of CDs and savings accounts that were the result of generous donations from the past. We will need more such donations to continue as we are very far into the future.
My Goals (maybe not all this year, and, again, in no particular order):
> I want to press harder this year to find people who will produce a documentary or feature film about the dramatic Christmastime Train Wreck of 1917 in order to have it done for the 100th anniversary in 2017.
> Find more storage. We are bursting at the seems for lack of both archival storage space and display space, sometimes having to turn down donations of items because we simply do not have the room.
> Purchase at least four new file cabinets to match our others, so that we have more room for our ever-growing family and history files. The files are currently so tightly packed that it takes two hands to pull a file out or to push it back in. And we have boxes more yet to be filed.
> Add to smartphone app locations. We have done some already, but I want to push forward on getting Bullitt County historic and tourism sites on Iphone and other smartphone mapping systems.
> "Someday," I want to finally finish my book "Stories of the Old Stone Jail," which would include stories from all the old jails of the county, and write a couple of other books that I have long had in mind.
> Fund Raising. Though it is not one of my duties to raise funds, we all know it needs to be done. One idea I have talked about for years is a "Jailhouse Rock" dinner. A little similar to the recent "Schoolhouse Rock" done for the Bowman Valley Schoolhouse, the Jailhouse Rock would feature an Elvis impersonator, and maybe Johnny Cash and some others singing jail-related songs. But it would be held outside the Old Stone Jail, with dinner tables all around. With the alley closed, and round tables spread around, dinner would be some sort of "jailhouse" food, such as cornbread and beans. With a little imagination it could be great fun! Maybe, just maybe, we could make it happen this year, or maybe next.
> 2013 marks the 25th anniversary of parent organization, the Bullitt County Genealogical Society and we really want to do something to mark the occasion.
> Build good book shelves in the research room and more storage shelves in the archive room. I always say that we might not have room to move out, but we have room to move up!
> We haven't asked permission yet, but we'd really like to make use of the large hallways in the courthouse by installing nicely-designed custom display cases. Well-done hallway cases would help promote our county, showcase our history, and greatly enhance the building, while providing some room for the museum to wisely grow.
Finally ... It doesn't take long to become a long time.
I have been reflecting lately on how time seems to move so quickly, especially when looking back at it.
My sixtieth birthday comes this year in April.
I find myself becoming one of those people who is always telling "Back when" stories and giving people directions, saying things like, "Take a right turn where Aunt Minnie's house used to be."
When I started with the museum in 2004, I thought maybe I'd stay with it for a couple of years.
All of a sudden it's 2013.
It doesn't take long, to become a long time.
Lord willing, there's a lot of years yet to come.
If so, I know they'll be here soon!
Thank you for being a friend of the Bullitt County History Museum.
David Strange
Bullitt County History Museum
Executive Director
Museum Phone: 502-921-0161
E-Mail address: David.Strange@BullittCountyHistory.org