The Carrolls of Bullitt County
The following article by Charles Hartley originally appeared in The Courier-Journal on 30 Jan 2013. It is archived here with additional information for your reading enjoyment.
---
About forty years ago, T. C. "Tot" Carroll rescued a large number of old plats from the trash bin, and local surveyors and researchers like me have been thanking him ever since. The plats, many of which had been drawn as evidence in court cases or at the request of landowners, were being discarded because room was needed for newer documents. However, Tot Carroll realized their value and saved them.
Today you will find these treasures in a large cabinet in the county clerk's office where they are frequently searched for clues to the past. An index of names found on these plats can be found online at the Bullitt County History Museum web site [See this page.] and also in a large binder at the clerk's office.
Tarlton Combs Carroll, better known locally as Tot Carroll, came from a family of distinguished lawyers. His father, Charles Carroll, was one of three brothers who each became a successful attorney in his own right.
One brother was Judge John D. Carroll who was once Chief Justice of the Kentucky Court of Appeals, and was co-author of the 1896 compilation of the Kentucky Statutes, a work that remained a standard for many years. Judge Carroll's leadership in his party was recognized by his selection in 1892 as chairman of the Democratic State Central Committee. He had been elected to the legislature in 1881, serving four years.
Another brother was Anthony J. Carroll who began his career in the 1880s as a newspaper reporter for The Courier-Journal, and later The Louisville Times. In 1891 he was elected to the Kentucky House of Representatives from Louisville, and was re-elected in 1893. During that term he was nominated by the Democratic caucus by acclamation for Speaker of the House. Having read law while in the newspaper office and in the legislature, he was admitted to the Louisville Bar in 1894 and became associated in the practice of law with Francis J. Hagan, and had a very successful practice.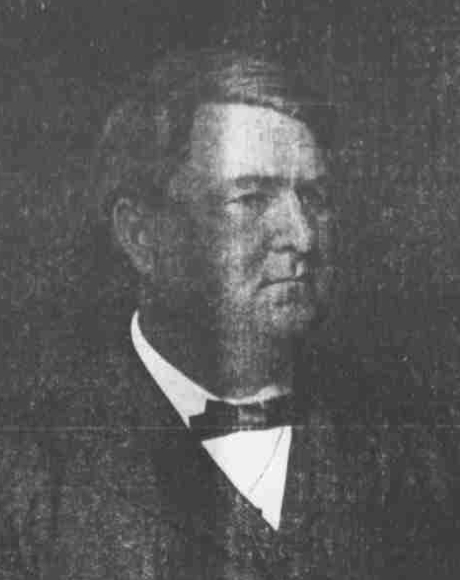 Charles Carroll, when
campaigning for Attorney General
Charles Carroll, Tot's father, was a successful Bullitt County attorney for many years. He also represented the county in the Kentucky Senate from 1902-06. During that time he was one of the lawyers who successfully defended John Barbour who was accused of murdering Francis J. Hagan. At his death, J. R. Zimmerman, a fellow attorney, wrote that Carroll "for forty years was one of the legal giants of the local bar."
Charles Carroll married Miss Ida B. Troutman in 1887. She was a sister to H. F. Troutman, principal owner of the Troutman Bros. Mammoth Store in Shepherdsville. In addition to their son Tot, Charles and Ida had two daughters: Ida Charles Carroll who married Ernest W. Wilson, an officer in the U. S. Army; and Mary Elizabeth Carroll who was first married to James P. Kem, a United States Senator.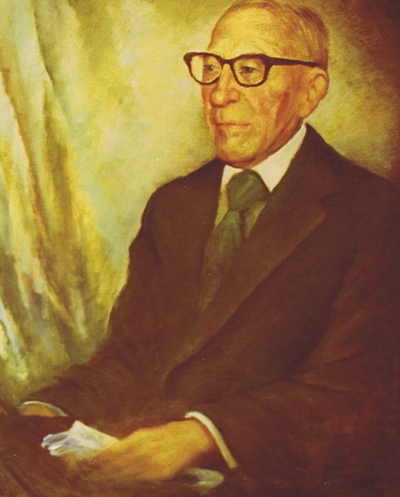 T. C. "Tot" Carroll, late in life
Tot Carroll was born in Shepherdsville in 1889. He graduated from the University of Kentucky in 1909 and promptly entered the law school there. A year later he was a part of its first set of law graduates. He returned to Bullitt County where he was elected Bullitt County Attorney in 1918. A year later he married Irene Crutcher.
Carroll continued as County Attorney until 1930. Then from 1941-45 he was a member of the Kentucky Senate, as had been his father before him. In 1944 he was the Senate's Majority Leader. He also served on the Kentucky State Fair Board, and served on occasion as a special circuit judge in several other counties.
His bride, Irene Carroll was a former school teacher of speech, English, and history at the old Shepherdsville High School. In the mid-20s, she became a member of the Bullitt County Woman's Club, and remained a part of that organization for more than 63 years until her death in 1988. In 1936 she was named state secretary, and two years later she was president of the Kentucky Federation of Women's Clubs.
Her interest in education contributed to the club's sponsorship of college scholarships for local students. The Bullitt County club continues to sponsor the Irene Carroll Scholarship Style Show & Luncheon at which the scholarships are awarded.
Irene shared Tot's interest in politics on both the local and national level, and she was an alternate delegate to Democratic National Convention from Kentucky in 1952.
They were the proud parents of two children: a daughter named Betty, and a son named Thomas. Betty Carroll married Max Ladt and they lived in Paducah where Max worked in the coal industry. He is credited with three separate patents related to that industry, one in conjunction with their son Carroll Ladt. Thomas C. Carroll, also an attorney, served as chairman of the Democratic Party for several years after he was elected in 1964. Like his father, he graduated from the University of Kentucky Law School.
The Carroll family made quite an impression on life in Bullitt County from Charles and Ida through Tot and Irene. Although their lives ended some time ago, their names will continue to be meaningful locally with the Woman's Club scholarships in Irene's name and Tot's collection of plats to guide folks like me in our searches in Bullitt County history.
---
Copyright 2013 by Charles Hartley, Shepherdsville KY. All rights are reserved. No part of the content of this page may be included in any format in any place without the written permission of the copyright holder.
---