Museum Newsletter - 31 December 2012
Friends of the Bullitt County History Museum
E-Newsletter
December 31, 2012 (Volume 8, Number 12)
Dear Friends,
Announcements...
>>Holiday Closings this month. The museum will be closed December 31, and January 1 for the New Year holiday. We will also be closed January 21 for the Martin Luther King, Jr. holiday.
>>Bullitt County Genealogical Society, no meeting in January. As is regular practice for the Bullitt County Genealogical Society (the parent organization of our museum), there will be no meeting in January. The next regular meeting will be February 19.
>>Winter Hours reduced for the Kentucky History Museum. Be aware if you plan to visit the Kentucky History Museum. Effective December 9 through March 8, the Kentucky Historical Society Campus in Frankfort will be operating under its winter schedule. This means that it will not be open, including the Thomas D. Clark Center for Kentucky History, and the Old State Capitol, except for reserved groups of ten or more, and for special events. To find out more about KHS and its programs, visit www.history.ky.gov.
>>New DAR (Daughters of the American Revolution) Chapter trying to Form. For details, see our information page.
Activity...
>>New Wall TV Presentation at Museum. I reported last month that, through a technology grant that we had obtained, the museum now has a very nice 42" HD "smart" TV mounted on the wall in one of our display rooms.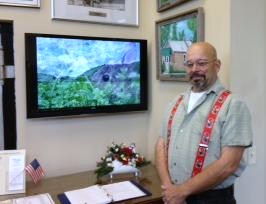 Charles Myers
Thanks to photographers Charles Myers (shown in the photo with the presentation TV), Peg Sagewing, Pattie Davis and the New Lenses Photography Group of Bullitt County, we now have our first video playing. You can also see the seven minute video, which is titled "The Nature of Bullitt County," on our web site. But it's much better on our shiny new TV! Just step in the room and it plays for you. We look forward to more such videos in the future.
>>Society 25th Anniversary Coming Next Year. Late 2013 will mark the 25th anniversary of the Bullitt County Genealogical Society, the parent organization of our museum. President Daniel Buxton and officers are starting to plan to make that a special year. More information will be coming as the year goes along. Be sure to let us know if you have any thoughts about this occasion.
>>Web Site Additions. There are some very interesting new additions to our web site this month, as always. Be sure to click on some of these and check them out.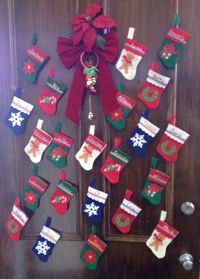 Nancy's Stockings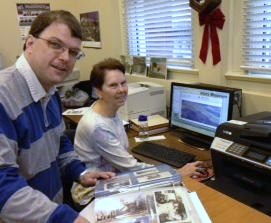 Daniel & Brenda
>>Volunteer Worker Anniversaries this Month. Two of our Museum staff Volunteers mark an anniversary with us this month. Brenda Rittman started with us in December 2010. Judy Richardson started on December 2006. Thank you both for your dedicated and professional service to the museum!
>>A Few of the Recent Volunteer activities: Allow this one last mention of Christmastime activity at the museum before we move on to the new year. The photo attached here shows the door to our museum research room. Volunteer Nancy Blakeman personally bought and personalized the stockings for each Museum Volunteer, and we put candy in each one. If you are a Volunteer at the museum, don't forget to stop by and get your candy before we put the decorations away for another year!
>> Brenda Rittman has just finished a challenging project of scanning a collection of 1,447 photos to computer. This collection of photos, originally from the collections of Burlyn Pike, was given to the museum by his widow. Daniel Buxton began the project back in March 2012. Brenda had been faithfully scanning nearly every Thursday since then. The photos are not only now preserved digitally; they are "text imbedded" with what we know about them. This makes many of the photos easily found by doing a text search on our museum computers. For now, the photos will only be available at the museum, as an addition to our now nearly 17,000-photo collection.
> Volunteer Bob Cline again added to his large Family Tree Maker database of Bullitt County names. The count is now up to 53,337 names. The database is available for research at the museum research office.
> We are excited that the Kentucky Educational Television show "Kentucky Life" will be visiting with us in January, filming about the deadly train wreck that happened in Shepherdsville in 1917. Charles Hartley and the Museum published a book about that wreck and hope to see it as a feature some day. Info about this dramatic Christmastime wreck (and the book) can be found here.
> I am working on a special January report about how the museum has been doing (and some of what we hope to do in 2013) and hope to send that out to you sometime in early January as a special e-newsletter.
For Your Information...
>>Abraham Field. The Field family has a long history in Bullitt County. Two were on the famous Lewis and Clark expedition. Abram Field (sometimes Abraham Field) was a prominent person in Bullitt County's early days. Here is a link to a web page that I found on Abraham Field: https://www.luciefield.net/abkyland.html.
>>We're on the ExploreKYHistory smart phone app. If you haven't seen it yet, the Kentucky Historical Society has developed an interactive smartphone app that gives you tours of the state. The app shows (and tells about) the various historical marker sites in the state. One "tour" is about the Civil War. At our request, two of the Civil War historic sites in Bullitt County have been added. The "Morgan on to Ohio" marker at Shepherdsville, and the "Sherman at Lebanon Junction" markers have been added, and more are to come as the site develops. We even hope to partner with Bullitt County Tourism in the future to add a sites-of-Bullitt-County section to the app.
Many thanks to Stuart W. Sanders, the Professional Services Administrator (among many duties) at the Kentucky Historical Society, for getting this done for us! By the way, the app is free.
>>A Little Trivia. While sorting through some boxes of old papers that had been given to us, I came across several references to the George W. Maraman & Sons business in Shepherdsville. We ought to write sometime about the Maramans and the well known store and businesses that once flourished in the county. Meanwhile, here's the bit of trivia: George W. Maraman & Sons was officially organized on August 23, 1903. If you like historical trivia, check out our trivia web page.
Finally...
As regular readers of this newsletter know, this is the place in the newsletter where I usually tell a story or philosophize a bit.
Allow me this time to just wish you all a very happy new year.
May your happiest dreams come true, and may we all do well.
Please remember the Bullitt County History Museum as you work your way through 2013 and beyond.
As a volunteer, 501c3 non profit organization, we can use all the good wishes and support that you can send our way.
Most of all, please remember the good memories in your life.
And smile.
Thank you for being a friend of the Bullitt County History Museum.
David Strange
Bullitt County History Museum
Executive Director
Museum Phone: 502-921-0161
E-Mail address: David.Strange@BullittCountyHistory.org