Looking Back to 1912
The following article by Charles Hartley originally appeared in The Courier-Journal on 12 Dec 2012. It is archived here with additional information for your reading enjoyment.
---
Readers of a numerological bent will note that today is 12-12-12, a date that appears only every 100 years. That reminded me of a column that sometimes appears in the newspaper that tells what happened 10, 25, 50, and even 100 years ago; and so today I'm going to take a look back 100 years to the year 1912 in Bullitt County.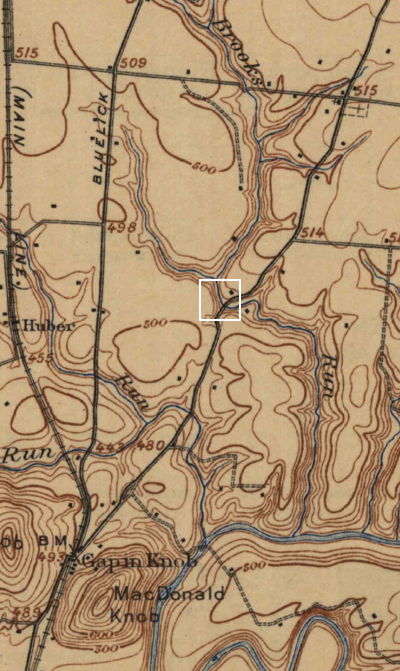 Site of Brooks Run Bridge on 1907 Topo Map
In January 1912, the Bullitt County Fiscal Court voted to build a bridge over Brooks Run on the Louisville Pike, four miles north of Shepherdsville, but, after a "warm debate" voted down a similar bridge at the old Bell's Mill site.
Evidently the editor of the local newspaper was getting lots of advice for he wrote, "If the editor of the Pioneer were to attempt to carry out all the suggestions made him as to how to run the paper, he'd soon be dead or in a lunatic asylum. As he has no desire to hasten either of such events, while thanking his friends for their evidently kind intentions, he still reserves the right to exercise his own judgment in the matter and run it according to his own ideas."
Thanks to the Croan Dog Law sponsored by Ed Croan of Bullitt County, the county's teachers were receiving $4.63 per pupil, more than any other county in the state. It seems that the county had lots of dogs and few sheep to protect, so the extra dog tax collected went to the schools.
Forty boys were enrolled in the Boys' Corn Club including Ralph Henderson, Clay Porter, Roy and Henry Ward, Roy Triplett, Brady Mooney, Manuel Powers, John E. Hoagland, Morrison Ward, Bates Crigler, Clarence Stansbury, Walter Goki and Ermond B. Wooldridge, each of whom was to grow an acre of corn that year.
Another civic organization was the Village Beautiful Club organized by Mrs. R. L. Troutman. The club had sixty-three members enrolled, 59 children and four adults who wanted to make their community a nicer place to live.
The newspaper's correspondent from the Brooks community wrote, "I hope, with the opening of spring, the people will rise up and demand justice in regard to roads. Our roads have been going to smash for the past two years. This hog wallow road from Brooks to the Blue Lick Pike is a disgrace to any community."
The Hebron correspondent was just as concerned: "The road near Shepherdsville is the worse specimen of turnpike I ever saw. I shouldn't care to drive over it after dark, and the bridge over Blue Lick is positively unsafe. Our horse shied and only a Kind Providence saved us, as the railing was conspicuously absent."
I guess complaining about the roads isn't just a recent phenomenon.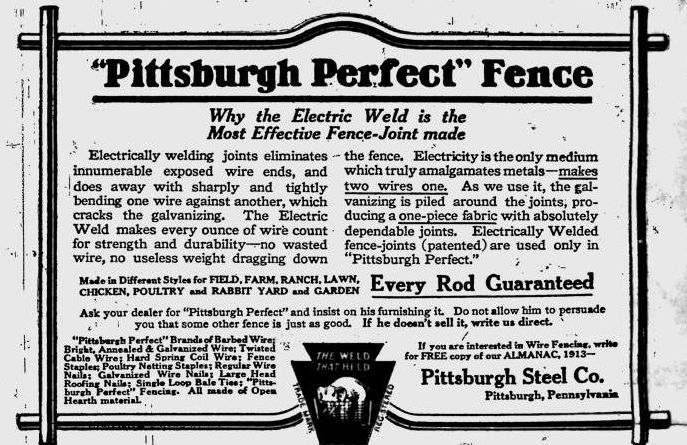 Perfect Fence Ad
In February the Geo. W. Maraman & Sons store was busy advertising the Pittsburgh Perfect Electric Weld Fence, "absolutely the best fence made." Nearby, the Troutman Bros. store was advertising R 4-11-44, said to cure all sorts of poultry diseases. These were two of the large stores in Shepherdsville.
Also in March, Circuit Court Clerk Oscar W. Pearl traded his Shepherdsville home and cash for the Glenn Meadows farm on Salt River about eight miles west of town. This was the former home of Angereau Glenn, a Chicago lawyer who had died in 1909. Mr. Glenn had constructed a handsome country home and was developing high class Poland China hogs on his farm prior to his death.
In April, Shepherdsville was visited by a steamboat, the first one seen here for a year or more. Back water from the Ohio allowed the little stern wheel steamer, Nettie Grant, with two barges in tow, to come up river. After taking down part of her smoke stack to pass under the bridges here, she went on up to Greenwell's ford, 10 miles above, where the barges were loaded with railroad ties to be taken out into the Ohio.
Roads continued to be a prime topic. In April, Fiscal Court voted to receive bids on crushing and placing 2500-3000 yards of stone on the county road leading from Bardstown Junction, and from Shepherdsville to Gap-in-Knob, provided the citizens along the roads paid one-fourth of the cost.
June brought an abundance of social events. For example, there was an ice cream supper at A. J. Roby's near Solitude with the proceeds to benefit the Cedar Grove School. With strawberry and vanilla ice cream, pineapple sherbet, ham sandwiches, and sweet drinks, a good time was had by all.
In August the newspaper reported that "all the boys were wearing zosters" around town as "no young man is considered well-dressed unless he wears one."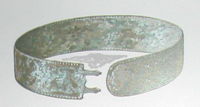 Bronze and Leather Zoster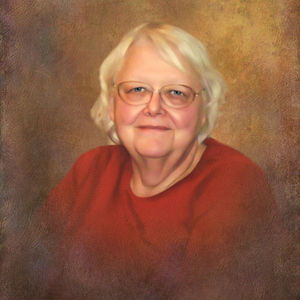 Edith Blissett
Do you know what a zoster was?
According to the Taxeis Plataiai web site the ancient Greek zoster was a wide, sash-like girdle. It came into Homeric Greek as an armor belt, or kidney belt with metal plates. By the time of Alexander, it could be any broad girdle worn by both men and women. By 1912 it was more like our modern day pants belt.
Also in August several young ladies had a fine picnic at the old Paroquet Springs site. The party visited the well and partook of the famous water, and many "faces" were made by the ladies who had not drunk the water before. Those in the party were Mrs. Webb Brame, Misses Blanch and Bessie Stroud, Virgie Stringer, May Lee, Doris Miller, Sybil Brame, and Elizabeth Brame and Messrs Harvey Davis and J. R. Zimmerman.
I could go on, but before I run out of space, I want to remember Edith Blissett, a dedicated member of our genealogical society who died recently. Without her faithful transcriptions of early issues of The Pioneer News, our research into that time would be much more difficult. Thanks, Edith. We miss you.
---
Copyright 2012 by Charles Hartley, Shepherdsville KY. All rights are reserved. No part of the content of this page may be included in any format in any place without the written permission of the copyright holder.
---