The Lynching of Mary Thompson
The following article by David Strange originally appeared in The Courier-Journal on 23 Jan 2013. It is archived here with additional information for your reading enjoyment.
---
Nearly one hundred and nine years ago, a dark and convoluted event occurred in Bullitt County.
The killing of John Irvine.
The lynching of Mary Thompson.
And a riot at The Old Stone Jail.
On June 14, 1904, Mary Dent Thompson, an African-American woman, age about 28 and wife of Ben Thompson, killed John Irvine, 44, a white land-owner in southern Bullitt County.
There was no question that Mary Thompson did indeed kill John Irvine. She readily admitted it, before and after her lynching. (You see, she survived her lynching. But we'll get to that in a minute.)
There was, however, vicious disagreement on how the killing came about.
One version was simply that she knifed a good man, without cause, on his own property. Mary's version was quite different, claiming self-defense. But no one seemed ready at first to listen to that.
Mary Thompson was arrested the same day, a Tuesday, at her home, and placed in the small wooden jail in Lebanon Junction. But at about 2:30 a.m. Wednesday morning, a reported mob of as many as 150 people broke in the jail, and dragged her out to hang her.
I say "as many as..." because, like today, news accounts were not always quite accurate and sometimes exaggerated. Some reports said as few as thirty people participated.
There are also conflicting reports about what happened next.
The mob, having taken her from the small Lebanon Junction jail, did indeed take her to a nearby tree and hang her on the spot.
But then, according to the most accepted story, the rope broke from her weight (she was a large woman, weighing 250 pounds), dropping Mary Thompson to the ground, saving her life, at least for the moment. (Other reports said that she had grabbed a razor from one of the mob and cut the rope herself. Still another story says that someone shot the rope in two, cowboy-style, to save her.)
Nevertheless, she did indeed fall to the ground alive. Leaping up, she tried to run away. But she didn't get far before some in the mob began shooting at her. She fell to the ground, blood flowing from her body.
Assuming the deed to be finally finished, the lynch-mob broke up. About 5:00 a.m., the sheriff found Mary, expecting that she was dead.
But she was not.
The sheriff took her to a doctor, who patched a wound from a .38 caliber pistol ball, "which had entered her back and went completely through her body, barely missing her right lung".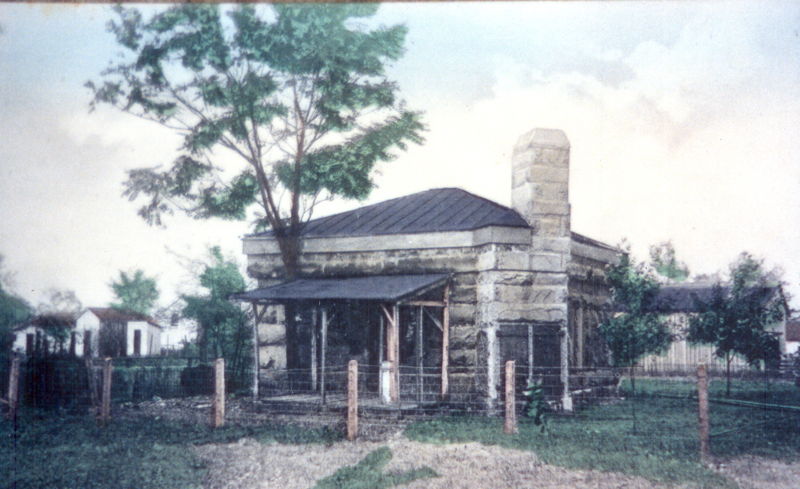 Bullitt County Jail
That's where the Old Stone Jail in Shepherdsville comes in.
After the visit to the doctor, the sheriff took Mary to the stone jail in Shepherdsville. That stubborn old jail still stands today in its original location just behind the county courthouse, is restored, and is open for visitors whenever the courthouse is open.
Word spread that Mary Thompson had survived the lynching.
Another mob formed, this time estimated at "several hundred men," and surrounded the stone jail. Visit that old jail sometime and try to imagine a crowd of several hundred angry men yelling and cursing and banging on the iron door. The sights and sounds of that dark night must have been horrific, especially for a woman left defenseless in her cell.
Jailer Jones stayed in the relative safety of his house. Some of the men tried to trick him into coming out but he refused and told the men to go home.
Surprisingly, they eventually did leave. The jail held long enough for reason to prevail. The next morning, police came from Louisville and took her to the city to get her out of danger.
Mary admitted to knifing John Irvine, but claimed to be defending herself and her little boy, saying, "As true as there is a God in Heaven I did not kill that man until after he had attacked me, and I was forced to fight for my life." She said that she was digging greens in a field with her knife when Mister Irvine came up to her and ordered her off his place, accusing her son of stealing a pair of pliers. She said that Irvine began kicking her son and cursing her, and that she used her Case knife (some reports say a "razor") to protect herself from injury.
"Don't ask me about that mob," she said. "It's all too terrible."
The local paper chastised the county about the attempted lynching, saying that the evidence was strong, and implying that Mary would surely soon be hung legally. "There is absolutely no excuse for any mob," the paper said. "It doesn't speak well for the community that the authorities thought her removal necessary."
The trial apparently was a sensational one. Over 350 potential jurors had to be called in order to get enough to form a proper jury.
And interestingly, though convicted, she was not sentenced to death. Instead, on September 8, 1905, she was sentenced to two years in the state penitentiary, which might say something about her side of the story, especially in those days.
That is the last I see about the crime and Mary Thompson in the newspapers. Extensive research by Bullitt County Genealogical Society President Daniel Buxton has shown that she did serve her time in prison, eventually moving with her family to Jefferson County, Kentucky, after her release.
Mary Thompson died August 18, 1934, in Jefferson County, the mother of twelve children and widow of her husband Ben. She was buried in Greenwood Cemetery.
John Irvine was buried in Nelson County, Kentucky, in the Bard/Irvine Cemetery.
And so, a sad and dark event for everyone passed into our history.
As far as I know, only the Old Stone Jail still stands as witness.
---
Copyright 2013 by David Strange, Shepherdsville KY. All rights are reserved. No part of the content of this page may be included in any format in any place without the written permission of the copyright holder.
---