J. D. "Jiggs" Buckman
The following article by Charles Hartley originally appeared in The Courier-Journal on 16 Jan 2013. It is archived here with additional information for your reading enjoyment.
---
They were dancing on Shepherdsville's main street that Friday night in August 1955 in celebration. Earlier an army band from Fort Knox led a parade down Main Street that included cars carrying the day's dignitaries, and a group of "Shepherdsville Sweethearts" (Anita Lee, Patsy Epps, Jeanie Castle, Charlene Ashby, Ernestine Jackson, and Penny Bergen).
All of the excitement was over the dedication of a new 56-foot wide main street which was about to be renamed in honor of the man whose efforts had largely made it possible.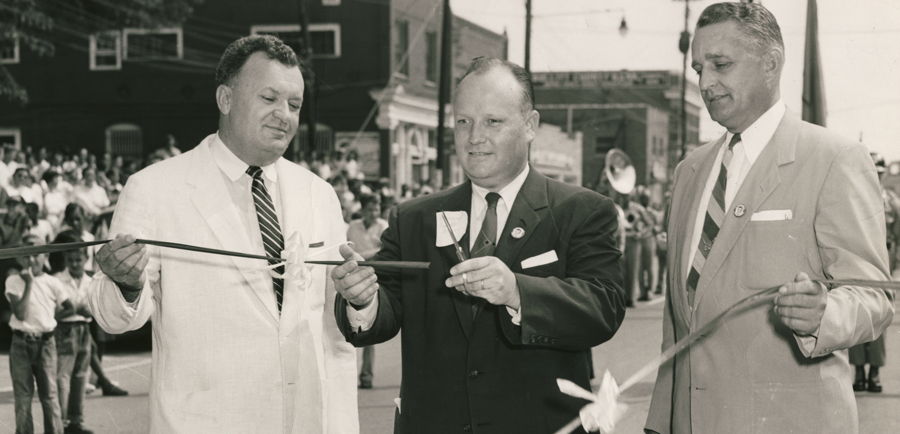 Attorney General J. D. "Jiggs" Buckman and Representative Leo Bleemel look on as
Shepherdsville Mayor Millard Cundiff cuts the ribbon to formally dedicate the new Buckman Street in 1955.
J. D. "Jiggs" Buckman, then Kentucky's Attorney General, was a candidate for the Democratic nomination for lieutenant governor in an election due to be held the next day, and this celebration was partly a political campaign effort; but mostly it was an opportunity for the town to show Jiggs how much they appreciated all he had done.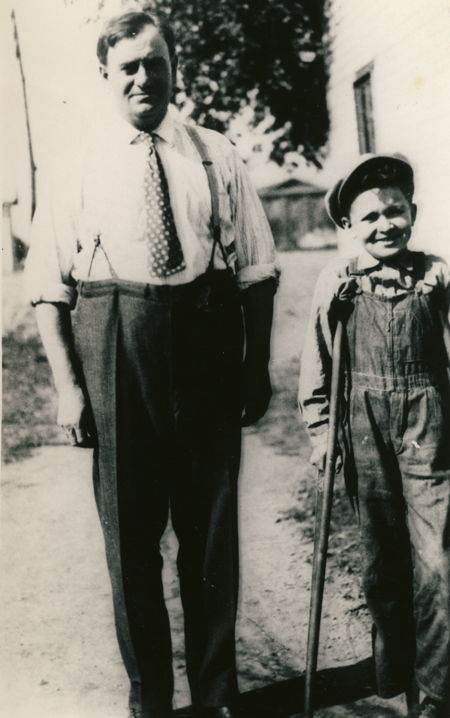 Jiggs with his Dad
As a child, Jiggs Buckman suffered from a bone infection called osteomyelitis that forced him to spend a year in bed followed by three more years hobbling on crutches. During that time he was often seen about town, riding on the strong shoulders of his father.
His parents, James and Carletta (Hatzell) Buckman, also had two girls: Mary and Hattie Mae Buckman. Mary would later marry T. L. Cook, long-time Bullitt County Court Clerk.
Fortunately Jiggs Buckman recovered by the time he entered high school, and he was captain of his high school basketball team.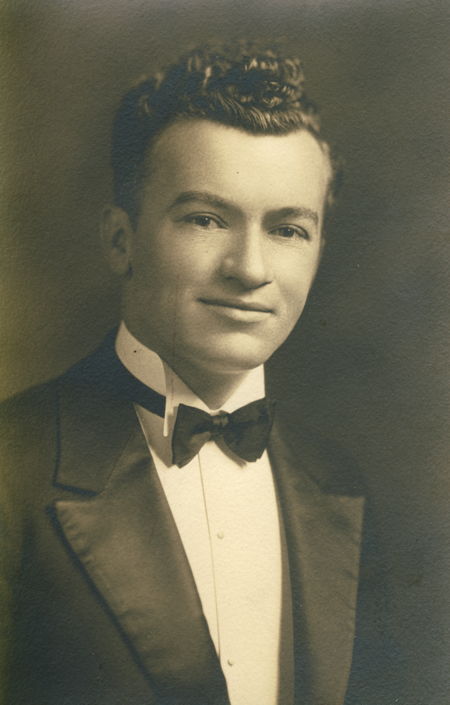 Young Jiggs
During this time he developed a fascination with politics. He began working in elections even before he was old enough to vote, and a bit more than a year after he graduated from high school he was selected as the circuit court clerk in 1933.
While he was circuit court clerk he attended law school in Louisville, and was admitted to practice law in 1936, launching a career that lasted more than fifty years.
During World War II, he served in the Judge Advocate Branch of the army from 1942-44. Then in 1948 he won a seat in the Kentucky General Assembly where he represented the 33rd House district for two years.
In the fall of 1951, Buckman was elected as the State Attorney General in the Wetherby administration. Improving roads was a high priority for Governor Wetherby, and his attorney general was happy to help funnel some of that road money to Bullitt County. Besides improvements to local state highways, Wetherby authorized the construction of the state's first toll road which passed through Bullitt County.
At that time Main Street in Shepherdsville was a tree-lined, two-lane asphalt road. Through the efforts of Jiggs Buckman and others, state funds were allocated to expand the street to four lanes of concrete with storm sewers to carry off the rain water.
So on that August afternoon in 1955, Attorney General J. D. "Jiggs" Buckman was going to have this fine new street named after him. Things were going well for him. The primary election was scheduled to be held the next day, and Buckman was running for lieutenant governor on the ticket with Bert Combs.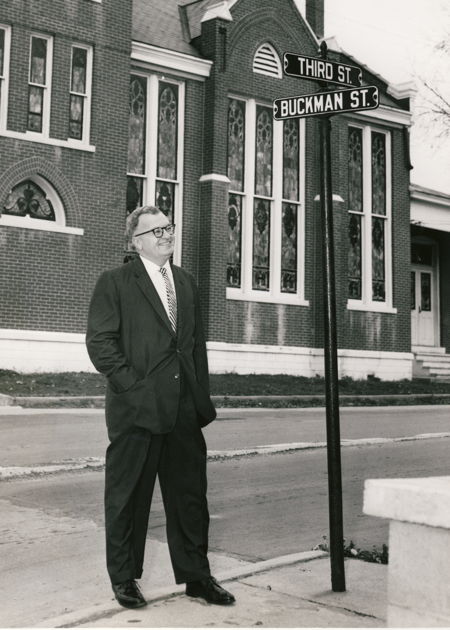 Jiggs Buckman admires one of the
new street signs bearing his name.
When the election results were in, Bullitt County strongly supported her native son, giving him 2,281 votes against only 325 for Harry Lee Waterfield who was running with Happy Chandler. Unfortunately for him, Chandler and Waterfield won the state-wide race.
But politics were still in his blood. He won re-election to the Kentucky House of Representatives in 1959. Then, two years later he was elected to the State Senate where he served for eight years. He advanced through the ranks of Senate leadership and became Majority Leader in 1966.
Then in 1967 Buckman made a bid for the governor's office, only to lose out to Henry Ward who was Governor Breathitt's selection. Ward went on to lose the general election to Louie Nunn.
After trying again for the Senate, and failing, Buckman returned home and to the courtroom where his talents seldom failed him. In 1981 he hired a talented young lawyer-to-be, Eric Farris, and two years later made him a partner in the firm of Buckman & Farris.
Of the many lessons Buckman imparted, Farris best remembers two things that stand out. "Jiggs would say never be late to court and always speak to the person on the street."
"He was an excellent orator." Farris said. "He could deliver a closing argument like no one else."
One of the things Buckman loved to do was play Santa for the kids in the courtroom at Christmas. Following Buckman's death in 1995, Ferris was quoted describing him. "He always put God and his family first. Jiggs was very strong about family, no matter the workload. He was truly a Santa to his kids."
Politicians often get a bad rap in the public eye, and no one is claiming that they don't sometimes deserve it, but we can be thankful for those, like Jiggs Buckman, who rise to the challenge and serve their fellow citizens as well as they know how. So the next time you're on Buckman Street, remember Jiggs and be thankful.
---
Copyright 2013 by Charles Hartley, Shepherdsville KY. All rights are reserved. No part of the content of this page may be included in any format in any place without the written permission of the copyright holder.
---