Flat Lick Road
The following article by David Strange originally appeared in The Courier-Journal on 9 Jan 2013. It is archived here with additional information for your reading enjoyment.
---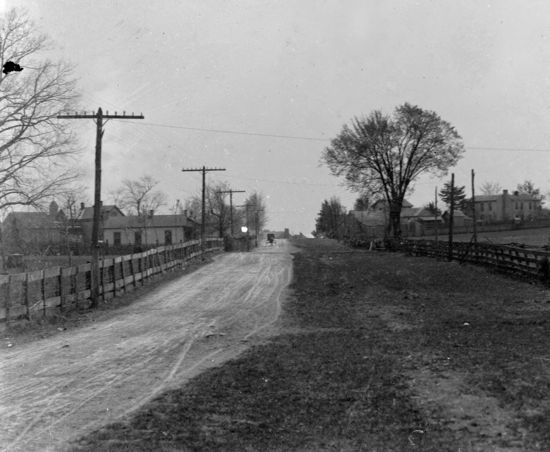 Mt. Washington circa 1900.
Flat Lick Road is just ahead on the right.
There lies a stretch of road in Bullitt County named "Flatlick Road," originally spelled "Flat Lick Road," which is how I choose to spell it for this story.
It's a fairly straight road, starting in Mount Washington and making a virtual bee-line northwest to Floyds Fork.
And then it stops. At least it does now.
As in most things, there is a lot of change in the history of Flat Lick Road.
For starters, why is it called Flat Lick Road, when the Flat Lick was far into Jefferson County where Fern Valley Road meets Preston Highway?
And did you know that Flat lick Road once stretched all the way to the Jefferson County courthouse?
But to tell this story, let's start at the beginning.
Like many of the old roads in Kentucky, what we know today as Flat Lick Road was originally a "buffalo trace", an old path that had been worn into place by animal migrations over hundreds, quite probably thousands, of years. Some say that even mastodons and mammoths once treaded those paths. These old paths were part of many branches of what historians call "The Wilderness Road." When hunters first came to Kentucky, they followed those paths, and settlers eventually followed them, and developed the paths into roads for their horses, then their wagons, and finally their cars.
The existing portion of Flat Lick Road is pretty much where it always has been. But today it stops at Floyds Fork. This 1907 topographical map shows how the road from Mt. Washington once forded Floyds Fork and continued north. In fact, I am told that a close look at that area of the river still shows signs of the crossing.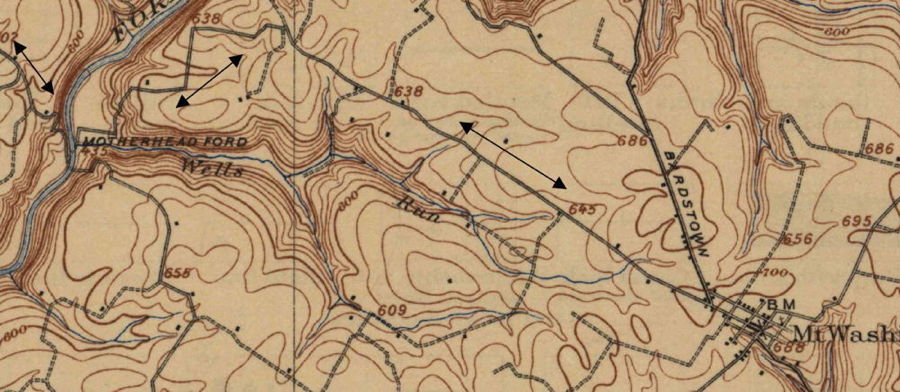 Arrows travel alongside the road between Mt. Washington and the Motherhead Ford of Floyds Fork and beyond.
From that point, the road generally followed what is now called Zoneton Road, and eventually on along Mount Washington Road to Preston Highway as shown on the 1907 map below.
By the way, have you ever wondered why a road that is nowhere near to, and seems to have no connection to, Mount Washington, is named Mount Washington Road? Now you have an answer.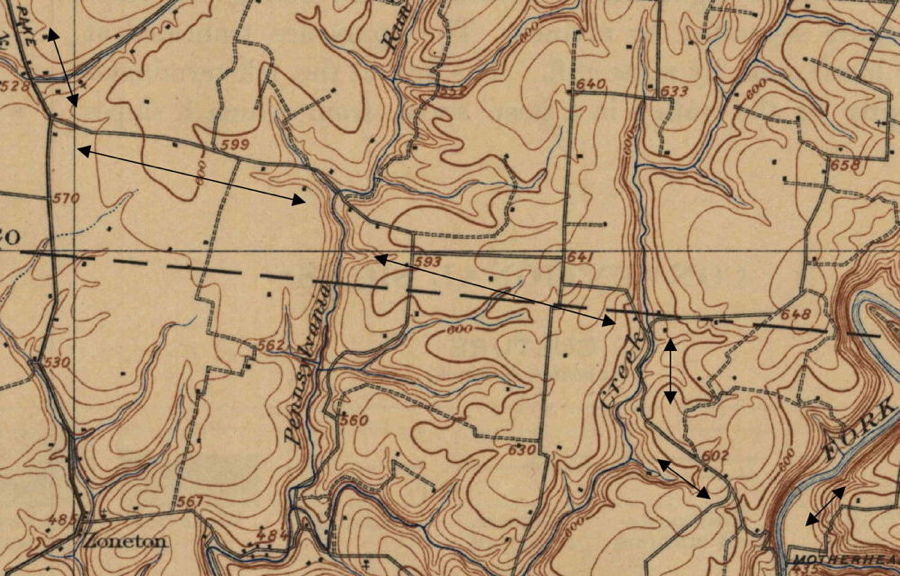 Arrows travel alongside the road between the Motherhead Ford of Floyds Fork and the Preston Pike and beyond.
From there, the path generally followed modern-day Preston Highway, once a major part of the Wilderness Road, to a salt lick called "the Flat Lick" that was located in the northeast corner of where Fern Valley Road now intersects with Preston.
But imagine again that in those very early days, the "road" was little more than a foot path, and all the later names of roads were yet to come.
The salt lick had been used for eons by animals for its nutrients. Pioneer settlers dug a well there, hoping to get salt water for meat preservation, etc., but instead got very strong sulfur water. So to make a little money, the owner built a tavern in the mid 1700's across from where Ulrich Avenue is today, and called it Flat Lick Tavern.
Flat Lick Tavern quickly became notorious as a hangout of thieves and rough characters, being mentioned as such as early as 1779 in a journal by William Flemming. Some people question whether the road name came more from the well or the "watering hole."
Regardless, that stretch of Preston was once known by many as Flat Lick Road. In fact, an 1859 map of Jefferson County labels it the "Flat Lick and Preston Street Plank Road." ("Plank" being a type of road that actually used rough-cut wood planks for the surface.)
These side-by-side maps show the path taken by this road from
the downtown courthouse southward to Pope Street and beyond.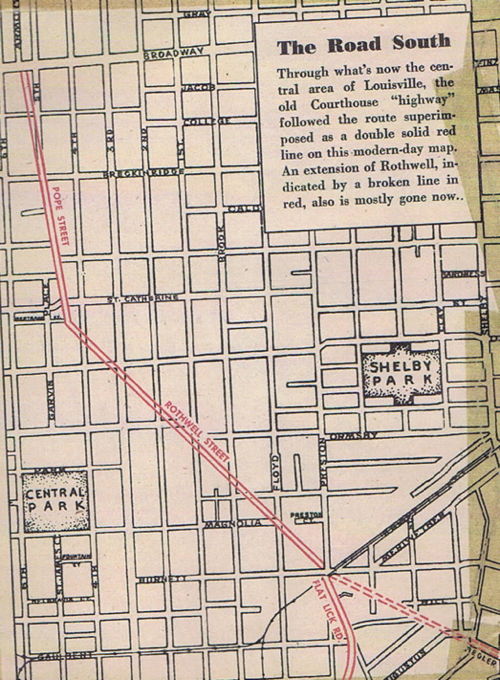 From 1952
Courier-Journal
article by Lee Heiman.
Used with permission.
But the road did not stop there.
The road continued north along Preston to about where Bradley Avenue crosses Eastern Parkway in Louisville. In fact, until 1928, that portion of Bradley Avenue was called Flat Lick Road.
From there, the road took a forty-five degree turn northwest in a straight line (that section later renamed Rothwell) to Fifth Street (once known as Pope Street) then to Armory Place and pretty much ended at the courthouse. Of course, before there was a Louisville, the original animal path would have headed on down to the Falls of the Ohio River, crossing over to Indiana.
Much of the Rothwell section of road is long gone due to road changes over the years. But before that happened, the city of Louisville ended at Broadway.Everything south of there was still "the country."
As the city grew, that diagonal section of road did not conform to the city plan and was eliminated a bit at a time. Its real death knell came when, during the Civil War, the Taylor Barracks was set up in the area bounded by First, Third, St. Catherine, and Ormsby streets, cutting out a key section of Rothwell.
And as more and more north-south and east-west streets were developed or extended, Rothwell disappeared. By 1879, it remained only between First and Preston. One small piece of an extension of Rothwell also survived, later renamed Ziegler Street.
Fifth Street remains shorter than the other numbered streets and ends with a slight angle on its south end. Now you know why.
And so, now you also know that there was once a lot more to Flat Lick Road than today meets the eye.
It is interesting to me how a buffalo path remained basically unchanged for countless hundreds of years, and then went through so much change in a relatively short two hundred.
Then again, I suppose the change has not been all that much.
Road names often change, and change again, over time. I think most historians greatly dislike that because it makes recorded history so complicated.
But change comes, whether we like it or not.
Like the original Flat Lick Road, sometimes parts of us change so much that we can hardly recognize ourselves ... but also like Flat Lick Road, sometimes there is hardly any change at all.
The two maps below are excerpts from one titled "Louisville and Its Defenses, June, 1865" and taken from "Atlas to Accompany the Official Records of the Union and Confederate Armies 1861-1865," Plate C11. These excerpts are shown here by the permission of David Rumsey Map Collection who holds the copyright to the images.
They show the route of this road from the Jefferson County courthouse to the Spring Garden area just north of present-day Fern Valley road. they overlap at the Taylor Barracks mentioned earlier.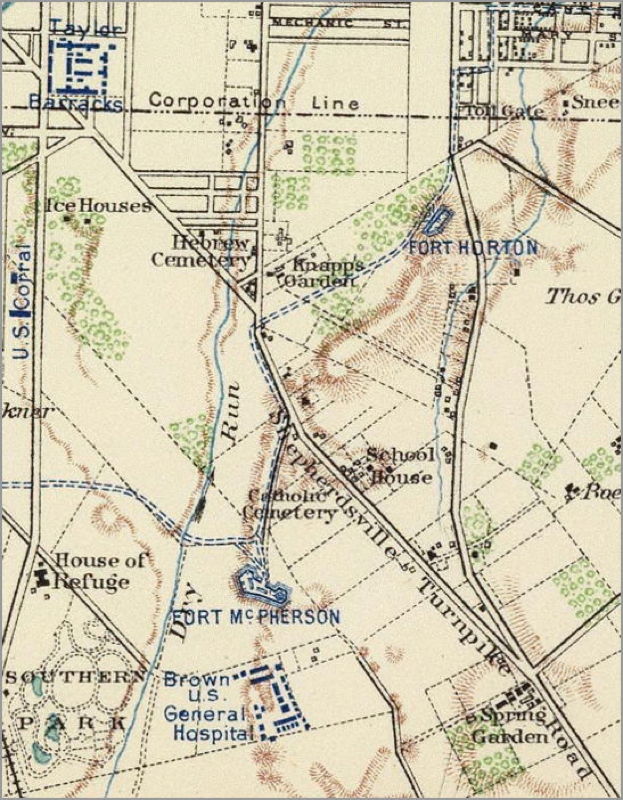 Much of this information was drawn from articles written by Lee Heiman, Courier-Journal staff writer in June 8, 1952, and by Robert Emmett McDowell, Sr. in a Courier-Journal "Louisville Magazine" article on June 20, 1967.
---
Copyright 2013 by David Strange, Shepherdsville KY. All rights are reserved. No part of the content of this page may be included in any format in any place without the written permission of the copyright holder.
---