Museum Newsletter - 30 April 2014
Friends of the Bullitt County History Museum
E-Newsletter
April 30, 2014 (Volume 10, Number 4)
Dear Friends,
Announcements...
>> Bullitt County Genealogical Society meeting May 17. The meeting time is 11:00 a.m. Meeting place is Ridgway Memorial Library in Shepherdsville. Calendar details are on our Society calendar page.
Activity & News...
>> Barbara and Ken Bailey are back! This might mean as much to me as anyone. Barbara has faithfully volunteered at the museum nearly every Friday since we opened in 2004. But she and Ken often go to Florida for the winter. This year, I chose to cover Fridays while they were gone, and I'm ready for the day off! Welcome back to Bullitt County, Baileys!! :)
>> Other staff adjustments this month: Wilma Lemons, who volunteered the most hours at the museum this past year, has been out for about a month because of her real job. But starting today, she is back with us. José Rosario, who volunteered the most hours in past years, had been away for most of the past year because of his job, but is back with us again now, coming in a couple of times a week.
Welcome back José and Wilma! With their return, we are pretty much back up to full staff. Thanks to all of our Volunteers.
>> Loss of a Friend. I am sad to report that Don Owen, husband of long-time volunteer, Doris Owen, has passed away. Doris is a co-founder of the Genealogical Society and has been a faithful friend of the museum, and both have been good friends to me.
>> New Museum Treasurer. Doris Owen has been my "second set of eyes" on our museum finances since we were founded. Traditionally, I have recorded financial activity (with a co-signer for all checks); Doris would then take my records, double-check them with bank statements, and create a monthly report. This is all part of our commitment to always assure that your donations are used wisely and correctly.
Doris has asked to be relieved of that commitment this year, and, thankfully, volunteers Beverly Owen and Brenda Rittman have agreed to take on the task. As part of the transition, we have chosen to upgrade our financial software, moving to "Quickbooks Premier 2014 for Non-Profits". Beverly is studying the new software and moving the older-format records into this new format. Brenda Rittman will be learning the software as well, and be our backup Treasurer.
By the way, the museum works with supplier TechSoup to get donated software. The three-copy version of Quickbooks could have cost well over $450; but through TechSoup, it only cost ninety-nine bucks.
>> Booth at Ancestral Trails Book Fair April 12. Our volunteers hosted two tables at the Ancestral Trails book fair on April 12. The Bullitt County Genealogical Society and our museum was represented. We talked with a lot of people, visited with good friends, and sold quite a few of our books. Thanks to Daniel Buxton and Ed Lee for setting it up. I was there for the morning, and Barbara Bailey was there for the afternoon (I hope I didn't forget anyone, but thanks to all for being there!)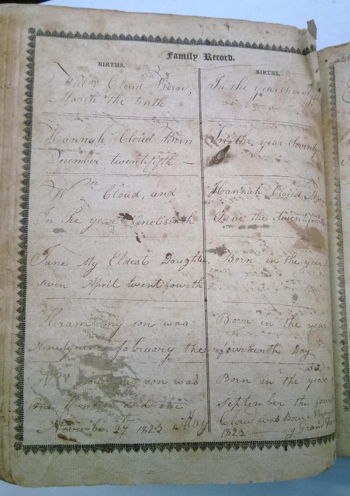 >> Family Bibles. Thanks to the urging of museum volunteer Bob Cline, and the skilled and careful work of volunteer Beverly Owen, we are finally preserving pertinent pages of several very old Bibles to our digital collection of images. These Bibles, with their family history pages, have been in our archives for several years. But due to their fragility, and our lack of time, they have been pretty much unavailable for study.
These include (naming by primary name in the books):
Samuel Brooks, starting in 1839.
Samuel Brooks, starting in 1854.
Sophrina Woodward, 1811.
Rebecca Brooks, 1818.
Russell Crenshaw and Rena Shaw, 1926.
Rena Crenshaw.
Fuqua/Roby.
John Shaw, 1919.
W. H. Cloud (one page shown here), 1802.
Susie Osborn (Book of Psalms & Hymns), 1843.
In addition, friend Joe W. Chiles gave us a family Bible that he had found in an abandoned house. That Bible has genealogy of the Bray and Garland family starting in 1890.
The pages of all of these old books are very fragile, and some are in poor condition, so Beverly has very carefully looked through the books and photographed each page of information. Some of the books include items such as news clipping, writings, and even bits of lace and clips of hair. All have been photographed and we'll be studying the images over the coming months. I expect that we'll be making the images available on our web site at some point soon.
>> Web Site Additions. We have added quite a bit of new information and stories to our web site this month. Be sure to click on these links to take a look.
>> New Books: The museum has purchased three new books. One is Civil War Draft Registration in Central Kentucky, compiled by Carolyn Wimp and published by Ancestral Trails Historical Society. The others are a two-volume set about the Spanish Flu pandemic of 1918. The books, A Time of Prudence Rather than Panic, 1918-1920, were created by Sandra K. Gorin.
>> History Marker Repair. Hopefully, we will be seeing some repairs to three of our local Kentucky History highway markers. State officials responded to my report about the deteriorating support posts, saying that they plan to replace the posts sometime this summer.
>> British Villages book on loan. Barbara Bailey has loaned the museum a large book about British villages. This book might be of special interest to people interested in the old home places of their genealogy.
>> Irene Carroll Interview Discovered and Preserved.
Irene Carroll was a very prominent person in Bullitt County and national history. She is especially remembered for her work with the Woman's Club, but was a leader in several organizations from the 1940's into the 1960's. See more about her here and here.
Recently, we came across an old audio cassette in a box of papers given to the museum. The tape was marked simply "Irene Carroll." The tape was broken and clearly going bad quickly. Thankfully, our friends at the Bullitt County Public Library took the tape, repaired it, and converted it to digital. It turned out to be an audio interview by Burlyn Pike of Irene. A pretty good one, too! Many thanks to Judy and Rhonda at the library for rescuing this for us.
By the way, it is important to know that most all those old cassette and VHS tapes laying somewhere in a drawer in your home are going bad as we speak. If you have anything on tape that you want to save, you better start doing it. I have personally seen such tapes that had become not much more than a solid chunk of nothing. The tape material degenerates over time, and the time is arriving.
For Your Information...
>> Internet Explorer problems. If you use Microsoft Internet Explorer for your internet web work, be aware of news reports about a huge security flaw. Apparently, if your computer has Adobe Flash installed, hackers can use that to take full control of your computer through Internet Explorer. Officials say to NOT use Explorer, or to at least disable Adobe Flash. Of course, friend Charles Hartley might remind us that if we would just use Apple computers, we wouldn't have such problems. [smile]
[Note from Charlie: The Google Chrome browser is a good choice on any platform. Not to be technical, but Chrome does seem to prevent the problems associated with Flash, and is apparently not affected by the issue causing problems with Internet Explorer.]
>> Tick and Chigger Season. Remember, friends, that with warm weather in Kentucky, we also move into tick and chigger season. When you head out into the fields and old un-kept cemeteries, be sure to prepare with proper repellants.
Finally... (this section of the newsletter is always about some closing remarks)
Some of you know that increasingly over the past couple of years, I have been having some health troubles.
Hopefully nothing too serious, and hopefully it will get better, but it is definitely draining me of energy and will likely do so for quite some time.
So, it is time for me to start planning to retire from the day-to-day managing of the museum. Probably time for me to enjoy slower starts, my back porch, and my grand-kids a bit more.
There is no big hurry. My goal is that the change will be done by October of this year, which will mark ten years of the museum and ten years of me managing the museum. That seems like a good time for the museum to move forward to its next phase. It is our chore between now and then to figure out exactly how to make that change.
Lord willing, I'm not leaving. I intend to keep volunteering at the museum, just on a lighter schedule, and to continue writing. So I will be there to help in any way I can before, during, and after the transition. I just feel that the time is approaching in which I must let go of the daily responsibilities of the museum, along with reducing some of my other activities around the county.
We have a great team of well-trained and well-respected staff volunteers who already cover for me most of the time. Because of that, I am confident in the future.
I ask you to hang in there with us as we work through this transition. It is the first time for the museum, but we will get it done.
Thank you for being a friend of the Bullitt County History Museum.
David Strange
Bullitt County History Museum
Executive Director
Museum Phone: 502-921-0161
E-Mail address: David.Strange@BullittCountyHistory.org