William Dean Rouse. A Loss to War; A Loss to Family
The following article by David Strange originally appeared in The Courier-Journal on 30 Mar 2014. It is archived here with additional information for your reading enjoyment.
---
William Dean Rouse died in World War II on the beaches of Okinawa, April 1, 1945. Sixty-nine years ago this month (April, 2014).
His startling death is the end of this story, I suppose. But there is so much more to tell before we get there.
"Dean," as he was known by family, grew up on a farm three miles back Hoagland Hill Road, just south of Mt. Washington, barely across the Bullitt County line in Spencer County.
Nieces Doris Rouse Fawbush and Patricia "Pat" Rouse Montgomery remember Dean fondly. Doris was fifteen years old when the family received the dreaded phone call telling of Dean's death. Pat was just five.
But both remember him. A guy like Dean is not easily forgotten.
Doris said that he was always smiling. "Everybody loved him. He was a terrific singer." The family only saw Dean once after he joined the military; for just a few hours one Christmas day. He could stay for those few hours before heading back to base. Pat remembers that she could hardly recognize Dean all dressed up in uniform.
Doris and Pat, as well as other family members, have been to Hawaii to visit his grave at the Punch Bowl Cemetery in Hawaii. It still seems odd, somehow, how a simple Kentucky farm boy ended up so far away. But World War II did that to a lot of farm boys all across the world.
I first learned of Dean Rouse's story when I received an e-mail from Tom Thompson in Washington-state. He told me that his father, Sylvan "Sy" Thompson, had a scrapbook of WWII photos. Sy says that Dean was one of his best friends in their company; and some of his scrapbook photos were of Dean. Sy remembered that Dean Rouse was "from Bullitt County" and wondered if any family remained to remember him, and how Dean died. He hoped that someone here would be interested, after so much time had passed.
I was, and Pat and Doris certainly were.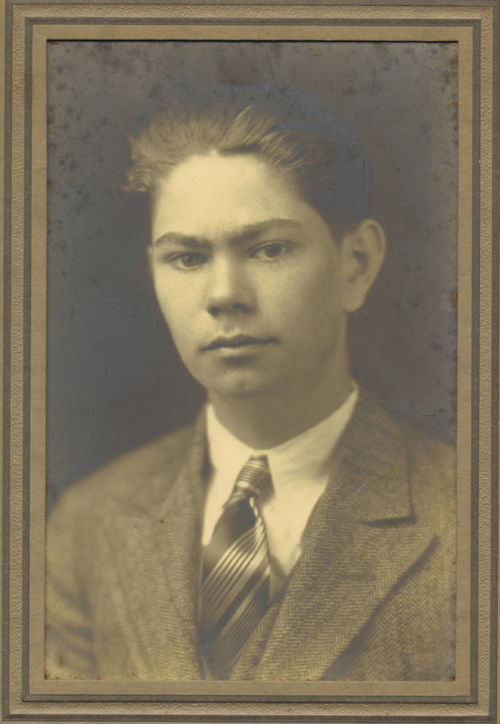 William Dean Rouse, St. X Graduate
You see, Dean was of particular character. When he was a boy, he walked three miles from the family farm down Hoagland Hill Road, back between Goose Creek and Dutchman Creek in Spencer County (their mail service was out of Mt. Washington in Bullitt County) to catch a Greyhound bus on Bardstown Road to get to Louisville. He did this every school day, without fail, as a student at Saint X (Xavier) High School, then located on Broadway. By the time he made it back to Hoagland Hill Road from school, night was setting in. His mother knew when he was heading home by his flashlight flickering among the trees. By the time he arrived at the house, she had supper waiting for him. It is said that he never missed a day, graduating in 1930 at the age of 18, just as the Great Depression was beginning to rage.
Perhaps because of the Depression, Dean stayed on the relatively prosperous family farm for a while. He attended St. Francis Xavier church in Mt. Washington, where he was a life-long member. Dean's father, Charles Herman Rouse, passed away in February, 1942. On November 7, that same year, Dean entered military service, answering the call for soldiers in the war effort. He was stationed at Camp Campbell, Kentucky, and then transferred from there to a base in the Hawaiian Islands in March, 1943, and eventually on to the Philippines.
TEC5 William Dean Rouse became a tank driver in C Company, 763rd Tank Battalion, attached to the 96th Infantry Division.
I imagine that Dean's mother looked out her window many a night, hoping to see his flashlight flickering in the woods one more time, as he headed through the woods back home. But it was not to be.
Among all the chaos as the Allies landed on Okinawa on April 1, 1945, Dean's tank was one of the first to arrive. The landing craft rushed in to the beach, dropped its ramp, and the tank sped down. But the landing craft driver had mistaken a reef that he hit for the beginning of the shore. Dean's tank drove off the ramp and plunged immediately down into fifty feet of water.
Four of the crew made it out of the tank that day and survived.
Dean did not. It is thought that he was knocked unconscious and drowned before he could escape through the turret. Divers were sent down to recover the body.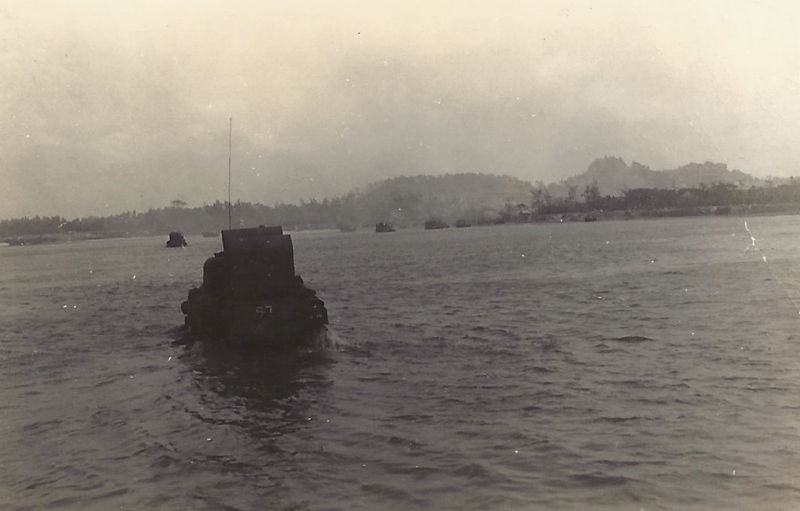 Tanks landing on the beach of Okinawa minutes after Dean's went to the bottom.
Over 130,000 people died in the two-month battle for Okinawa, including military on both sides and civilians. There were a lot of dreaded telephone calls to families that year.
All of Dean's eight brothers and sisters are gone now as well, as Time has taken its own toll. Dean's Dad, Charles Herman Rouse, had died before Dean, in 1942. His mother, Mamie Clair Hall Rouse, died in 1950. But there are eleven nieces and nephews, and many great-nieces and nephews to remember him. Three of them include "Dean" in their name. Pat Rouse Montgomery named her second son after Dean.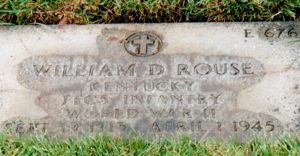 So a memory lives on.
And that is how a country boy from Bullitt and Spencer Counties, a graduate of St. X in Jefferson County, came to die in far off Okinawa, and was buried in the National Memorial of the Pacific (informally known as Punch Bowl Cemetery) on Oahu Island in Hawaii.
TEC5 William Dean Rouse. Born September 19, 1913. Died April 1, 1945.
He was, and is, very much loved.
Closing Note: Many, many thanks to Tom Thompson and his father, Sy, for contacting me from so far away, and for sending the photos of Sy's friend, Dean. Thanks also to Dean's dear relatives for speaking with me about him.
And finally one note of interest: At the time I was researching this story, Bullitt County History Museum Volunteer, Brenda Rittman, was working on a huge project of scanning old obituary file cards to computer; a collection of maybe ten thousand cards. One day, as I came in the museum research room, I mentioned to her that I was writing about William Dean Rouse. Brenda turned a little pale and looked at me excitedly. "Look at the obituary I am scanning," she said, waving a faded index card for me to see. It was the 1945 obituary for that same William Dean Rouse.
Such "coincidences" happen once in a while in our work. It causes us to pause and to wonder.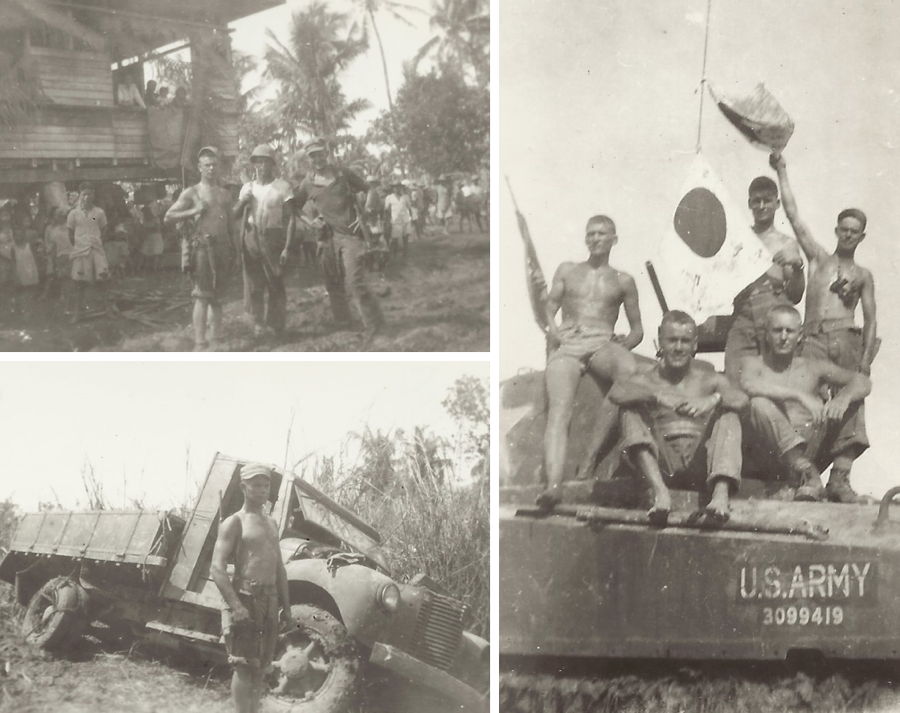 Top-Left: Dean on left in Leyte, Philippines; Bottom-Left: Dean beside damaged Japanese truck in Phillippines;
Right: Dean's tank crew in Phillippines with captured flag. Dean is waving his shirt.
---
Follow this link to a follow-up article on William Dean Rouse.
---
Copyright 2014 by David Strange, Shepherdsville KY. All rights are reserved. No part of the content of this page may be included in any format in any place without the written permission of the copyright holder.
---