William Dean Rouse. A World War II Friend Found
The following article by David Strange was originally published on 12 Jul 2015. It is archived here for your reading enjoyment. It is a follow-up to an earlier article published on 30 Mar 2014
---
On this seventieth year since the death of William Dean Rouse in World War II, I have an interesting follow-up to his story that I wrote about in this column on March 30, 2014. Perhaps you remember it. "Dean," as his family lovingly knew him, died on the first day of the invasion of Okinawa when his tank plunged into deep water as it drove toward the beach from the landing craft.
That story was originally relayed to me by the son of Sy Thompson, a war friend of Dean's still living in Washington-state, and some details were added by Dean's remaining Bullitt County relatives.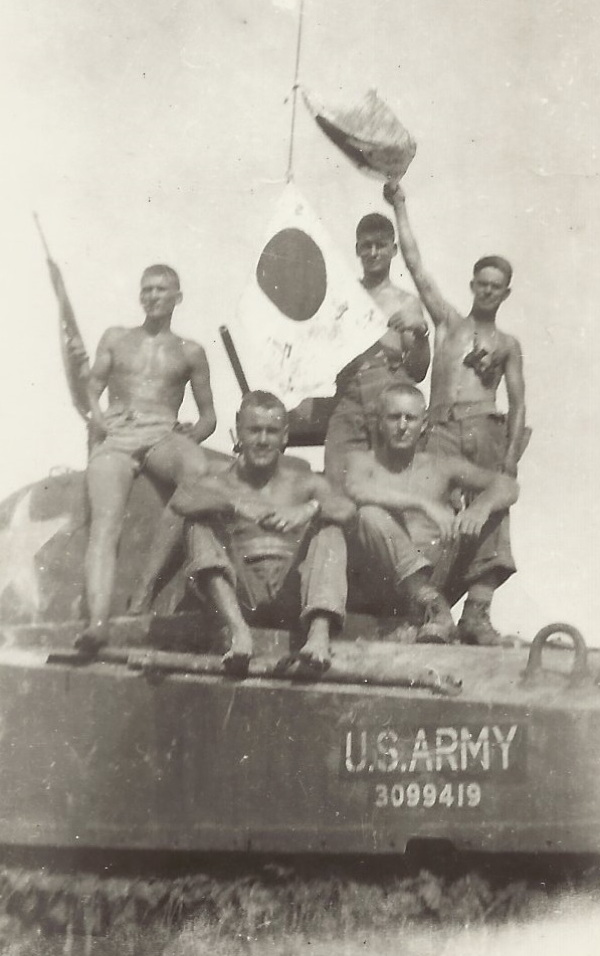 This photo shows the tank "The Conscripted Devil" with crew in the Philippines
shortly before Okinawa. Frank Bradford is on the left with the carbine.
Bill Dean Rouse is on the right waving a captured flag. The photo is courtesy of Frank Bradford.
A couple of weeks ago, I heard from another of Dean's friends. This one, Frank Bradford Sr., was actually a fellow crewmember in that tank on that dreadful day.
Now 92 years old, Frank's personal memories add a lot to the story, relayed to me with the help of his son, Frank, Jr. Living in New York, the Bradfords learned of my first story from grandson Ryan, who had come across it on the web, bringing a flood of memories back to grandfather Frank, Sr.
PFC Frank Bradford was a machine gunner on the tank, which the crew had named "Conscripted Devil." TEC5 William Dean Rouse, known by his crew as "Bill" rather than Dean, was a driver on the left side. Other crew members included the other driver, Ralph Branka, and tank commander Sgt. Luther Lug, along with a gunner and loader, one of whom was a replacement that Frank only remembers as "Joe." As a boy from Freeport, New York, Frank remembers being a bit of an outsider because he was the only northerner in the crew. Bill (Dean Rouse) and the rest were all from the south.
At age 32 years old, Bill Rouse was the old man of the outfit. That did not mean that Bill had no sense of "adventure." Frank still laughs when he recalls how Bill paid $150 for a Japanese parachute in the Philippines that had been captured at the front, cut it up into its 24 panels, and sold the panels as souvenirs at a good profit. In fact, Frank and Bill nearly lost their lives in the Philippines during a similar escapade as they went trophy hunting for souvenirs among the debris of war. Frank says that he and Bill's lives could have ended right there when they came under sniper fire and had to dive behind trees for cover while the sniper was chased away.
Then came the Okinawa landing.
Tom Thompson, son of Sy, the now 91 year old friend of Dean during the war, has a letter from Gerald Hoyt who was in a tank 50 feet to Rouse's right, having come off the same LCT which offloaded them for landing. Rouse had "beat him out of the gate" and was heading through the shallow water to shore, traveling over rough coral.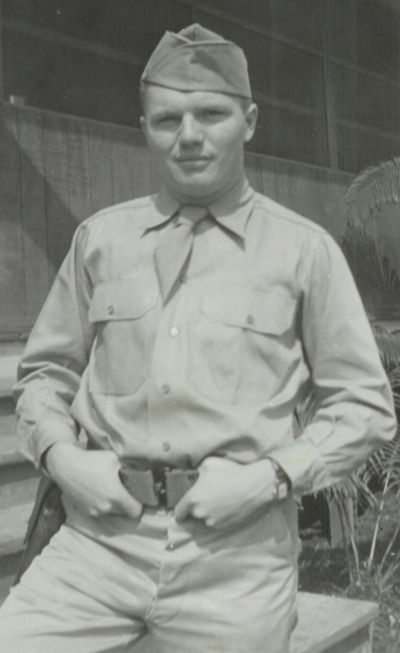 Sy Thompson in Hawaii.
Suddenly, the "Conscripted Devil" plunged into a huge bomb crater in the coral, unseen under the water. According to Hoyt's letter and Frank Bradford's memory, the tank fell straight into water that was 15 feet over the top of the tank (not 50 as has been previously reported).
Frank remembers that the tank "dropped like a bullet" into the sea. It landed upright, after first dipping down and hitting hard at the bottom. "We couldn't open the hatches until the water pressure equalized" Frank says, the hatch being so heavy that he couldn't open it, try as he might. Imagine the long frightening moments of that. It was so dark that Frank could see no light until he was halfway to the surface. His lungs were bursting as he broke the surface of the water. One of the other crew members reaching the surface, Joe, gasped out, "I can't swim!" Frank took him by the hand as they treaded water.
All the crew except Bill Dean Rouse escaped death that day. Frank Bradford believes Rouse got tangled in intercom wires. Gerald Hoyt's letter says that divers later found Rouse still in his seat where he hit his head. Frank says of his lost friend, "the two things he was most afraid of was drowning or burning to death; and he drowned."
Frank, an avid photographer, lost his camera in the tank that day, but survived through the end of the war. His son, Frank, Jr., says, "I shouldn't be here." It is amazing to him that his sister and he ever came to be after so many close calls of his father.
On the fourth day at Okinawa, Frank's second tank hit a mine, blowing off one of the tracks. The crew had to abandon the tank under heavy fire. The next day, his third tank took a hit and caught fire. And then he lost a fourth tank when a sprocket was damaged. He still remembers thirty-caliber machine gun bullets peppering the tank as the crew escaped through the bottom escape hatch. He was badly injured in one of the attacks; his chest and both legs were injured and his heal was hanging off. As a machine gunner, he had not closed his hatch fast enough to escape the fire. Frank had about four operations in Saipan but stayed in the war. He was on a troop ship with his tank crew, heading to Japan when Hiroshima was bombed and the war ended. He says he was kind of a wild and crazy kid as a young man in the Army. Back in Washington-state, Sy Thompson agrees.
Even after seventy years, memory can remain a strong force, especially with such fierce memories as these. Friends and war cling to the heart and to the soul in all its awful combination of love and horror. Even when separated by time, distance, and death... possibly because of it... memories bind us all through the decades.
---
(Author's Note: This story was originally published on July 12, 2015. On July 23, Sylvan "Sy" Thompson passed away. On July 31, Frank Bradford, Sr. passed away as well. It is with great sadness and with great pride that we were able to capture a little of their stories so long after their service, and so shortly before their deaths. Two more of "The Greatest Generation" have passed on to be with those who have gone before.)
---
Copyright 2015 by David Strange, Shepherdsville KY. All rights are reserved. No part of the content of this page may be included in any format in any place without the written permission of the copyright holder.
---