Joy Oder and One Step for Women's Rights
The following article by David Strange originally appeared in The Courier-Journal on 27 Apr 2014. It is archived here with additional information for your reading enjoyment.
---
1966 was a time of rapid change in America. The Civil Rights Act of 1964 was causing a transformation in the work place, and in society. As is often the case in history, much of the real change was happening one person at a time.
Joy Dorsey Oder was 28 years old and looking for a job. She had been employed as a clerk for the L&N Railroad for ten years, but quit that job in 1965 to raise her children. By the next year, though, she felt the need and desire to go back to work. Joy jokes about realizing that her parents could be easy babysitters.
In 1966 she saw a newspaper advertisement listing two job openings for toll collectors at the Shepherdsville station of the Kentucky Turnpike (now Interstate 65). Living in Mt. Washington, she did not want to go back to traveling to downtown Louisville where she had worked before. Working at the Shepherdsville toll booths only paid about two dollars an hour, but the distance would be about perfect.
So Joy applied and took the qualification exam in Frankfort. According to a CJ newspaper report at the time, Joy passed the test with the highest score of all applicants. Then she went for an interview.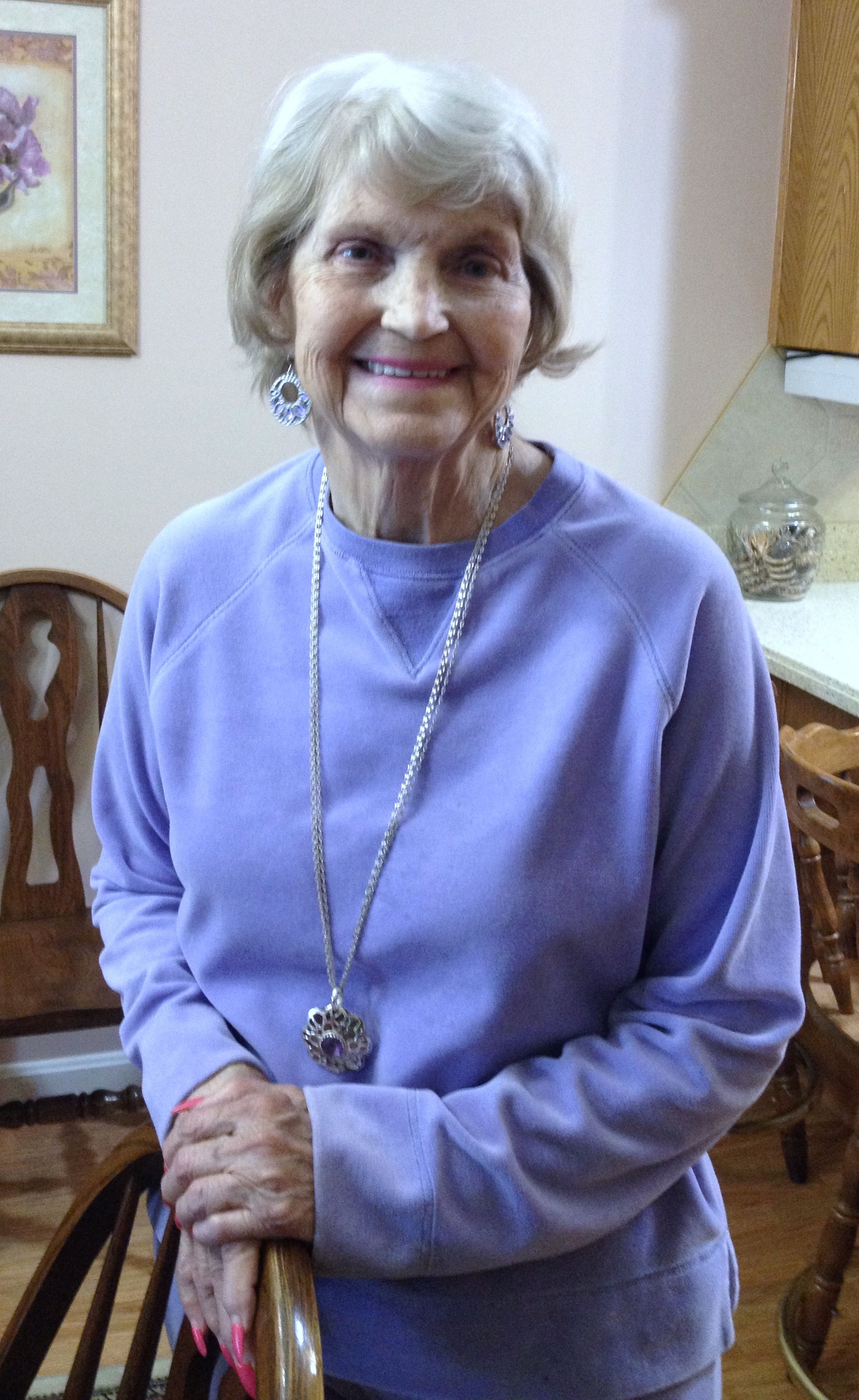 Joy Oder, 2014
Joy did not get the job.
She protested that it was because she was a woman, and petitioned the state to allow women to work in toll booths. She threatened to seek an interview with then-governor, Edward T. Breathitt, or to appeal under the Civil Rights Act of 1964, the now famous act that forbids job discrimination by race, color, religion, sex, or national origin. According to a report at the time, state officials denied sex discrimination, saying that there was simply no women's restroom at the Shepherdsville location, and that they could not provide one.
Joy never did get her job as a toll worker on the Kentucky Turnpike, but others eventually did.
Less than a year later, Governor Breathitt's administration did begin hiring female toll workers. One of the first in the area was Donna Ryan, of Lebanon Junction.
Joy moved on to a variety of other jobs and places. She worked seven years with the Spencer County Planning and Zoning office, and with Sharon Pauley at Shepherdsville Florist. At one point, Joy was instrumental in bringing the "Welcome Wagon" program to Bullitt County, and she served as a mail carrier from 1973 to 1979. She retired in 1995 from Bacons Department Stores, having served as a "Prosecuting Witness," writing warrant papers against bad checks, working with many attorneys along the way. In 1997, she and a friend opened an antique mall and ran that for seven years until the bottom dropped out of the economy in 2004.
Joy and her husband, James, eventually moved back to Mt. Washington, where, on Easter Sunday 2011, James died on the very day of their 53rd wedding anniversary. Joy lives there today.
The 1960's were indeed a time of great social change in America. Those changes were fought for by many people, both great and small. Those fights continued in all sorts of ways and in all sorts of jobs throughout the 60's and 70's. Many are still fought to this day.
On June 30, 1975, there was a ceremony at the Elizabethtown toll plaza, celebrating the last toll taken on the Kentucky Turnpike. Everyone in the official photo were men.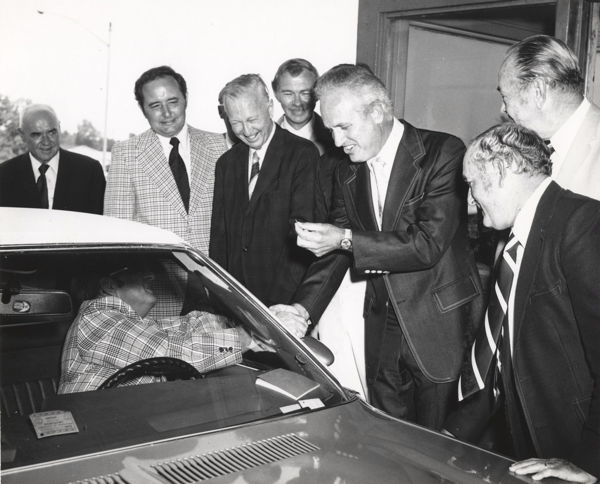 A photo of the ceremony taking the last toll at the Elizabethtown toll booth, marking the end
of Kentucky Turnpike as a toll-regulated highway at 2:00 p.m., June 30, 1975. Kentucky Governor Julian Carroll
accepted the last dime. Howard Pierce, in the car, paid the first toll in 1956, so was given the honor of also paying the last.
I thank Joy Dorsey Oder and her sister, Joan French Schlageter, for sharing this story with me.
---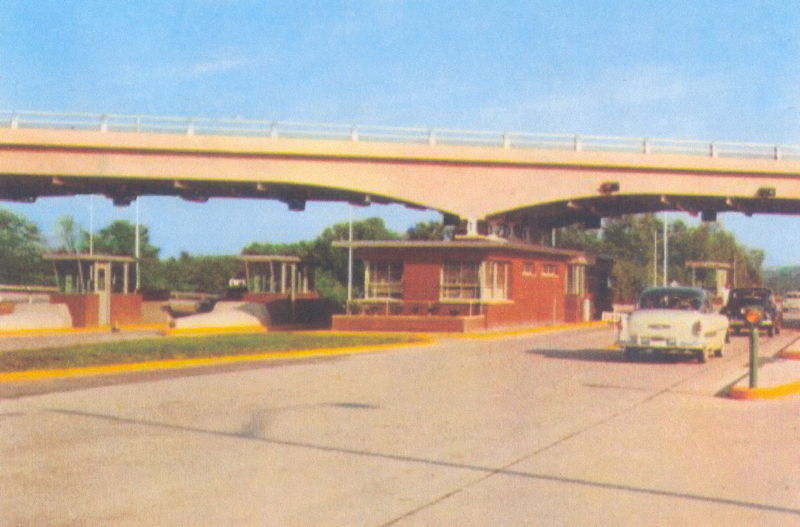 Toll Booth Scene, 1956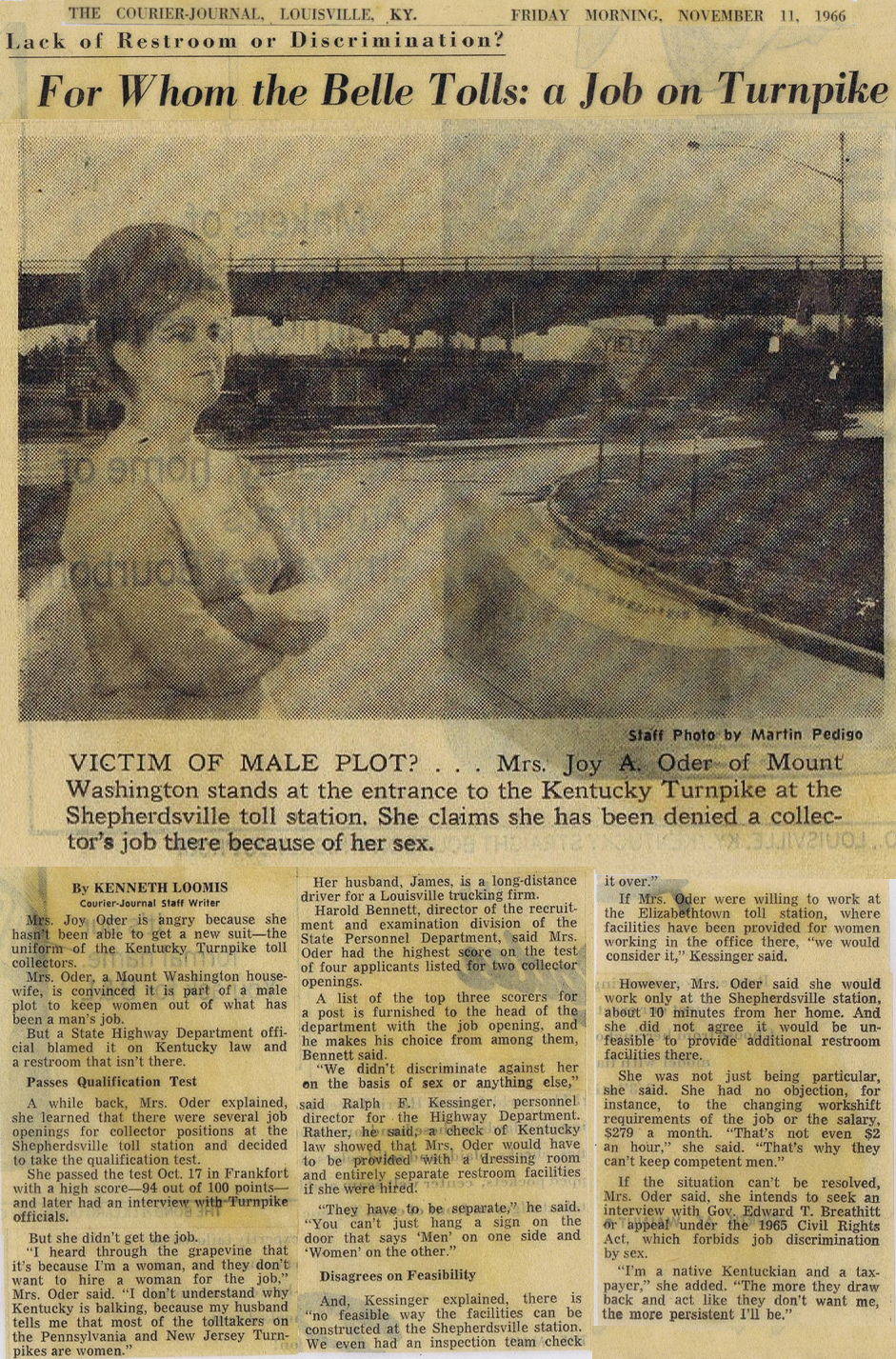 Newspaper Story, 1966
---
Copyright 2014 by David Strange, Shepherdsville KY. All rights are reserved. No part of the content of this page may be included in any format in any place without the written permission of the copyright holder.
---