Museum Newsletter - 30 April 2013
Friends of the Bullitt County History Museum
E-Newsletter
April 30, 2013 (Volume 9, Number 4)
Dear Friends,
Announcements...
>>Museum closed for Memorial Day Holiday. The museum will be closed May 27 for the Memorial Day holiday. Be sure to join a Memorial Day event somewhere, and to remember our loved ones.
>>Bullitt County Genealogical Society meeting May 18, 10:00 a.m. You're in for a treat this month! Allison White, Betty Darnell and Debbie Campisano will be an "ask an expert" panel. You can't get more "expert" about genealogy than these folks. Be sure to be there if you can. Bring all your genealogy questions and be ready for answers. Regular meeting time and place, 10:00 a.m. at Ridgway Memorial Library in Shepherdsville.
Activity & News...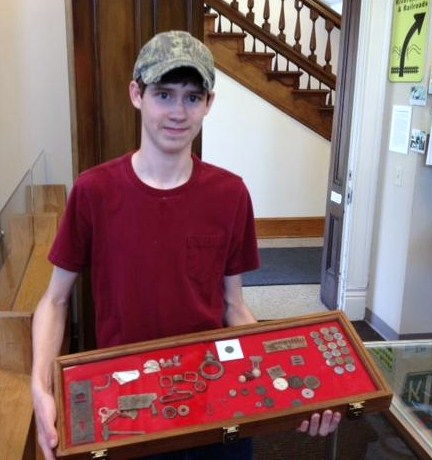 >>Gabe Dienno Collection on Display. Museum friend Gabe Dienno has been very active working with our local history. Just last month, he accompanied a group of us on an adventure searching for the site of a 1944 plain crash. This month, Gabe came by the museum with a collection of items that he found while metal detecting (with the land-owner's permission) on the grounds of the old home place that we call the Trunnell House, currently owned by the Smith family.
Gabe arranged the items nicely and even printed a nice guide about what he found. The case of loaned items, which includes such things as coins, buttons, marbles, and political tokens, and description of them is now on display in our museum.
Besides information that can be found about the house on our own web site, you might want to take a look at the ancestral family's web site about the house.
>>Books donated. Society President Daniel Buxton donated the large hardbound book, History of Ft. Knox, by Gary Kempf, to our museum library. We especially appreciate Daniel's donation of this high-value book, written by a valued author and friend.
Gail Burns dropped by the museum and donated yearbooks (one each) from Mt. Washington Elementary School, Mt. Washington Middle, and Bullitt East High School.
>>Oral History work. I will be meeting with Kate from the Kentucky Historical Society this month. She will be helping us improve our oral history collection and making the collection more widely available.
>> Web Site Additions. Our webmaster, Charles Hartley, has been working extra this month, adding content to our museum web site. Be sure to click on some of these and check them out. Good stuff! By the way, we really are getting a lot of positive feedback about our web site lately, receiving praises from researchers around the country for the content and for the ease of access. I was happy to hear from Rev. Burnell Pike Esbenshade, the daughter of esteemed local historian Burlyn Pike. Living in Missouri, she had happened upon our web site and is now joining our e-mail group and the society. Welcome!
>>Airplane Crash Site Adventure. In 1944, during WWII, a B26 Marauder crashed in the hills north of Lebanon Junction. We've been researching this accident for a few years, and early in April, we made our first exploratory trip. Led by Nick Raley, whose relative had seen the crash, a small group of us obtained permission and climbed the steep hills in search of the site. It was a fine Spring day, but we did not succeed in our quest....yet. We have been doing some followup research and will probably go back out again next winter, if not before.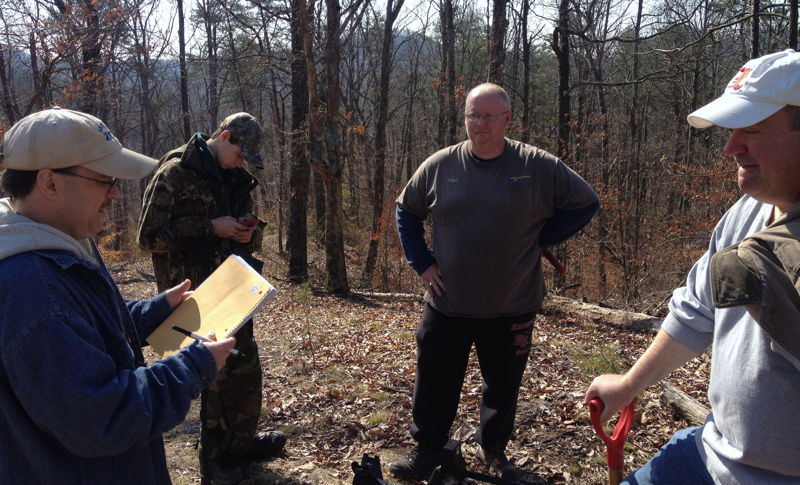 This deadly crash killed the two pilots, whose bodies were recovered, and the plane buried on site. We mostly just want to mark the precise location of the site in our records.
>>Bowman Valley School preservation grant. I am happy to report progress on our project to save and move the old Bowman Valley School House. Team leader Tammy Ott was successful in obtaining a $5,000 grant from the National Trust for Historic Preservation. That brings us to nearly $10,000! But we need a total of about $15,000 to actually move the school so that we can move forward with restoration. Moving the building is the biggest hurdle, so please help us raise a bit more money if you can.
>>New FaceBook Page. For those of you who "FaceBook" on the internet, we now have a museum presence there as well. I didn't really plan to do so, but I discovered that people were searching for us there. So... we now have a Facebook page named "Bullitt County History Museum." Search for us there and "friend" us if you like.
Trivia Question From Last Month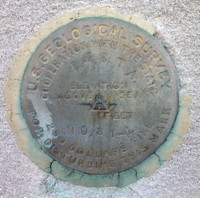 OK, Friends. I asked you last month to identify the round object in the photo at left. And where is it located? I gave a couple of hints:
1. It has been there for a long time.
2. And it matters in the over-all measure of things in the county.
Well, Greg Kuhns, answered first, and for that he receives the next ten e-newsletters for free! (Well, yes, they are free anyway. But Dr. Kuhns is also free to bask in the glory of an answer well given!) The disk is a survey marker. In fact, it is a U.S. Geological Survey marker...The gold-standard reference point for land surveys.
This particular one is mounted on the foundation of the Bullitt County Courthouse, near the front door. There are a couple of dozen of these markers around the county, and thousands of them nationwide. This particular one is THE reference point for the flood plain in the Shepherdsville area. Other "trig point" survey standards like this one can be found all around the county, if you know where to look.
My May 1st edition of the Courier-Journal "Bullitt County Memories" column will be about these markers. I'll have a link to that in next month's newsletter.
Which leads me to...
This Month's Trivia Question
This one is more of a quest, for the museum Friends who are in the Bullitt County area.
One of these survey markers is said to be located in the alley beside McFarland-Troutman-Proffitt Funeral Home in Mt. Washington.
I want you to find that marker, touch it, and tell me about it.
For Your Information...
>> Survey Marker Links. Here are some links related to the survey marker trivia questions.
I asked Bullitt County Surveyor, John St. Clair about the hobby of benchmark hunting. That increasingly-popular hobby involves using geocaching technology to go out in search of the survey markers, just for the challenge of finding them. That sounds like a fun adventure. Mr. St. Clair just asks that everyone please not disturb or damage the markers. In fact, I read that the markers are protected by both state and federal law, so don't mess with them; just find them. If you get into such a hobby, you should also remember that many of these markers are on private land or in dangerous locations such as the edge of a cliff.
For more information on the hobby, you might want to check the internet at www.geocaching.com/mark/default.aspx .
Also, you can find some of these marker points at our own web page here.
You can get a comprehensive history of the survey markers in a pdf file here.
Thank you for being a friend of the Bullitt County History Museum.
David Strange
Bullitt County History Museum
Executive Director
Museum Phone: 502-921-0161
E-Mail address: David.Strange@BullittCountyHistory.org