Bullitt County Schools Map - 1942
This map was found recently among some miscellaneous papers at the museum. We are uncertain of its origin. It is a hand-drawn map showing the general locations of the various schools in existence in the county in 1942. We have added larger identifying numbers next to the original ones. If you know where this map came from, please contact us and let us know.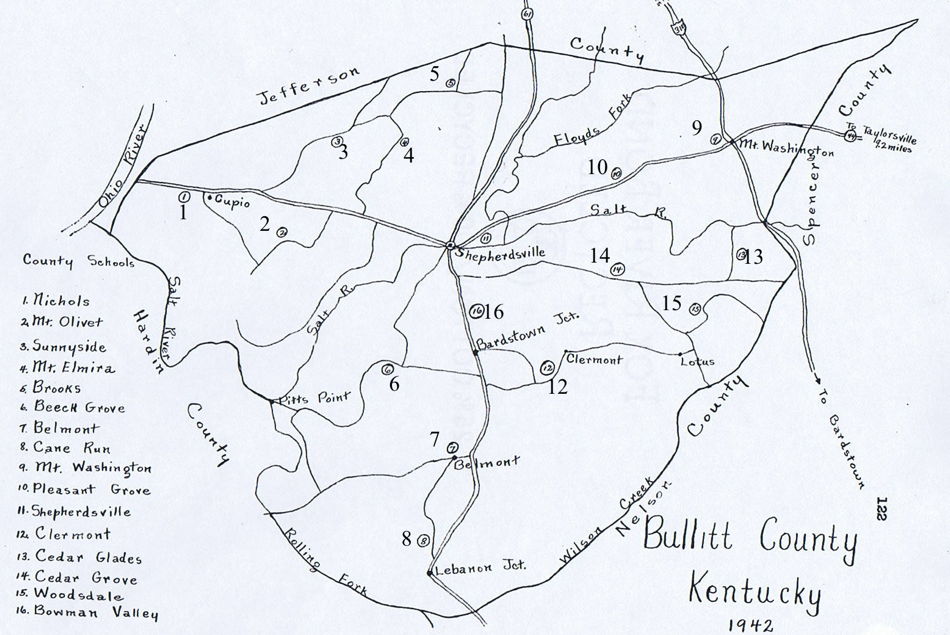 Below is a map insert from Google showing the estimated location of these schools. Rather than numbers (1-16) to identify the school locations, this map uses letters (A-Q), but in the same order. Three additional schools (R-T) have been added. These additional schools were found on a 1936 topo map, although they were already closed due to the expansion of Fort Knox.
We have tried to pinpoint these locations as closely as we can to the original locations, but it is likely that they are mainly just in the vicinity of it. If you click on one of the markers, it will show the school name and its approximate latitude and longitude.
---
If you, the reader, have an interest in any particular part of our county history, and wish to contribute to this effort, use the form on our Contact Us page to send us your comments about this, or any Bullitt County History page. We welcome your comments and suggestions. If you feel that we have misspoken at any point, please feel free to point this out to us.