The Corner Drug Store in Shepherdsville
The following article by Charles Hartley originally appeared in The Courier-Journal on 17 Apr 2013. It is archived here with additional information for your reading enjoyment.
---
Folks who lived in or around Shepherdsville three score and more years ago will remember getting their prescriptions filled at the little drug store on the corner of Second and Main Streets across from the Bullitt County Bank. For nearly 40 years it was the only drug store in town.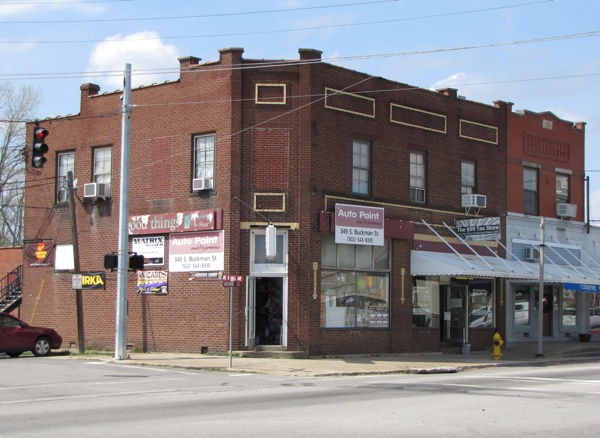 The corner drug store building still stands today.
January 31, 1925 was the official opening of what was then the Kerr Drug Store. As reported earlier, all of the buildings on that corner had burned to the ground in 1922, and after John Boes had his grocery store built where the Country Cupboard is today, Dr. Roscoe Kerr bought the corner lot from James Ice in October 1923. He sold a half interest in it to O. W. Pearl in the following September, and together they paid George Bailey of Hebron to construct the brick building that still stands on the corner today.
Roscoe Kerr was born in Harrison County, Indiana, and lived there until after his father's death. At sixteen, he moved with his widowed mother to Louisville where he attended the Louisville University and graduated in 1910 with his Doctor of Medicine degree.
By 1915 he was practicing medicine in the Belmont and Pitt's Point vicinities, and then moved his practice to Shepherdsville in early 1918 when he bought a house and lot on the east side of Main Street, located in what is now a parking area just north of the old Henderson-Hardy building.
Dr. Kerr recognized the need of a drug store in Shepherdsville, and he first constructed a small one next to his residence in late 1920. Then, after the fire in 1922, he saw an opportunity to build a bigger store on the then-vacant corner lot.
The plan was for O. W. Pearl and Mrs. Kerr to manage the drug store with the help of Miss Zollie Swearingen, while Dr. Kerr devoted his time to his medical practice. He had planned to have his office in the same building, but soon decided to keep it at his residence; and the downstairs room next to the drug store was leased to the government for a post office. W. E. "Bill" Ashby, the postmaster, had been seeking better quarters, and a lease was signed in April 1925.
Then in October, Mr. Pearl sold his interest in the store to Dr. Kerr, but retained his half-interest in the building itself. The next April, Kerr leased the drug store business to Gabe Bealmear and Miss Zollie. With the help of Gus Swearingen, Zollie's brother, the three of them ran the business for several years, perhaps at least until 1936. At that time, Dr. Kerr leased the business to B. B. Dunaway. Mr. Dunaway had the misfortune of having it during the 1937 flood which was a very difficult time for everyone.
Next, the store was leased in 1940 to Floyd E. Patterson, a Louisville pharmacist. Mr. Patterson likely kept the store until his health began to fail in 1947. He died in 1952.
Ted Lesch took over the business in July 1948. The building itself remained in the hands of Dr. Kerr and the Pearl family until May 1965 when Charles and Eugenia Cash bought it.
Ted Lesch was one of seven brothers born to Harry and Mary Leschinsky, Jewish immigrants from Russia at the turn of the last century. As was the case in many immigrant families, they elected to shorten the family name to Lesch once in America. Ted was actually born in Russia just before his parents immigrated.
By 1913 the family was in Fort Wayne, Indiana where Ted grew up. In 1921 Ted began working as a clerk for A. W. Koehn, a Fort Wayne druggist, doing mostly odd jobs; but from this beginning his future as a pharmacist had its roots. He worked in various drug stores in Fort Wayne through 1926. Then in 1927 he followed his older brother Samuel to Louisville where Samuel had taken a job as a reporter for The Courier-Journal.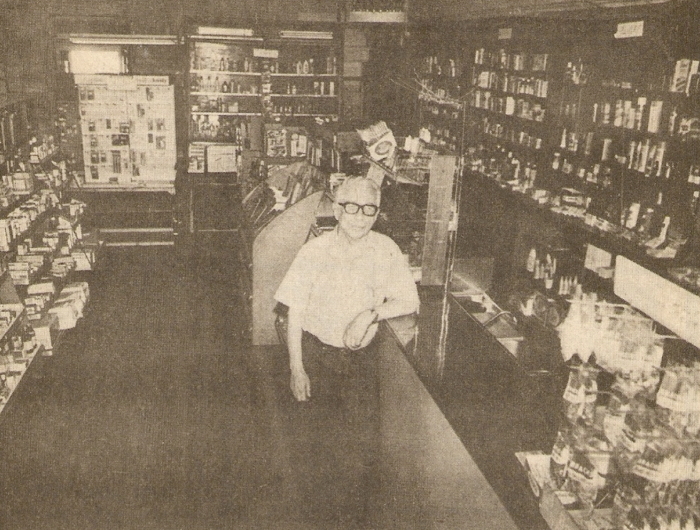 Ted Lesch in his drug store.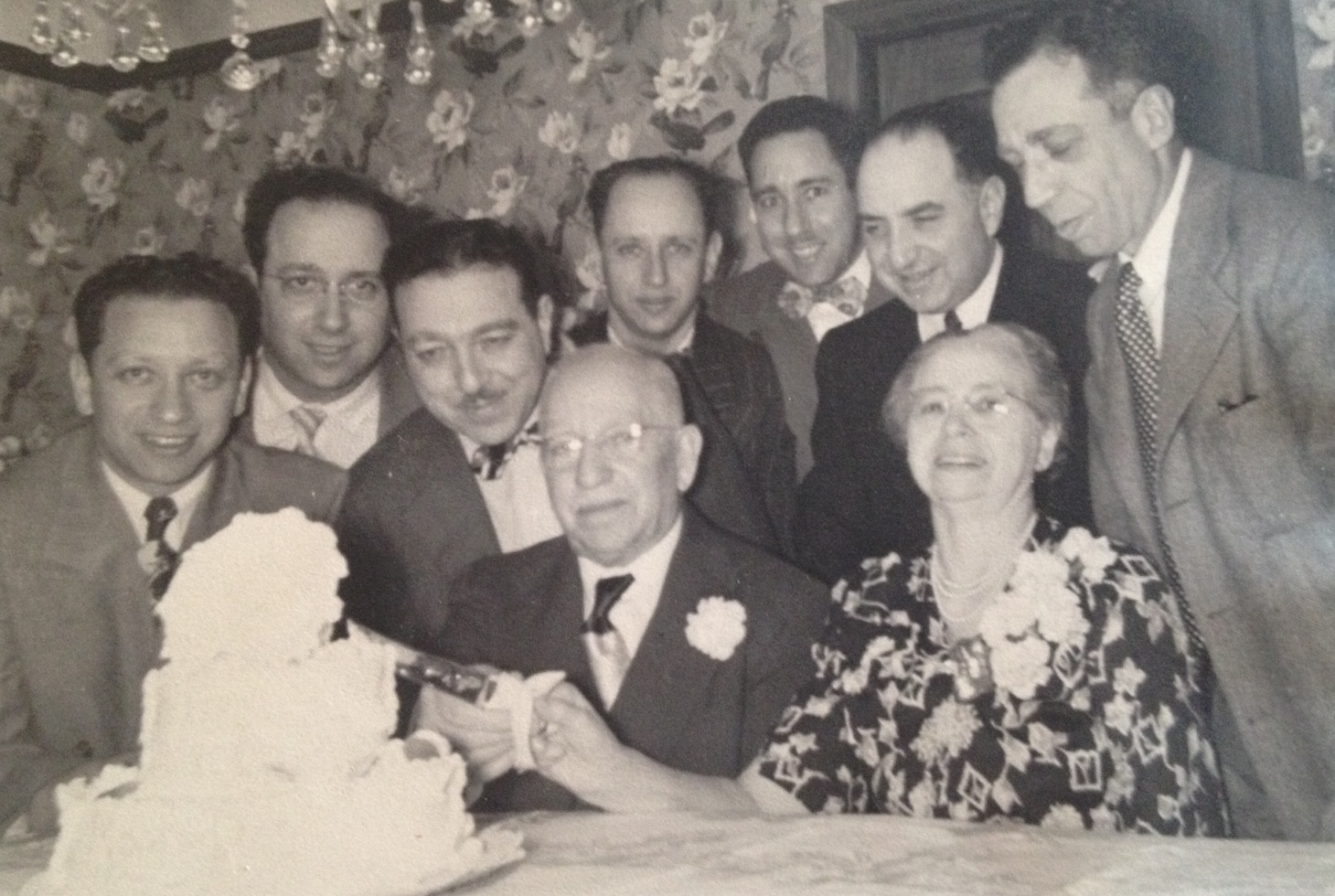 Ted Lesch (on right) with his parents and brothers.
Samuel Lesch moved on, heading east, and eventually became National News Editor for The Wall Street Journal; but Ted found a home in the Louisville area, working as a pharmacist in various places.
In the mid 1940s, Ted married Alma Wallace, an elementary school teacher; and by 1948 they had settled in Shepherdsville where Ted finally had a store of his own.
John Roberts of The Pioneer News would later write, "During the 1950s, 60s, and '70s he was active on local and regional civic organizations, serving as president and regional zone chairman of the Shepherdsville Lions Club and spending nine years as a member of the Shepherdsville City Council." He was also a charter member of the Bullitt County Chamber of Commerce. This photo accompanied John Robert's article.
It was during the 1961 flood, when Mayor Millard Cundiff was hospitalized and unable to perform his duties, that Ted Lesch stepped forward as acting mayor and led the clean-up effort.
Sometime in the early 1950s, Ted Lesch traveled to Portland, Oregon to help his brothers celebrate a special anniversary with their parents. His nephew shared this photo that shows the seven brothers with their parents. Ted is on the right.
Evalena and Pat Hagan share fond memories of the drug store. Pat told me that it was not unusual for Ted Lesch to open the store in the middle of the night for someone needing an emergency prescription filled. And you could always get a deliciously cold soda while sitting on one of the stools at the fountain counter.
One interesting story was shared with us by Ted's nephew.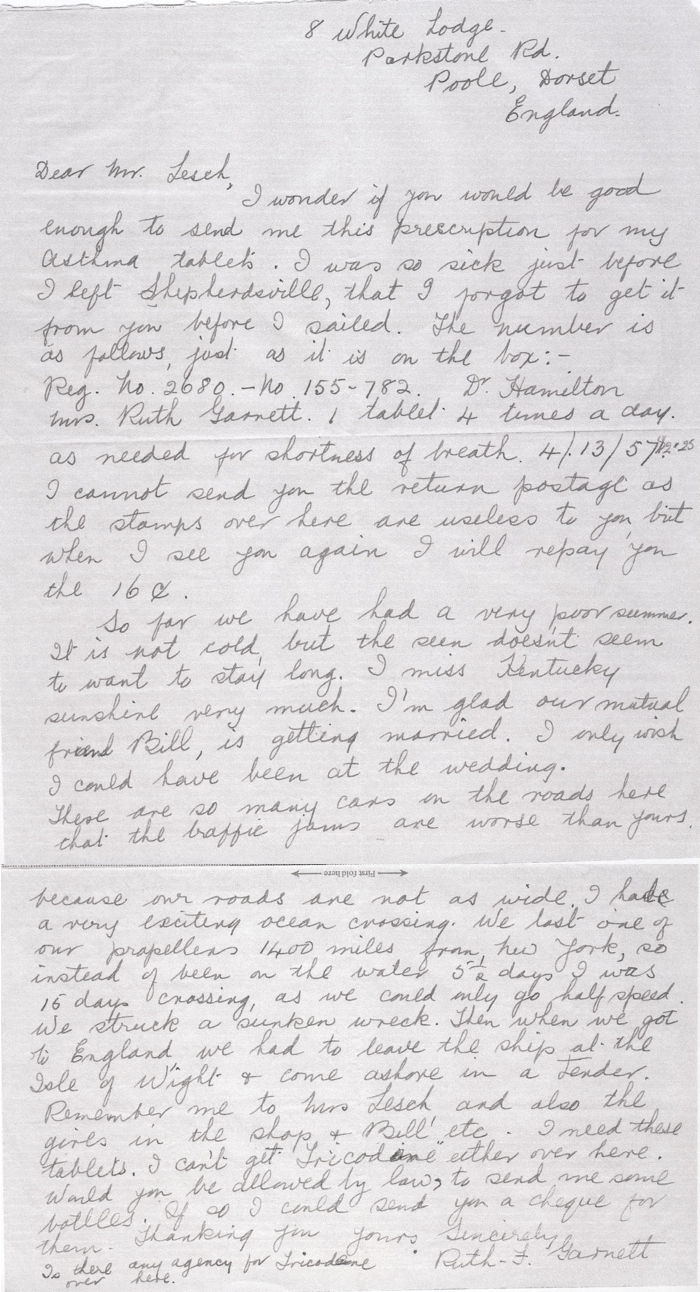 It seems that Mrs. Ruth Garnett had taken a trip to England in the late 1950s, and had neglected to get her medicine prescription filled before sailing. She wrote to Mr. Lesch from England, and asked if he could send it to her. I doubt that the corner drug store had ever had such a long-distance delivery, but apparently Mrs. Garnett received her medicine.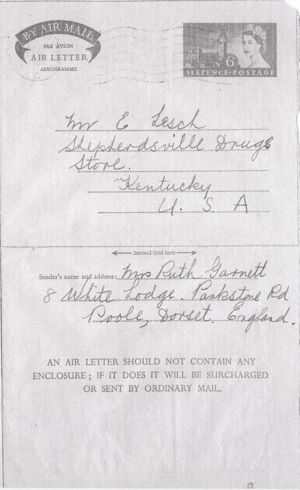 When Ted decided to close the store and retire in 1987, it was the end of an era. However, his hands remained busy as he worked his weaver's loom while his wife Alma created her textile masterpieces; but that is another story. Ted died in 1994 after a long and productive life.
Today the little corner store sells auto paint and supplies, but if you watch with your mind's eye as you pass by, you can still see Ted behind his counter, ready to fill your prescription or draw you a cold soft drink.
---
Copyright 2013 by Charles Hartley, Shepherdsville KY. All rights are reserved. No part of the content of this page may be included in any format in any place without the written permission of the copyright holder.
---