Museum Newsletter - 28 March 2013
Friends of the Bullitt County History Museum
E-Newsletter
March 28, 2013 (Volume 9, Number 3)
Dear Friends,
Announcements...
>>Museum closed for Good Friday. The county courthouse, in which our museum is housed, will closed at noon Friday March 29 for the Good Friday holiday. That means we will be closed that day as well. The museum will be closed the entire day, except for a brief time that morning in which Barbara Bailey and Charles Hartley are helping a couple who are visiting us from out of state, and had asked that we help them with some research.
>>KET TV segment coming about 1917 Bullitt County train wreck. The folks at Kentucky Educational Television (KET) came to the museum a couple of months ago (reported in my January newsletter) to film a segment for the "Kentucky Life" show. The segment, about the terrible Train Wreck that killed 49 people in Shepherdsville in 1917, will be on a Kentucky Life episode airing on Saturday, April 6th at 8pm et/7pm ct on KET. It will air again the following day, Sunday, April 7th at 4pm et/3pm ct. The Producer/Director of the show will also be sending us a couple of copies for our files.
I continue to believe that this dramatic story could easily be made into a full movie or documentary. But for now, we look forward to seeing this segment. For our friends living away from Kentucky, you should also be able to watch the show when it is available at https://www.ket.org/tvschedules/a-z/ .
>>Bullitt County Genealogical Society meeting April 20, 10:00 a.m. Greg Hilbert, the President of the Mount Washington Historical Society, will be the guest speaker. He will be speaking about the Mount Washington Historical Society and the Lloyd House museum. Regular meeting time and place, 10:00 a.m. at Ridgway Memorial Library in Shepherdsville.
>>DAR (Daughters of the American Revolution) is forming a new chapter in Bullitt County, and is getting good response. The first formation meeting is this Saturday, March 30, at Ridgway Memorial Library in Shepherdsville at 11:00a.m. This is just a brief meeting for prospective members to sign up and formally register intent to form a chapter (local branch).
Then on April 13th, at 11:30, everyone is to meet for lunch at Kettle Creek Restaurant in Mt. Washington to install officers and have its first formal meeting. Contact Billye Jackson for more information.
Activity & News...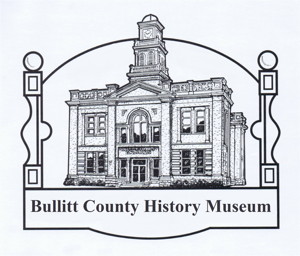 >> "Passport to History" is a fun statewide program that our museum will participate in this year. Students and young people who participate in this program will have a passport for which they will gather stamps from various sites in order to earn a certificate signed by the governor of Kentucky. The goal is to bring attention to the historically rich heritage in our state by encouraging students and their families to explore history in a new, fun way.
This year, we will be one of those sites.
We were contacted by Kelly Stevenson, of the Kentucky Junior Historical Society, about this, and were glad to take part.
We have our special passport ink-stamp ready (shown here) for when the program begins in the next couple of months.
For more info, check the web at www.passporttohistory.org, or email Kelly at info@passporttohistory.org .
>> 1924 Taylorsville High School Annual. Friend Bobbi Corbin recently brought a nice old 1924 Taylorsville High School annual. It had some great photos of that community. But it belonged closer to home. With Bobbi's permission, we gave the annual to Betty Darnel for the good folks at Taylorsville, in Spencer County. Bobbi also gave us a CD of information on Henry Crist, a significant person in our county's history.
>>Books donated. Bruce Thomason stopped by the museum recently to give us a couple of good books. One was a copy of "Tidewater Sprig" by Robert Emmett McDowell. I collect as many of that book as I can get because it is long out of print and, though the novel itself isn't all that great, in my opinion, it features a most accurate portrayal of the Bullitt County area during its salt-making pioneer years.
Bruce also donated a copy of "City of Conflict", also by Robert McDowell. That book is a very well researched and detailed work about Louisville in the Civil War. Thank you, Bruce!
>> Public Library now has Ancestry.com. Our great Bullitt County public library system has added Ancestry.com access to its computers, available at all of the library locations.
>> Web Site Additions. As always, there are several additions to our web site this month. Be sure to click on some of these and check them out.
>>James P. Black family file donation. Many thanks to Bob Black, of Sugar Hill, Georgia. Bob gave us a nice binder of info about James P. Black, who was a Civil War soldier buried at Pitts Point. The soldier's widow was Nancy Edge Black, and there is info on both of their families.
>>Bob Cline Database Increased and Improved. Our intrepid in-home volunteer, Bob Cline, continues his work on a Bullitt County family-line database. The database is now up to 54,926 names, with references, from all over the county, revised and updated as he gets information. Thanks again, Bob!

Trivia...From Last Month
Last month, I had two trivia questions for you, including the "Bonus" question.
Let's start with the answer to the bonus question, which was: "Where was 'Southville' in Bullitt County?"
Well, to the best of our knowledge, there has not been a "Southville" in the county, but the question comes from the October 26, 1911 newspaper clipping shown here, that comes from the Crittenden News by way of friend Monie Mathews.
This clipping, as you might see, reported the horrible news of a two-year-old boy who fell into a boiling vat of molasses on a farm "three miles from Southville, in Bullitt County." Several of us checked into this, and we've about decided that the reporter meant "Smithville." Smithville was a community south of Mt. Washington, near the Bullitt/Nelson county line. One of our Volunteers, Barbara Bailey, looked up the death certificate of the boy, which showed the father born in Bullitt County, the mother and son born in Nelson County (which is also listed as the place of death), and the informant from nearby Cox's Creek. The poor child, according to the death certificate, survived for five hours. The burial location was at High Grove. The father suffered serious burns trying to rescue his son.
What a horrible day that must have been.
But to the question: with absolutely no information that there was ever a Southville anywhere near Bullitt County (the closest we could find was in Shelby County), and with all the other information pointing to an area close to Smithville, I think we draw a solid conclusion that the reporter meant Smithville.
Whatever the location, this was certainly a ghastly accident.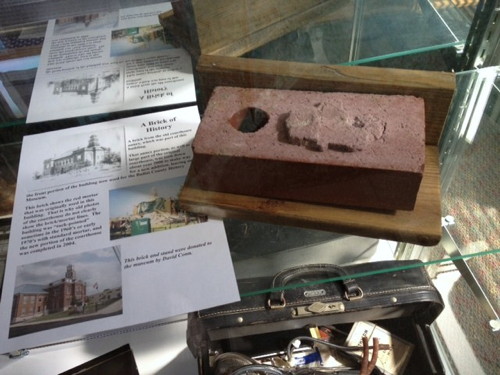 Now for the primary trivia question. That question was about our old county courthouse, built around 1900. The building, in which our museum is housed, originally had reddish color mortar between its bricks. "Not a big thing," you might say, but it explains a detail mystery that I had noticed a few years ago; that the old black & white photos of the courthouse are kind of dull-looking, with no detail in the brickwork.
The photo at right shows one of the old bricks, with mortar, that we have on display at the museum.
Our trivia question was: "When was the courthouse brick tuck-pointed (redone) with regular mortar?
To that I confess to not yet having an accurate date. I think it might have been done in 1960, during one of the Arson Moore administrations when an addition was made on the old building. It was before 1978 for which I have a photo showing the lighter, regular mortar. But it was certainly done. In fact, I noticed a chink in the building mortar just today that allows the old red mortar to shine through. The date would be found in the court order books or in newspaper clipping from the time. I challenge someone to find that for me.
By the way, the brick we have on display was donated to the museum by friend, David Conn, who has gave us other items along the way. Thanks Dave!
Trivia Question This Month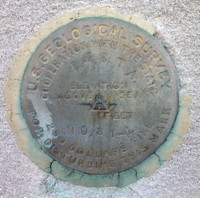 OK, Friends. What is the round object in the photo at left.
And where is it located?
A couple of hints:
It has been there for a long time.
And it matters in the over-all measure of things in the county.
Send me a message and tell me what it is and exactly where this one can be found.
For Your Information...(Lots of info links this month)
>> For those interested in the Civil War, here's an interesting piece of writing about the drought in Kentucky that might have caused the Battle of Perryville, Kentucky: https://opinionator.blogs.nytimes.com/2012/10/12/the-drought-that-changed-the-war/?smid=fb-share .
>> Jefferson County Land Records. Here's an interesting web site that might be useful in research for the Bullitt County area. Check out the Jefferson County land records page at www.LandRecords.jcc.ky.gov .
>> Hardy-Close Funeral Home changes ownership. For those of you who remember, the Hardy-Close Funeral Home has existed for many, many years in Shepherdsville, right across the street from the county courthouse. Though the name will stay the same, ownership of the nice old funeral home has now been taken by the folks at Schoppenhorst, Underwood, & Brooks, which also owns a relatively new funeral home in Brooks. As they work to improve the Hardy-Close location, and to remember its history, Steve Brooks asks me if anyone might have old photos of the place. If you do, please send them to me and I'll forward them along to Steve, who has been supportive of our museum work over the years.
>> Salt River link. While doing some research about the Salt River, I came across this site. A little odd, but it might be worth your time. Take a look at https://www.common-place.org/vol-07/no-03/hutter/ .
>> The Lincoln Heritage National Scenic Highway announces the launch of a new website, www.lincolnheritagebyway.com, dedicated to promotion of the byway and providing traveler information and services. The Lincoln Heritage National Scenic Highway, is a 72-mile stretch of US 31E and US 150, that travels through six communities as it winds its way through the knobs of Kentucky. The corridor passes through the communities of Hodgenville, New Haven, Bardstown, Springfield, Perryville and Danville. This corridor exhibits significant historic and cultural resources around every turn and embraces a set of four historical themes: Abraham Lincoln, US History and the Civil War, Bourbon Heritage, and Religious Heritage.
>>New 2013 Kentucky Official Highway Map, and more. This link should be especially useful to our museum friends who come to visit Kentucky from outside the state. This official Kentucky site offers more than just a current Kentucky highway and tourism map. Check out https://transportation.ky.gov/maps/Pages/default.aspx .
Finally...
Friends, I have run quite long on the newsletter and risk boring you, so I won't write my usual "Finally..." closing remarks this time. Allow me instead to direct you to recent column I wrote about family and Easter. Just click on this link.
Thank you for being a friend of the Bullitt County History Museum.
David Strange
Bullitt County History Museum
Executive Director
Museum Phone: 502-921-0161
E-Mail address: David.Strange@BullittCountyHistory.org