Sarah O'Brien - A Life Well Lived
The following article by Charles Hartley originally appeared in The Courier-Journal on 6 Mar 2013. It is archived here with additional information for your reading enjoyment.
---
Sarah O'Brien's life came to an end a week after she celebrated her seventy-eighth birthday. To honor her life, J. R. "Bob" Zimmerman, a local lawyer, writer, and resident of Sarah's small hotel, wrote a moving tribute to her.
He wrote, "Mrs. O'Brien was a remarkable woman in many respects. She was really remarkable for her great industry and indefatigability." Now that's a good word. With it he was describing her as a tireless worker who never seemed to get fatigued, regardless of the challenges she faced.
He went on to say, "She was remarkable for her charity and Christian piety. Her long life was one of unremitting toil and great usefulness. She was a home lover. Almost her entire life was spent in her home at work. Her success in conducting her hotel was due in a large measure to her industry and close attention. Religiously, she was a staunch Catholic and died prepared for death. But she never argued religion, and her hotel was patronized more by Protestants than Catholics."
Bob Zimmerman came to Shepherdsville to supervise the construction of the stone jail, and stayed the rest of his life. He was one of Mrs. O'Brien's earliest patrons.
Sarah O'Brien was born on Cox's Creek in Nelson County to Joseph and Elizabeth (Hagan) Hardy in 1842. She was not yet sixteen when she married William O'Brien in Bardstown in July 1858. Together they were the parents of fifteen children, but it was Sarah's fate to outlive all but three of them.
One story that Sarah's great-granddaughter is fond of sharing relates to the years after the Civil War while the O'Briens were still living in Nelson County. When the thirteenth amendment went into effect in 1865, freeing all enslaved people in the United States, some former slaveholders compassionately continued to see to the well-being of their old and crippled former slaves; but others turned them out, telling them they were free and no longer the slaveholder's responsibility. The O'Briens, believing it was their Christian duty, collected many of these folk and gave them a home in their remaining years.
Sometime in the 1870s, the O'Briens moved to Bullitt County where they appear on the 1880 census with five daughters and three sons, living on a farm outside of Shepherdsville. Their fourteenth child, Joseph was born in December, followed by Maude in 1883.
Sarah had already lost several children by the time her husband died in the late 1890s, but she continued to press forward with life. She took on the responsibility of running an older Shepherdsville hotel, and bought the building in March 1900 for $1200.
When the young Italian priest, Father Eugenio Bertello was assigned to the Catholic churches in this area, he found ready supporters in the O'Brien family. Sarah's great-granddaughter recalls, "Sarah and Father Bertello were the prime establishers of St. Aloysius. She kept a room for him at the hotel and kept his vestments and altar cloths clean."
When he was killed in the December 1917 train wreck, it must have been like losing another son.
Bob Zimmerman wrote about her, "She raised and cared for more children than any other person who has lived in Shepherdsville in the past 75 years. She reared a large family of her grandchildren." We know that in 1900 she had a son, a daughter, and two granddaughters living with her.
Ten years later it was two daughters and two granddaughters, along with three boarders; and in 1920, the last year of her life, she was still sheltering her daughter Maude, a granddaughter, Esselle Hoffman, and four boarders including the faithful Bob Zimmerman.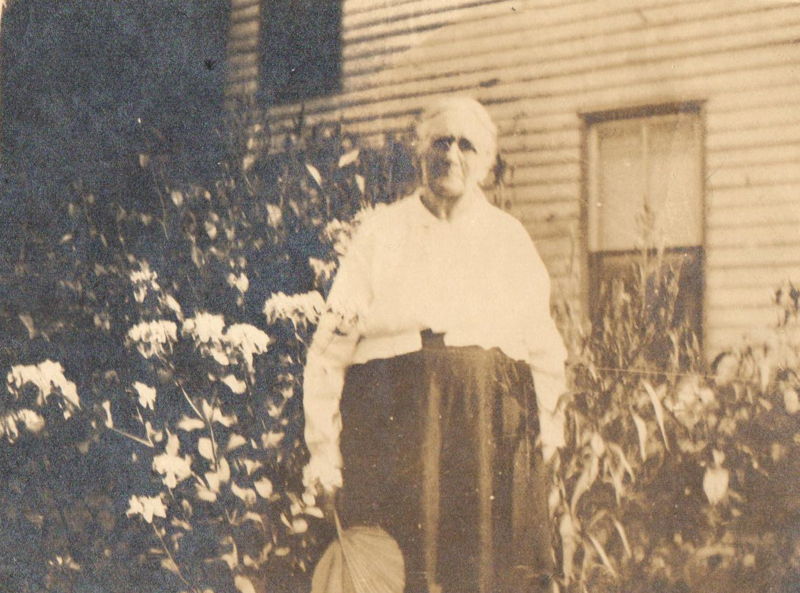 Sarah O'Brien beside her hotel. [photo provided by Catherine Shea.]
In 1916, as Sarah O'Brien approached the end of her life, she deeded everything she had to her daughter Maude who, according to the deed, "has stayed with me in my declining years, and has worked hard and faithfully, and has done her full share." The only condition was that Mom would continue to run the place.
Then in March 1920, with Sarah O'Brien no longer able to bear her share of the burden of running the hotel, she and Maude made the decision to sell the hotel and property to the Peoples Bank of Shepherdsville. The bank was then located on the east side of Main Street, just south of the courthouse square; and it was the bank's intention to build a new facility across the street on the hotel property.
The bank was to be built on the north side of the hotel lot next to the hotel, and the hotel remained open with Maude doing most of the work. Then, after Sarah's death in November, Maude remained open for a few more months until May 1921. The last meal was served to boarders Tuesday, May 10th, at breakfast, and the hotel was closed forever.
Bob Zimmerman later wrote about the hotel, "It has served its purpose and must go, but we regret its passing, for it has been our home for twenty years and more, and a good, good home, too." By the end of June the hotel building was no more.
His finest tribute to the woman who had been like a mother to him were the words, "She fed the hungry, she clothed the naked, she added all she could to the sum of human happiness, and when her work was done, she left the world better than she found it."
We should all wish to be so well remembered.
---
Copyright 2013 by Charles Hartley, Shepherdsville KY. All rights are reserved. No part of the content of this page may be included in any format in any place without the written permission of the copyright holder.
---