Eugenio Bertello and St. Aloysius Catholic Church
The following article by Charles Hartley originally appeared in The Courier-Journal on 14 Mar 2012. It is archived here with additional information for your reading enjoyment.
---
While some may know that St. Aloysius Gonzaga Catholic Church of Shepherdsville is approaching the anniversary of its founding a century ago, not many know about the young priest under whose leadership it was founded.
Eugenio Bertello was born in Torino, Italy on 11 Jun 1885 to Eugenio and Lucia (Ponzio) Bertello. His parents said goodbye to their son in the summer of 1907, and young Eugenio began a journey that would leave behind family and friends and bring him to America.
Eugenio traveled to the coast at Genoa, and there, on 8 Jul 1907, boarded the Cretic, a passenger ship destined for New York. Nineteen days later, Eugenio spotted the Statue of Liberty through the harbor mist. He was processed at Ellis Island like so many other immigrants, and then made his way to Chicago to the Church of Assumption school where he completed his education. He was ordained in Louisville on 19 Dec 1908, and assigned to Bullitt County where he served as pastor for several small churches including St. Eugene's at Bardstown Junction, and St. Margaret's at Pitts Point, as well as St. Gregory at Samuels in Nelson County.
Father Bertello obtained permission to build a church and residence at Chapeze, then a thriving little village with a promising nucleus of Catholic families. Ben Chapeze donated the land and lumber for the building purpose.
There had been a Church of the Holy Redeemer briefly at Huber's Station which was no longer functioning, and Father Bertello gave its name to his Chapeze church.
By all reports, Father Bertello was very popular, both with his congregation, and in the surrounding community. He took an active part in activities of young folks and was a welcomed addition to social events.
Meanwhile, Shepherdsville was growing, and under his leadership a mission church was established there. It was dedicated by Bishop O'Donaghue under the title St. Aloysius on 12 Sep 1912. Father Bertello continued to live at Chapeze and commuted to his widely scattered little mission churches.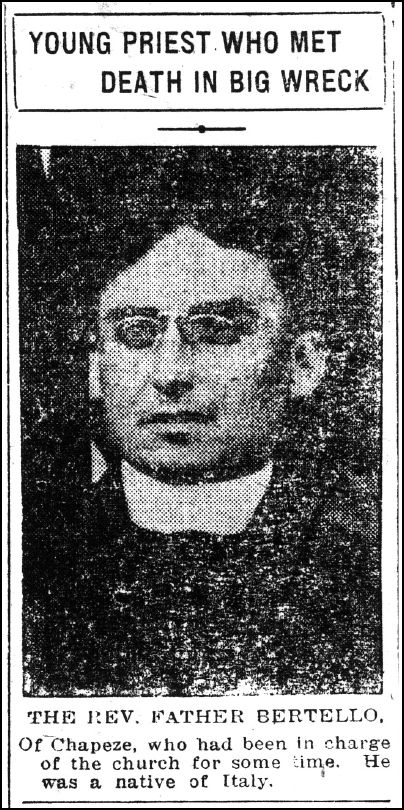 Louisville Times
photo
For several years, all went well for Father Bertello, but then in 1917 he was involved in a series of unrelated accidents; the first involving a runaway, the second an automobile. Then in June, his automobile turned over, pinning him beneath the car. For weeks after the accident his condition was serious and for several days recovery was doubtful.
However, as Christmas approached, he was back at his duties. With but five days before Christmas, life was slowly getting back to normal after a fierce winter storm. A blanket of snow still rested on much of the landscape reflecting the remaining rays of a setting sun.
Father Bertello was in Shepherdsville at Troutman's undertaking establishment. He had a very sick parishioner living south of town and planned to take the train to visit him. As the train approached Shepherdsville, he and Henry Wathen were heading to the depot together when a friend drove up in a buggy and called to Wathen to make his trip in the buggy instead of the train. Bertello bade him a pleasant journey and prepared to board the train.
Mere minutes later, Father Eugenio Bertello was dead; one of 49 victims to lose their lives in that deadly train wreck that still stands as the worst train wreck in Kentucky history.
The following description from The Catholic Record was reprinted in The Pioneer News on 11 Jan 1918:
"Death overtook [Father Bertello] while on the most sacred priestly duty. He was, as it were, another Christopher. The Blessed Sacrament was found intact on his person, and over his heart, by the Rev. P. M. Mononghan, Chaplain of St. Thomas Orphans Asylum, Louisville, who on learning of the disaster, had repaired at once to its scene. There, he found the remains of his brother Priest."
We can only imagine the grief and profound sadness that filled the home of his parents in Italy when the church's representative delivered the sad news of his death.
After Father Bertello's tragic death, he was succeeded by Rev. Joseph McAleer until 1920, and thereafter by Rev. Leo Smith until 1924.
On January 28, 1920 there was a damaging fire at the Chapeze church, but the furnishings were saved, and the damaged building soon repaired. However since St. Aloysius in Shepherdsville was becoming the center of Bullitt County missions, Father Smith dissembled the living quarters and church contents at Chapeze. Father Pitt, who succeeded Father Smith sold the Chapeze building to a private owner in 1942 and it still stands as a private residence.
St. Aloysius stands today as a legacy of the efforts of Father Bertello to minister to the needs of those of the Catholic faith in Bullitt County.
---
Copyright 2012 by Charles Hartley, Shepherdsville KY. All rights are reserved. No part of the content of this page may be included in any format in any place without the written permission of the copyright holder.
---