Museum Newsletter - 28 February 2013
Friends of the Bullitt County History Museum
E-Newsletter
February 28, 2013 (Volume 9, Number 2)
Dear Friends,
Announcements...
>> Bullitt County Genealogical Society meeting March 16, 10:00 a.m. Ron Elliott is the author of the book From Hilltop to Mountaintop, the life and legacy of Fleming Co native Franklin Sousley, one of the Iwo Jima flag raisers. Mr. Elliott will be speaking about his book. He is also the author of the book, American El Dorado, which concerns the famous diamond hoax of 1872. He will have his books to sell and sign. Regular meeting time and place, 10:00 a.m. at Ridgway Memorial Library in Shepherdsville.
>> LEADERSHIP Bullitt County. I help lead a couple of the sessions in this program sponsored by the Bullitt County Chamber of Commerce. Accepting applications thru March 8, 2013, so time is short to register. This is a great opportunity for interested citizens to learn about the needs and resources of our community. Whether you are a native of Bullitt County, or new to the area, the Leadership Bullitt County program offers something for everyone. Build partnerships, engage in networking, and learn things about our county that will benefit you both personally and professionally. For more information about the program or to receive an application, contact the Chamber Office at 502-543-6727. This newly redesigned program includes the popular "Adventure Day" (also known as "Indiana Jones Day") in which we explore several sites in the county.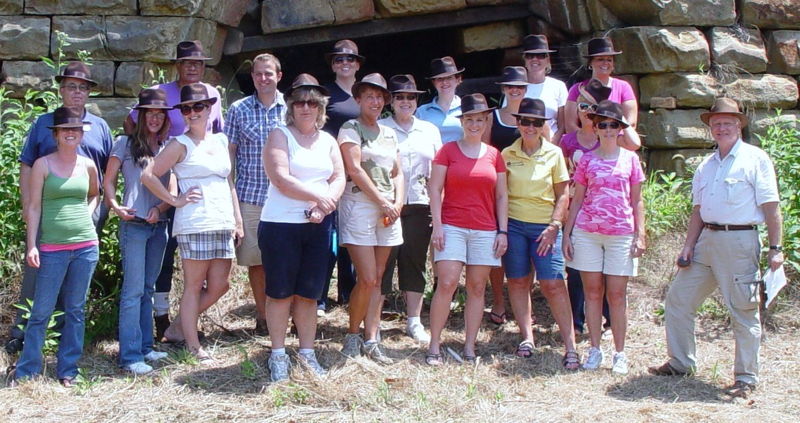 >> Ancestral Trails Historical Society Book Fair, April 13 in Elizabethtown. The 11th-annual book fair and history jamboree is coming in April. The theme for the History Jamboree is, Bringing History to Life. There will be individual and organizational living-history re-enactors to tell their stories regarding why they do it, how they got started in the endeavor, how they do it, and what events are available for their participation. Re-enactors will include Mark Twain, William Clark and Sacajawea, Long-Hunters, Kentucky Governor Helm and wife Lucinda, as well as many other historical figures. Also present will be the 9th Michigan Union Civil War Infantry and WWI and WWII organizations; all in period dress and eager to tell the story of their organization. Adults and school children will enjoy this "history brought to life." Book sellers contact person: Rosa O'Bryant (270-765-4305) e-mail squirt@windstream.net. Living History/Family History contact person: Gary Kempf (270-769-3814) e-mail kempfgn@bbtel.com .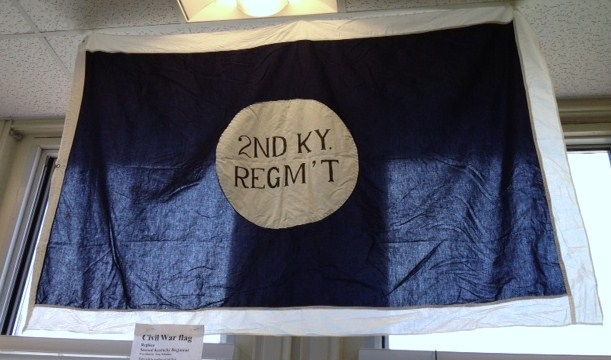 Activity...
>> Civil War replica flag donated. Civil War re-enactor and museum friend, Tony Schlatter, recently gave the museum a replica Civil War flag of the Kentucky 2nd Regiment. We have hung it in our Civil War display. Thanks Tony! And good luck for your re-enactment in Shepherdsville this summer!
>> We recently updated our web page listing of women who have been elected to office in Bullitt County. It's quite a list! You can find it here.
>> Public Library now has Ancestry.com. Our great Bullitt County public library system has added Ancestry.com access to its computers, available at all of the library locations. The library version is a bit more limited than our museum full-access version. But it provides extremely handy (and free!) access if you can get to any of the library locations throughout the county.
>> Bullitt County Genealogical Society President Daniel Buxton was asked by the county library to give a presentation on African American history in the county (a subject on which Daniel has done quite a bit of research). He gave an excellent presentation February 23rd to a pretty-full room at the Ridgway Memorial Library. Well done, Daniel!

>> Skinner Family files. Volunteer Bob Cline recently gave us a booklet of genealogical information on the Skinner family line, as part of his county family database that he continues to expand for us.
>> Web Site Additions. As always, there are several additions to our web site this month. There are historical stories and a large sampling of photos from the Burlyn Pike collection that was given to us. Be sure to click on some of these and check them out.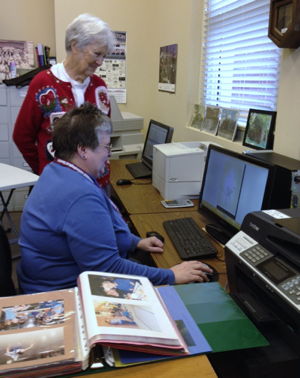 >> Nichols Elementary School memories saved to computer in big project. Museum volunteer, Wilma Lemons, and longtime Nichols supporter, June Dawson, have been working together for several months to preserve hundreds of pages of Nichols Elementary School memories to computer.
This had been a project that had been talked about since the school's anniversary event a couple of years ago. But it really got moving when June stopped by the museum research room asking about how to get the project done. Volunteer Wilma Lemons happened to be there and said something like, "Oh, that's easy to do!"
Well, you can guess who got volunteered to do it. [smile] Actually, Wilma was fantastic, spending countless hours over the next 2 1/2 months, scanning and organizing 3866 items and 9,000 individual images (3.2 Gig of computer memory), including a 1952 yearbook; photos and info from a 1970 reunion; the 2010 Homecoming (by far the most, because of dozens of scrapbooks made for the occasion); at least a hundred old 3.5 floppy disks of images, and about 25 CDs that were in an outdated format.
As Wilma finished a few books, June would pick them up at the museum and bring some more.
But it's all done now folks, and now saved and protected for the future! FANTASTIC job Wilma!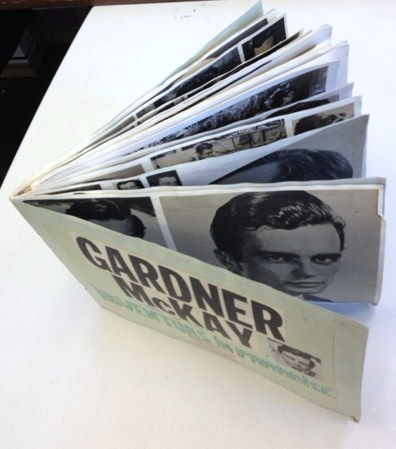 >> Gardner McKay scrapbook donated. Many of you will recall that a couple of years ago Judy Richardson researched Gardner McKay for us. McKay was a very hot TV star in the 1960s, staring in such series as "Adventures in Paradise." Judy's research work was nominated at the time for a state award. It is on our web site, and as such can be found by people around the world.
And it has been. [smile] We recently received word from Alan Beale, in Nottingham England. He had came across Judy's work and thought we might like to have a scrap-book on the star he uncovered. We received it in the mail this week.
Pretty nice little scrap book, apparently from a mutual fan.
We'll have it at the museum for you to see when you come by. Thank you Mr. Beale! And thank you Judy!
Trivia...
Here's a trivia question that I think is interesting (and I hope to have an answer in this newsletter next month):
Our old county courthouse, in part of which the museum is housed, originally had red mortar between its bricks. "Not a big thing," you might say, but it explains a detail mystery that I had noticed a few years ago; that the old photos of the courthouse are kind of dull-looking, with no detail in the brickwork. Turns out that was because the brick mortar was nearly the same color as the brick itself.
It's not that way now because the brick was all "tuckpointed" (remortared) many years ago with standard mortar.
THAT is the trivia question. When was the courthouse brick tuck-pointed?
And a bonus question: Where was "Southville" in Bullitt County? I'll write about that next month as well.
A Genealogy Research Lesson...
Museum Volunteer, Brenda Rittman, recently figured out a genealogy problem, and we both learned in the process. She was looking for a death certificate for Sophronia Greer; born 1862; died 1960 in Spencer County. We have the microfilm for that year, so it should have been a simple find.
But nothing.
On a hunch, Brenda hunted up a section of the microfilm in which a bunch of the certificates were from Spencer County.
With some patient searching through the film, Brenda discovered the person she was looking for, filed as "Fronia Greer Cook."
So there are at least two research lessons, for me at least.
If you don't see the person you are looking for in the index, be aware of what other names and variations it could be filed under.
And be aware that death certificates were often filed in bunches from a county.
Knowing little items like this can make a good genealogy "detective" into a great one.
For Your Information...
>> The University of Pennsylvania has compiled an extensive list of online newspapers, by state, with links to each website. Check out the site at https://guides.library.upenn.edu/historicalnewspapersonline.
>> Pitts Point link. Since we're working on a future display about Pitts Point, you might like to look through this extensive document about the town that once existed where Salt River meets the Rolling Fork River, before Fort Knox came. https://www.dtic.mil/cgi-bin/GetTRDoc?AD=ADA316672&Location=U2&doc=GetTRDoc.pdf
>> Sanborn Maps. Sanborn fire insurance maps are a fantastic resource, showing detailed locations of buildings in a town. Here is the link for the digital archives of the insurance maps, among many other things. https://kdl.kyvl.org/cgi/t/text/text-idx?xg=0;page=simple;g=news
>> A new verbal history program by the Kentucky Historical Society gives you the chance to see a list of (and in some cases hear) collections of audio verbal history collections from around the state. We are working to add some of our collection to the files, but it might be a while. Check out https://passtheword.ky.gov/.
Finally...
Here's just a brief "Finally" story for you this month, because I have went so long on the other portions of this letter:
(I hope I can relay the story to you pretty close to correct.)
I was recently talking with Mr. Neil Farris, who was County Judge from 1964 to 1969 (That's a possible hint for the trivia question).
Neil was telling me a story about how, when he took office, the room that we now use for an archive room leaked really badly whenever it rained. It had stubbornly done so for years, causing substantial damage to room and ceiling, and Neil determined to get that leak fixed.
Well, when a maintenance worker was sent up to the roof, the cause was quickly discovered.
An access hatch, leading from that room to the roof, had been left open.
That's right. For years, a lift-open hatch to the roof had simply been left open, which of course allowed the rain in.
The longtime, supposedly stubborn and persistent "leak" was fixed by simply closing the door.
Ah, government in action. [grin]
Thank you for being a friend of the Bullitt County History Museum.
David Strange
Bullitt County History Museum
Executive Director
Museum Phone: 502-921-0161
E-Mail address: David.Strange@BullittCountyHistory.org