Gardner McKay, Actor and Adventurer
Anyone who has ever done research will most likely agree with the fact that while researching a subject, another interesting fact or name comes to light, a fact or name that lingers in the recesses of your mind. This happened to me while researching names in a local cemetery book. In this instance, the name was Gardner McKay. While this man's name might not be well known to some, to many it might conjure up the memory of a popular TV show from the late 50's and early 60's. Do you remember "Adventures in Paradise"? I certainly do. It was a favorite show, one that we, my family and I, watched each week.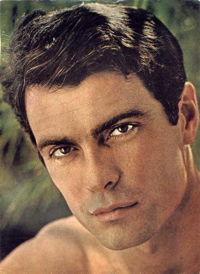 That is why I am writing this article and why I read McKay's autobiography, Journey Without a Map. He is (his ashes) buried in Hebron Cemetery, in North Bullitt County, Kentucky, next to his father and near his grandmother and other family members. My curiosity got the best of me so I decided to try to discover why he was buried in Kentucky and what his connection was to Kentucky.
As it turns out, his father, Hugh Deane McKay was born a Kentuckian, as well as generations of Gardner's ancestors. Although Hugh's tombstone reads that he was born in 1894, his military registration and census records state that he was born on May 3, 1896. In 1915, while in training in the RAF, Hugh crashed his plane and injured his thigh and leg, so badly, that the doctors wanted to amputate but Hugh refused and he bore the scars for the rest of his life. To quote Gardner, from his autobiography, "my father was from Kentucky. Thank God." I thought this was an interesting statement, so I read on.
George Cadogan Gardner McKay was born in New York City, June 10, 1932, to Hugh Deane McKay and socialite, Catherine "Kitty" Gardner McKay. He was named after his mother's father; Gardner was her maiden name. Kitty was born in 1904. Gardner's father, Hugh, was an ad executive in a publicity firm and was appointed to France in 1936. In Paris, they lived the good life, traveled Europe and enjoyed the fruits of a life abroad. Gardner had crossed the Atlantic 8 times between the ages of 4 and 17. He and his older brother Hugh went to private schools in France. Gardner stayed in 13 different boarding schools in the world. In August of 1939, just days before World War II started, Hugh Sr. packed up his family and they sailed from Europe and returned to the United States.
Gardner and his brother were sent to Louisville, Kentucky not long after the family returned from France. I have no information on why they were sent here. I am making the assumption that it was for a visit to spend time with relatives and possibly to attend school. They were sent to "Dear" and "Cappy," Gardner's Grandmother and step Grandfather. Gardner, in his book, writes about going to Grant's dairy farm, "forty-eight cows and the mint-smelling Harrod's Creek, fishing for sunnies and tadpoles, milking cows, jumping from haystacks out in the country fields and haystacks owned by relatives who were Christian Scientists, so that when I fell off a haystack and broke my arm, they were delighted to set it. The pain. Public school. Civil War relatives. Revolutionary descendants." He writes on, "Thank God for Kentucky. If I didn't have Kentucky inside me I would hardly feel American. Kentucky remains the most beautiful state I've ever seen. It is green; it is deep, lush, mysterious, fine and rich." He goes on to say that to him Kentucky was "paradise."
Quoting Gardner again "going to Kentucky was where I first saw what America was and it is still within me. For one thing, we had nothing to do with its beauty. It is not the works of man but the works of nature; the way the first McKay saw it. The wonders, the flamboyant richness of true beauty, its rivers and creeks, forest, hills, greens, cattle, farms, horses, schools, traditions." No reference was made to the length of their stay in Kentucky, but it is certainly clear that Kentucky made a favorable impression on Gardner.
Mr. McKay states, in his book, that his father and grandfather were from Covington, Shelbyville and Louisville. I have researched this family and have found evidence that Mr. McKay's ancestors lived in Bullitt and Nelson County, as well. Gardner's grandmother, Daisy Deane McKay was born in 1876 and died in 1941 and is buried in Hebron Cemetery. Daisy was born in Tennessee and married Robert Strouse on February 13, 1894. In the 1900 Census, Daisy (age 23), Robert (age 29) and Hugh (age 4) Strouse are listed as living in Louisville. The head of the household is listed as James Strouse (Robert's father). In the 1910 and 1920 Census, Daisy was listed as a widow, teacher and living with Hugh Deane, son, in Manhattan, New York City. For an unknown reason, Daisy retained her maiden name. Daisy later married Nello Birdwell Smith, who is buried next to Daisy in Hebron.
Daisy's brother was Wallace McKay, an attorney in Louisville and who also wrote a series of articles, in collaboration with Mrs. W.V. Mathis and W.C. Barrickman for Bullitt County's 'The Pioneer-News', titled "Who Was Who in Bullitt County." Wallace is buried at Cave Hill Cemetery in Louisville. Daisy had another brother, Donald Paul McKay. He, along with his wife Edith, is buried in Hebron. This information was taken from "Who Was Who in Bullitt County," Hebron Cemetery listings, and from Kentucky death certificates.
Gardner's great grandfather, Charles William McKay, was a doctor, a Union Captain in the 10th Kentucky Volunteer Infantry, Company A. This unit fought in many skirmishes with honor and bravery. According to an article, "Samuel Adams McKay, A Sketch by Wallace A. McKay," Charles attended Georgetown College and the Medical Department of the University of Louisville until the outbreak of the Civil War. He practiced medicine in Arkansas, Kentucky and Tennessee. Charles was born in Kentucky on August 14, 1841. In 1865, he married Ella Maria Harris of LaVergne, Tennessee. They had three children who lived to maturity, Wallace, Donald and Daisy. Two other children died very young. Ella died in 1877, leaving behind a grieving husband and three very young children. Due to an illness, Charles moved to Arkansas in an attempt to recover, but he died at the early age of 40, on October 3, 1881, in Shepherdsville, Kentucky. He is buried in the Shepherdsville Pioneer Cemetery, next to his two small children who did not survive.
Charles' father, Samuel Adams McKay was a well-known doctor in Shepherdsville. To again refer to the "Who Was Who in Bullitt County" article, Samuel acquired the best education available at the time, from local schools and reading and attending demonstrations at local physician's offices. He was licensed to practice medicine in 1834, at the age of 25. Samuel was born at the old McKay homestead about 2 miles from Bloomfield, Kentucky on September 29, 1809. In 1838, he married Dorcas Ann Neal, the daughter of a pioneer Spencer County family. After his marriage and after practicing medicine in and around Bloomfield, he and Dorcas moved to Shepherdsville. Samuel worked diligently to build up his practice and therefore, accumulated a comfortable estate. His home was about a mile east of Shepherdsville on the old Mt. Washington road. He was tall, erect, over 6 feet in height (Gardner was well over 6 foot tall), red hair, raw-boned and muscular. He was a founder of the First Baptist Church in Shepherdsville, and was also a clerk and a trustee at the church. According to Dr. Robert Moore, a historian of Nelson County families, Dorcas died during the infancy of their child, Charles. Samuel was living alone in the 1850 Census, but by the 1860 Census, he had remarried, to Romelia A. Spurrier, of Louisville. Samuel died on July 14, 1883 and is buried in Shepherdsville, in the Pioneer Graveyard, next to his son, Charles. Samuel and Dorcas also had two small children who did not live to maturity and they too are buried next to their father.
According to Dr. Moore, Samuel was the son of William Hebb McKay and Rachel McCarty. William was born November 13, 1773, in St. Mary's County, Maryland. William had grown to manhood in Maryland before migrating, with his father, Richard, and the McKay family to Kentucky in 1790. They settled in the area around Bloomfield. William married Rachel in 1796 and she bore him nine children. William died in 1840. From a book written by Oscar Reed McKay, entitled "The Family of Richard McKay" published in 1934 and also in an article, entitled 'Excerpts from the History, Haunts and Homes of the Richard McKay Country," which was read by Mrs. Ophelia McKay Robinson at the Clan Reunion, August 20, 1931, at Taylorsville, Kentucky. "A sad tragedy took place which shocked the entire family and the community of Bloomfield. A negro lad who believed himself to have received an injury from some member of the family, took revenge by setting the house of Mrs. William McKay on fire and killed her before she could escape. The daughter Lydia Ann was seriously injured. Her death occurred two years later." This occurred in 1842.
In Gardner's book, he referred to a McKay ancestor, who received a letter from George Washington, thanking him for his soldiering work during the Revolutionary War. According to Robert T. Moore, Gardner was a descendant of Richard McKay, the Revolutionary War soldier, who arrived in Nelson County in 1790. He brought with him his family from St. Mary's County, Maryland. Richard married Nancy (Ann) Hebb in early 1773 in Westmoreland Co., Virginia. Richard's name can be found on the roster of the St. Mary's County militia and in the records of the War Department in Washington as a private of the 2nd Dragoons, Continental Line, commanded by Captain John Watts. He received 100 acres for his service. Quoting again the article read by Ophelia McKay Robinson "later he (Richard) purchased 200 acres on Simpson Creek. He sold half of this farm to his son, William McKay in 1808. According to records, he held a lot of slaves and bought 3,000 acres of land near Plum Run, near Simpson Creek." Richard was a founding member of the Baptist Church in Bloomfield. So, it seems Gardner's roots in Kentucky were solid and old.
Gardner had a passion for boats. At the young age of 10, he canoed along the Connecticut shores, alone. He became an experienced sailor and for many years spent much of his time aboard various boats, including one that he himself owned, given to him by his father. At the age of 16, he worked as a first mate during his summers while off from school. While residing in Maryland, as a young man, Richard (Gardner's gggg grandfather) was a ship pilot on the Chesapeake Bay. It seems the love for the sea runs in the family.
Gardner tried and failed to get into Harvard but instead enrolled in Cornell University in Ithaca, New York. Ithaca was far from the oceans and boats, so Gardner jumped into college life and started his writing career as a movie critic for the Cornell Daily-Sun and directed the Campus Magazine, "The Widow." He excelled in sports and the arts.
Sadly, when Gardner was only 19 years old, his father passed away. Hugh Deane McKay died in 1951. Gardner was devastated and left the University. His mother Catherine would later marry a war hero, Edwin Parsons. She died in 1985 and is buried next to him in Arlington Cemetery.
Gardner moved to Greenwich Village in New York City and supported himself by writing articles for various magazines and illustrating record covers. He also had an interest in sculpting and had several major exhibits. His works are in the Modern Art Museum in New York City and in the White Museum in Ithaca. His interest took another turn, photography. Some of his photos were published in "The New York Times" and in "Life" magazine.
Gardner was "discovered" in a well-known New York City hotel's elevator. He was approached by a director from MGM and given a business card and asked to attend a meeting the next day. Gardner was hired right away for a small part in "Raintree County," a movie with Elizabeth Taylor and Montgomery Clift in which, if you will recall, parts of the movie were shot in Frankfort and Danville, Kentucky. He did several TV series for MGM but in the end, he resigned. He later signed with 20th Century Fox and because of his good looks, stature and experiences as a sailor; he was given the role of Adam Troy, a Korean veteran who sailed his ship, the "Tiki" into ports all over the South Pacific and into various adventures every week. This television series was called "Adventures in Paradise" and it lasted for three seasons. Gardner left the show and Hollywood and sought out adventures on his own.
Gardner traveled to the Dutch Antilles with his camera at hand and then on to South America where he spent almost two years discovering for himself, the mysteries of the Amazon River. He lived with the natives and experienced many life altering observations. He worked as an agronomist, one who works with crops and curing the soil. Gardner quoted to People Magazine in 1999, "I never knew what I was looking for, only what I was not looking for."
After more traveling, to such places as Egypt, Mexico, and Paris, Gardner returned to the United States and appeared in a play with Mia Farrow; several movies, one of which was called "The Pleasure Seekers," with Ann Margaret. He also starred in other plays, "Dial M for Murder," "Fantasticks" and "Any Wednesday" with Loretta Swit, of "MASH" fame.
Gardner loved animals so he bought an acre and a half property in Beverly Hills and raised a menagerie of animals, including African lions, ocelots, cheetah, goats, deer and mountain lions, three dogs, and a little monkey named Fink who he brought back from his travels to South America. After many years of taking care of his pets, due to neighbors' complaints, he had to give up some of his animals.
Gardner wrote 21 plays, one of which was called "Me" and starred Geraldine Fitzgerald and a young Richard Dreyfuss. He also wrote several novels, "The Last American," "The Kinsman" and "Toyer" which was at first a play then a thriller novel with 455 pages. He wrote poetry and screenplays as well as taught playwriting at the University of Southern California, UCLA, University of Alaska and University of Hawaii.
Although over the years, his name was linked with many starlets and models, he married late in life. In 1983 he married an Irish born ex-model turned gourmet cook and caterer, Madeline Madigan. Her passion was painting. She had a daughter from a previous marriage and they traveled throughout the world and lived in London and Los Angeles and finally settled in Hawaii. While in Hawaii, Gardner had his own show on Hawaii Public Radio, on Sundays, called "Stories on the Wind." He would read short stories to his listeners. During this time he was also writing his autobiography, Journey Without a Map.
Sadly, Mr. McKay was diagnosed with prostate cancer and after fighting this disease for several years, he passed away on November 21, 2001. His memoirs were not completed but his wife Madeline vowed that with the help of his 200 journals, she would finish it. Even though he could not move around easily in his last few weeks of life, he dictated his story, from his bed, to his wife and brother-in-law, who typed his words into a computer. And what a story it is...this man, this traveler, actor, writer, adventurer, sculptor, sailor, drama critic, teacher, model, animal lover and caretaker. He lived life to the fullest.
As Gardner McKay stated in his book, he considered Kentucky a "paradise." His love for his father, family and Kentucky, leads me to believe and assume that this is the reason Gardner chose to have his ashes buried here. I believe he never forgot Kentucky and the memories of a happy time in his life. Maybe that was what he was seeking in all his travels, a paradise, a place of bliss, beauty, and peace. I believe we all seek our own paradise whether it is a place or the love of a special person or persons. Each person has his or her own Eden to pursue. I believe Gardner found his paradise in his wife and in the place he chose to live out his days, Hawaii, and in the memories of a full and enriched life.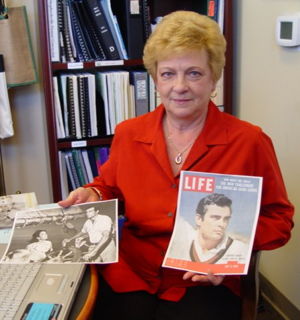 When I started this project, I had no idea where it would take me. My memory of a handsome face on TV, gave me no clues about the man he was or how he chose to live his life. Now as an adult, I enjoyed getting to know him, through his book and his life's adventures. He was blessed with many talents, an interesting life, which he sought out for himself, and the love of his family. His heritage is one of intelligence, perseverance, dedication, service and adventure. In his life, he expressed himself through many mediums, absorbed all of what came his way and shared his knowledge. He lived what many would call an idyllic lifestyle, visiting and living in foreign countries, sailing, carefree and happy, hobnobbing with Hollywood stars, dinner with diplomats, learning, always learning. He did it his own way. I would like to think he was satisfied and fulfilled in the paths he chose, that he died with no regrets.
I recommend his book Journey Without a Map to anyone who is willing to go on this journey with him, in his own words. I don't think you will be disappointed.
In his own words, his poem is inscribed on his tombstone, shown below.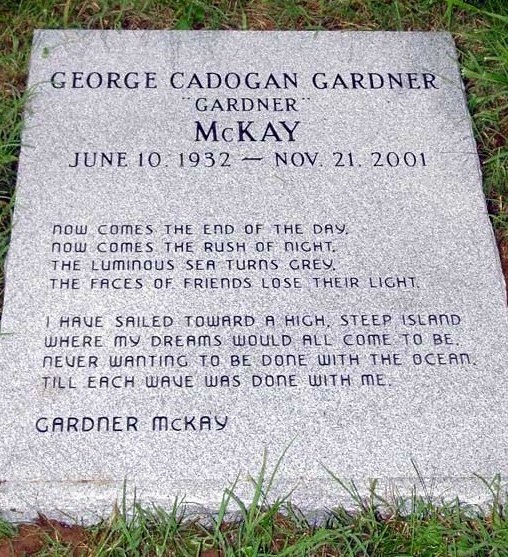 On a personal note, I would like to thank my Museum family for all of their encouragement and help while I was writing this article. Thanks everyone!!
---
This article is copyright 2011 by Judy Richardson. It may not be published in whole or in part in any other place without the expressed written permission of the copyright holder.
---
If you, the reader, have an interest in any particular part of our county history, and wish to contribute to this effort, use the form on our Contact Us page to send us your comments about this, or any Bullitt County History page. We welcome your comments and suggestions. If you feel that we have misspoken at any point, please feel free to point this out to us.