A Footrace to Louisville
The following article by David Strange originally appeared in The Courier-Journal on 13 Feb 2013. It is archived here with additional information for your reading enjoyment.
---
The story of Ed Peacock and his legendary footrace to Louisville has been told several times over the years.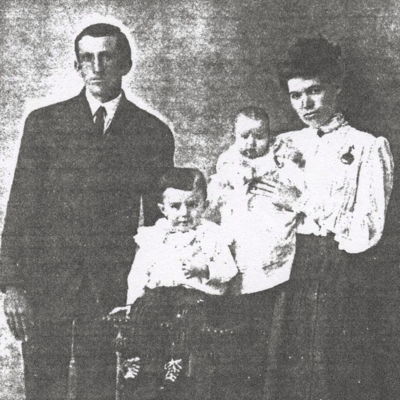 Ed and Annie Peacock with Nallie and Carrie Bell
But if you haven't heard it, then it's time to tell it to you.
So here's the story, as best as I can put it together from several sources.
It was the year 1905, in a time when travel was by foot or horse.
Ed Peacock was working at a small-town Shepherdsville general store known at the time as "Simmons, Jones, and Summers." (Later known as Dawson, Simmons, and Hornbeck")
One Saturday night at the store, the usual crowd (what today we jokingly call a "Liar's Club") was hanging around. Among them was the owner, John Summers, along with Ed Peacock and E. D., Demoville, Jones, whose elected term as County Jailer had just ended a few months before.
Demoville Jones had a new buggy horse and couldn't resist bragging about it. Apparently he said something about how his horse had trotted "all the way from Louisville to Shepherdsville in just four hours flat."
At that, Ed Peacock snorted, "Huh! Anybody ought to WALK that in THREE hours."
Demoville responded, "Including yourself?" and the bets were on.
Demoville pulled out some cash and the others joined in. Demoville Jones, Ora Lutes, Bill Troutwine, and some others bet that Ed Peacock could not make it on foot the eighteen-plus miles from the Shepherdsville railroad depot to the Louisville city limits in three hours or less.
Jim Dawson, Wax Simmons, John Summers, Frank Troutman, and some others bet that he could.
Judging by the reports of the time, the day of the race was set for the last Sunday of November.
Now, there are a couple of things that I should tell you before continuing with the story.
First, let me set the scene: The Shepherdsville railroad depot was located near the intersection of Highway 44 and the railroad tracks, and the Louisville city limits at the time was about where the Watterson Expressway is today. The race route, measured later as eighteen miles and four hundred yards, started at the depot and followed what is today Preston Highway to Louisville.
A second thing: Ed Peacock had an ace up his sleeve.
You see, before Ed worked at the store, he worked hard, herding cattle by foot. He would trot cattle from the Louisville stockyards to Shepherdsville. Ed now figured that he had done that in four hours, using time to chase the cattle back onto the path. "With four miles less to go," he said, "and with no cattle to bother with, I ought to cut off an hour easy. I figure it's in the bag."
The morning of the race, Ed stopped by the store and picked up a pair of "those little canvas shoes that the city kids bought to play tennis in and said, 'Let's Go!'"
Despite it being a cold winter morning, Ed peeled down to his tennis shoes, with no socks, a light sweater without any shirt underneath, and a pair of pants, buttoned tight around his waist.
A crowd gathered and many were prepared to follow along. Some were on horses. Most had buggies. But the smart ones, the ones like John Summers who had an idea of what was to come, were driving light two-wheeled gigs.
Demoville Jones had his buggy attached to his fast horse. But horsemen will agree with me when I say that a fast horse is not necessarily a long-distance horse, especially pulling a buggy.
And so the race against time and horse began with Ed leading the way, and a circus-like parade of horses and people following along.
Mr. Peacock is quoted as saying after the race, "Some persons have an idea that to cover a great distance in a certain time you should jog along the first few miles at a slow gate until you get your wind, then finish the walk as fast as you can walk. I do not believe that is the proper method. I started out at a steady pace and made the first six miles in fifty minutes. I have walked so much I have acquired a certain gait that I believe I could keep indefinitely. After I completed the first six miles of my journey, the excitement of the moment and the desire to succeed in my attempt spurred me to renewed efforts, and for the next five miles I came at such a pace the referees had to trot their horses to keep up with me."
But there were some details that he left out. About four miles into the race, Ed came to Brooks Run. There wasn't any bridge in those days and the stream was deep, nearly twenty feet wide, with a skim of ice on top.
Somebody offered to give Ed a ride across the stream in their buggy, but Demoville protested, saying that if Ed lifted his feet off the ground the race was over.
Ed just headed straight on, breaking through the thin ice, and sloshed up the other side, water squishing out from his tennis shoes.
At Mt. Washington Road, Ora Lutes had to stop to water his horse. He never did catch back up.
At Okolona, the men figured that Ed had made two-thirds of his distance in a little less than two hours.
After ten, twelve, and fifteen miles, the men on horseback and gigs were doing fine, but those with buggies were dropping fast. Demoville Jones' horse was all in a lather, but he kept going. "If you let Ed Peacock walk you to death," he reportedly told his horse, "I'll just let your carcass lay here in the middle of the road for the buzzards!"
In the meantime, back in Shepherdsville, Jim Dawson was using the telephone to find out what was going on. He called Henry Klair at the railroad crossing about a mile outside the Louisville city limits. Klair reported that he had not yet seen Ed.
About that time, near where Evergreen Cemetery is today, with a mile and a half to go, and a little more than twenty minutes to do it in, Ed was slowing down, suffering from cramps in both legs.
But Wax Simmons came up with a solution that would not quite be allowed in today's marathons. He gave Ed a shot of "Bullitt County dew."
"Whoosh!" exclaimed Ed, and he went on with renewed vigor. A couple of minutes later, Henry Klair returned Jim Dawson's call. "Jim," he said, "Ed just passed here going like a racehorse and leaving all the nags behind!"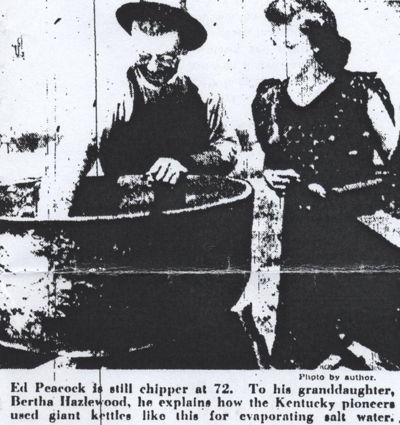 Photo from earlier newspaper article.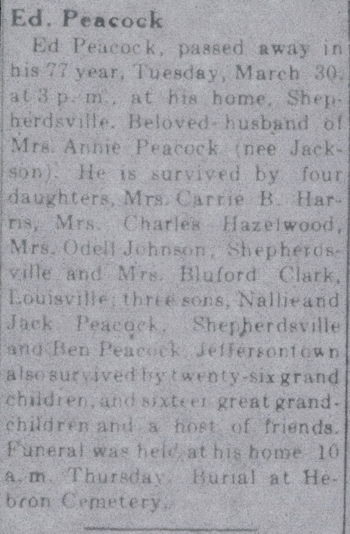 Obit from
Pioneer News,
9 Apr 1948
Ed reached the city limits in two hours and fifty-one minutes.
They had to wait for Demoville Jones, Ora Lutes, and their buggies to show up so they could collect on their bets. The winners took Ed to a Louisville store and bought him a new suit, including hat and shoes. They even took him to a photo studio to have his picture taken. Oh, how I would love to have a good copy of that picture today!
By the way, for you modern-day marathoners out there, this was no record race. In 1904, an Olympic runner raced a full twenty-six mile marathon in three hours, twenty-nine minutes. Today it has been done in just slightly over two hours flat.
But I doubt that those runners got their only training by herding cows and simple hard labor. And I doubt they bought their shoes from a country general store the morning of the race.
But then, Demoville Jones and friends doubted too.
A 1941 Courier-Journal remembrance of this race, from which much of this story is drawn, remarked that of all the fellows that had followed Ed that day, only Ed Peacock still lived. Those who had often told Ed that he would never live to be old if he kept working so hard, had themselves passed away.
Ed Peacock died on March 30, 1948 at the age of 77.
His obituary says that he is buried in Hebron Cemetery.
With him another story passed into Bullitt County memory.
And from memory into local legend.
Additional Notes
Some stories about the race say that the starting point was at the store. Others say it was at the depot. I tend to believe that the starting point was at the L&N Railroad Depot at Shepherdsville. By the way, the exact location of the store is still a mystery to me at the time of this writing. It was called "Simmons, Jones, and Summers" (owned by John Summers) in 1905. In a 1941 story, it is referred to as "Dawson, Simmons, and Hornbeck." It is my guess that the 1941 article was referencing the same building, but calling it by its current name.
I found two "Hornbeck" stores in Shepherdsville history. One was on Highway 44 West, at Lee Street. The other was in or next to the building on Buckman Street on the south side of the courthouse, currently used by 2-Guys Printing. But that building was a bank from 1900 until about 1920. There was, however, a grocery building (shown on Sanborn insurance maps) at the time located between that building and Second Street. That building was where the current PBI (Bullitt County Bank) parking lot is now.
At least for the moment, I think that grocery might have been the location of the store mentioned in this story.
---
Copyright 2013 by David Strange, Shepherdsville KY. All rights are reserved. No part of the content of this page may be included in any format in any place without the written permission of the copyright holder.
---