Museum Newsletter - 28 February 2014
Friends of the Bullitt County History Museum
E-Newsletter
February 28, 2014 (Volume 10, Number 2)
Dear Friends,
Announcements...
>> Bullitt County Genealogical Society meeting March 15.
This is one you don't want to miss, folks. Eddie Price will present his "What I Saw at Cane Ridge." This is a 20-minute drama told by an "eyewitness" to the revival, followed by a 20-minute educational power point on the cultural and social implications of the Cane Ridge Revival, which ties it in with the Second Great Awakening.
Remember that the meeting time is now 11:00 a.m., to be more convenient for our members and visitors. Meeting place is the same, at Ridgway Memorial Library in Shepherdsville.
>> 2014 Snellen Family Reunion.
Museum friend, Jim Snellen writes me from Florida, informing us of the Snellen Family Reunion being planned for August 2 at My Old Kentucky Home State Park. There were over 100 at last year's reunion and more are expected for this year. We'll probably remind everyone of this, closer to August. If you need Jim's email address, contact us at the museum.
Activity & News...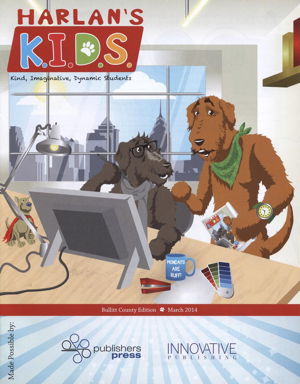 >> "Harlan's KIDS" magazine now available at Museum.
We have agreed to partner, at no cost, with a new children's magazine. "Harlan's KIDS" looks pretty good, with educational stories and pages of fun games. The monthly magazine is available for free to anyone who visits our museum. Just look for the rack of them in one of our display rooms. It looks pretty good to me, but let me know what you think.
>> AARP March 6, and Retired Teachers March 11, with books.
By popular demand [grin], I have been asked to bring our new book, Bullitt County Memories, to the March 6 AARP meeting in Mt. Washington. I am not the speaker, but will be there with some copies of the book, should anyone want to buy one. I am happy to report that sales have been brisk since it came out before Christmas. All profits go directly to museum operations. Co-author, Charles Hartley, and I are to be guest speakers at the Bullitt County Retired Teachers meeting, March 11, again about the book. We will have copies for sale there as well! :)
>> Digitizing Obituaries.
As many of you know, the museum has a large collection of local obituaries in our files. Genealogical Society volunteers have been collecting them since the 1970's and saving them on index cards. There are six large drawers of them, probably numbering in the thousands, all nicely alphabetized. But we have been wishing for years to get them onto computer for easier access, better preservation, and safer storage. I am happy to report that, thanks to museum volunteer Brenda Rittman, we are finally beginning that process. Starting next week, she will be spending part of her Thursdays digitizing any new obits to computer, and doing the same with the old ones. This is a BIG project to take on, and I sure do appreciate it. We have worked through an intuitive naming standard, and think it will work pretty well for searches. The obits will just be ".jpg" files, so the entire text of the obits won't be computer-searchable (that would be more than we could ask). But the individual file names will include name and date.
This will be a long-term project. I'll keep you informed as progress is made. Thank you, Brenda!
>> Digitizing Old Family Bibles pages.
Museum volunteer, Beverly Owen, has also started a computer digitization project. Stored deep in our museum archives, we have several very old Bibles, each with a few pages of written family genealogy. Beverly has started bringing those Bibles out and scanning the pages of written information, as well as any other news clippings and papers that is found in them. This is a pains-taking project because the old pages are pretty brittle. But she has already completed two books. I look forward to rediscovering what all might be found in each one.
>> New display about elections.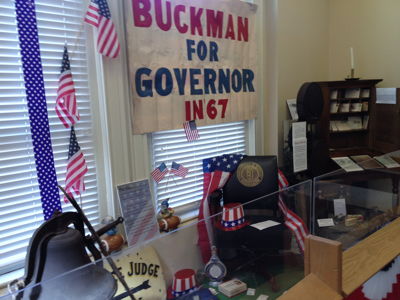 With 2014 being a big election year in Kentucky, we have set up a new display about politics and elections. Not to worry, we are being careful to stay away from current stuff, as tempting as it might be. The display features several items from our archives. Items include a "Buckman for Governor in '64" banner, along with a biography of J.D. "Jiggs" Buckman, who, in the 1960's, was the last state Senator elected from Bullitt County. He is also the namesake of Buckman Street, the main street of Shepherdsville. (See story here). Additionally, the display features a swivel-chair from the Kentucky House of Representatives, on loan from former Representative Frank Smith, and a briefcase used by Representative John Harper, and even a pink piggy bank from the "Tom Waller for Judge" campaign (though I have yet to figure out the point of that one). You might even find a few empty bottles that, when full, were once used quite a bit in local and state politics. We could use several more items, but it's coming along!
>> Civil War book donated.
Betty Darnell recently donated a folder of family genealogical information on Nicholas Russell, along with some other papers that have been incorporated into our files. She also donated a book, Civil War Draft Registration in Central Kentucky, compiled by Carolyn Wimp and published by the Ancestral Trails Historical Society.
>> Database info added.
Thanks again (it's almost a monthly "thank you") to volunteer, Bob Cline, for yet another increase in his family database, only available at the museum. Bob's genealogical database now has 61,249 individual listings.
>> Web Site Additions.
As always, we have been adding lots of new stuff to our web site, including the stories that Charles Hartley and I write for the Courier-Journal, and one that Charles writes for the Pioneer News. Be sure to click on these links to take a look.
>> Booklet Wanted: If someone can find a copy for the museum (hopefully for free), I'm looking for the 1980 publication, A Reconnaissance and Evaluation of Archeological Site in Bullitt County Kentucky, Number 16 Published by the Kentucky Heritage Commission. ISBN 0932714064.
>> Brooks of Bullitt County also wanted. Another book that I would like to have at the museum, if someone has a copy to donate, is The Brooks of Bullitt County. Number 199a929.B8736br .
Last Call on "The Mystery Ring." Leads have dried up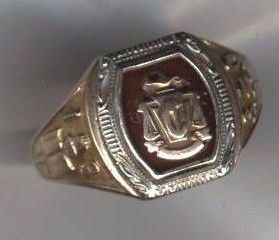 I'm disappointed to report that all of our leads for this lost ring (see previous newsletters and WAVE News story) have dried up. I ringthought we had one good possibility for the original owner of this 1930 ring that had been found by friend Tim Warner in Mt. Washington. But we could find no connection to it, even when Dale Salmon found descendants of who we thought might be the owner. So now we are left really grasping at straws. The ring is Class of 1930, with initials "JLS" inside, and apparently an Old-English "C" in the center of the jewel. We have tried several schools and colleges, but we are left with a virtual endless list of possible "C" schools and colleges around the country. I suppose this is a last call before giving up for now. Gosh! I hate to admit defeat!
For Your Information...
>> Here's a new link to a TV news video about the Bowman Valley School House preservation project: https://www.wave3.com/story/23856374/segregation-era-school-building
>> Genealogy research names help. This from Betty Darnell in the March, 1991, edition of The Wilderness Road (the quarterly journal publication of the Bullitt County Genealogical Society). Betty reminds me that these naming guides have fallen out of favor, but it might provide some hints as you search for your family connections.
How some families used to choose names for their children:
1st son: named after the father's father
2nd son: named after the mother's father
3rd son: named after the father
4th son: named after the father's eldest brother
5th son: named after the mother's eldest brother
6th son: named after the father's second eldest brother, etc.
1st daughter: named after the mother's mother
2nd daughter: named after the father's mother
3rd daughter: named after the mother
4th daughter: named after the mother's eldest sister, etc.
>> I was recently told of this fantastic link to vast amounts of searchable Civil War information. Among the resources is the entire 128 volumes of "The War of the Rebellion: A Compilation of the Official Records of the Union and Confederate Armies". I am awestruck with this. It includes almost countless reports and letters from the field during the war....and all text searchable. I am having a ball reading through reports related to movements and fights in Bullitt County! You gotta check out this site.
>> "Probate" , a word used quite a bit in genealogical research. Probate in law means the official proving of a will as authentic or valid in a probate court. Or as a verb: to establish the authenticity or validity of a will.
Finally...
>> A little ill.
I have been fighting some sort of illness lately, my friends. So please forgive me for not being quite as active as normal. It's all so very frustrating to me! I like to be doing things, but my body just won't cooperate.
Maybe the warmth of the coming Spring will help. I know that about everyone here in Kentucky is weary of the very cold winter we are having this year. We have yet another winter storm predicted for this Sunday/Monday, March 2nd and 3rd. MARCH, for Heaven's Sake! Winter should be over. The flower bulbs are tentatively sending their first leaves out of the ground, and now the poor things are about to be hit with ice storms. I'm ready to start planting tomatoes, but of course that shouldn't be done until Derby Day (the traditional garden planting day here) on the first Saturday in May.
The invigorating warmth of Spring appears to be yet "a ways" away.
But it's been a rough year for most of the country, with rain storms, drought, and snow. I hope, as you read this, that you are safe and comfortable wherever you are.
Thank you for being a friend of the Bullitt County History Museum.
David Strange
Bullitt County History Museum
Executive Director
Museum Phone: 502-921-0161
E-Mail address: David.Strange@BullittCountyHistory.org