Museum Newsletter - 31 January 2014
Friends of the Bullitt County History Museum
E-Newsletter
January 31, 2014 (Volume 10, Number 1)
Dear Friends,
Announcements...
>> Bullitt County Genealogical Society meeting February 15. The Bullitt County Genealogical Society, the parent organization of the Bullitt County History Museum, meets on the third Saturday of each month. The next meeting will be February 15.
The guest speakers will be Charles Hartley and David Strange (me!), speaking about our new book, Bullitt County Memories. We WILL have the books available for sale.
Remember that the meetings start at a new time. Meeting time is now 11:00 a.m., to be more convenient for our members and visitors. Meeting place is the same, at Ridgway Memorial Library in Shepherdsville. C'mon and be with us! :)
>> "Bullitt County Memories" column moved to Sundays (we think!). Since 2011, Charles Hartley and I have been writing a column in The Courier-Journal newspaper about Bullitt County history. Up to now, the column has been published on Wednesdays in the Bullitt County edition. But starting last week (January 14) the newspaper moved the column to the Sunday edition, which goes to ALL readers of the CJ throughout the region. That is a nice opportunity to greatly enlarge our audience and "spread the good word" about Bullitt County. There are some issues to work out, such as making sure that are stories are published fully as we write them. But for now, look for Bullitt County Memories in the Sunday Courier-Journal; and you can always find all of our full stories, with added photos, here.
>> Mt. Washington Historical Society meeting: The Mt. Washington Historical Society meets February 4th, at 7:00p.m., at the Mt. Washington City Hall Annex. Charlie Long will be the guest "sharing history" speaker.
Activity & News...
>> Museum Volunteer Wilma Lemons recognized for her work.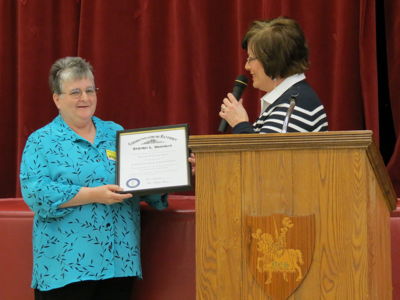 Wilma Lemons was presented a certificate making her a Kentucky Colonel this month! Through much of 2013, Wilma worked with June Dawson to scan thousands of photos and documents that had been collected over the years by Nichols Elementary School about its past. June would bring a stack at a time to Wilma at the museum, and as she would finish one, June would bring another. The school also had dozens of old 3 1/4 inch floppy disks and old-format CDs that needed to be saved, so Wilma converted those as well. It was LOT of work, but Wilma stayed with it.
June Dawson, a long-time supporter and volunteer at the school, saw to it that, at the nomination by state Representative Russell Webber, Kentucky Governor Steve Brashear officially added Wilma as a Kentucky Colonel. On January 15, the entire school gathered in the Nichols auditorium for the presentation. That's Wilma in the blue blouse, receiving the Kentucky Colonel certificate from the principal of Nichols Elementary School. A story will be coming out any day in the newspaper, The Pioneer News.
Fantastic work, Wilma! And thanks to June Dawson for making sure one of our volunteers gets the recognition she deserves.
>> Museum was closed several days due to weather.
It's been a cold and icy month in old Bullitt County, Kentucky. For the safety of our volunteers, the museum was closed several days over the past month. Our weather closing policy is simply: if Bullitt County public schools are closed due to weather, then so are we. Unfortunately, that has happened a lot more than usual. We still have a lot of winter to go; hopefully it will be better than the ice and bitter cold of January! Also, we have a few volunteers who have fled [grin] to Florida for the winter, so we are running with a bit of a skeleton crew. And I and a few Volunteers were out sick for a few days. Yuck! Come on Spring!
>> Working on a new display about elections.
With 2014 being a big election year in Kentucky, we are setting up a display about politics and elections. Not to worry, we are being careful to stay away from current stuff. The display will feature several items from our archives from past elections. Items include a "Buckman for Governor in '64" banner, and a chair from the Kentucky House of Representatives (and even a pink piggy bank from the Tom Waller for Judge campaign). I should have the display done in a couple of weeks. I think it will look great!
>> Web Site Additions. As always, we have been adding lots of new stuff to our web site. Be sure to click on these links to take a look.
>> Booklet Wanted: If someone can find a copy for the museum (hopefully for free), I'm looking for the 1980 publication, "A Reconnaissance and Evaluation of Archeological Site in Bullitt County Kentucky, Number 16" Published by the Kentucky Heritage Commission. ISBN 0932714064.
>> Bray family Bible mystery. We don't have it at the museum yet, but we are being given another fun mystery to solve. An old family Bible, with pages of genealogy information on the Bray family, was found some years ago in an old house "about two miles south of Jefferson County." That is about all I know for now, but if you have any information on the Bray name, I think I will be needing your help.
Work on "The Mystery Ring." Continues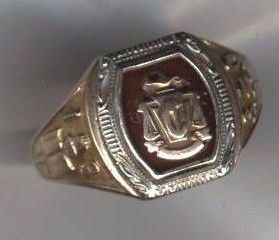 I wrote about this ring in newsletters the past two months. Since then, it was on TV news, and several people have offered leads. But we have no solutions yet.
As reported in last month's newsletter, I'm still clinging to a slim lead of the ring possibly belonging to Josephine Stoner, a 1930 graduate of the University of Cincinnati.
The ring was brought to me at the Bullitt County History Museum by friend Tim Warner. The ring was found in the soil around the old Mt. Washington High School, Bullitt County, Kentucky, in 1990, when the building was being converted/renovated as Mt. Washington Middle School.
I have now heard from the registrar's office at UC, and they confirm our hunch that she graduated there with a BS degree in Education. People there are searching for other records that should indicate if she was from here or might have taught here. For now, everything fits except for the very major issue that we still have no connection between her and why the ring would be in Bullitt County.
Oh! And the ring was on TV news. The link to that is here.
For Your Information...
>> Bowman Valley School House preservation project continues. Work continues to save the historic Bowman Valley Schoolhouse. Here's a link to a short video about the school: https://www.youtube.com/watch?v=Msv3ZK1CVKk. Info can also be found on FaceBook by finding "Bowman Valley School".
>> Mt. Washington formed. Thanks to Friend Betty Darnell, here's a bit of information from the book Early Louisville, Kentucky, Newspaper Abstracts, 1806-1828, by Lola Frazer Crowder, 1995. "Vol. 5, #34, April 26 1817. A new town has been laid out on the road leading from Louisville to Bardstown 19 miles from Louisville. It is called Mount Vernon." You DID know that Mt. Washington was first officially named Mt. Vernon, didn't you? :)
>> Hardin County Clerk Web Site.
The Hardin County, Kentucky, Clerk's office has a fine web site with a lot of good research info on-line. Check out https://www.hccoky.org/search.asp . Just remember that you do not need to create an account when it asks you to. Just click the "sign in as guest" button and you can go straight to researching old deeds, plats, and records.
>> Have you tried the web site, www.newspapers.com? I have not yet, but I hear it is good. If you use it, please let me know what you think. The page offers access to many thousands of pages of newspapers, but charges $79.95 per year for access. It does offer a seven day free trial.
Finally...
>> Annual report NEXT month. I had promised you a report of activity for 2013, but I just haven't gotten to it, and I am running down to deadline to get this newsletter out before the end of January. But it was a clearly a BIG year for us; I am still adding up the numbers and collecting all the activity. I now hope to get it out in mid February. One detail that you will like: our Volunteers again provided over 4,000 hours staffing the museum, and easily that much again working "off the books" working away from the museum. Floor space and money always keeps us a little bridled, but even with that we became sort of a national sensation in 2013. I promise to give you better details soon.
>> Surplus books for sale. Meanwhile, we have several surplus books for sale. If any of them interest you, give me a bid.
They are:
Georgia Counties & Their Changing Boundaries by Pat Bryant & Ingrid Shields; 1983.
Abstracts of Old Ninety-six and Abbeville Distict Wills and Bonds (South Carolina. ISBN 0-89308-036-5) 1977.
Antiques in Kentucky (large paperback; reprint from the magazine "Antiques", March & April 1974).
Encyclopedia of Southern Culture edited by Charles Reagan Wilson & William Ferris; 1634 pages.
We also have a few duplicate Shepherdsville High School yearbooks: 1962, 63, 65, 66, & 68.
That's it for this month, Friends, if I am to honestly get this out before the night changes to the next month! :)
Thank you for being a friend of the Bullitt County History Museum.
David Strange
Bullitt County History Museum
Executive Director
Museum Phone: 502-921-0161
E-Mail address: David.Strange@BullittCountyHistory.org