Museum Newsletter - 31 December 2013
Friends of the Bullitt County History Museum
E-Newsletter
December 31, 2013 (Volume 9, Number 13)
Dear Friends,
Announcements...
>> Passing of Ramona Rosario. I am very sad to report that Ramona Rosario, wife of longtime volunteer Jose Rosario, suddenly passed away just before Christmas. Ramona was a fantastic person in her own right, volunteering at Fort Knox, and generously serving her community and church wherever she could. She was a fine lady, and will be greatly missed. Please remember the Rosario family in your thoughts and prayers.
>> No Bullitt County Genealogical Society meeting in January. The Bullitt County Genealogical Society, the parent organization of the Bullitt County History Museum, normally meets on the third Saturday of each month. But January is the exception. The next meeting will be in February.
>> Regular Meeting Time is Changed. Starting with that meeting in February, the Bullitt County Genealogical Society changes to a little bit later meeting time, 11:00 a.m., to be more convenient for our members. Meeting dates and place remain the same, but remember that the Society does not meet in January.
>> Recipe Book Project. Volunteers at the Bullitt County Genealogical Society are working on a new recipe book as a fundraiser. The book is planned to have a collection of your favorite recipes, along with a personal memory related to the recipe.
So, you are invited to submit one of your favorite recipes, along with a paragraph about a memory you might have related to it.
Send your submissions to Alison White at programs [at] bcplib.org or Sherry Lee at SLL6462 [at] ATT.net. Just mark the message as about the Bullitt County Gen. Society Recipe Book. You do not have to be a member to contribute.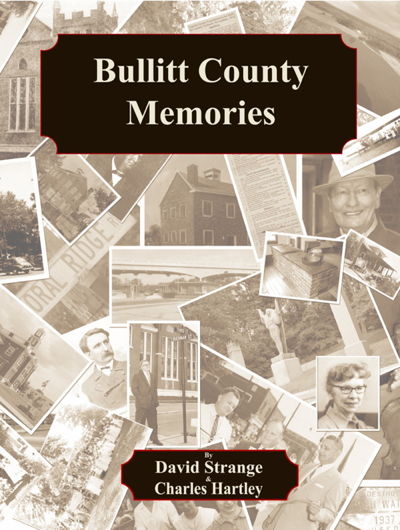 >> "Bullitt County Memories" book for sale. Sales of this new book were great for Christmas, but we still have some available. All profits go to operations of the museum, so please feel free to order several. :)
Price is $20 per book, including postage and taxes. $15 for Bullitt County Genealogical Society members.
So order yours today! Ordering info can be found here.
It's a good book, even if I do say so myself, with numerous color photos and maps.
Activity & News...
>> Web Site Additions. As always, we have been adding lots of new stuff to our web site. Be sure to click on these links to take a look.
>> Now 60,000 names and counting. Volunteer Bob Cline continues adding to his Family Treemaker database for the museum. He is now up to 60,025 individual names and 20,000-plus families. The data base is only available at the museum research room.
>> Shepherdsville High School Yearbook donation. The museum's very limited space restricts us from taking very many of such donations, but I certainly did not want to turn this down. Betty Larimore, with the help of her son, Craig, has been downsizing. As part of that, she kindly thought of the museum, and offered her collection of Shepherdsville High School annuals. We had a few, but now we have nearly a full collection of recent-history books from that school. Altogether, we now have SHS annuals for 1940, '45, and '47. And from 1953 to 1970, with the exception of 1959 and 1966. Shepherdsville High School and other high schools in the county were closed after 1970 as part of the consolidation to the new Bullitt Central.
Thank you, Betty & Craig, for the donation! I have been looking through the books and am finding some photos that I should have some fun with in the future.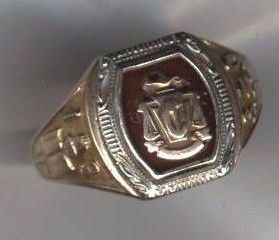 Update on "The Mystery Ring."
I wrote about this ring in last month's newsletter. Since then, it was on TV news, and several people have offered leads. But we have no solutions yet.
The ring (looks like a girl's-size ring to me) was recently brought to me at the Bullitt County History Museum by friend Tim Warner. He tells me that the ring was found in the soil around the old Mt. Washington High School, Bullitt County, Kentucky, in 1990, when the building was being converted/renovated as Mt. Washington Middle School.
My best hope so far is that it might have belonged to a Josephine Stoner. This is really only grasping at straws, but it is my best straw yet. Friend Dale Salmon found the possible connection, and I am waiting to hear back from the University of Cincinnati alumni group. The tentative lead, here, is that a Josephine L Stoner was part of the UC class of 1930. The ring is definitely class of 1930; the "JLS" initials inside the ring match that of Ms. Stoner; and the "C" and jewel color match that of the University of Cincinnati. I have even found her photo in the college class yearbook.
BUT, I have no connection at all, so far, to her in Mt. Washington, though I know that there were a lot of Stoners living in the area. (with my last name, I don't dare make a joke about that. )
Perhaps you can find the answer. Perhaps she lived nearby; perhaps she was a teacher or just a visitor; or perhaps I am all wrong. Of course, her last name might have changed quickly with marriage, too.
By the way, Josephine Stoner is listed in her college yearbook as being a member of the "Kindergarten" club. Does anyone know what that might be? We thought at first that it was probably a teacher organization, but in doing the research I think I see some connection to women's rights efforts in the 1930's. Can you tell me anything about a college organization called "The Kindergarten Club"?
For Your Information...
>> New Economic Development web site. It's not directly connected to Bullitt County history, but this web site might have some interesting information for you. The county Economic Development Authority has started its own new web site. Take a look at www.GoBullittKy.com
>> GenWeb Archives. There's a lot of Bullitt County genealogical information at www.USGWarchives.net .
Finally...
A BIG positive-publicity year for our museum! As I try to do every year, I intend to write a report of the past year's activities in January or February. But for now, I thought I would give you these links as a reminder of the big year our little museum has had in the media:
>> April 2013. Kentucky Educational Television (KET) Segment about 1917 Train Wreck. I still think this is worth a movie, especially with the 100th anniversary coming soon, but this was pretty good coverage, and often plays in reruns. Our segment is in the last third of the show. Follow this link or this one.
>> September 2013 (and really throughout the year) 1912 Exam Goes Viral and on National News. We had it on our web site for nearly a year, but in 2013, the Smithsonian Online Magazine and many others noticed our 1912 Bullitt County Schools 8th Grade Exam. It went viral, giving our little web site over a half million hits in one month alone. We heard from every state in the union, were featured on countless web sites worldwide, and were interviewed by several radio and TV news shows around the nation, including FOX news and NBC Nightly News. Here's a link to the NBC segment, and here's a link to the FOX News segment (note that on one question in which it appears that I do not answer correctly, that I was correct and their graphics were wrong. [smile]).
>> November 2013. Local newspaper "The Pioneer News" covered the story of restoring a family photo album to its owner after being lost for 57 years. Here's a link to a museum report of the story.
>> December 2013. Local WAVE TV News covered our search for the owner of a lost school ring from 1930.
>> December 2013. "Bullitt County Memories" book released to good reviews.
And it seems there were a couple of more national publicity items that I am forgetting right now. If so, remind me and I'll add them in the next newsletter.
Thank you for being a friend of the Bullitt County History Museum.
It's been quite a year. May we all have a fantastic 2014!
David Strange
Bullitt County History Museum
Executive Director
Museum Phone: 502-921-0161
E-Mail address: David.Strange@BullittCountyHistory.org