Museum Newsletter - 29 November 2013
Friends of the Bullitt County History Museum
E-Newsletter
November 29, 2013 (Volume 9, Number 12)
Announcements...
>> December holiday closings. The Bullitt County History Museum will be closed December 24 and 25 for the Christmas holiday. Be aware that the museum might have a slim schedule that entire week, to allow our volunteers plenty of holiday/family/end-of-year time at home.
>> December 21 Bullitt County Genealogical Society meeting is a Special Holiday Luncheon. The Bullitt County Genealogical Society meeting for December will be a special "Christmas Social." Rather than a regular meeting and speaker, the meeting this month will be a pot-luck casual get-together and luncheon for us all to just visit and be friendly. Contact co-ordinator Sherry Lee for details and what to bring. If you need her contact info, call the museum.
Meeting location is the regular place, Ridgway Memorial Public Library, on the corner of North Walnut Street & Second Street in Shepherdsville. But the time is changed to noon and will continue until 3:00 or so.
>> Regular Meeting Time is Changed. The Bullitt County Genealogical Society voted to change its meeting time to 11:00 a.m., starting in February, to be more convenient for our members. Meeting dates and place remain the same, but remember that the Society does not meet in January.
>> Recipe Book Project. Volunteers at the Bullitt County Genealogical Society are working on a new recipe book as a fundraiser. The book is planned to have a collection of your favorite recipes, along with a personal memory related to the recipe.
So, you are invited to submit one of your favorite recipes, along with a paragraph about a memory you might have related to it. I am thinking that I will submit a recipe that my mother used when I was a kid, using scrap pie crust trimmings to make some of the best cinnamon rolls that I ever tasted. I remember sitting in the kitchen, just waiting for Mom to finish those mouthwatering goodies. I liked them better than the pies! :)
Send your submissions to Alison White or Sherry Lee. Call the museum, or use our contacts form to send us a message if you need their contact information. Just mark the message as about the Bullitt County Gen. Society Recipe Book. You do not have to be a member to contribute.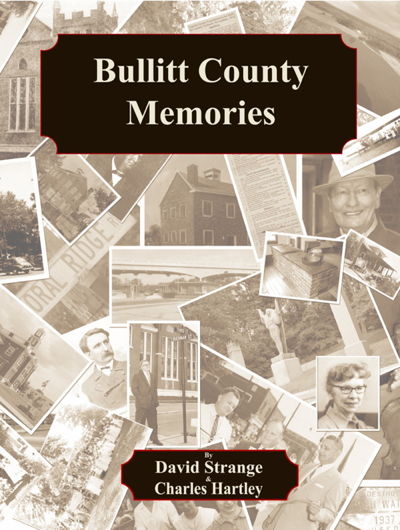 >> "Bullitt County Memories" book now available. Charles Hartley and I, David Strange, have been writing a weekly newspaper column for nearly two years now about local history and local stories. That column, titled "Bullitt County Memories," has been very popular. So... We have decided to edit the stories a bit, add some photos, and make them into a book.
This 244-page book, also named "Bullitt County Memories," is now available for sale. All profits go to operations of the museum, so please feel free to order several. :)
Price is $20 per book, including postage and taxes. $15 for Bullitt County Genealogical Society members.
So order yours today! Ordering info can be found here.
It's a good book, even if I do say so myself, with numerous color photos and maps. Here is a quote from the back of the book:
"History is best remembered by telling the stories of the people who lived it. In this book David Strange and Charles Hartley have searched Bullitt County's past, both distant and recent, and come up with this collection of stories, mostly told from the perspective of those who lived them. Here you will find stories of turkey farms, train wrecks, salt making, horse racing, civil war adventures, how some places got their names, feuds, "devil wagons," airports and balloon flights, artists, schools and educators, lawyers and judges, a footrace to Louisville, good music, the Glass House Restaurant, the Old Stone Jail, school exams, and much more. Each story is told with a reverence and humor that only memories can bring. This is history that everyone can enjoy, even if you have never heard of Bullitt County before. Join us as we share our Bullitt County Memories."
Activity & News...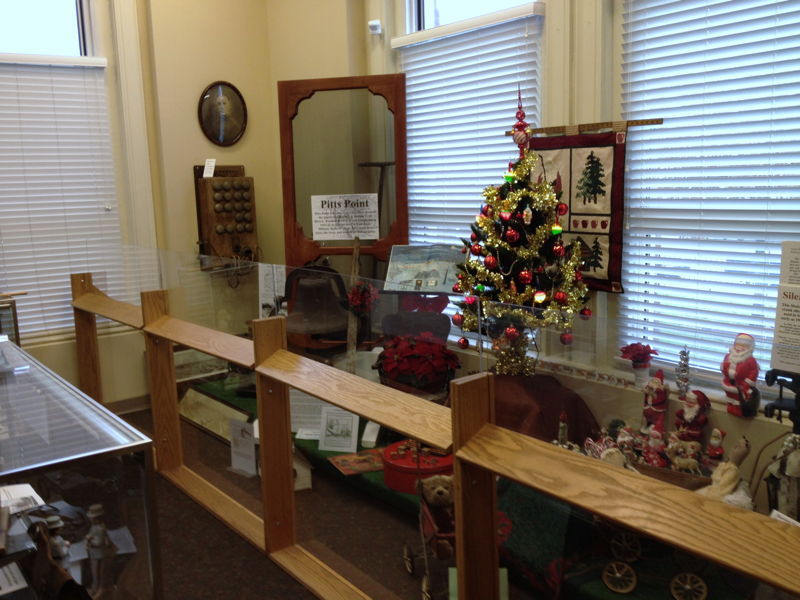 >>Pitts Point/Christmastime Displays are now open. After a few weeks of preparation, the museum has opened it's first version of a display about Pitts Point, a small town that once existed at the juncture of Rolling Fork and Salt Rivers. With the expansion of Fort Knox as part of the WWII war effort, Pitts Point faded into history. With that in mind, the display has a vintage radio playing 1941 radio announcements about the bombing of Pearl Harbor.
The current Pitts Point display includes the old telephone exchange that is thought to be from Pitts Point, on loan from Kevin Mooney, and the school bell from Pitts Point Academy, on loan from the West Point History Museum.
Over the coming weeks, I intend to be writing about the history of Pitts Point.
Volunteer, Barbara Bailey, has also set up a nice holiday display showing old toys and collections from Christmastimes long ago. If you have some interesting local seasonal photos or antique toys to add, I'd love to hear from you. I'd especially love to find a photograph of the courthouse when it used to be decorated for the holidays. The plan is to expand the Pitts Point display after the holidays, and add another new display about old-time political elections.
Come visit the museum whenever you can! We are open whenever the courthouse is open; generally 8:00 a.m. to 4:00 p.m. weekdays and until 6:00 p.m. Thursdays. We are closed holidays and weekends. Admission is free, and there is always a volunteer on hand in the research room at the top of the grand staircase.
>> Web Site Additions. As always, we have been adding lots of new stuff to our web site. Be sure to click on these links to take a look.
>> Individual Museum Volunteer Work outside the museum. Volunteer Barbara Bailey has been doing a lot of local traveling doing genealogical research. Barbara tells me that she recently traveled to Shelbyville, Frankfort, Washington, Nelson County, Cave Hill Cemetery, and Oldham County, as well as the Bullitt County Courthouse. Of course, Betty Darnell usually beats us all on that, she just returned from an extensive visit doing research in the Utah area.
Barbara & Ken Bailey also recently completed their annual clean-up of four old family cemeteries in the county.
And Lynn Eddington and Bob Cline continue extensive genealogical and historical detective work for us on many subjects.
Museum Friend Kim Cahoe Reynolds Smith has been doing some excellent mapping and documentation work of the large Riverview Cemetery on Bardstown Road south of Mt. Washington, just past the county line.
A Special Mystery about which we need your help...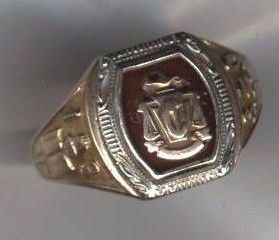 Help us solve this mystery, my friends. Help us find the original owner of this school ring.
The ring (looks like a girl's-size ring to me) was recently brought to me at the Bullitt County History Museum by friend Tim Warner. He tells me that the ring was found in the soil around the old Mt. Washington High School, Bullitt County, Kentucky, in 1990, when the building was being converted/renovated as Mt. Washington Middle School.
It has been thought that the ring might be a 1930 Mt. Washington High School class ring, but am currently thinking that it is not. Here is what I do know:
It is clearly marked 1930 ("19" on one side, "30" on the other). But there is no school name on the ring. The initials "JLS" are inside the ring, but do not match any known Mt. Washington graduate from that year. Also inside the ring is stamped "I. C. Piok" (the owner or perhaps the manufacturer?). There is also three dots "..." inside the ring, which might mean something or not. The signet, mounted on a maroon jewel, looks to me like a scales of justice, with an "Aladen's Lamp" type lamp on the top. The symbol between the scales might be an old-english-style letter "C" or a "T". Both sides of the ring have a symbol that looks like a book with a torch behind it.
I find that the "torch and book" symbols on the side can sometimes mean "leadership" and can represent the ring owner as an officer in the class or in a club, most probably a treasurer or secretary. The scales and lamp on the signet can be related to business, government, and law. The scales representing balance, and the lamp representing light and knowledge.
So there you have it, my friends. I really want to solve this mystery. The ring provides several clues, but almost countless possibilities.
Perhaps you can find the answer.
[WAVE-TV in Louisville did a segment on this mystery ring on 4 Dec 2013. Here is a link to their story online.]
For Your Information...
>> Smithsonian Institution 3D Project. Now here's something really cool and brand new! The Smithsonian Institution has created a wonderful new learning and technology web site. The site allows you to see a growing number of artifacts in the gigantic Smithsonian collection. If you have ever been to the Smithsonian museums, you know that the size of those collections are mind boggling. Yet, all that is on display is only about 1% of the full collection.
Now, the Smithsonian is scanning objects in three dimensions, and making the images available on-line. In addition, for schools and other institutions with "3D Printing" capability, they may actually "print" a solid, accurate, three-dimensional model of the artifact to whatever scale they like. I have actually used this technology back when I worked for Engineering at General Electric Company, and I have to say that it's capabilities are pretty astounding.
So now, an ever-growing number of artifacts in the Smithsonian collection will be available for detailed viewing wherever a computer is available, and where the equipment is on hand (at more and more schools and universities) a solid scale replica may be made for touching and studying.
Truly amazing possibilities. Check out the details at https://3d.si.edu/ .
>> A List of Hangings. As they say on this web page, hanging is not a very pleasant subject. But thanks to the work done for this KyGenWeb project, here is a list of hangings and lynchings that have occurred in Kentucky from 1792-1900: https://www.kygenweb.net/history/hangings.html . I believe that there were others as well, but this is a pretty solid list.
Some details about the Bullitt County lynching shown in the list can be found on our museum web site here.
Finally...
(I have not had this closing section in the newsletter for a while, but I have to tell you this wonderful story.)
A Family Photo Album Returned After 57 Years.
We had such a wonderful thing happen this month at the Bullitt County History Museum! (photos here are of Jeanie around 1955, and of her and husband Jessie Compton at the museum on November 14, 2013)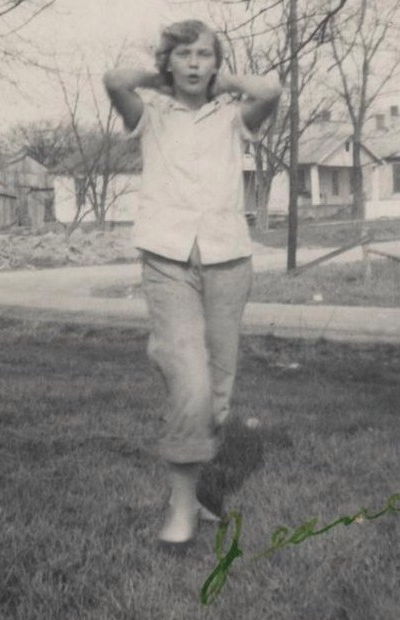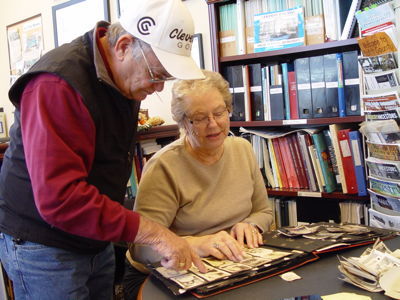 Near the beginning of November, a woman named Terrie Mulligan showed up on some Shepherdsville-related Facebook sites. She said that she had never been to the area, but she had a large photo album of pictures that indicated that they were from Shepherdsville taken in the 1950's. In fact, she said, she had held onto this album since she was a little girl around 1956. At that time, there was a 17 year old girl who baby-sat her and her sisters when they lived in Indiana. Terrie fondly remembered the kindness of the sitter, "Jeanie," and how she painted the girls' fingernails and fixed their hair.....and wore red lipstick. When the little girl's family moved to Louisiana, the family invited Jeanie to come with them, and she did. Terrie remembered that young woman as "Jeanie Roederer" (actually, she had the name spelling wrong, but remembered the sound); she remembered that Jeanie had been from Shepherdsville, and had to go back there from Louisiana because her father was ill, forgetting to take her album of photos. Contact was lost, and the album seemed lost forever.
But Terrie, at the time just about six years old, held on to the album.
And, as I said, just this month, this year, found us on the internet. Terrie was wondering if perhaps someone remembered a Jeanie, but of course the odds were so slim, the last name had surely changed and so much time had passed, so maybe at least someone in Shepherdsville would want the photos.
The query was noticed by Jim Griffis on Facebook and he shared it around, eventually being recommended to me and the museum. After replying to Terri's query, we resolved that she would mail the album to the museum.
Now here's the really cool part. The day I opened the package with the album, I looked through it and found a few photos with names. While at Country Cupboard restaurant in Shepherdsville, I mentioned the story to owner Kit Parker, and shared the 1955 photo marked "Jeanie" that is shown in this story. Kit quickly said that she thought she might know who "Jeanie" might be. That same night, while posting a few pictures from the album on the Shepherdsville High School Facebook page to see if I got any response, I received a call from Kit at home. "I think I found Jeanie!" she said. "I just now called her, she lives in Mt. Washington, and here is her telephone number!"
I called the number right away. It was Norma Jean "Jeanie" Roederer Compton. At first, as anyone would be, she was a little skeptical at my call. You can imagine, some strange guy calling about a photo album that had been lost some FIFTY-EIGHT years ago.
Then her response was something like, "Yes. I lost an album back then. Have always wished I had it...wait...You HAVE that album?! What time tomorrow can I come see it ?!"
The next day (Thursday, November 14) Jeanie and her husband, Jessie Compton, came by the museum office, and there was her album. I think her knees nearly buckled. We sat her down at the round table, and she started going through the pages. There was her dad, her sister, her friends. It was all a bit overwhelming for all of us. After nearly sixty years of being lost, the album of photo memories had come home, nearly intact, thanks to a little six year old girl who had kept them all that time.
It was so great to see. On top of that, we had arranged for a speakerphone-call from Terrie (Theresa Henderson-Mulligan) in Louisiana! Terry and Jeanie started right away talking as old friends, checking on one another's life stories and families and lives since they had last seen one another back around 1956. Clearly, they had both loved one another way back then...and still do. One of Terrie's last questions for Jeanie: "Do you still wear red lipstick?"
At the end of the visit, a very happy Jeanie walked down the hallway from the museum, tightly clutching the old album with both arms.
Now how cool is that? Terrie and Jeanie exchanged contact information and I'll bet Terrie comes up to Bullitt County real soon to visit her long lost babysitter and friend. Now stuff like that is what makes what we do fun, and what adds to the purpose of our museum.
Just think what might have been lost if our little museum had not been here to answer the call.
Many, many thanks to Jim, Kitt, and especially Terrie, for making this happen.
That's it for this month!
Thank you for being a friend of the Bullitt County History Museum.
David Strange
Bullitt County History Museum
Executive Director
Museum Phone: 502-921-0161
E-Mail address: David.Strange@BullittCountyHistory.org