Bullitt Memories: A Trip Down Memory Lane
The following article by Charles Hartley originally appeared in The Courier-Journal on 13 Nov 2013. It is archived here with additional information for your reading enjoyment.
---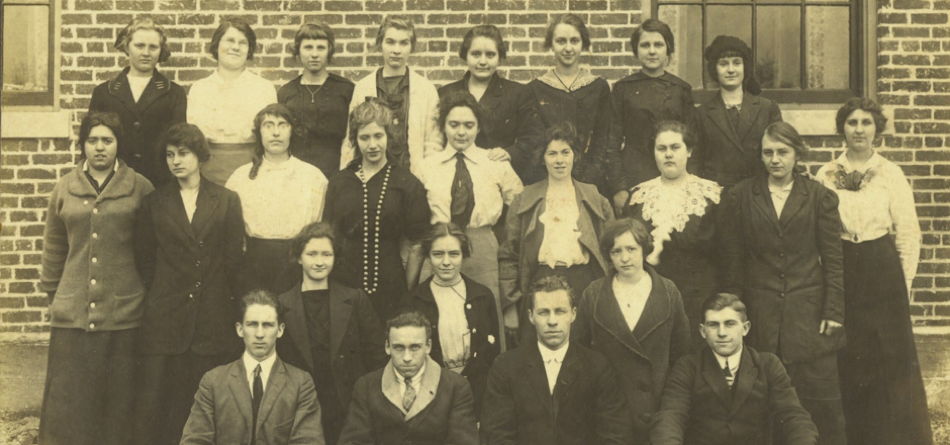 Today I'm going to do something a bit different. When I first saw the 1914 Shepherdsville High School group picture shown here, my first thought was "I wonder what became of these people?"
Fortunately, Miss Sallie Pope wrote names on the back along with some details, giving us a head start. Starting with that, we've come up with the following on each of them. One thing to note is how many of them became teachers, perhaps a reflection of the influence of their teachers.

Lula Ashby
Lula Fern Ashby, daughter of William E. and Dora (Skinner) Ashby, was born in 1899. Her grandparents were Charles and Rowena (Froman) Ashby, and Nathan and Minirva (Helton) Skinner. Lula married Robert McEnnis in 1920 and they had two daughters, Dora and Sarah, before separating in 1926. Census records indicate that Lula was operating a restaurant in Shepherdsville in 1940. She married Millard Young Weir in 1947. It was a second marriage for each of them.

Thelma Lee
Thelma Lee was born in 1898 to Charles and Nannie (Wright) Lee. She married Arthur Louis Newman, and they had two daughters, Sarah and Clara. Arthur died in 1929. In the 1940 census, Thelma and the girls were living with her brother-in-law, Harold Newman. Thelma lived a long life here in Shepherdsville.

Laura Daniel

Charles Daniel
Charlie and Laura Daniel, both pictured here, were children of Judge Leroy Daniel and his wife Mary Frances. Mary Frances Daniel, daughter of C. C. and Ellen Davis, had died in 1910, leaving Judge Daniel with three youngsters still at home include Charlie, Laura, and their younger brother Wilson.
After school, Laura taught school for a bit. By 1920, she was a nurse in El Paso, Colorado at the Star Ranch in the Pines Sanitarium. She married William L. Smith that year in Canon City, Colorado. By 1930 they had moved to Los Angeles, California and had four children: Iris, William, June, and Robert. William Smith was listed as an accountant in the 1940 census. Laura lived a long life, passing at 85 in 1984.
The following November, after this picture was taken, Charlie Daniel became a teacher himself, taking the job at the small school at Needmore in Bullitt County. Thereafter he was usually referred to as "Professor Charles Daniel." He taught at several schools including Mt. Washington where he was principal for at least one year. In 1918 he moved to Fort Pierce, Florida, accepting a teaching job there.
He married Margaret Hardesty in 1920. She was a sister of Charles Hardesty, also pictured here. They lived and taught in several places in Florida including Homestead and Coconut Grove, near Miami. Charles' life was cut short when he died in 1926.

Lucille Wooldridge

Ruth Griffin

Grace Griffin
Lucille Wooldridge, daughter of William C. and Lizzie Wooldridge, graduated in 1917. She married William Crocker Albright in October 1918 in Danville. They were living in Pulaski County when their daughter, Elizabeth was born almost a year later. Then they were in Winston-Salem, North Carolina in 1920. He was listed as a civil engineer. By 1928 she was in Miami, Florida where she and William divorced. She was still in Miami in 1930, and I lose track of her after that.
Ruth and Grace Griffin were daughters of William and Bettie (Hornbeck) Griffin. Their mother had died in 1912, and their father died in 1924. Ruth married Victor Hugo Rouse shortly after high school, and Grace later married Omer Glenn Howerton who was better known as Jack.
Hugo and Ruth Rouse had a daughter they named Mary. Hugo Rouse was Bullitt County Circuit Clerk in 1920. They then moved to Louisville where he engaged in real estate.
Jack and Grace Howerton had a son named for his father, and a daughter they named Jean. They lived in Louisville where Jack was a self-employed insurance agent.

Willie Mae Ridgway

Lula Cook
Dr. Samuel H. and Margaret (Hardy) Ridgway had two children, Samuel Jr., and Willie Mae who is pictured here. She taught school for a bit here in Bullitt County, and then married Isaac Smith of Winchester in 1931. They had a son, Billy Howard Smith. Tragically she died of an infection on Christmas Eve, 1938.

Lillian Thompson

Bertha Trunnell

Nancye Jeffries

Sallie Pope

Sarah Buckman

Miss Lorena Robinson

Mayme Stephens

Buren Hardin

Ralph Henderson
Lula Cook was born in 1898 to William and Catherine (Troutwine) Cook. Her mother soon died, and she was reared by her step-mother, Mrs. Lula E. (Kroedel) Cook. Following high school graduation, Lula Cook taught school in Bullitt County for several years, mostly at the Clermont school, before taking a job in the credit department of the Herman Straus firm in Louisville in 1925. She married Victor Metz the following year. They remained in Louisville where Victor died in 1974. Lula lived until 1981.
Lillian Thompson was born in 1898 to Edward and Eva Thompson. She taught at Lebanon Junction before spending a year at Western Normal School in 1920. She returned to LJ the following year and moved to the Hebron school in 1923. She was the school's principal in 1924 when she married Gussie Swearingen. Together they lived long lives, Lillian passing in 1976, Gussie in 1981.
Bertha Pauline Trunnell, daughter of Joseph and Isadora Trunnell, became a teacher right out of school, teaching first in the Victory school. Over the years she taught in many different Bullitt County schools before moving to Louisville to teach about 1940. She lived until 1981.
Nancye Jeffries, daughter of Joseph and Fannie Jeffries, married John McGraw in Alabama in 1920. By 1930 they had two children: John and Joan.

Peachie Thompson

Mary Bell

Eva Leaman

Sylvia Phelps

Neva Magruder
Ruth "Peachie" Thompson, daughter of James and Jennie Thompson, spent time as a teacher before being appointed Bullitt County Circuit Court Clerk in 1922. Later she and her parents moved to Louisville where she worked as a claims clerk for the railroad.
Mary Bell was born in 1897 to Willard and Anna (Scott) Bell. She married Edgar H. Gilpin, Jr., and they had a daughter named Nancy in 1927. Edgar was an architect. He died in 1936 of tuberculosis. Mary and her daughter were living in Louisville with her parents in 1940, and she was a school teacher. Her father, Willard died in 1940, and her mother Anna followed in 1947. They are both buried at the Hebron Cemetery. Mary died in 1974.
Sallie B. Pope, daughter of Albert and Mary (Buckman) Pope, graduated in 1914. She never married; spending her life on the family farm. Her mother died in 1928, and her father in 1949. Sallie lived until 1965. All are buried on the family farm.
Sarah J. Buckman was born in 1897 to John and Alice (Metcalfe) Buckman. After school, Sarah moved to Chicago for a time, working as a bank bookkeeper and living with her Uncle Harry Metcalfe who was a stock broker. She soon returned to Louisville and by 1930 was a clerk at the National Bank of Kentucky. Nine years later she was working as an examiner for the U.S. Treasury Department, stationed in Louisville. I lose track of her after that. Her parents moved to California where Alice died in 1948, and John in 1953, both in Los Angeles.
Eva Leaman, daughter of Samuel and Cora Leaman, married Joseph Carlton soon after graduating. They moved to Louisville where Joe worked as a carpenter. They were parents of nine children: Myrtle, Katherine, Eva May, Cora, Roger, Joseph, Marvin, Orville, and Elizabeth.
Sylvia Phelps, daughter of Charles and Lottie (Bailey) Phelps, married Marion Foskett Barrall in 1923. They were living in Shepherdsville in 1940 when he died. Later, Sylvia lived in Louisville and worked as a clerk for the Internal Revenue Service. She died in 1955.
Miss Lorena Robinson was born in Indiana to Robert and Lela (Delahurst) Robinson. She married Allen E. Voiers, a dentist, in 1921. They had three children: Billie, Lelia, and Nancy. Allen died in 1954; Lorena in 1967.
Neva Magruder, daughter of James and Annie Magruder, was a teacher in the county for several years. She married Leon Lloyd in 1923, and they continued to live in the county with Neva teaching and Leon working for the railroad. In late 1924 they moved to High Grove where Leon had purchased a store. By 1930, they were in Spencer County, living on a farm. They had one daughter, Betty Jo.
Mayme Stephens, daughter of Samuel and Effie (Duncan) Stephens, was another of this group to become a teacher. She married John Clifford Martin of Lebanon Junction in 1920. He was a flagman for the railroad. They had two sons, John and Robert. Mayme died in 1945.
Buren Hardin, son of Boyd and Lura (Denton) Hardin, was born in Arkansas, and lived in Breckinridge County in 1910 before coming to school in Shepherdsville. His father was a minister. Following high school, Buren entered the navy. Later he moved to Ann Arbor, Michigan where he married Leone Jacobs in 1927. They had two daughters, Mary and Laura. Buren died there in 1973.

Charles Hardesty
Charles Hugh Hardesty, son of Robert and Linne (Pearl) Hardesty, spent a good part of his life as a teacher. He married Margaret A. Limper, a physician, in 1936. In 1940 he was an accountant for the state government. Charles died in 1955.
Ralph Henderson, son of W. Frank and Annie (Combs) Henderson, graduated in 1917, and briefly served in the navy. He went to work for the Bullitt County Bank in 1922. Then in 1924 he married Fannie Belle Melton, who was herself a teacher. The next year he joined Noah Smith's feed and lumber business. Later he became the Henderson in the Henderson-Hardy business. Ralph died in 1957; Fannie lived another two decades.
I hope you enjoyed this trip down memory lane.
---
Copyright 2013 by Charles Hartley, Shepherdsville KY. All rights are reserved. No part of the content of this page may be included in any format in any place without the written permission of the copyright holder.
---