Shepherdsville High School in 1914
A Trip Down Memory Lane
In 1914, the students of Shepherdsville High School gathered with one of their teachers outside the building for a group picture. When I first saw the picture shown here, I wondered what became of these people. Fortunately, Sallie Pope, one of the students, wrote names on the back along with some details, giving me a head start. Starting with that, I've come up with the following on each of them. One thing to note is how many of them became teachers, perhaps a reflection of the influence of their teachers.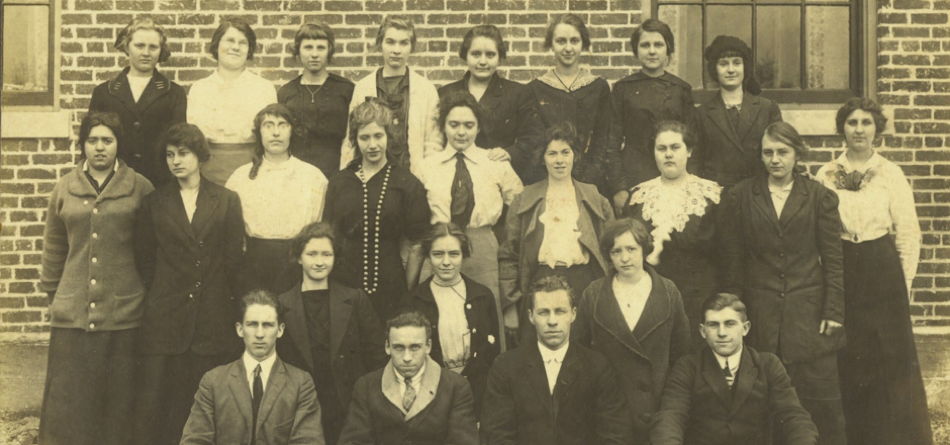 (Top row, left to right: Lula Fern Ashby, Thelma Lee, Laura Daniel, Lucille Wooldridge, Ruth Griffin, Willie Mae Ridgway, Lula Cook, Lillian Thompson; next row down, left to right: Bertha Trunnell, Nancye Jeffries, Peachie Thompson, Mary Bell, Sallie Pope, Sarah Buckman, Eva Leaman, Sylvia Phelps,
Miss Lorena Robinson; short row of three, left to right: Neva Magruder, Grace Griffin, Mayme Stephens; and bottom row, left to right: Buren Hardin, Charles Daniel, Charles Hardesty, Ralph Henderson.)
With a few exceptions, we will talk about them in the order that they appear in the photo, beginning with the back row on the left.

Lula Ashby
Lula Fern Ashby, daughter of William E. and Dora (Skinner) Ashby, was born in 1899. Her grandparents were Charles and Rowena (Froman) Ashby, and Nathan and Minirva (Helton) Skinner. She had one brother, Charles who married Marguerite Farris. Lula first married Robert McEnnis in 1920 and they had two daughters, Dora and Sarah, before separating in 1926.
Census records indicate that Lula was operating a restaurant in Shepherdsville in 1940. She married Millard Young Weir, a widowed train conductor in 1947. It was a second marriage for each of them. Of her daughters, Dora married William Fitzgerald, and Sara married Ernest Florence. Lula was widowed when Millard passed in 1969, age 90. Her first husband, Robert died in 1977. Lula lived until December 1986.

Thelma Lee
Thelma Lee was born in 1898 to Charles and Nannie (Wright) Lee. Her grandparents were Orleans and Mary (Cundiff) Lee, and George and Margaret (Kennedy) Wright. Thelma married Arthur Louis "Jack" Newman in 1924. At the time of their marriage, he owned the Main Street Garage in Shepherdsville, and she taught school. They had two daughters, Sarah and Clara. However, Jack had heart problems, and died in 1929.
In the 1940 census, Thelma and the girls were living with her brother-in-law, Harold Newman. Sarah Newman became a teacher, and made her way to Maracaibo, Venezuela where she met and married Edward "Ted" Dugdale in 1960. Thelma, Clara, and Thelma's sister-in-law Ethel Newman all traveled there to attend the wedding where Clara was maid of honor. Ted and Sarah had two children, and spent much of their lives in London, Ontario, Canada, where Ted died in 2003, and Sarah in 2018.
Thelma and her daughter Clara continued to live in Shepherdsville. Thelma worked for a time as a clerk in the sheriff's office, and was president of the Woman's Club, and a member of the Easter Star. She led a full life, passing in 1992.

Laura Daniel

Charles Daniel
Laura Daniel and her brother Charles Daniel, (pictured second from the left on the bottom row) were children of Judge Leroy Daniel and his wife Mary Frances.
Mary Frances Daniel, daughter of Christopher C. and Sarah Ellen (Dacon) Davis, had died in 1910, leaving Judge Daniel with three youngsters still at home include Charlie, Laura, and their younger brother Wilson.
Leroy and Mary had married in late 1876, and by 1900 had had ten children, six of whom still lived, including Harold, Herman, Stella, Kittie Ann, Charles, and Laura. Stella would marry Jesse Buky, and Kittie married John Vernon Jones. Mary's last child was named Wilson, born in 1902. He would married Maude Bowman in Florida, and die there in 1927.
Charlie Daniel became a teacher himself, taking the job at the small school at Needmore in Bullitt County. Thereafter he was usually referred to as "Professor Charles Daniel." He taught at several schools including Mt. Washington where he was principal for at least one year. In 1918 he moved to Fort Pierce, Florida, accepting a teaching job there.
He married Margaret Hardesty in 1920. She was a sister of Charles Hardesty, also pictured here. They lived and taught in several places in Florida including Homestead and Coconut Grove, near Miami. Charles' life was cut short when he died in 1926. They had no children.
Leroy Daniel, who was a son of Stephen Daniel and Ann Maria Ferguson, was living with Jesse and Stella Buky in Fort Pierce, Florida in 1930. He died in November 1931.
Returning to Laura Daniel, she taught school for a bit, but by 1920, she was a nurse in El Paso, Colorado at the Star Ranch in the Pines Sanitarium. She married William L. Smith that year in Canon City, Colorado. By 1930 they had moved to Los Angeles, California and had four children: Iris Marcell, William Daniel, June Yvonne, and Robert Neil. William Smith was listed as an accountant in the 1940 census. William and Laura were living in the San Diego area when he died in 1978. Laura continued living there until her death in 1984.

Lucille Wooldridge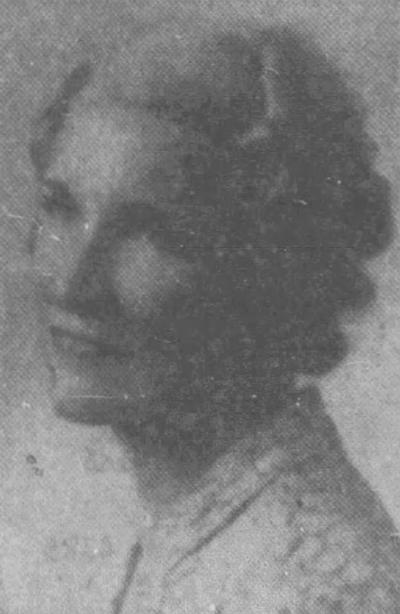 Lucille in 1943
Lucille Wooldridge was a daughter of Webster Crittenden and Mary Elizabeth (Lewis) Wooldridge. Her grandparents were Simon and Sarah Jane (Pearman) Wooldridge, and John Wesley and Anna (Martin) Lewis. Lucille had one younger brother name Homer. Her father was a merchant in Shepherdsville at the time she was enrolled at the Shepherdsville school. Following her graduation in 1917, the family moved to Pulaski County. Lucille married William Crocker Albright in October 1918 in Danville. They were living in Pulaski County when their daughter, Elizabeth was born almost a year later. After they moved to Winston-Salem, North Carolina, two more daughters were born: Bernice in 1922, and Billye Frances the following year.
Following their divorce in 1928, Lucille lived in Miami, Florida for several years before joining her daughter Elizabeth in Marshall, Texas in the early 1940s. Then in 1943 she joined the Women's Army Auxiliary Corps communications division. She continued to serve in the military, rising to the rank of Technical Sergeant in Air Force communications, and retiring in 1964.
Following retirement, Lucille moved back to Marshall, Texas where she lived until her death in 1981. Her daughter Elizabeth, who married Cordon Wesley "Slats" Schlittler in 1938, lived in Marshall until her death in 2003. The second daughter, Bernice Marie married Charles L. Daniels in Marshall and they moved to Longview, Texas were she lived until her death in 2006. Lucille's youngest daughter, Billye Frances first married Thomas G. James in 1943, and second Carmen Vagliardo in 1965. They were living in Winter Haven, Florida when she died in 2004.

Ruth Griffin

Grace Griffin
Ruth Helen Griffin and her sister Grace Griffin (pictured over Charles Daniel's left shoulder) were daughters of William N. and Bettie (Hornbeck) Griffin, and granddaughters of Gilbert and Karillia (Skinner) Griffin and Samuel A. and Lydia Edwina (Fullenweider) Hornbeck. Their older sister Marie married Roy Maraman in January 1915; and their younger sister Catherine married Gabe Bealmear in May 1920. Their final sibling was a brother named for his father, and he later married Rose Koebke, daughter of Charles and Wilhelmina (Metz) Koebke of Louisville.
Their father was a lumber dealer in Shepherdsville, in business with C. L. Croan. His wife's untimely death in 1912 left the family shaken, with the girls having to assume greater responsibilities.
Ruth married Victor Hugo Rouse in June 1915. Hugo tried his hand at a variety of jobs including a brief stint as a teacher at the Hobbs School, and a job in the L&N office, and in 1914 he had joined J. W. Hardaway, T. C. Carroll, and James L. Williams in incorporating the Bullitt County Realty Company. By 1920 he was also the Circuit Clerk for Bullitt County. He would sell real estate until his death in 1945.
Hugo and Ruth had one daughter, Mary Helen, who later married George Smart. Ruth was living with them in Indianapolis when she died in 1987. Like many of those listed in this article, she was buried in the Hebron Cemetery.
Grace married Omer Glenn "Jack" Howerton in 1921. They would have two children, Jack Jr. and Jean. Jack Sr. would spend his working life in the insurance business, operating his own agency in Louisville. Both he and Grace lived long lives. She passed at 87 in 1985, and he followed two years later.

Willie Mae Ridgway
Willie May Ridgway's parents were Dr. Samuel H. and Margaret (Hardy) Ridgway, and her grandparents were James Wells and Margaret Caroline (Brashear) Ridgway, and Francis Marion and Malinda (Hamon) Hardy. Willie May had one brother who was named for their father.
After graduation, Willie May taught school for a bit here in the county. She continued to live at home with her parents and brother through the 1930 census. Then, in January 1932, she married Ike Winfrey Smith, and they had a son, Billy Howard Smith.
Tragically Willie May died of an infection on Christmas Eve, 1938. Then Ike Smith died of pneumonia the following March, and little Billy Howard came to live with his Ridgway grandparents.
The Ridgway name remains prominent in Shepherdsville today, attached to the main public library which was one housed in the home previously occupied by the Ridgways.

Lula Cook
Lula Cook was a daughter of William Anderson and Catherine L. (Troutwine) Cook. Her grandparents were William and Jane (Sutherland) Cook, and Valentine and Margaret (Frank) Troutwine. She was less than two when her mother died in May 1900, and William married Louisa "Lula" Kroedel that November.
Lula had two half brothers: John and Theodore, who was better known in Bullitt County as T. L. Cook, the County Court Clerk for many years.
Following high school graduation, Lula Cook taught school in Bullitt County for several years, at Hebron, Belmont, and Lebanon Junction, but mostly at the Clermont school. She then took a job in the credit department of the Herman Straus firm in Louisville in 1925 and remained there until her retirement.
She married Victor Metz in 1926, and they lived in Louisville where Victor worked for Louisville Gas & Electric. Victor died in 1974. Lula lived until 1981. They had no children.

Lillian Thompson
Lillian Thompson was born in 1898 to Edward Howard and Eva Katherine "Katie" (Collings) Thompson. Her grandparents were James W. and Martha Jane (Friddle) Thompson, and Benjamin Franklin and Nancy (Deats) Collings. Lillian had a younger sister named Eva Mae who married Andrew Higgins.
Following high school, Lillian taught at Lebanon Junction before spending a year at Western Normal School in 1920. She returned to LJ the following year and moved to the Hebron school in 1923. She was the school's principal in 1924 when she married Gussie Swearingen, son of William P. and Levie (Hibbs) Swearingen, and brother of Jodie and Zollie Sue Swearingen.
Lillian continued teaching at Hebron for a while, and later worked as a teller in one of the town banks. Gussie was in the insurance business for much of his life. They had no children. Together they lived long lives, Lillian passing in 1976, Gussie in 1981.

Bertha Trunnell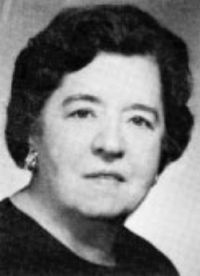 Bertha later in life
Continuing with the next row down, we have Bertha Pauline Trunnell who was one of three daughters born to Joseph and Isola Isadore (James) Trunnell. Joseph's parents were Josiah and Julia Simmons (Rouse) Trunnell; Sola, as she was known, was a daughter of William W. and Jane (Rouse) James. Continuing with the next row down, we have Bertha Pauline Trunnell who was one of three daughters born to Joseph and Isola Isadore (James) Trunnell. Joseph's parents were Josiah and Julia Simmons (Rouse) Trunnell; Sola, as she was known, was a daughter of William W. and Jane (Rouse) James.
Joe and Sola Trunnell's three daughters were all born at the family home at Solitude in Bullitt County where they lived until the family took over the boarding house in Shepherdsville. Hazel, the youngest, later married Curtis Smith and they had two daughters, Irma Dell and Mary Curtis, who both became talented musicians.
Nancy Trunnell, the third daughter, married Wilbur Strange and they had two children, Joseph and Ruth. Wilbur died of pneumonia, leaving Nancy a widow with children to rear. She went to work as a deputy in the Circuit Clerk's office, and then in 1937 she was elected as Bullitt County's Circuit Court Clerk, a post she filled for 44 years until her retirement in 1981.
Bertha, Joe and Sola's eldest daughter, taught in many of the Bullitt County schools until 1924 when she moved to Auburndale Elementary in Jefferson County. She was teacher and then principal there until 1955 when she became principal of the then-new Kenwood Elementary where she stayed until her retirement in 1967. That October the new elementary school on St. Andrew's Church Road was named in her honor. She died in 1981.

Nancye Jeffries
Nancye Jeffries was a daughter of Joseph Clinton and Fannie (Stuart) Jeffries. Her grandparents were Charles Milford and Nancy (Johnson) Stuart, and Burr Henry and Henrietta (Cook) Jeffries. She had a brother, Jesse Wayne, and a sister, Blanche.
Jesse Wayne Jeffries married Emma Adams in Louisville in 1913. They later moved to Shreveport, Louisiana where Jesse owned a lumber business. They had two children, Jesse Jr. and LaVerne. They continued in Shreveport until their deaths; Jesse in 1970, and Emma in 1974.
Blanche Jeffries was married twice, and had a daughter Leslie Sibyl by her first husband, Leslie Herps. She and Sibyl moved to Fort Pierce, Florida with her parents, and she remained there until her death in 1985.
Nancye Jeffries married John McGraw in 1920. By 1930 they had two children: John Jr. and Jean, and were living in Lake Charles, Louisiana. They continued to live there throughout their marriage. John Sr. worked as a construction engineer for the Louisiana Highway Department before retiring in 1967.
Their son, John Jr., graduated from Tulane University in 1944 with his BS in Chemical Engineering. He was vice president of Industrial Construction, Company for over thirty years, retiring in 1982. He married Mary Frances Dimmick and they had five children.
Their daughter, Jean, married Herbert Ladd, Jr. He was a Colonel in the Air Force, serving in three wars. They were living in San Antonio, Texas when she died in 2012. He lived until 2017.
Nancye's parents lived in Florida until their deaths, he in 1939, she in 1960. Nancye and John's lives concluded two years apart; Nancye passing in 1970, and John in 1972.

Peachie Thompson
Ruth "Peachie" Thompson was a daughter of Joseph Porter and Jennie (James) Thompson. Her grandparents were John R. and Sophia (Hoagland) Thompson, and John T. and Vina (Crenshaw) James. She had one brother, Roye Porter Thompson who married Anna Mae Wallace, and had a daughter, Clara.
Her father was a freight agent at the railroad depot in Shepherdsville before they moved to Louisville. After Jennie Thompson died in August 1930, he married Daisy Middleton in January 1932. He later operated a grocery store in Louisville until Daisy died in 1955. He then retired and move to Florida where he died in 1956.
Peachie, as she would be known all her life, began teaching at the Belmont school soon after her high school graduation. Then, in late 1922, she was appointed Circuit Court Clerk to fill the vacancy caused by the resignation of O. W. Pearl. She was the first lady to hold that particular office.
After her family moved to Louisville, Peachie was employed as a claims and payroll clerk for the railroad. By 1937, she was 42, and still unmarried. That changed in September when she married Henry T. O'Leary, a fireman for the railroad. Henry died in 1941, and Peachie next married Walter Ault, and they moved to Florida in the early 1950s. Walter died there in 1959. Peachie married for a third time to a Mr. Henderson, for that was her surname when she died back in Louisville in 1990, at the age of 95.

Mary Bell
Mary Elizabeth Bell was a daughter of Willard and Annie (Scott) Bell. Her grandparents were Charles and Catherine (Jesse) Bell, and William and Deborah (Graham) Scott. Mary had three sisters and a brother. The eldest was Zella Bell who married J. C. Gentry in 1903. Next was Virginia (Virgie) who married John Shanklin in 1908. The brother was Walter Bell who married Josetta Smith. The youngest, Austine Bell married Neill S. Brooks.
Mary's grandfather, Charles Bell purchased acreage in a loop of Floyd's Fork in 1855 that contained a water saw and grist mill. From then on, it was known as Bell's Mill, as were the two roadways that met there. Over the years the mill tract changed hands, but by the mid-1880s it was back in Willard Bell's hands. It stayed in his hands until a flood destroyed things in 1909, when Mary was about eleven. The family moved to Louisville briefly, and then Willard purchased the Hundley farm at Huber's Station, and took up dairy farming; and this was where Mary lived at the time of the photo.
Willard Bell was 82 when he died in 1940. By that time he and Annie were living on Minors Lane in Okolona with Mary and her daughter. Annie was 85 when she died in 1947.
Mary Bell married Edgar H. Gilpin, Jr. in the Fall of 1925, and they had a daughter named Nancy two years later. Edgar was an architect. He died in 1936 of tuberculosis. Mary had begun teaching at Okolona Elementary by then, and she continued to teach there for 25 years, before moving to Orville J. Stivers Elementary for five years before retiring. She lived another sixteen years before dying in 1974. Her daughter Nancy was living in Reno, Nevada when she died in 2001.

Sallie Pope
Sallie Pope, as noted earlier, provided the names for this photo. Her great-great grandparents were Benjamin and Behethelan (Foote) Pope. We begin with them because the house Sallie lived in all her life incorporated the original cabin built by Benjamin in 1784. Sallie's Pope ancestry extended down from this couple through their son Benjamin Jr. who married Margaret Yewell, then to their grandson James Yewell Pope who married Martha Beckwith Sanders, and finally to Sallie's parents Albert Shanklin "Bert" and Mary Louise (Buckman) Pope. Mary Louise's parents were William and Sarah Ann (Carpenter) Buckman, and she was an aunt to J. D. "Jiggs" Buckman, making him Sallie's first cousin.
Sallie's sister, Patti Sanders Pope, married Henry Louis Maraman, and they had two daughters, Alberta and Marilyn who married Clarence Lee.
Sallie and Patti's mother died in 1928, and their father in 1949. From that time, Sallie and the Maramans ran the Pope farm. Sallie never married. After her death in 1965, Henry and Patti lived on the farm. Patti died in 1974, and Henry in 1985, at the age of 100.
A good portion of the farm has been sold for commercial structures, but the house and surrounding acreage remains in the family today.

Sarah Buckman
Sarah Jane Buckman was a daughter of John and Alice (Metcalf) Buckman. Her grandparents were William and Sarah Ann (Carpenter) Buckman, and Lawrence Elisha and Mary Jane (Mudd) Metcalf. Sarah Jane was a first cousin to Sallie Pope and "Jiggs" Buckman.
She had two sisters and two brothers. The eldest, Mary Louise married James O'Leary in 1913. Then later in life she married Axel Hanson in California. Her younger sister, Ada married Dave Shaw in 1925. One brother, William Henry Buckman married Minnie Shelton. The youngest of the siblings was Samuel Buckman who died at 13 in 1922.
After school, Sarah Jane moved to Chicago for a time, working as a bank bookkeeper and living with her Uncle Harry Metcalfe who was a stock broker. She soon returned to Louisville and by 1930 was a clerk at the National Bank of Kentucky. Nine years later she was working as an examiner for the U.S. Treasury Department, stationed in Louisville. She was still there in 1940. She may have been in Atlanta doing similar work in 1942, but by 1945 she had married Robert J. Finkler and moved to California. Robert was also employed by the Treasury Department in Louisville at the same time as Sarah was.
It appears that for a time the whole family was living in California, in and around Los Angeles. Sarah's parents were there when they died, Alice in 1948, and John in 1953. Sarah's husband, Robert died in 1958. Then, when Ada Shaw died in 1969, her obituary indicated that Sarah, Mary Louise, and their brother Henry were all living in Arcadia.
Sarah went next, dying on July 5, 1972 in Arcadia. Her obituary said that she had been a department head for the Naval Ordinance Station in Pasadena, caping a remarkable career.
Her brother Henry returned to Kentucky and was residing in the Old Mason's Home in Shelbyville when he died in 1977. Mary Louise was the last sibling living, as she passed in 1980 in California.

Eva Leaman
Eva Leaman was a daughter of Samuel Thomas and Korah "Cora" (Smither) Leaman. Her grandparents were Samuel J. and Maria (Shelley) Leamon, and Frank and Katherine (Sanders) Smither. Eva had a younger brother Roy who had died in 1913, and a younger sister Louise May who married Arthur Schmitt and had a daughter Martha Jean who later married Louis Harper.
Eva married Josiah Carlton shortly after this photo was taken. Together they would have nine children: Myrtle, Kathryn, Eva May, Cora, Roger, Joseph, Marvin, Orville, and Elizabeth.
Myrtle (1915-1966) married Franklin McCormick who worked at Ford; Kathryn (1916-2011) married Charles Glasser, and had a son by an earlier marriage; Eva May (1918-1990) married Charles Glover; Cora "Cody" (1920-1994) married Albert K. Murrell; Roger (1922-1988) married Anne Bauer, was a Navy veteran, and owned a meat market in Louisville; Joseph (1923-2003) married Margaret Elizabeth White, was a Coast Guard veteran, and was also in the meat market business; Marvin (1927-1997) married Betty Clayton, was an Air Force veteran, and worked in a New Albany food market; Orville "Carl" (1929-1996) married Ann Farley, and was a Marine veteran, and works for Bob Smith Chevrolet; and Elizabeth (1934-2009) married Eugene Sewell, and was a Food Service and Dietary Manager before retiring.
Eva's father, Samuel was a draftsman for the Louisville Drying Machine Company when he died in 1936 at the age of 65. Her mother had been working as a nurse when she died in 1931 at the age of 62.
When Josiah Carlton died in 1966, as a retired carpenter, he and Eva had 29 grandchildren and four great-grandchildren. By the time Eva joined him in 1969, that number had grown to 30 grandchildren and 10 great grandchildren.

Sylvia Phelps
Sylvia Margaret Phelps was a daughter of Charles Loy and Barbara (Petzold) Phelps. Charles' parents were William and Susannah (Murray) Phelps. We believe that Sylvia's mother Barbara was a daughter of Henry and Marie (Mueller) Petzold (also spelled Betzoid). Barbara died in 1901, and Loy married Lottie Bailey the following year.
Sylvia had several half-siblings including Daniel, Walter, James, and Penrhyn. Daniel married Aileen Simmons; Robert married Rosella Hodge; James was but 10 when he died in 1924; and Penrhyn Jackson Phelps married Arlene Bailey Slaughter. There were others who died as infants.
Sylvia married Marion Foskett Barrall in 1923. He was a son of Francis Marion and Josie (Samuels) Barrall, and grandson of Christian Harshfield and Ravia Jane (Martin) Barrall, and Charles and Mary Ellen (Magruder) Samuels. They were living in Shepherdsville in 1940 when he died. Later, Sylvia lived in Louisville and worked as a clerk for the Internal Revenue Service. She died in 1955.

Miss Lorena Robinson
Miss Lorena Robinson was born in Indiana to Robert and Lela (Delahunt) Robinson. Her grandparents were Benjamin and Prescoria (Mead) Robinson, and John Long and Cynthia (Gilbert) Delahunt. She graduated from the University of Louisville.
After her stay in Shepherdsville, she taught in other places before going to Vassar to begin a three months' nurses' course in 1918, and from there to the Philadelphia General Hospital for advanced training for army nursing. She was there as a student nurse in 1920.
She returned to her home in Jeffersonville, and married Allen E. Voiers, a dentist, in 1921. They had three children. Their son, William Dawson Voiers married Marjorie Louise Childs; their daughter Leila Allen Voiers married Joseph Bein, son of Mr. and Mrs. Jacob Bein; and their daughter Nancy Robinson Voiers married Paul William Whear, son of the Rev. and Mrs. William N. Whear.
Allen and Lorena lived in Jeffersonville, Indiana where he had his dental practice. He died in December 1954. Lorena was 76 when she died in 1967. Her obituary included a cryptic phrase that she "was more recently known by music lovers and members of the nursing profession in the Louisville area." I suspect that she was sharing and caring for others to the very end.

Neva Magruder
In the short row just behind the boys, we have Neva Magruder who was a daughter of James Edward and Anna Leatha (Hall) Magruder. Her grandparents were William E. and Drucilla (Masden) Magruder, and Warren and Louisa (Fondy) Hall.
Neva had two sisters, Lucile Inez who married Robert L. Lee, son of W. T. and Sarah (Atcher) Lee; and Facilla "Fay" who married Eugene Louis England; and a brother O.K. "Kenneth" Magruder who married Garnett Farris.
Neva was a teacher in the county for several years, including stops at Hebron, Bardstown Junction, and Clermont. She married Leon Johnson Lloyd in June 1923. He was a son of Joseph Marcus and Josephine (Crume) Lloyd, and was employed by the railroad.
They moved to High Grove in Nelson County in December 1924, where they purchased a store. Six years later they were living on a farm at Waterford in Spencer County. By this time they had a daughter, Betty Jo, who would later marry Sterling Fisher.
Leon died suddenly of a heart attack in January 1948, at his residence in Cox's Creek. Neva later moved into Mt. Washington, and was living there when she died in October 1968.

Mayme Stephens
On the other end of that row, we have Mayme Stephens who was the only child of Samuel B. and Effie (Duncan) Stephens. Her grandparents were John and Martha (Sherrard) Stephens, and James and Frances Ann (Bibb) Duncan. After finishing school, she too became a teacher in the county.
She married John Clifford Martin of Lebanon Junction in 1920. At the time of her marriage, the newspaper marriage announcement described her as "a talented musician, a splendid school teacher and an upright Christian girl."
Martin, who had been born in Illinois to Robert and Claudie (McGruder) Martin, was a railroad man which is what likely had brought him to Lebanon Junction.
In August of the next year, Mayme gave birth to a son they named for his father. Then in September of 1926, they had another son they named Robert. Tragedy struck in 1936 when John Jr. suffered a ruptured appendix and died.
With her husband ill in a VA hospital in Illinois in 1940, Mayme continued to live in Lebanon Junction with her son Robert, while working as a telephone operator for the Shepherdsville Telephone Company. Her father had died the previous September.
Then, with the war drawing to a close, Mayme suffered a heart attack and died in March 1945. Her son Robert, who was then 18, would continue his education and become a dentist with a practice in Louisville. Her husband continued working for the railroad for a time. He was in Albuquerque, New Mexico when he died in May 1957.

Buren Hardin
Continuing with the boys, Buren Jesse Hardin was born in Arkansas in 1894 to John M. and Lura Milton (Denton) Hardin. His father died when Buren was two, and Lura then married John's younger brother Boyd Winchester Hardin in 1898. Buren's grandparents were Martin VanBuren and Deborah (Hall) Hardin, and David Boone and Minerva Jane (Clements) Denton.
The family was living in Henry County, Kentucky in 1900, but by 1910 they were in Breckinridge County where Boyd Hardin was listed as a minister. He and Lura given Buren five half-siblings by this time, including four boys (David Winchester, Joseph Milton, Edmond Clarence, and William Clayburn) and a girl, Mary. There would be two more daughters later, Virginia Elizabeth and Florence Olivia.
When Buren completed his 1917 draft registration form in June, he was still in Shepherdsville, and listed as both a student and as an employee of the George Washington Life Insurance Company. He spent a year in the Navy, and by 1920, he was living in Detroit and attending the University of Michigan.
He married Leone Rhoda Jacobs in 1927. She was a daughter of Theodore and Laura Maud (Flowers) Jacobs. At the time Buren was finishing his degree work, and Leone was teaching school. He graduated that same year. By 1929, they were living in Ann Arbor, Michigan, and he was working as an insurance agent. Then the depression hit. By 1930, he was still trying to sell insurance, but they had taken in lodgers to help make ends meet.
With the bottom dropping out of the insurance business, Buren found work with the A. E. Green Dry Cleaning business. He and Leone had two daughters during the 1930s, Mary and Laura. Buren remained with that business into the 1940s
Leone died in September 1950, and was buried at Sturgis, Michigan where her parents lived. Buren and his daughters continued to live in Ann Arbor into the 1950s, and he continued in the dry cleaning business as well. He lived until June 1973, and is buried beside his wife.

Charles Hardesty
Skipping past Charles Daniel, next is Charles Hugh Hardesty who was one of three children born to Robert Chamber and Linnie (Pearl) Hardesty. His grandparents were Robert and Isabella (Chambers) Hardesty, and Charles and Elmira (Beghtol) Pearl. His sister Margaret married his classmate, Charles Daniel, and his brother Robert James Hardesty married Alma Duncan.
Following his graduation in 1914, Charles taught in several of the local schools over the next few years. During the war he reported for duty at Camp Taylor in Louisville. The army found it has quite a number of illiterate soldiers at the camp, and he was put to work teaching them enough to be able to correspond with their folks back home. By the time the war ended, he had reached the rank of Second Lieutenant.
He continued teaching in schools locally, and also for time joined Charles and Margaret Daniel in Homestead, Florida where they all taught. After returning to Kentucky, he attended Kentucky Wesleyan College in Winchester, and later was the principal in the public school there. He also spent several summers as a member of the Officers Training Camp at Camp Knox, and advanced to First Lieutenant at that time.
In 1925, he became principal of the West Point, Kentucky school, supervising six other teachers. He also began attending classes at the University of Louisville, where he obtained his master's degree after writing his dissertation in 1928 on "The Kentucky-Tennessee Boundary Line."
It appeared that Charles was becoming a confirmed bachelor before his met a remarkable woman, a doctor named Margaret Adele Limper. They were quietly married in 1937. Dr. Limper was the only woman in the 1929 graduating class of the U. of L. School of Medicine. She was teaching at that school when they married. She was a Louisville pediatrician for 29 years before retiring to become the director of the Commission for Handicapped Children in 1963.
Charles' teaching career ended when he became an accountant. In 1949, he joined Paul V. Morris in an accounting firm, and by 1951 had become a Certified Public Accountant himself. He had accomplished just about everything he set out to do, but in 1955 he couldn't overcome a coronary occlusion which ended his life.

Ralph Henderson
We conclude with Ralph Combs Henderson who was a son of William Francis "Frank" and Annie Maria (Combs) Henderson. His grandparents were David and Amanda (Leitz) Henderson, and Myron and Susan Ann (Welsh) Combs. Ralph's older siblings included Eugene who married Geneva Maraman, Edith who married Enoch Alonzo Cochran, and Sarah who married James Everett Smith.
Around 1909, when Ralph was just a boy, his father was thrown from a buggy by a run-away horse and severely injured. After that, his son Eugene managed the large farm, with Ralph helping as he could. Their father died in 1921. Their mother would live until June 1930.
As was often the case, boys were often later to enroll in school that girls, and Ralph was in his twentieth year when he graduated from high school. Shortly after graduation, he enlisted in the Navy and left for the Great Lakes naval Training Station. With the war winding down, he returned home to the farm in early 1919. But he was not destined to be a farmer.
In January 1922, he took a job as a government mail clerk on the route running from Louisville to Bloomfield. Then in March he went to work at the Bullitt County Bank where he became an assistant cashier.
Ralph and Fannie Belle Melton were married in August 1924, the culmination of a long courtship which began when they were schoolmates at Shepherdsville High. Fannie had taught school at Bardstown Junction, and was teaching at Fairdale when they married.
Ralph resigned at the bank in February 1925, and bought an interest in the feed and lumber store of Smith & Smith. Everett Smith had recently died, and his father Noah welcomed his daughter-in-law's brother into the business.
After Noah Smith died, Samuel Howard Hardy joined Ralph in the business which became the Henderson & Hardy Hardware Company. The business prospered, and began adding furniture to their sales. After Ralph Henderson died in 1957, the company moved more to furniture sales led by Samuel Hardy's son Jimmy.
Fannie Bell Henderson lived another twenty years before joining Ralph in death.
When these students and their teacher posed for this picture in 1914, none could know what the future held in store for them. Some would prosper; and most would face challenges they had never anticipated. While some were less successful than others, each seems to have met those challenges with a determination to succeed. As Paul Harvey used to say, "And now you know the rest of the story."
---
Copyright 2020 by Charles Hartley, Shepherdsville KY. All rights are reserved. No part of the content of this page may be included in any format in any place without the written permission of the copyright holder.
---