Museum Newsletter - 31 October 2013
Friends of the Bullitt County History Museum
E-Newsletter
October 31, 2013 (Volume 9, Number 11)
Dear Friends,
Announcements...
>> November holiday closings. The Bullitt County History Museum will be closed November 11 for the Veterans Day Holiday, and November 28-29 for Thanksgiving.
>> November 16 Bullitt County Genealogical Society meeting. Meranda Caswell will be the featured speaker. Meranda has compiled three photo books; two on Elizabethtown and one on Hardin County. She will be speaking on Elizabethtown, and she will have books with her that you can purchase.
Meeting location is the regular place, Ridgway Memorial Public Library, on the corner of North Walnut Street & Second Street in Shepherdsville. Meeting time is November 16, at 10:00 a.m.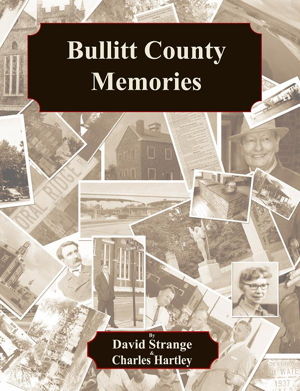 >> "Bullitt County Memories" book now for sale. Charles Hartley and David Strange have been writing a weekly newspaper column for nearly two years now about local history and local stories. That column, titled "Bullitt County Memories," has been very popular. So.... We have decided to edit the stories a bit and make them into a book.
This 244-page book, also named "Bullitt County Memories," is now at the printers and should be ready by mid-November. All profits go to operations of the museum, so please feel free to order several. :)
Price is $20 per book, including postage and taxes. $15 for Bullitt County Genealogical Society members or if picked up at the museum.
We are taking orders now and hope to have enough sold to pay the printing cost when the bill comes in. So order yours today! Ordering info can be found here. Charles and I will also be at a book fair November 2nd at Ridgway Memorial Library in Shepherdsville.
It's a good book, even if I do say so myself. It is at times humorous and sad, serving in a way as the beginnings of a true county history book. Here is a quote from the back of the book:
"History is best remembered by telling the stories of the people who lived it. In this book David Strange and Charles Hartley have searched Bullitt County's past, both distant and recent, and come up with this collection of stories, mostly told from the perspective of those who lived them. Here you will find stories of turkey farms, train wrecks, salt making, horse racing, civil war adventures, how some places got their names, feuds, "devil wagons," airports and balloon flights, artists, schools and educators, lawyers and judges, a footrace to Louisville, good music, the Glass House Restaurant, the Old Stone Jail, school exams, and much more. Each story is told with a reverence and humor that only memories can bring. This is history that everyone can enjoy, even if you have never heard of Bullitt County before. Join us as we share our Bullitt County Memories."
>> Living History Event at Fort Duffield Park & Historic Site Commemorates Beginning of Construction of Kentucky's Largest and Best preserved Civil War fortification. Join us at the Union Civil War Fort Duffield on Sunday, November 3, 2013 as we commemorate the beginning of the construction of the earthen fortification at West Point, Hardin County, Kentucky. Visitors will be entertained by a rousing Civil War music concert and sing-a-long performed by the Kentucky Homeguard Band at 2 PM. Great food and souvenirs of the event will be available. Visitors will learn about Fort Duffield and Civil War life from dedicated reenactors from around the state. The day's activities will appeal to all ages. The event is hosted by the Fort Duffield Heritage Committee, Friends of Fort Duffield support group and the 9th Michigan Volunteer Infantry Reenactors.
For additional information visit fortduffield.com or contact FortDuffield@insightbb.com or 502-922-4574.
>> Free Genealogy Seminar. On Saturday, Nov. 16th, 2-5:30 p.m., Joseph Hardesty will be conducting a seminar at St. Francis Xavier parish (155 Stringer Lane in Mt. Washington) titled "An Introduction to Family History Research." As Kentucky History and Genealogy Librarian at the Louisville Free Public Library, Mr. Hardesty knows his stuff! This seminar is free and no registration is required, provided by Mr. Hardesty on his own time. If you can be in the area, you should take advantage of this generous opportunity. For more information, call the parish office at 502-538-4933.
Activity & News...
>>Pitts Point / Communication / Christmas / Elections Displays progress. I reported in last month's newsletter that we were about to begin setting up a new display in the museum.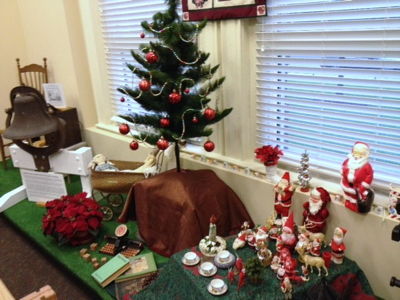 Well, we've finally begun. One of the display rooms will be closed for a couple of weeks while we make the changes. One of the features for the holiday season will be the Christmastime display shown here (at least the beginnings of it, being nicely done by Barbara Bailey). It's way early right now for such a display, but we are just developing it. If you have some interesting local seasonal photos or antique toys to add, I'd love to hear from you. I'd especially love to find a photograph of the courthouse when it used to be decorated for the holidays. Probably back in the 1950's and 60's, large strings of lights would be draped outside on the courthouse walls. There are still nails where they were hung, but I'd love to find a good photo showing it. A few more classic antique toys would be great as well.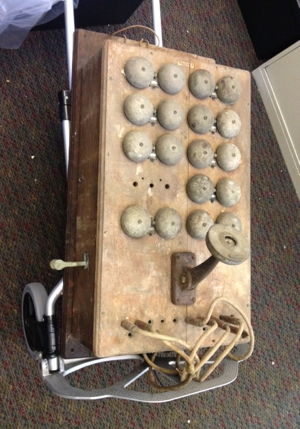 After the first of the year, with 2014 political campaigning in full swing, we will be expanding a new display about Pitts Point and replacing the seasonal display with a brand new one about political elections (Past elections, that is. Not the current ones.). That display will include several items that we have in our archives, such as a "Buckman for Governor" banner, as well as various matchbooks, pins, and even a pink piggy bank. We have to be very careful to not promote any current candidates or officials, but if you have any interesting artifacts or stories from past local elections, I'd love to include them. And ,no, be it ever so tempting, there will not be one of my old "Dave Strange for Judge/Executive" signs in the display. :)
A major new display for our museum will be about Pitts Point, the active small town that disappeared when Fort Knox Military Reservation came to be. At left is a photo of the old telephone exchange that is thought to be from Pitts Point. That old phone exchange/switchboard, circa 1898, is on loan from Kevin Mooney.
The old school bell from the bell-free of Pitts Point Academy will also be on display, thanks to the generosity of our friends at the West Point Museum (more on that next month).
>> New Museum Volunteer. Allow me to welcome a new Volunteer to our group. Charlene McLaughlin is retired from the Bullitt County Public School system. Several years ago, I had the joy of working with her at Bullitt Central High School, when my children were there and I was on the school Site Based Decision Making Council. Charlene was the librarian at the time and I think everybody loved her.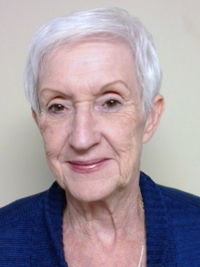 So, I was honored and happy to hear from her that she was thinking about working with us.
Charlene came is Wednesday last week for us to talk about it, and she has already been with us for a couple of days, meeting the other volunteers and learning where things are. We have not yet set particular days/times that she might come in.
She has not really been into genealogical work, but, as we all know, there are several niches in which we can use her. Maybe she can get our own little library in better order! Welcome Charlene! Thank you for being with us! :)
>> Web Site Additions. Web master, Charles Hartley has been doing some redesigning of our web front page, while adding bunches of new information as well. Here are links to this month's additions to our web site. Lot's of great stuff! Charles Hartley's "A Mysterious Stranger" might set the mood for your Halloween reflections. Be sure to take a look.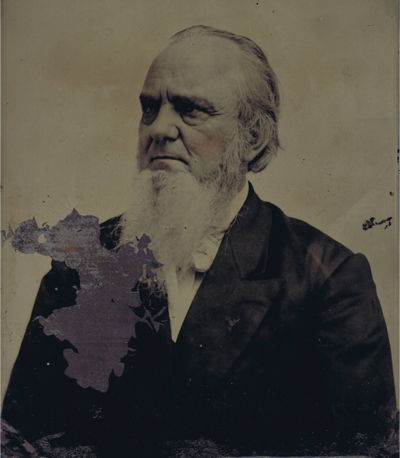 >> Mystery Photo of the Month. Can you tell me more about this photo? It is a tintype photograph that was recently given to the museum. I am told that it is not from Bullitt County, but might well be from neighboring Nelson or Hardin Counties. If you can identify this man, please let me know.
>> Bullitt County Marriage Index 1877-1901. Museum Volunteer, Ed Lee, has written up an index of all known Bullitt County marriages from 1877-1901. For now, it is only available at the museum research room.
>> Museum Volunteer Beverly Owen has scanned a large number of photos and documents into our computers about the Plenge/Korfhage family, on which we hope to write a story sometime soon.
>> History of Anne Arundel County, Maryland. Volunteer Bob Cline provided the museum a copy of this history book, which includes a lot of families that moved to Kentucky from Maryland.
>> Donated Civil War book. Author, Lester V. Horwitz, donated a copy of his book, The Longest Raid of the Civil War about Morgan's raid into Kentucky, Indiana, and Ohio. Thank you, Mr. Horwitz!
>> Volunteer Wilma Lemons continues her extensive transcribing work for us at the museum, focusing now on our huge collection of Gertrude Collings genealogy research. Volunteers Lynn Eddington & Bob Cline are excitedly working with the info Wilma is making available by getting it all on computer. We've been joking that we'll soon need to promote Wilma from Colonel to General (more about that next time).
For Your Information...
>> You can find some very helpful maps at the USGS web site starting on this page.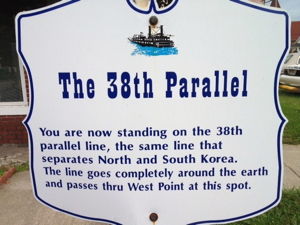 >> West Point, Kentucky, on 38th Parallel. Here's a little trivia that might interest you. The sign you see here is located next to City Hall in West Point, Kentucky. You will recall that North and South Korea are divided by the 38th parallel. So if you stand next to this sign, you are on the same line as that historic divide from the Korean conflict. I am told that was another reason that our Fort Knox was considered a good location for military training at the time.
>> The Draper Manuscript Collection is now online at FamilySearch.org. Betty Darnell tells me that this is a fantastic collection. Lyman C. Draper interviewed, in person and by mail, many pioneers in the southeastern and middle states. He recorded the reminiscences of the pioneers, and added material from court records, newspaper narratives, letters, etc. There is no everyname index to the material, though there are several published guides and catalogs. The best way to use the collection is to pick a topic of interest and just read. Thanks, Betty!
>> Want to apply for an official Kentucky History roadside marker? The Kentucky History Marker program application and info can be found in a pdf file at this site.
>> History of Schools in Kentucky. This document might be a little too detailed for some readers, but if you are into education, you might be interested in the "Kentucky Historic Schools Survey: An Examination of the History and Condition of Kentucky's Older School Buildings." It can be found in a pdf file here.
That's it for this month!
Thank you for being a friend of the Bullitt County History Museum.
David Strange
Bullitt County History Museum
Executive Director
Museum Phone: 502-921-0161
E-Mail address: David.Strange@BullittCountyHistory.org