The Lee Family
The following article by Charles Hartley originally appeared in The Courier-Journal on 2 Oct 2013. It is archived here with additional information for your reading enjoyment.
---
When John and Elizabeth Thompson Lee brought their young family to settle along the Rolling Fork River, not far from Goodwin's Fort in what is now Nelson County, they arrived near the time that Indian attacks were frequent in the area, and they were occasionally required to take refuge in the fort which hampered their efforts to make a home of their own.
John died in the summer of 1788, leaving Elizabeth a widow with seven children, ranging from 16 years old down to a small infant. Wilford Lee, their eldest son, was fourteen. The following January Elizabeth married Jesse Ice who made a good step-father for the children. They were living in the Beech Fork area near the families of Zachariah Maraman and Atkinson Hill, and children from the three families would grow up together and become married couples.
Francis Maraman married Mary Lee; Charles Lee married Margaret Maraman; John Lee, Jr. married Elizabeth Hill; and Wilford Lee married Rebecca Hill. All of these families would end up in Bullitt County. Indeed, five Lee brothers: Wilford, John, Charles, William, and Henry; and one sister, Mary Lee Maraman all moved there.
Today we will focus mostly on Wilford Lee, and his youngest son, Philip.
In 1801 Wilford and Rebecca left her family and moved to Bullitt County where they settled along the Crooked Creek in what is now Fort Knox. The first record I've found shows Wilford purchasing 425 acres there from Nathaniel and Susanna Harris in December 1803. Wilford was industrious and quick to seize opportunities. Within a dozen years he had managed to add perhaps another 1500 acres in the same area.
According to Evelyn Crady Adams in her Filson Club Quarterly piece about Wilford Lee, he "was one of the largest landholders in Bullitt County and he also owned land in the adjoining counties of Nelson, Hardin, and Jefferson. He built a dam and a large grist mill on Crooked Creek. Known as Lee's Mill, it was a landmark in its day."
Farming so many acres and managing a grist mill as well was labor intensive, and like so many of his neighbors, Wilford managed this by resorting to slavery; and he was one of the largest slaveholders in the county. It is sad to read the appraisement of 34 slaves listed in his estate when he died in 1849.
According to Adams, Wilford's participation in public affairs began early. "He served as Gentleman Justice of Bullitt County almost constantly from 1807 to 1845."
In 1818 he was elected from the county to serve a term in the Kentucky General Assembly.
After his wife Rebecca died in 1820, he married her sister Margaret the next year. Their only child to live to adulthood was a son they named Philip Lightfoot Lee, who was born in 1832.
Phil Lee graduated from St. Joseph's College in Bardstown at the age of 18, and then came to Louisville to the law school where he took his law degree in two years. He was elected to the General Assembly in 1853, taking the seat previously held by both his father, and his brother Charles Lee.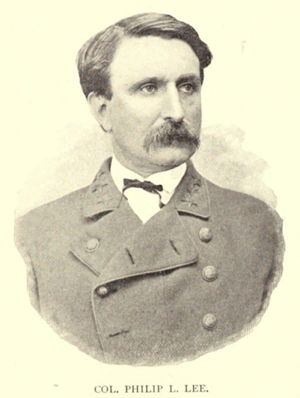 During the 1860 Presidential campaign, he gained recognition as an able and persuasive public speaker. Then, following his roots, he joined the Southern cause in 1861.
In the Washington Post of July 18, 1905, a columnist writing under the name of Savoyard, in a column titled "Men and Things," made the following comment about Phil Lee.
"One of the finest specimens of the provincial we ever had was Phil Lee of Kentucky. He was a wonderfully bright fellow, noble and generous, a fine lawyer and a captivating popular speaker. In 1861 he went to Bardstown and made a speech, advocating the secession of Kentucky. Here is the way he put it.
"'My fellow-citizens if the Union dissolves, I am for the South; if the South dissolves, I am for Kentucky; if Kentucky dissolves, I am for Bullitt County; if Bullitt County dissolves, I am for Shepherdsville; if Shepherdsville dissolves, I am for my side of the street.'"
In a biographical sketch taken from The Biographical Encyclopædia of Kentucky of the Dead and Living Men of the Nineteenth Century, published in 1878, it is written that Lee, "recruited a company of young men, and assisted in organizing Camp Boone, on the Tennessee border; his company was organized as a part of the Second Kentucky Confederate Infantry; at the head of a hundred men, made the first raid of the war into Kentucky, on the line of the Louisville and Nashville Railroad; was engaged at Fort Donelson; was captured there; was a prisoner for six months; was in every engagement in which his regiment took part, but one, during the war; was promoted lieutenant-colonel after the battle of Chickamauga; was several times wounded; was made colonel of his regiment, on the fall of Col. Moss at Jonesboro, and held that position until the close of the war."
When the war was over, Lee returned to his law practice in Bardstown, and then in 1866 he moved to Louisville and won the race for the Ninth Judicial District Commonwealth Attorney, a position he held until his death in 1875.
Years after his death, the story was told that upon being offered a Circuit Judgeship by the governor, Lee responded, "Why Governor, if I were a Circuit Judge the State would have to enlarge that grim old prison down there by the Mansion where you live. I have been a prosecuting Attorney so long that I have come to believe that every man who is indicted is guilty and if I were a judge I would fill that old prison so full that half the inmates would be sleeping in the open air for lack of cell room." Such was the character of Philip Lee.
I recently showed a picture of a group of 24 Shepherdsville High School students taken in 1914 to some Sunday School friends including Headie Lee. He wanted to know if there were any Lees in the picture, and someone commented that you couldn't have that many Bullitt County people in a picture without at least one of them being a Lee.
So, for all you Lee descendants, this one's for you.
---
Copyright 2013 by Charles Hartley, Shepherdsville KY. All rights are reserved. No part of the content of this page may be included in any format in any place without the written permission of the copyright holder.
---