What Happened to David Phillips?
The following article was initially researched and written by Bullitt County History Museum volunteer Sherry Lee. She and David Strange collaborated on this final version which appeared in The Courier-Journal on 23 Oct 2013. It is archived here for your reading enjoyment.
---
There is a mystery related to the terrible Christmastime train wreck that occurred in Shepherdsville, Bullitt County, Kentucky, on December 20, 1917 in which forty-nine people died. The mystery is about David Phillips, who was one of those casualties.
The mystery, or mysteries, really, comes from our records, or lack of them, about him. It is strange that the records seem to indicate that after the accident no one came forward from his family to claim his body, and that he was listed as "single" on his death certificate, even though other records indicate that he was married.
After the train wreck, in those slower days of transportation and communication, some of the families could not be found in time before their loved ones were buried. That might be all there is to this mystery. At the time, David had relatives who were still living, but presumably could not be reached before he was buried. The body was taken to the home of Griffin Sheehan where the funeral took place that Sunday afternoon. Griffin and his wife Lena were living at the time in Nelson County, Kentucky, and apparently Griffin Shehan took care of David Phillips's funeral and burial.
So who was David Phillips?
David Phillips was born in 1866 in Franklin, Kentucky, near the border of Kentucky and Tennessee. His parents were Francis Phillips and Elton Ann (Harrod) Phillips. Francis Phillips, a farmer, was born in 1843 in Shelby County, Kentucky. He married Elton Ann Harrod in 1866. Elton Ann Harrod, David's mother, was born in 1843 in Kentucky, and died in 1903 in Kentucky before the train wreck happened. Francis Phillips died in 1919 in Fresno, California, and was probably living out of state at the time of his son's death.
David was the oldest of seven children. They were Jesse, Thomas, Walter, Annie, Floyd and Richard Phillips. Jesse Lee Phillips was born in 1869 and died in 1938. He married in 1910 to Eva Lena Wood. Jesse and Eva lived in Shelby County at the time of David's death. Thomas Phillips was born in 1871 and died in 1882. He was 9 years old when he died. Walter Phillips was born in 1873 and died in 1961. He was living in Shelby County at the time of the train wreck. Annie Phillips was born in 1875 and death unknown. We don't know where she was living at the time of David's death. Floyd Phillips was born in 1878 and died in 1937. He lived in Franklin, Kentucky. Richard Phillips was born in 1880 and died in 1960. He was living in Shelby County at his brother's death.
David grew up in Franklin, Kentucky and married James Nola McCarty in 1890. "James" is, of course, an unusual name for a woman, but that is what is on her death certificate and on her headstone. She was born in 1865 in Nelson County. Her parents were John S. McCarty and Elizabeth Hall.
David and James Nola had 3 children: Elizabeth, Nannie and Isaac Phillips. Of these, Elizabeth Elton was born in 1891 in Nelson County, Kentucky. She married around 1915 to Jesse Shain. She died in 1946 in Jefferson County, Kentucky.
Nannie Mildred was born in 1896 in Ohio Falls, Clark County Indiana. She married in 1914 to Alfred Churchill Shain and they had at least four children. Nannie died in 1978 in Jefferson County, Kentucky.
Isaac was born in 1898 in Ohio Falls, Clark County, Indiana. He died in 1981 in Gretna, Louisiana.
In 1900 David and his family lived in Jeffersonville, Indiana. He worked as a watchman on a bridge. But before David Phillips was killed in the train wreck, he had moved to New Haven, Kentucky, according to the Louisville Evening Post newspaper. We don't know how David came to be separated from his family at the time of the wreck, but apparently he was traveling alone. Perhaps someone reading this can clear up this story.
David was fifty years old when the wreck took his life. He was buried in Cox's Creek Baptist Church Cemetery in Nelson County, Kentucky. We have not been able to determine where his wife was at the time of his death. David Phillips's marital status on his death certificate was listed as "single," but that sometimes happened when next of kin could not be found in time. In 1918, according to news reports, Mrs. David Phillips received $10,000 in a settlement from the L & N Railroad for the loss of her husband. Mrs. Phillips, at her death in 1946, lived at Route #1, Shepherdsville, in Bullitt County and is buried in Cox's Creek Baptist Church Cemetery, near her husband.
Or is she?
James' death certificate says that she is buried at "Cox's Creek." A single headstone in the Cox's Creek church cemetery shows both his and her names. Interestingly, though, the place on the headstone for her death is blank.
It has been nearly a century since the train wreck took place. Today, we still can remember the people that were in this train wreck and how they suffered and died. Author Charles Hartley wrote a fascinating book on the subject that is available at the Bullitt County History Museum. Go to this page to read more about the book.
There are mysteries about David Phillips and his family to which we may never know the answers. Perhaps with your help, we will learn more. By remembering all of the victims of that terrible train wreck, we hope to honor David, his family, and all those who died on that terrible winter day.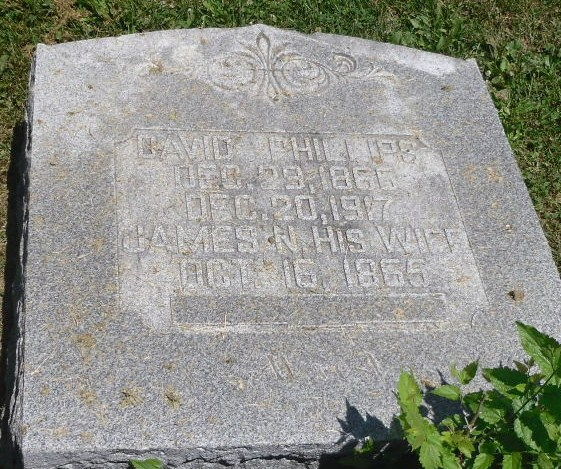 Phillips' tombstone.
---
Copyright 2013 by David Strange, Shepherdsville KY. All rights are reserved. No part of the content of this page may be included in any format in any place without the written permission of the copyright holder.
---