The Field Family
The following article by Charles Hartley originally appeared in The Courier-Journal on 16 Oct 2013. It is archived here with additional information for your reading enjoyment.
---
My interest was drawn to this family when the name Richard H. Field kept popping up in information that we collected and published on the Bullitt County History Museum web site.
Curious to know more about this man, I turned to a two-volume Field Genealogy published in 1901 by Frederick Clifton Pierce of Chicago. Professional genealogists like Pierce were often solicited to do family trees, but not all were equally well researched. In this case it appears that Pierce did a remarkably thorough job.
However, I was disappointed to discover that the extent of his knowledge of Richard was that he was a son of Abram and Eliza (Simmons) Field.
Undeterred, I continued to dig for more clues to the life of this man, and in the process learned quite a bit about his father and his siblings as well; and if you will permit me, I'd like to share some of it with you, beginning with his father, Abram Field.
Of him, Mr. Pierce wrote, "Abram Field left home on account of the tyranny of a step-mother, when quite a small boy. He went to Mann's Lick Salt Works, seven miles south of Louisville, Ky., and hired out to drive a horse around a sweep at twelve and one-half cents a week and board. He remained with David L. Ward, the owner of the salt works, until grown, and with what money he had saved, and Ward's endorsement, he went into the merchandise business, and remained in it until he retired in 1849, having accumulated a handsome property."
It is really not clear whether Abram left home while the family was living in Culpeper County VA, or after Henry Field moved his family to Bullitt County, but it seems more likely that it was the latter.
At any rate, Abram worked hard and was frugal, building up a nest egg. It appears that he moved to Shepherdsville sometime around 1820 or before, and started a business, likely a general store. He married Richard P. Simmons' daughter, Eliza, in 1822. At the time, Abram was in his early forties, and Eliza was seventeen. Together they were the parents of five children, three boys (Richard, Alfred, and Abram Jr.) and two girls (Mary Jane and Elizabeth Ellen).
Eliza Simmons Field died in 1840, leaving Abram, who was now nearly sixty, to finish raising their children. Richard, the oldest at sixteen, would soon begin studying law; and we will return to him in a bit.
Of the other children, Mary Jane Field married first to Jacob Bowman in about 1844. They had two children, Jacob (who died as an infant) and Abraham Hite Bowman, before her husband died in 1848. She next married Henry Trunnell, and they had ten children. Among these was Mary Elizabeth who married Tom Pottinger, and whose reminisces may be found on our web site here.
The other daughter, Elizabeth Ellen Field married Solomon Neill Brooks in 1843. Solomon's grandfather was Joseph Brooks who was one of the saltmakers at Mann's Lick. Solomon and Elizabeth's family prospered, and I'll leave their story for another time.
Alfred J. Field was ten years old when his mother died. He married Ellen Herr in the early 1850's, and they had two daughters (Bettie and Ella) and a son, Fred H. Field. Bettie married Thomas McElroy, Fred married Clara Gordon, and Ella never married.
Alfred was a paymaster for the railroad in the early 1860's; then he tried his hand at carpentry a decade later. In 1877 he was listed as the secretary of the Falls City Club in Louisville, and intriguingly as a gambler in the 1880 census record.
The other son, Abram Hamilton Field, Jr., married Julia Frances "Frankie" Swearingen, and they had a son in 1855 they named William Abram Field. William married Hattie Hoagland in 1890 and they had a son named Frank.
Unfortunately, Frankie Swearingen Field died the following January. Hamilton, as he was generally known, later married Mildred Miller, and they had four daughters (Hamletta, Sarah, Josie, and Mildred).
Hamilton Field also became a lawyer. He represented Bullitt County in the Kentucky House of Representatives in 1857-59, and in the Senate from 1867-69. By 1880 he had moved his family to Dallas, Texas where he died in 1900.
Returning to Richard H. Field, by 1847 he had become Bullitt County Attorney, and in that year was elected to represent the county in the General Assembly in Frankfort, a post he held again in 1850.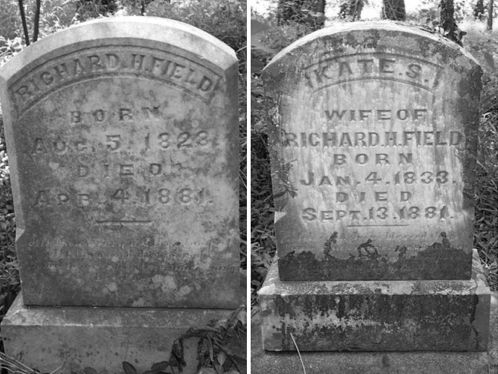 Richard and Kate Field in Shepherdsville Pioneer Graveyard
In 1851 he married Kate Swearingen, Frankie's sister, and they had five children. It appears that they made their home just north of Shepherdsville, for this is the farm that he sold to T. C. Coleman in 1860 which became known as "The Meadows."
Richard was elected to the Kentucky Senate in 1861 and served there four years during the Civil War. A former slaveholder himself, and the son of a slaveholder, Richard remained loyal to the Union during this difficult time. This is shown by his vote to expel a fellow Senator who had joined the Confederacy in 1861; yet he did not vote for the passage of the 13th Amendment in 1864.
Up until his death in 1881, Richard H. Field was well respected in his community. Below is a list of links to places on this web site where Richard H. Field is mentioned. We encourage you to visit these pages at your leisure.
---
Copyright 2013 by Charles Hartley, Shepherdsville KY. All rights are reserved. No part of the content of this page may be included in any format in any place without the written permission of the copyright holder.
---