THE PURSUIT OF HEALTH AND HAPPINESS
AT THE PAROQUET SPRINGS IN KENTUCKY.
1838 TO 1888
This was originally published in the Filson Club History Quarterly, Vol. 69, No. 4, October 1995, pages 390-420. Audrea McDowell was at that time the manuscript cataloger at The Filson Club Historical Society, and the author of a number of articles on state and local history.
---
One of the largest and most popular watering places of its day was located only a few miles from Louisville, Kentucky. Its name is known chiefly to the descendants of long-established families in the area where it once flourished, but even they know it only as a tradition, and details of its history have grown dim and difficult to discover. The spa was Paroquet Springs, and it was situated near Shepherdsville in Bullitt County, just nineteen miles southeast of Louisville. This is the story as it has unfolded from information long buried in old court records and in family letters, many of which are housed in manuscript collections in The Filson Club Historical Society. It answers many questions about the origin, operation, and demise of the famous spa but leaves others unanswered. Perhaps with this beginning, more information will come to light so that a complete history of Paroquet Springs can someday be written.
Staying healthy in pioneer Kentucky was no mean feat. If the Indians, wild animals, and hard work did not put an untimely end to the Kentucky pioneer, untreated illnesses were apt to do so. There were few doctors on the frontier, although considering the state of medical knowledge in the eighteenth and nineteenth centuries, this may not have been all bad. But the early Kentuckian did have a few medical advantages. and one of them was an abundance of mineral springs.1 The pioneers had long known and made use of medicinal or "healing" springs. Entire families would camp near such a spring so that an afflicted member could drink the healing water or bathe in it or both. People thought they knew which springs helped which ailments, and they sought out the ones they needed for their particular problems.
As time went on, this practice became as customary for the well-to-do as for less affluent Kentuckians. The difference was that the wealthy took the waters in much more elaborate surroundings, patterned on the spas that developers had known in the eastern states. These, in turn, had imitated famous European spas.
Taking the waters became popular for social as well as for medical reasons, and attracting guests from afar, as well as from nearby, became a competitive business. Not everyone who summered at a watering place was ill. Far from it. If one person in a family felt indisposed, other family members, and even the entire family that could afford it, might pick up—servants and all—and go to take the waters. If no one was ill, the springs were thought of as first-rate preventive medicine, particularly during cholera, yellow fever, and other epidemics. But many people simply and unabashedly went to spas to have a good time.
Once the healing waters were no longer isolated in the Kentucky wilderness, resorts developed around many of the mineral springs. Patients' spirits were elevated by every means that zealous resort owners could devise, while their guests pursued both health and pleasure.
In the heyday of the fashionable watering places, there were one hundred and twenty-five resorts in Kentucky, and several had national reputations.2 Fine foods and beverages, dancing, gaming, walking, riding, and hunting were standard at most of the popular spas, and Kentucky's were no exception. Crab Orchard Springs in Lincoln County offered summer and fall racing at the nearby Spring Hill Race Course in addition to its regular programs; Graham Springs at Harrodsburg had cotillion parties conducted by a "professor of dancing" along with its usual diversions; Greenville Springs in Mercer County announced a "regular theatrical company of respectable performers" as well as "the best band of music that can be procured..." - and so on and on.3
Even transportation facilities were improved wherever such improvement lay within the power of the hosts. Resorts were often in rural areas off the main roads, and wise hosts saw that all available carriages, stagecoaches, boats, and, later, trains were used to keep arriving and departing guests as comfortable as possible. Mary Cordelia Price Brown, writing to her husband about her trip to Crab Orchard. testifies to the importance of improving transportation:
After a cruelly hot ride we arrived safely here at 11 o'clock at night making the whole trip in one day and having added to the usual distances 10 miles being in the mail stage we had to make a circuit delivering the mall which was just that far out of the way.4
Many of the watering places appealed to all members of the family. While they offered brilliant balls and excellent wining and dining with plenty of opportunity for romance and matchmaking. they also provided such family diversions as croquet, horseshoes for the gentlemen, lawn tennis, and other games that all ages could enjoy. Other spas had racier reputations.
The personality of the host, his management practices, and his imagination and skill in providing amenities and entertainment determined the atmosphere of the watering place and the type of guests who returned year after year.
Zachary Taylor, later the twelfth president of the United States, wrote from St. Francisville, Louisiana. to his brother Hancock Taylor at Louisville on 22 May 1823, "I hope...that you are preparing to set out with Annah and your two youngest children on a long travel...no consideration ought to induce you to spend the approaching summer in the ponds..." (a not too flattering reference to Louisville whose drainage problems at this period were legendary). He continued, "Were I in your situation I would visit several watering places during the season in Kentucky & if I and my family was not benefitted by doing so, I would spend a month or six weeks at the Sweet Springs in Vlrginia."5 Hancock must not have followed his brother's advice, for on 3 October 1823 Zachary wrote again:
I have not only been mortified but vexed that you have continued in spite of the opinion of your friends and the warning you have had from disease, to remain during the summer in the pond. I had flattered myself when I left you last spring that you would have taken the whole of your white family, early in June and continued traveling to the different watering places during the 3 summer months and September....6
Taylor was obviously concerned chiefly with the medicinal qualities of these spas; even though amenities and social activities would be expected, his chief concern was for his brother's health.
Health was also the reason that R. A. Harbison sought a cure from Dr. Caspari's Water Cure at "the Haunz Farm on Haunz Lane" at Westport. She is one of the few who specifically described the treatments. In a letter to her sister of 17 June 1869, she writes, "We take a bath about eleven o'clock, some days we take a vapor and dust bath, sometimes a galvanic bath...." At about four o'clock, "We take another bath, sometimes a sits [sic] bath and sometimes a pack." She disliked the pack:
[T]hey dip a sheet in a bucket of right cold water...you undress ...and get in and...Mrs. Caspari tucks the sheet around the boddy [sic] as tight as she can, then the blanket and the comfort so tight you can't move, then they leave you for about a half hour ...then they come and unpack you and take the sheet and dip it in...right cold water and about...half wring it and throw it around you. Then they rub you as hard as they can. Oh, I tell you it is awful.7
Whether this was the routine at other spas is not stated. All spas advertised a variety of baths and extolled the benefits of drinking their medicinal water. But their approaches—at least at the more elegant places—seemed to indicate gentler treatment.
A letter from Henry Clay in 1804, on the other hand, implies that many of his friends were primarily interested in the social climate of the spa he is discussing. Colonel Thomas Hart, Clay's father-in-law, was the owner of one of the earliest and best-known watering places in the Bluegrass region, located forty-seven miles east of Lexington. Hart discarded the original name "Mud Lick" and gave his resort the more elegant name "Olympian Springs." There he built a hotel with a dining room for "100 ladies and gentlemen" and cabins for families who "preferred to board themselves."8 On 25 May 1804 Henry Clay wrote Hart: "The Olympian Springs are the constant topic of conversation. 'Do you not intend to go there this season?' is a question put to everyone, and nobody answers it in the negative."9 Unless all of these people had foreknowledge of impending illness, the social activities of the spas must have been their chief attraction, while the benefits of the water, although important, were secondary.
Most of Kentucky's watering places originally had been salt licks. The word "lick" was meant literally: "Buffalo by the thousands made great roads into [the licks] and licked out deep trenches in the salt-impregnated clay."10 Some of these trenches were deep enough to conceal a man on horseback as he rode through them. The early hunters, white and Indian, treasured salt licks. The Indians unquestionably had known of Kentucky's mineral springs and their curative powers long before the pioneers discovered them. Also, the salt licks drew the game, some to lick the salt, others to prey on the herbivorous animals who needed it. At a salt lick, hunters, white and Indian, could be sure of "killing their meat."
Land locators and speculators searched out licks and claimed them whenever possible because salt was essential as a preservative for meat, the staple wilderness diet. The pioneers could no more survive without salt than without weapons and gunpowder. A salt lick enhanced considerably the value of the land on which it was located.
In Kentucky, as Indian warfare faded to a grim memory and the Mississippi was opened to American trade, towns began growing, the economy strengthened, and at last Kentuckians had time and money as well as a long-suppressed urge for entertainment. In an astonishingly short period these humble salt licks with their medicinal waters were transformed into glittering, sophisticated, fashionable spas where the elite and well-to-do came from all over the country to take the waters and have a fabulous time doing it!
Every spa published analyses of its waters and vied with competitors for doctors' testimonials and recommendations. Even so, a cheerful atmosphere was deemed an important factor in successful recovery, which offered a rationale, if any were needed, for the elaborate entertainments.
Some of Kentucky's watering places boasted springs of several types. Most common were "salt, salt-sulphur, white sulphur, black sulphur, red sulphur, chalybeate (iron), vitriol, alum, copperas, and Epsom springs, the use of which was diuretic and cathartic in effect,"11 This variety was important and well publicized because it meant that spas with more than one type of spring could attract guests in need of various treatments and keep them for the season, rather than have them move on to rival establishments.
The large and beautiful Paroquet Springs resort at the height of its popularity offered comfortable accommodations for several hundred visitors. In addition to the usual amenities offered by a resort of its class, it featured rowing on Salt River which bounded the property to the south.12 One advertisement stated that:
on the tract are a number of wells and springs of mineral water, justly esteemed for its valuable medicinal quality, the water of the principal spring greatly resembling but far superior to the celebrated Blue Lick water.13
This spa, like all others, started out as a salt lick. According to Robert Emmett McDowell:
About half a mile above Shepherdsville was a pretty little lick, on the north bank of Salt River, known variously as McGee's Lick or the Parakeet Lick from the flocks of these colorful birds that frequented the place....Here James Burks discovered salt water and secured a lease from the McGees who owned the tract of land it was on. Burks was to have the lick for two years rent-free for opening it. However he didn't have the necessary cash for the kettles.14
And without the huge, flat-bottomed iron kettles it was impossible to boil enough salt water to produce salt commercially.
The salt water at Parakeet Lick was never plentiful nor of a very high quality, It might never have been worked had the owners of Bullitt's Lick and Mann's Lick, two huge saltworks in the area, not attempted to establish a salt monopoly by limiting production and raising prices. But they did, so John Dunn, "who had plenty of kettles, formed a partnership with James Burks, and in 1803 they began to make salt at the Parakeet Lick." This gave the lick a few years of commercial importance.15
In 1807 or 1808 John McDowell, a local landowner and one of the men who made salt at Parakeet Lick during its commercial career, purchased the tract that included the lick, probably from a man named Peter Kerns who had purchased it from Jacob Myers, a land speculator, in 1800 or 1801.16
Parakeet Lick was abandoned when the monopoly failed and the much larger Bullitt's Lick went back to full production. McDowell made his home on the northern end of the property and in 1826 settled his daughter Artemesia and her husband Reuben D. N. Morgan on the south end where Parakeet Lick was located.17
Reuben D. N. Morgan was a Shepherdsville attorney. He hired workmen and began to make "improvements" to the property, including a house, outbuildings, and fences. But according to a number of depositions, he also spent much of his time promoting the medicinal waters of the Parakeet springs.
In 1840 William Bolin recalled that John McDowell had told him before his death in 1838 that Morgan:
had done a great deal of hard labor with a view of bringing into note the medical spring on said place with a view of selling it the more readily to some person who would wish to make it a fashionable watering place.
McDowell also told Bolin that "he thought it would never be that place of note that Morgan seemed to think it would."18
Sidney S. Alexander remembered that Morgan interested the citizens of Shepherdsville in the spring, "raised a fund and had the spring improved not only by opening a way from the town of Shepherdsville but also erecting a house over said spring, placing a gum in it."19 The word "gum" in this instance seems to fit one of Webster's less well-known definitions as "also a vessel or bin made of a hollow log." In this case it was probably a basin of some sort for holding the water. Alexander also stated that Morgan had had the water analyzed, published the results, and got laudatory statements from physicians.
N. C. Summers, clerk of the Bullitt County Court, stated that:
When I first visited the well [1826] there was little or no attention paid to its improvement. A subscrlption was then raised by the citizens of Shepherdsville, and R. K. Summers [another Bullitt County resident] built a house around and over the well, and two gates were made also and put in the fences to go through on horseback to the spring. All these expenses, I recollect, was got up, done and paid for by those in town. There may have been some in the country who assisted.
Summers added that his family "used the water in about 1828" and regularly afterward "when it was in a condition to use...."20 Morgan was right about the potential of his spring, but whether from frustration or some other reason, he gave up his efforts to promote it and moved away to Meade County in 1833.21 After his departure John McDowell let his son Robert live on the place for a while.22 Then in September 1836 he sold the property to Humphrey Simmons.23
Simmons kept one hundred acres for himself and resold one hundred and fifty acres to James Guthrie "to secure to the said Guthrie the sum of two thousand [dollars] by him paid for said land ...to McDowell through said Humphrey Simmons...."24 Guthrie was to hold this land as trustee for Sarah Courtney Colmesnil, wife of John D. Colmesnil, a Louisville merchant, It was Colmesnil who founded the watering place at the springs and eventually realized the dream which had eluded R. D. N. Morgan, It is possible that Colmesnil, who was of French parentage, was responsible for the subsequent spelling "Paroquet," sometimes also spelled "Paroquette." However, there is some evidence that "paroquet" was not an uncommon spelling at the time for "parakeet."
Colmesnil was born in Haiti in 1787, the year of a major native uprising. His mother, sisters, and brothers all were killed, and his father, Louis Colmesnil, was badly wounded. Colmesnil was saved by his nurse who returned him to his father as soon as she was able. Louis Colmesnil chartered a vessel and got his infant son, some neighbors, and a large group of servants safely to Philadelphia. They moved to New Jersey, then a slave state, and later to Georgia because Colmesnil's black servants were suffering from the cold climate in New Jersey. They remained in Georgia until Louis Colmesnil's death.25
Two of John Colmesnil's cousins had made their homes with his father for a time after coming to the United States. They eventually married John and Louis Tarascon of Louisville. After his father's death, Colmesnil freed all his slaves according to his father's last instructions and came to Louisville to visit his Tarascon relatives. He engaged in business here, first with John Tarascon, then on his own. Amelie Honore, his first wife, lived only a short time, and in 1826 he remarried, this time to Sarah Courtney Taylor, daughter of Major Edmund Taylor.26 It was for her that John D. Colmesnil purchased the Paroquet Springs tract.
Colmesnil, whose business was first in flatboats and later in steamboats, had strong mercantile ties to New Orleans.27 He recalled that he purchased the Paroquet Spring tract as a "retreat" for his wife, "whilst I should remain in New Orleans in business." He later decided to convert it into a watering place around the "medical waters on the land." He added that he "knew for four or five years before I purchased [it] that there was [sic] medical [sic] waters on the land. I had heard of the medicine [sic] qualities of the waters some years before I visited the spring.28
Evidently Morgan's efforts to publicize his waters had been more successful than he realized, but Colmesnil must have been in no position to develop a spa when he first heard about them. It is probably safe to assume, however, that the "medical waters" offered a compelling reason for him to select the property as a retreat for Mrs. Colmesnil. Colmesnil further testified that he "commenced improvements...in the Fall or Summer of 1837" and "removed my family to [the tract] in 1838."29 In addition to the land he bought, Colmesnil rented for three years twenty acres of the land that Simmons had retained, because the only buildings—a stable, kitchen, and smokehouse—were on that part of the land. This raises the question of what happened to the house that numerous depositions stated Morgan had built there? Were the buildings described by Colmesnil the same or remnants of the same buildings that Morgan had built? Or had Morgan's buildings been replaced during the tenancy of McDowell's son Robert? Whatever the answer, Colmesnil agreed to put them in "such a state of repair as would make it tenantable for Mrs. Taylor." Was Mrs. Taylor his wife's mother?
Since the buildings were not even on the tract Colmesnil purchased, he must have proceeded with his own house and hotel on his tract of land. Did the Colmesnils reside, at least for a time, in the hotel? Did he build a separate house for his family at any time and if so, when? During all of Colmesnil's business life he had experienced financial reverses as well as successes. He wanted to secure this property to his wife in a way that would protect her against the fluctuations inherent in his business. To do this he apparently employed a legal fiction. He had asked his friend James Guthrie to become trustee for Mrs. Colmesnil. Humphrey Simmons had purchased the entire Paroquet tract in his own name with a prior agreement that Colmesnll would take one hundred and fifty of the two hundred and fifty acres. The deed by which Simmons and his wife transferred the one hundred and fifty acres shows that they sold the tract not to Colmesnil but to James Guthrie, trustee for Sarah Colmesnil. There was also a clause in the deed that stated that Guthrie was to hold the land "for Mrs. Sarah Colmesnil...to and for her separate benefit free of and from the control of the husband and to her heirs in fee forever ."30
Documents were executed that made it appear that Guthrie furnished the purchase money and retained a mortgage on the property as his "surety" for the two thousand dollars.31 Other documents state clearly that this money was repaid from the profits of the Paroquet Springs property. Yet by his own testimony in 1841, Colmesnil says he purchased the land, making it clear that he had to have employed a legal device to secure the Paroquet Springs property for the benefit of his own wife and children. Despite his surprising candor, it worked. No creditor ever took the property for one of Colmesnil's business debts. An arrangement of this kind certainly called for implicit trust between Guthrie and Colmesnil.
It is not impossible that Colmesnil, employed in the flatboat and steamboat trade for most of his adult life, and James Guthrie, lawyer, financier, promoter, and eventually secretary of the treasury under Franklin Pierce, may have known each other from young manhood. Guthrie had always wanted to be a lawyer. But according to Melville Briney, longtime columnist for the Louisville Times, before Guthrie's dream of a legal career came true, he:
manned a flatboat to New Orleans, drifting downstream with a boatload of Kentucky products. Three times he cruised the Mississippi; three times he sold out his produce, pocketed the money and returned safely by horseback through rugged, Indian-infested country.
James Guthrie was the son of General Adam Guthrie, an Indian fighter, who came from Virginia to Nelson County.32 He must have been no stranger to privation and even violence before he undertook his commercial ventures to New Orleans. He and Colmesnil may well have met there when both were young. Certainly by the time Guthrie was secretary of the treasury, Colmesnil was working as a trusted agent in the Treasury Department:
If large amounts of coin were to be removed from one point to another, the custody of it was intrusted to Mr. Colmesnil, whose scrupulous honesty Mr. Guthrie had learned and known and seen tried for years.33
A letter that Colmesnll wrote to Guthrie in 1863 confirms their long friendship.34
Despite his reputation for scrupulous honesty, Colmesnil obviously feared that he might need more time to settle a business debt than some creditors would be willing to allow. Of course this legal fiction did not protect Mrs. Colmesnil against debts incurred in connection with Paroquet Springs itself, and her husband appears to have seen that any such debts were paid promptly.
Colmesnil usually styled himself "Proprietor" and as such signed the advertisements, managed the resort, and appeared annually before the Bullitt County Court to renew the liquor license for Paroquet Sprlngs.35 On 23 November 1838, C. W. Thruston advanced five hundred dollars to Colmesnil to help with "the improvement of the Shepherdsville Springs and Paroquet Tract of land in Bullitt County." The loan was secured by a mortgage on the property.36 Thruston was not the only investor. Colmesnil was a businessman and went about financing his improvements in a businesslike way. In a suit filed 14 October 1843 in the Bullitt Circuit Court, sixteen well-known Louisville residents filed suit against Colmesnil and his wife to recover the money they had invested in 1838 to develop Paroquet Springs as a watering place. Since only the Bill and a Summons were filed in the case, payments appear to have been made to everybody's satisfaction.37
Colmesnil obviously made a determined effort to put Paroquet Springs on a sound financial basis. An ad in the Louisville Daily Journal in early June 1839 informed the public that:
These springs situated in Bullitt Co. about 19 miles east of Louisville and near Shepherdsville, have been thoroughly fitted up and put in commission for the accommodation of the public, on the 15th day of June under the management and control of John D. Colmesnil, Esq. for the use of the proprietors. The improvements are all new, neat and comfortable and room sufficient to accommodate 200 to 250 persons.38
The renovations were impressive. A Visitor in 1840 found Paroquet Springs to be:
"One of the most lovely and attractive summer retreats to be found in the Union." [He] reported that walks of gravel and bark had been laid amidst natural growths of hickory, cedar, oak, maple, locust and buckeye. Near the main hotel were bath houses, a dining hall and rows of neat family cottages. A large ballroom had just been completed. In the river and the woods were fish and game .... And there were boats to sail or row upon the Salt River.39
Paroquet Springs evidently had a select clientele from the beginning. In addition to C. W. Thruston and his family and probably the other investors and their families, Lunsford P. Yandell, one of Louisville's most distinguished physicians, wrote to Dr. Charles Wilkins Short in early June 1840 from Paroquet Springs. The letter deals chiefly with recent developments in medical education in Kentucky. However, he ends by bemoaning the weather which is ruining his holiday: "The rains continue horribly - it poured last night, & is now thundering. We are here to stay a day or two for a little relaxation but the prospect is not flattering in such weather."40 Paroquet Springs attracted:
a large family clientele. Many rented cottages and stayed the entire summer season which in Kentucky usually ran from June through August...The spa boasted three springs which were impregnated with combinations of epsom, salt, sulfur and magnesia.41
In April Colmesnil may have been enlarging again, because he mortgaged cows and horses, wagons. harness and tools. two skiffs, and "household furnishings for 32 rooms" with "One Double Bedstead." "One Single Bedstead," and bedding for each. "one wash stand. one table or dress Stand. one Ewer and Basin. Two Tumblers, one looking-glass, four chairs, one night or chamber, one candle stand." in addition there were seven rooms, each with four single bedsteads and other furniture; "One Room with sixteen Berths, etc." and "Thirty Cots" and furniture, and "one large mahogany Bedstead With Hair mattress and feather Beds..." all of which suggests sleeping accommodations for about one hundred and seventy-five guests.
Furnishings were also described for dining rooms, sitting rooms, and kitchen. The inventory included twenty-seven dozen tumblers, two dozen decanters, eight dozen wineglasses, five dozen pitchers, four dozen cream and sugar bowls, forty-six dozen plates, eight dozen dishes, fifteen dozen cups and saucers, ten or twelve dozen tablespoons, seventeen dozen teaspoons, twenty dozen knives and forks, fourteen dozen chairs, four sets of tablecloths for tables, one hundred and fifty feet long, one set of oil cloth for dining tables, twenty-seven dozen towels, twelve sets of window curtains and fixtures.42
There is much more on the inventory list, but the above items give an idea of how many guests the hotel at Paroquet Springs was prepared to accommodate in 1841 and how it was prepared to accommodate them. There may have been additional furnishings for the cottages.
In mid June 1844 Colmesnil advertised in the Louisville Morning Courier and doubtless other papers as well:
[Paroquet Springs] have been favorably known and numerously attended each season since 1838. The undersigned proprietor has spared neither labor nor money in making this one of the most agreeable watering places in the West. The cottages are beautifully situated in a delightful grove of 20 acres, which is laid out with taste, and intersected by various walks, affording delightful promenades under the cool shade of the forest trees.
Considerable improvements have been made this spring so as to offer comfortable accommodations for several hundred visitors. The analysis of the water shows it to contain sulphate of magnesia, muriate of soda, carbonate of lime, and a small portion of iron. The judgement of physicians, and still more, experience of hundreds of patients, vouch for its excellent medical qualities.
There are bath houses for ladies and gentlemen. Warm showers and vapor baths can be taken at any hour of the day.
Board was listed as $1.00 per day, $6.00 Per week; four or more weeks $5:00. Horses 50 cents per day, $2.50 per week.
N.B. There is a daily stage from Louisville to Paroquet during the watering season from the 9th of June to the 15th of October. Office at the Galt House. And also a line from Mt. Washington to Paroquet that intersects the Louisville and Bardstown stage. [signed) J. D. Colmesnil.
Mr. William Nock is the sole agent for the sale of Paroquet water. He is always prepared to furnish it by the barrel or in jugs of three gallons, fresh from the spring every few days.43
A letter quoted in the Louisville Morning Courier in mid September 1844 supplements the picture of Paroquet Springs:
Dear Haldeman:
I am so delighted with Paroquet - so fascinated with its beautiful groves, shady walks and magnificent scenery adjacent - so pleased with the brilliant company assembled here - and over and above all, so charmed and taken with the lovely beauties [about which he effuses for some time]. The sports are varied and excellent, such as fishing, gunning, tenpin rolling, card-playing, dancing, etc. Everything is in excellent order and the worthy proprietor, Mr. Colmesnil is...very attentive, polite and assiduous.
An ad in the Louisville Morning Courier in mid October 1844 for Paroquet water, by William Nock of Market Street is more precise than most ads about the ailments this water can relieve:
The medicinal properties of this water have procured for it a high reputation in cases of general debility, irregularity of the bowels, nervous diseases, headache, dyspepsia and all disorders of the stomach and bowels, and particularly in diseases of females as can be attested by numerous physicians.
In addition to its cathartic, diaphoretic and diaretic properties, it is an excellent tonic, and is highly beneficial in all cases of debility.44
In mid June 1845 one of Colmesnil's ads in the Louisville Daily Journal asserts that: "The establishment is so well known that the proprietor deems it unnecessary to enter into a description of it." The ad mentions that "considerable improvements have been made at this spring. "45
The decade of the 1840s clearly was a period of great activity at Paroquet Springs, but very little is known of the resort in the 1850s. Did it become so well known that Colmesnil did not think it was necessary to advertise at all? Was he beginning to experience the slump that preceded the Civil War? Perhaps Colmesnil's other business affairs were so pressing that he was unable to give Paroquet as much of his time as before. This is suggested by a court case in 1860. Guthrie states that he holds "the property" [not identified] in trust for his wife but denies that the trust property is liable for the debt sued for. He says that it is the debt of John D. Colmesnil, not of Mrs. Colmesnil. The property referred to is certainly Paroquet Springs, but the debt evidently involved another of Colmesnil's enterprises.46
The 1860s with the onset of the Civil War witnessed drastic changes at all of Kentucky's watering places, and Paroquet Springs was no exception. By October 1861 we find Abraham Yarborough Johnson, chief of Louisville's fire department, writing in his journal:
Sat. Oct 5 1861 - Getting ready to open our camp at Shepherdsville to be called Camp Washington.
Thurs. 10 Oct 1861 -Gave orders to occupy Paroquet Springs today.
Wed. 16 Oct. 1861 -Left the city [Louisville] this morning for Camp Washington at Paroquet Springs in Bullitt Co. everything all Right, 100 men in camp. Cloudy but pleasant.47
Life at Paroquet Springs could not have been so pleasant for the Colmesnil family, however:
The soldiers during the late rebellion camped upon [Colmesnil's] premises, and tore down most of his buildings and cut down many of his trees; but he still remained there. He said for the last few years of his life that he had become so much attached to the place and so used to drink of its waters that he knew he could not live anywhere else.48
In mid June 1863 Colmesnil dictated a letter to Guthrie but made no comment on what had happened at the hands of the soldiers, writing:
I renew my acknowledgments to your friendship and kindness toward me in all situations for more than forty years. Such continued friendship is very rare under all circumstances, and I appreciate it, and will to the end of my life.
He had wanted to come to Louisville in person "but I am too weak and cannot walk 100 yards without pain." Colmesnil asked Guthrie to help his son, who was coming to Louisville to take care of a financial matter for him.49
The Colmesnils were still at Paroquet Springs in 1870 when a tantalizing item appeared in the Louisville Daily Commercial in early July. It indicates that the spa was still in operation, but unfortunately it is lacking in details. The item reports that:
Home Lodge #29...with a numerous throng of invited guests, had a basket picnic at Paroquet Springs [on July 4]. They went on a special train of 12 cars and returned to Louisville by train at 6 p.m. Day spent promenading amidst the grand old forest which environs the ancient watering place, [so the soldiers had not entirely devastated the grounds], fishing in the classic stream of old Salt River, or dancing to exquisite music upon the shady bluegrass lawn.50
It would be nice to know who was supplying the "exquisite music" and whether the "shady bluegrass lawn" was the result of soldiers having cut down some of the trees.
Despite Colmesnil's ill health, it was his friend James Guthrie who died first on 13 March 1869.51 In addition to the loss of his friend, Colmesnil was also faced with the necessity of finding a new trustee for his wife. Richard H. Field, a Shepherdsville Judge, was the man chosen, and on 17 April 1871 he became the new trustee or "next friend" of Sarah C. Colmesnil.52 On 27 April 1871, acting in this capacity, Field sold the Paroquet Springs tract and resort to a newly formed Paroquet Springs Company.53 The sale was confirmed 28 April 1871. Before this, however, on 18 April 1871, Field had brought an action against the heirs of James Guthrie which ended in their releasing "all claim and title as trustees for Mrs. S. C. Colmesnil" that might have accrued to them "by descent from James Guthrie."54 Colmesnil moved back to Louisville with his family after thirty-three years at Paroquet Springs. On 30 July 1871 he died, one day before his eighty-fifth birthday.55
After the Colmesnils' long ownership of Paroquet Springs, the property went through fourteen years of rapid management changes that resulted in alternating periods of improvement and neglect. In June 1871 following the purchase of the property by R. A. Johnson, V. R. Bartlett, J. C. Johnston, Joe Werne, and J. W. Burton, doing business as The Paroquet Springs Company, the new owners made an agreement to lease a small portion of the land to "The Paroquet Club." Nothing further was done on the matter until November of the same year. In the meantime, other plans were afoot to promote the spa. Whatever its condition at the time of purchase from the Colmesnils, the Paroquet Springs Company had it ready by 20 July 1871 to host a brilliant "Inauguration Ball."56 This was evidently intended to "inaugurate" a new regime at Paroquet, since Governor Preston H. Leslie was not elected until 7 August 1871, and his inauguration would not have been held in Shepherdsville.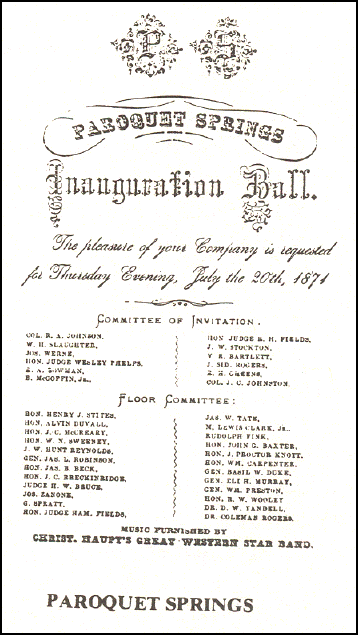 Invitation to the Inauguration Ball
Bullitt County Historical Commission
The "Committee of Invitation" included R.A. Johnson, the president. and three other members of the Paroquet Springs Company as well as Judge R. H. Field, Judge Wesley Phelps, and five others who probably were patrons. The "Floor Committee" was larger and included twenty-four prestigious Kentuckians from various parts of the state. The new owners of Paroquet Springs were off to an impressive start. The ball took place as scheduled, and the following review appeared in the Louisville Daily Commercial in late July 1871:
PAROQUET
The Grand Opening Ball -Glare Glimmer and Glitter -beautiful Women and Exquisite Toilets - A brilliant Affair The Grand Inaugural ball, given at Paroquet Springs, on last Thursday night, was a most brilliant and recherche affair. There was a perfect gush of loveliness, and the scene was enhanced in splendor by many beautiful faces which lent charms to the occasion.
There were gathered Kentucky belles from the various neighboring villages and farmhouses, city belles, who were down for the special event, and belles from various parts of the South, who happened to be guests at the place. At 9 o'clock the doors of the commodious ballroom were thrown open, and we have seldom witnessed a more magnificent coup d'oeil than was there presented. The walls were handsomely decorated, and the dazzling chandeliers rivaled the daylight with their splendor. The air was filled with the hum of merry voices. Gay dresses vied with each other in their brightness, and diamonds and bright eyes flashed and sparkled in the brilliant gaslight.
But the music begins and the strains of Chris. Haupt's band drew inspiration from the bright faces of the expectant guests, and never was there a waltz so dreamy, or a gallop so exhilarating as moved obedient to the pulse of the music. It was a treat to sit and watch fair dames and gallant cavaliers, in a stream of splendor, pour into the spacious room from the parlors, the verandahs, and down the winding stairways. The poetry of motion and the sentiment of music were co-mingled. It was not an exclusively stylish and fashionable affair. The fair ones who did not choose to bare their arms and bosoms. wore dresses which, if somewhat "dowdy" were at least decent. Those who did not have splendid jewels, did without them; and those who were not impulsively [sic] great on chignons and other head adornments managed to wear nature's own adornment; and those who did not sport trains several yards long. went into the dance with abbreviated dresses, and came out with fewer rents to deplore....
We can only say in general terms that the ladies were charming; that their partners in the dance were composed in about the usual proportion of exquisites, and of nice young men who knew all the variations of bewildering body spinning which were put down on the dancing cartes. The dresses were without exception expensive and many of them were exceedingly beautiful.
The supper at 2 o'clock was a grand success, in fact too replete with good things...
The guest list was over half a column in tiny type and included Clays, Prathers. Hamiltons. Tilfords, Grays, Courtenays. Bullitts, Merriwethers, Hites. Yandells, Speeds, Ballards, Mortons, Clarks, and others.57
On 9 November 1871 the Paroquet Springs Company sold five shares of capital stock in the resort to the Paroquet Springs Club and executed the lease which had been agreed upon in June. (The alternate spelling of "Paroquette" is now often substituted for the more usual "Paroquet.")
By the terms of the lease, the Paroquette Club was to have "a lot of ground" on the Paroquet Springs Branch at Salt River:
about 90 feet up Salt River, thence N15W 135 feet (passing a white walnut tree 14 feet from the River) to the corner of a fence; thence N45W 66 feet to a sycamore in the bottom near the said spring branch; thence SSE to a large gum tree 119 feet; thence with said Paroquet Spring Branch in its meandering to the beginning, with free ingress and egress through the Paroquet Springs Company's grounds at all times....58
The club was given a right to this ground for ninety-nine years and the option to renew for another ninety-nine years. The members were to erect and furnish their own clubhouse, boats, and boat houses and retain possession of them. Also the club was to have:
the right to keep and distribute to its members and guests its own supplies of wine, liquors, cigars and other refreshments usual and necessary in the operation of such a club.
The Paroquette Springs Company was to supply cleaning and laundry services.59
No explanation has been found for this transaction. Considering the early date of the agreement, it would seem to have been part of the new owners' original plan to renovate Paroquet Springs. Or it may have been a means of helping business by circumventing the prohibitionists who were objecting to the Paroquet Springs liquor license. The local option in the area had decided in favor of the drys.
But, alas, Paroquet's "inauguration" had been but a prelude to its swan song. Less than six months after the "inaugural ball" the Louisville Daily Commercial carried this notice:
The Paroquet Company, which was organized last spring under such favorable auspices, have [sic] not prospered as their friends anticipated. They were adjudicated bankrupts on Tuesday last, and yesterday Deputy Marshal Henry Divan went to the Springs and took possession of the property.60
A warrant in bankruptcy had been issued on 1 January 1872.61 In late February 1872, a notice in the Louisville Daily Commercial read:
Paroquette Springs -the Most Attractive and Valuable Watering Place in Kentucky at Public Sale.
As assignee of PAROQUETTE SPRINGS COMPANY, bankrupt, I will offer at Public Auction (freed from encumbrances) at the Courthouse door in the city of Louisville, Ky. at 11 1/2 AM, Mon., March 11, 1872, the tract of land in Bullitt Co....
The ad goes on to give the location of Paroquette Springs and describe improvements to the facility and its one hundred and fifty acres:
One half of it is in cultivation and the balance in beautiful grove in the midst of which are the improvements.
The improvements consist of a two-story frame building, 410 feet long by 70 feet wide, entirely surrounded by 2-story porches, 12 feet wide, and having in the rear the necessary kitchens, offices and servants' rooms built during the past year at a cost of over $35,000. The house is of a modern style and contains about 84 guest rooms, with spacious parlor, hall room and offices. It is newly and completely furnished at a cost of $13,000. The furniture will be offered in a private sale to the purchaser on favorable terms. On the grounds also are stable, bath and Boating-houses, Ten Pin Alley, etc. etc.62
The Louisville Daily Commercial in early March 1872 carried a satirical article entitled "Dry Times in Shepherdsville" which states in part:
Another move of the temperance men aimed a fell blow at the Paroquette Springs liquor trade. They remonstrated granting a special act to sell whiskey there. There were too many bibulous individuals, though, and they could not effect their infernal purpose ...if you take liquor away from Paroquette you knock it cold.63
In mid March 1872 the paper carried "A Petition to the General Assembly of the Commonwealth of Kentucky" stating that "the undersigned citizens" protested giving Paroquet a license to sell liquor. There were no "undersigned citizens." This may have been the attempt by the "temperance men" mentioned above.64 Just two months after Paroquette Springs went on the auction block, a front-page article appeared in two issues in May 1872 of the Louisville Daily Commercial: "Paroquette Springs, Bullitt County, Ky, Open for guests May 25, 1872." And once again the phoenix-like Paroquet Springs began to take on a new life:
This property has recently been purchased by a group of Louisville capitalists [for $25,025] and in order to render it the most attractive summer resort in the country, new and additional improvements on a grand scale have been completed. With the additions perfected the most simple accommodations will provide for 800 guests.
The ballroom and dining room are each 86 feet long by 40 feet wide. and brilliantly illuminated by chandeliers. The chambers are 16 feet square with lofty ceilings with thorough ventilation. Many of them are connected for family use.65
This is followed by a detailed explanation of the bodily ills Paroquette water is guaranteed to cure -including malaria.
Two "celebrated florists" beautified the grounds, and "one of the finest driving parks to be found anywhere" had been laid out. Paroquet Springs also offered billiards, croquet, ten pins, swings "and all other innocent amusements." All of this was capped by the promise that "one of the best brass and string bands" would be in attendance during the season. The main attraction, however, seemed to be "Col. J. W. Burton, long and well known throughout Kentucky and the South ..." who "will have charge of the hotel and grounds during the season of 1872." Board was listed as: "Per day $3.00. Per week $16.00. One month $60.00. 2 or more months $50.00. Children and servants half price." And, finally, readers are instructed to "Address J .W. Burton or the Treasurer of the Paroquet Springs Company, 64 & 66 West Jefferson Street, Louisville, Ky."66
J. W. Burton was not, in fact, merely the "proprietor for the 1872 season" but had been one of the original proprietors in the first Paroquet Springs Company and was also one of the "Louisville capitalists" who had taken over Paroquet Springs. Burton and a partner, doing business as the firm of Burton and Stockton, took a one-fourth interest in Paroquet; another quarter was owned by J. W. Morris and Charles Southwick, who were doing business as Morris, Southwick & Company; V. R. Bartlett purchased one fourth and S. P. Myer and John Terry each had a one-eighth interest.67
On 15 December 1873 Morris and Southwick were adjudged bankrupt. Included in their property was the "one-fourth undivided share of Paroquet Springs." This share was purchased by several men in June 1874 in the following proportions: J. W. Burton took a one-third interest in this fourth as well as the interest he already had. The remainder was purchased by J. C. Broadhead, one-third; S. P. Myer, one-sixth; and J. M. Terry and A. G. Caruth, executors of the estate of John Terry, deceased, one-sixth.68In November 1874, J. W. Stockton was unable to pay his share and sold out to Burton who agreed to payoff "certain purchase money notes given by the late firm of Burton and Stockton for an interest of one undivided fourth part of the Paroquet tract."69
By 1876 The Bennett Brothers Furniture Manufacturing Company, a Jefferson County corporation, sold to George W. Simmons of Verdia, Illinois, the "undivided one third" of the Paroquet Springs tract that they had purchased from "J .W. Burton by deed of record in the Clerk's office of the Bullitt County Court. .." as well as "the first party's undivided one-third of the Hotel houses & thereon, furniture, fixtures, two mules, two wagons, Piano, B. tables." This deed was signed by James W. Calvert, president, and George Cross, treasurer, of the Bennett Brothers Furniture Manufacturing Company.70
There are several references to a fire at Paroquet Springs in 1879, and the most reliable appears to be the following: "In March 1879 fire destroyed the [Paroquet] hotel building. Afterwards the spa gradually declined, never regaining its popularity."71 A deed of 20 October 1879 conveyed the property to Charles C. Hoke by J. Moses [or Moss] Terry and A. G. Caruth as executors of the estate of John Terry, S.P. Myer and his wife, T. B. Curry, and "the Bennett Bros. Furniture Mfg. Co." [with a notation in the margin that the latter has lifted its lien for the purchase money due]. The deed includes "all the personal property belonging to said tract...."72 Hoke then sold his interest to T. B. Curry in February 1880 with the proviso that all indebtedness remaining unpaid on the property was to be paid to him by T. B. Curry.73 In all these transactions, and a number of additional ones as well, it is clear that the sellers are selling only their own interests in the property rather than the whole property.
Finally in November 1885 Thornton B. Curry "and others" [by this time many, many others - some represented by guardians, some by executors] sold the entire Paroquet Springs tract with all the appurtenances thereon to George W. Simmons,74 a "wealthy farmer and railroad contractor and speculator" of Bullitt County.75
An advertising card of 1888 states that the "hotel is a half mile from the depot" and that:
The Spring Grounds are very beautiful, it is one of the largest forest groves in the State, the ground is well adapted to lawn tennis and croquet, and extends to the bank of Salt River; rowing will be one of the chief amusements.
The card also praises the medical virtues of the water, gives an analysis of it by Dr. Bartholomew of the Jefferson Medical College in Philadelphia, and compares it to the French Lick and the Blue Lick Springs waters of days gone by.76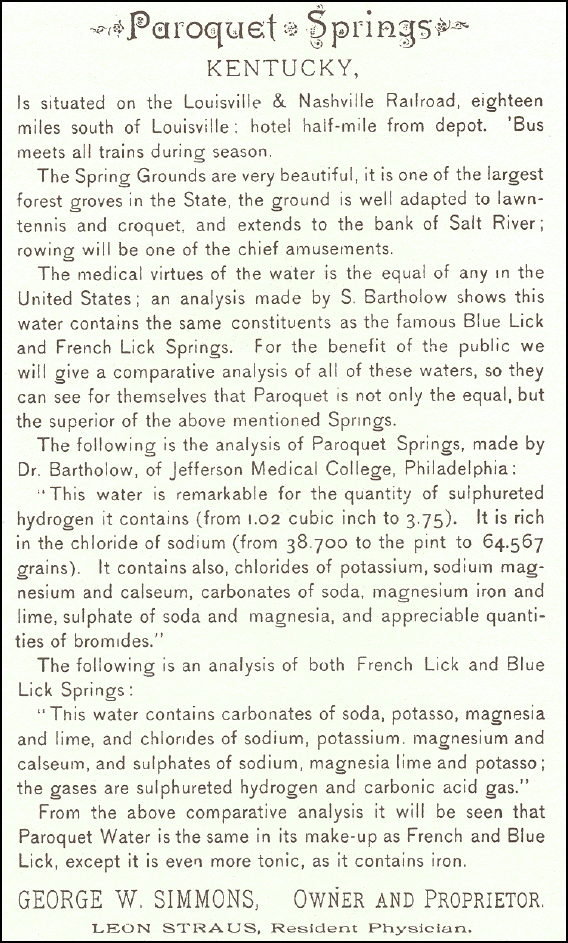 Advertising Card for Paroquet Springs. 1888
The Filson Club Historical Society
But things were no longer as they had been in days gone by for the once-fabulous watering place. By 1897 the Shepherdsville Salt River Tiger attested to the local importance of Paroquet Springs but no longer mentioned its ability to attract the socially prominent.77 The grounds were clearly popular for picnics, campgrounds, political rallies, and other neighborhood activities, but it is obvious that the glory days of Paroquet were past.
The Paroquet Springs property eventually passed to the children and grandchildren of George W. Simmons.78 in a deed dated 16 April 1925, Lula (Simmons) Cochran, his daughter, and W. H. Simmons, one of his sons, conveyed the Paroquet tract to their brother, S. B. Simmons.79 It passed, in turn, to his daughters,80 and in 1952 a portion was sold out of the family as right-of-way for a section of the Kentucky Turnpike [Interstate 65] at Shepherdsville with its network of access roads.81 In 1973 the remainder of the tract was sold to developers and became part of the present large "Paroquet Springs Shopping Center" at Shepherdsville.82
Land use adapts to the times, and the Paroquet tract is probably making a larger contribution to the financial prosperity of Bullitt County today than it ever did in older, more romantic days. Whether, on balance, Bullitt County has gained or lost by the exchange is a matter of opinion. But one thing is a safe bet. Any wistful ghosts of the past that may attempt to hover about the Paroquet Springs today will be banished as rapidly and ruthlessly as were the original parakeets from their once-beautiful grounds and groves.
---
About the Author
Audrea M. McDowell had a long career as a copyholder and later editor of the Talking Book Department of the American Printing House for the Blind, continuity director at WAVE radio and then, for many years a copywriter and copy director at several Louisville advertising agencies. Following her retirement, she worked as an archivist at the Filson Club Historical Society until 1997. She was an active member and officer of the Ohio Falls chapter of The Questers. She was married to Robert Emmett McDowell, a Louisville author and historian, who died in 1975. Audrea died in Louisville in 2004.
---
This essay was originally published in The Filson Club History Quarterly, Volume 69, No. 4 (October, 1995). It is reprinted here by permission from Robert E. McDowell, Jr., and the Filson Club. The content is copyright 2006 by Robert E. McDowell, Jr., Louisville KY. All rights are reserved. No part of the content of this page may be included in any format in any place without the written permission of the copyright holder.
---
If you, the reader, have an interest in any particular part of our county history, and wish to contribute to this effort, use the form on our Contact Us page to send us your comments about this, or any Bullitt County History page. We welcome your comments and suggestions. If you feel that we have misspoken at any point, please feel free to point this out to us.