All Aboard the Kiddie Special!
The following article by David Strange originally appeared in The Courier-Journal on 20 Nov 2013. It is archived here with additional information for your reading enjoyment.
---
What do you remember, from your earliest days of school?
I remember a train ride; my very first real train ride.
And OH!! Was it cool!
I no longer remember which year, but it was probably about 1959 or so, in the first or second grade, when my class went on a ride on the "Kiddie Special."
This was no mini-train, mind you; this was the real thing. With rail passenger traffic beginning to fade in the late 1940's, the L&N Railroad began a series of promotional excursions in an attempt to improve business. In 1948 a small program began in Louisville to introduce a young new generation to rail travel. According to the book, History of the Louisville and Nashville Railroad by Maury Klein, the popular program was expanded in 1951 as "The Kiddie Special" and quickly grew from there. By 1959 the L&N Kiddie Special had carried 75,000 children, sometimes a thousand at a time.
Do you remember it?
Oh, I still do! I still remember the excitement of it all. Riding the crowded school bus from our rural school to downtown Louisville was exciting enough. But then pulling up to the grand Union Station railroad depot, probably the largest building I had ever seen close up...
Oh, man!
Hundreds of children gathering together and lining up beside the gigantic passenger cars; a uniformed conductor helping us up the tall metal steps; all of us giggling with anticipation as we go to our seats; the huge train suddenly lurching to life and quickly getting underway; the clickety-clack of the train going down the track faster and faster; images flashing by in the windows; the great air-horn bellowing out to the world that we were coming.
Oh, wow!!
Sometimes adults wonder what experience a child will remember. What one big positive thing will stick solidly in the mind. That one big thing for me was "The Kiddie Special."
In March, 1959, about the year that I would have ridden, the eighteen-car "Special" ran for thirteen successive week days, providing rides to more than 1,000 eager children and busy chaperones each day. The two-hour ride traveled from Louisville to Lebanon Junction and back again, a sixty mile round trip.
Now today, maybe children would get bored on such a trip. But not us! It seems to me that every one of us, teachers included, stayed on the edge of our seats to see everything that we could see. And along the way, we were given ice cream too! Vanilla ice cream in little cardboard cups with cardboard lids and little flat wooden spoons. If you know me, you know that I was in Heaven right then and there.
When the train reached Lebanon Junction, it slowed to a stop. The train did not turn around, but the locomotive was moved to the other end and we simply started back in the reverse direction from which we came. Of course, I was too young to really know where we were or that it was called the Kiddie Special. I was just enjoying the trip.
But Sue Brooks knew. She tells me that she remembers taking the trip when she was in the first grade, in 1957. She says that she doesn't remember any treats because she was too excited about the ride itself. Her grandfather worked for L&N at the time and the railroad line was about a quarter mile from her house. So, when the train passed by there, she could see her house. "I loved that ride!" she says.
Friend, Brenda Miller, tells me that the train is one of her fondest memories as well. Brenda's mother's parents lived with her family and were quite old, so it wasn't often that her mother could leave them alone. However, when she learned of this field trip she asked one of Brenda's aunts to stay with them and went with her. Brenda's Grandpa Etherton grew up in Lebanon Junction, so she knew where she was going. She remembers being so proud to have her mother with her. Like most of us, this was Brenda's first train ride, but this was also the first for her mother as well!
Everyone had a brown-bag lunch to eat on the way, and a special coloring book was given to every child. For a change for me, I didn't get "car sick" on the ride (as a child, I nearly always suffered from motion sickness, which is a story for another day), but some did. That rhythmic motion, the fast moving scenes outside the windows, the excitement and food, did it for some. But the real culprit was the reverse direction on the way back. I am told that in some years, there were passenger cars that actually allowed the seats to be turned around, but as I and some others remember it, we simply rode backwards. I bet there was many a passenger train steward who did not appreciate what some of us little kids left behind. But I have to say that I do not remember a single unkind soul the entire day.
Besides a little motion sickness, there were some kids who did not have the best of trips. Debbie House McIntosh remembers that her mother made her wear her Easter dress "with a big itchy can-can slip. I couldn't sit down because of it scratching my legs." But still she remembers the trip fondly. Cheryl Bishoff Coyle remembers that she and her cousin, Lana, wore their Easter dresses as well, complete with white gloves and mothers standing there to see them off to their grand train ride.
Others had extra special memories of the Kiddie Special. James May remembers, "My mom, a first grade teacher at Prestonia, used to take her class on that trip. I went with her class before I was in school."
And fond memories for me as well. I had almost forgotten about the "Kiddie Special" until I came across a mention of it in an April, 1958, edition of The L&N Employee's Magazine. But with the refreshing of those memories I can again now almost see myself, stretching out from my seat, looking out the window, trying to see everything and everyone that passed by; feeling the rumble of the big machine, and listening to the clickety-clack of the steel wheels on the iron rails.
Oh! What memories!
Oh! What a time!
The Kiddie Special lasted until at least 1961. I do not know how much longer after that, with occasional brief trips over the years since then. The latest I have seen mention of such a special ride for children is back around 1980.
On October 31, 1976, the last Amtrak passenger train left Louisville for Nashville. Although Amtrak would continue operating trains in Louisville in 1979 and sporadically after that, they wouldn't operate at Union Station after 1976.
Memories.
Oh what wonderful, glorious memories.
---
The following is taken from the L&N Employees Magazine, April 1958 edition. We have been unable to determine who has the copyright on this magazine, but we hope that they will be pleased that their fine work is once again being enjoyed.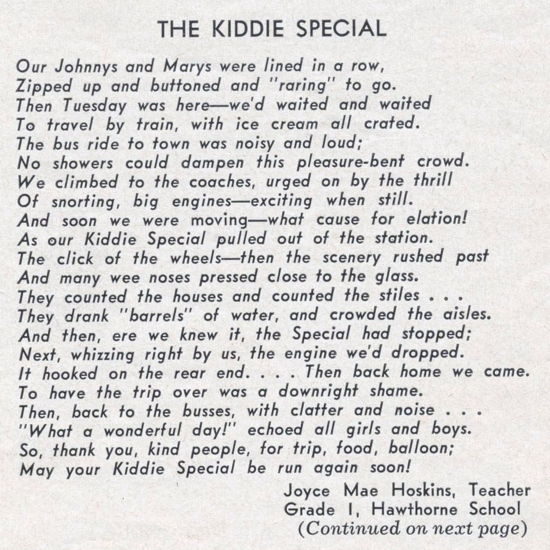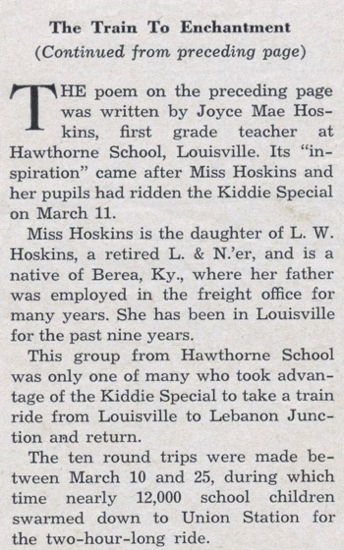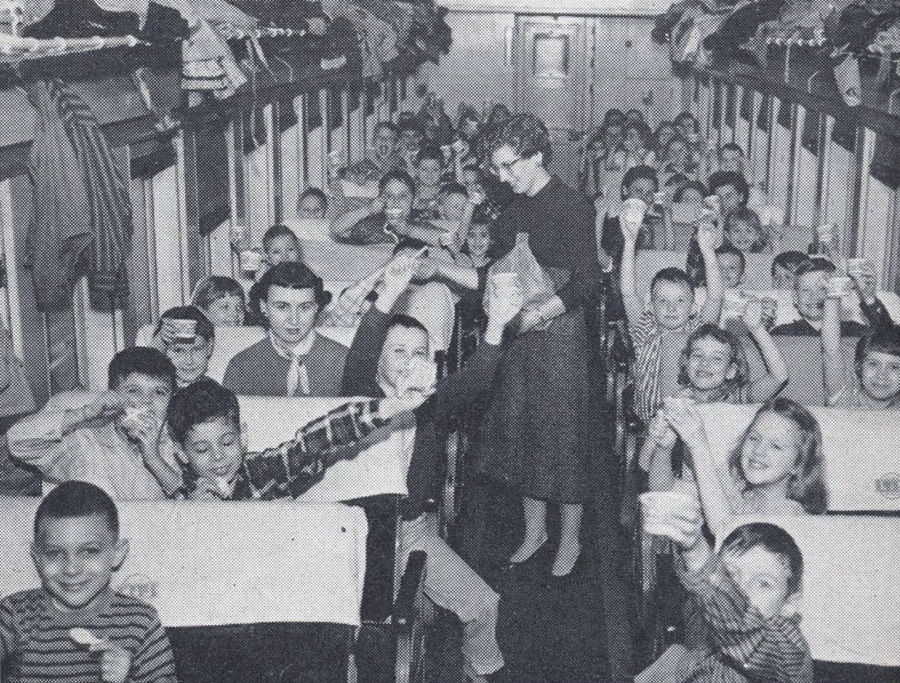 The ice cream made a big hit - as usual.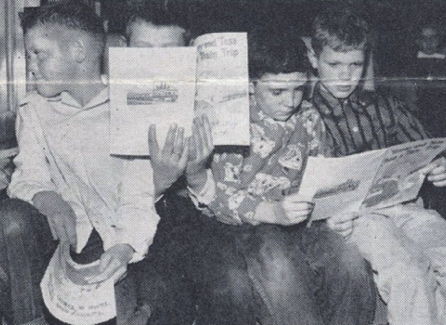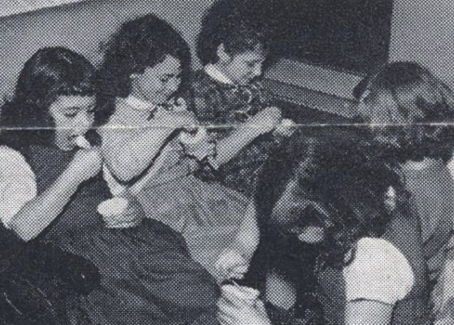 The scenery had keen competition from the coloring books and the ice cream.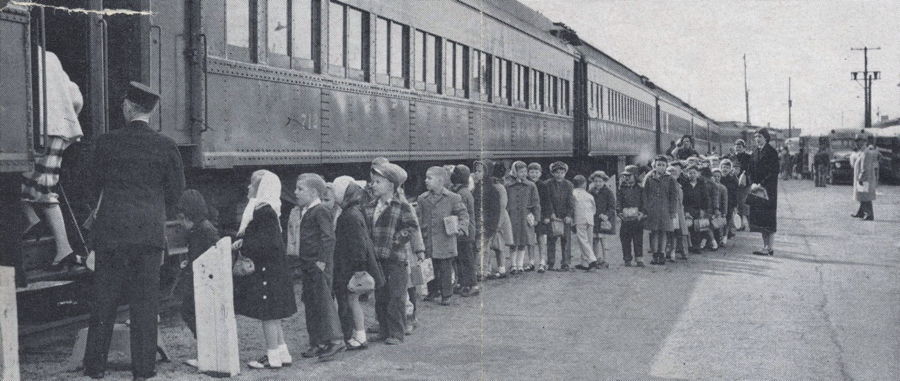 All Aboard!
---
The following pictures are courtesy of The Courier-Journal, and used with permission.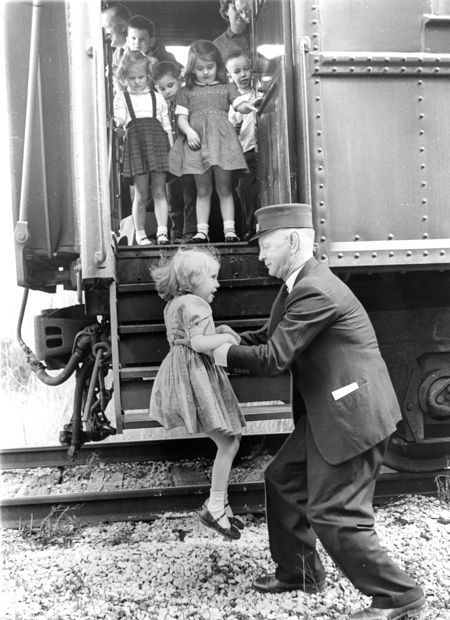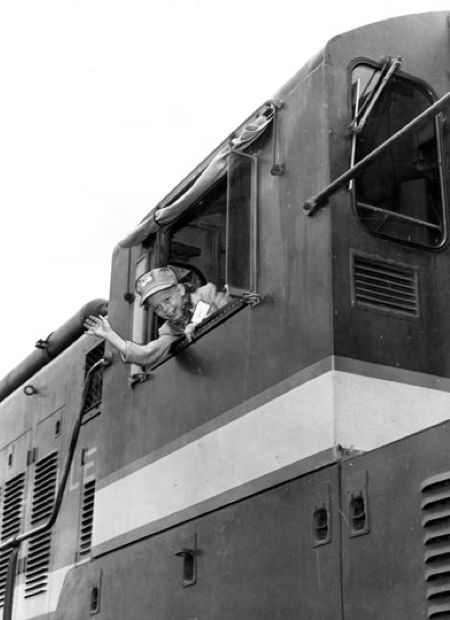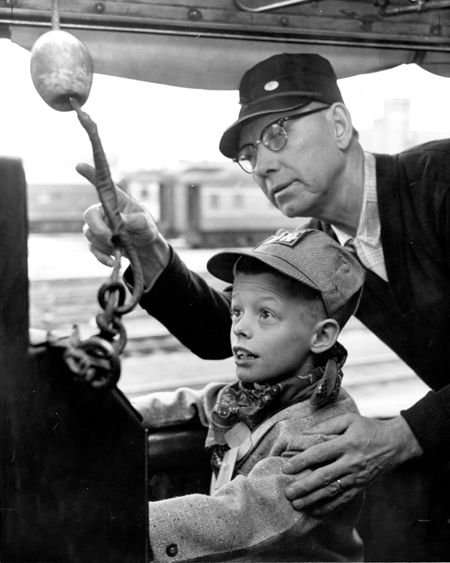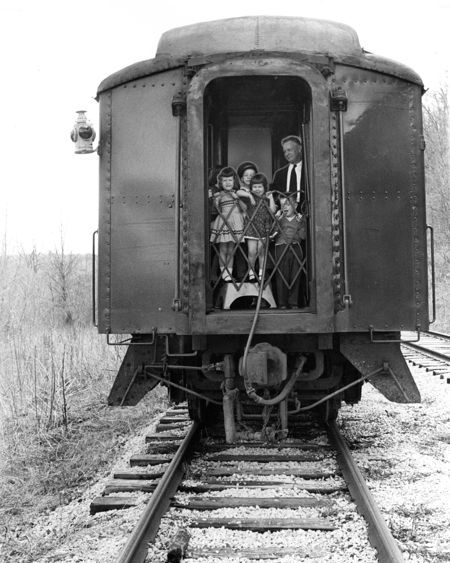 ---
Copyright 2013 by David Strange, Shepherdsville KY. All rights are reserved. No part of the content of this page may be included in any format in any place without the written permission of the copyright holder.
---