Lawrence Bishop - Revolutionary War Veteran
An abbreviated version of the following article by Charles Hartley originally appeared in The Courier-Journal on 26 Jan 2014. It is archived here with additional information for your reading enjoyment.
---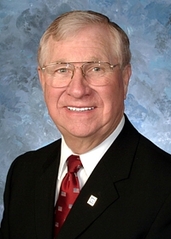 David M. Bishop
Quite a number of former Revolutionary War veterans settled in Bullitt County in later years, and the Bullitt County History Museum recently posted a list of 26 of them on its web site. Heading that list alphabetically was Lawrence Bishop, and I immediately thought of my good friend David Bishop (pictured here) and wondered if the two men were kin. It turns out that David is a great-great grandson of Lawrence Bishop.
Lawrence Bishop was born in May 1763 in a part of Cumberland County, Pennsylvania that would become Bedford County. We know his father was George Bishop and we think his mother was named Elizabeth. More about that later.
In 1780, when Lawrence was 17, some of the county militia was called on to do military duty on the frontier to guard against Indian attacks. A draft was held and Lawrence's father George's name was drawn. Lawrence went in his place, and spent the next two months on guard at the town of Bedford, thirty miles from his home.
The following May saw the militia called out again for guard duty. Lawrence again went as a substitute for another man, a common practice where one man would pay another to take his place in the draft. This time he marched 25 miles past Bedford and across the Allegheny Mountains as a guard and scout. He returned home after his two-month tour was up.
Then in August he served in the militia, again as a two-month substitute, along the Juanita River, a tributary of the Susquehanna River, as protection against the reoccurrence of recent Indian attacks.
Sometime after the war, Lawrence married a Miss Sousley and they had a son named Daniel in 1787. Then, according to Lawrence, the family left Pennsylvania in October 1793 and settled in this part of Kentucky. It appears that he and his first wife had at least one more child, a daughter named Elizabeth who, according to her tombstone, was born in August 1797.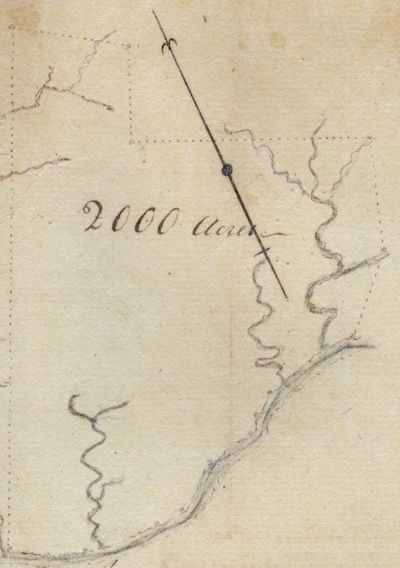 Richard Johnson's 2000 acre plat.
On upper left are tributaries of Floyd's Fork.
On right is McCullough's Run flowing into Salt River
which runs along the bottom of the drawing.
In May 1798, Lawrence purchased 140 acres of land from Richard Johnson, and a George Bishop purchased 50 acres next to him on the north side. Then George sold his land to Barlett Foster in 1805, and moved to Jefferson County. The deed identified his wife as Elizabeth. We speculate that George and Elizabeth were Lawrence's parents.
We haven't determined the exact location of Lawrence's land, but we do know that Richard Johnson purchased 2000 acres "on the waters of Floyd's Fork and Salt River" in 1795, and that he sold a total of over 600 acres to six different men, including Lawrence Bishop, all on 18 May 1798. From the survey description of Johnson's 2000 acres, it appears that it lay between Floyd's Fork on the northwest and McCullough's Run on the southeast as shown on the plat to the right.
Lawrence's first wife was apparently dead by June 1798, for he married Mary Young then, and they had a daughter named Mary who would marry James Gunn in 1820 in Jefferson County. Mary was just an infant when her mother died, and Lawrence married a third time, this time to Nancy Stallings in 1802. Lawrence and Nancy would have at least three children, sons they named John, Samuel, and Oliver Perry Bishop.
Lawrence apparently began losing his eyesight around 1820 for in his 1832 application for a pension, he reported that he had been blind about 12 years. He continued to be listed as head of his household decade by decade through 1840, although by that year Nancy was no longer listed.
After that time, he apparently lived with one or more of his sons, perhaps visiting first one and then another. In 1850 he was listed with his son Oliver's family, but in 1851 he deeded his home place over to his son Samuel "in consideration that I have been supported for several years past by the said Samuel Bishop, I being blind, old and otherwise afflicted, and for the further consideration that the said Samuel Bishop shall support me the remainder of my life and after my death shall have my remains buried in a plain and decent manner." Lawrence died sometime in the 1850's, for he is missing in the 1860 census.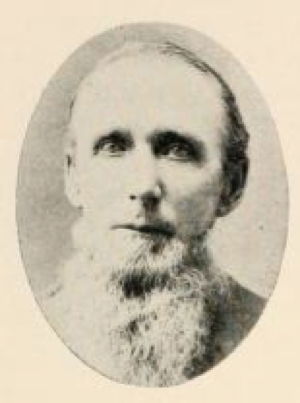 James T. Bishop
His eldest son Daniel died in 1855, and in the next few years Daniel's five sons all moved to Union County where they each prospered. As I mentioned two weeks ago, one of them, James T. Bishop married Judith Jackson, daughter of John and Lydia Jackson.
Daniel's half-sister Mary had already passed sometime before June 1850, and of Lawrence's remaining children, Elizabeth married Moses Williams in 1816 and they had at least six children. Moses died in 1872 and Elizabeth followed in 1884. Both are buried in the Pennsylvania Run Cemetery.
His son John Bishop was a cooper. He was married twice; first to Sarah Farmer in 1836, and second to Mary Ann Bogard in 1848. Altogether he fathered four sons and a daughter.
John's brother Samuel married Eliza Jane Bogard in 1841 and they had six children. Their youngest, born in 1854, was named David M. Bishop, and you guessed it, he was my friend David's grandfather.
John and Samuel's younger brother was Oliver Perry Bishop who married Mary Hundley. They had at least four children. It is interesting to note that in 1859 Oliver sold forty-one acres of land on Cedar Creek to James Jackson, John and Lydia's son; another connection between these families.
It's hard to say how many descendants of Lawrence Bishop still remain within the confines of our county, but I know of at least one, and I suspect there are others that I will likely hear about soon. But for now, David, this one's for you.
---
Copyright 2014 by Charles Hartley, Shepherdsville KY. All rights are reserved. No part of the content of this page may be included in any format in any place without the written permission of the copyright holder.
---